Disclosure: This One Pot Chicken Quesadilla Pasta is a compensated campaign in collaboration with Cacique Inc. and Society Culinaria.
One Pot Chicken Quesadilla Pasta is an easy and comforting meal prepared within 30 minutes. It's an adaptation of the famous Mexican dish chicken quesadillas, and makes a great weeknight meal.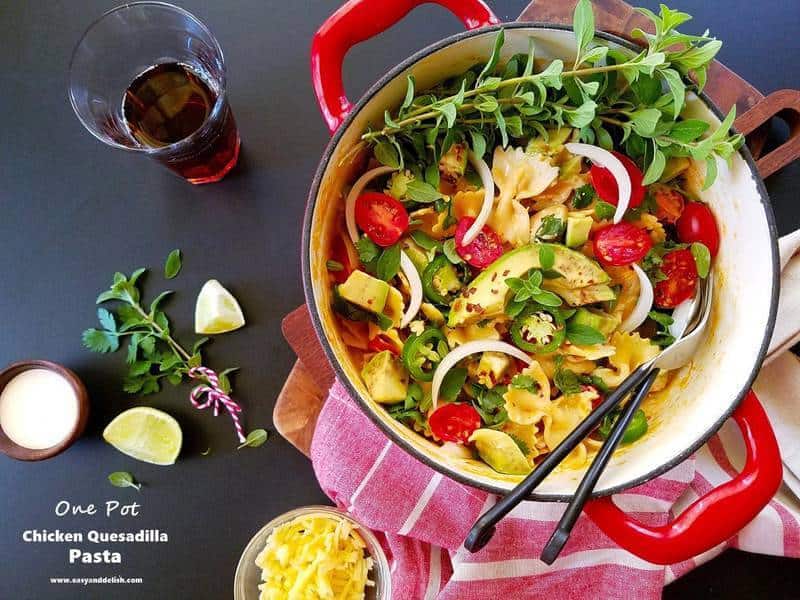 A creamy and chunky One Pot Chicken Quesadilla Pasta is what's on the table today... and let me tell you, we can't get enough of it!
It is hearty, comforting, cheesy, super delish, and prepared within 30 minutes.
It is one of those all-in-one dishes that makes the most demanding palate happy while making life easy for the cook. Basically just our kind of a weeknight meal, right?! 😉
Our chicken quesadilla pasta is made with simple ingredients such as bowtie pasta, chunks of chicken, a taco seasoning mix, Cacique Crema Mexicana Agria (grade A sour cream) and Queso Quesadilla, fresh ingredients of a pico de gallo, avocado, and herbs.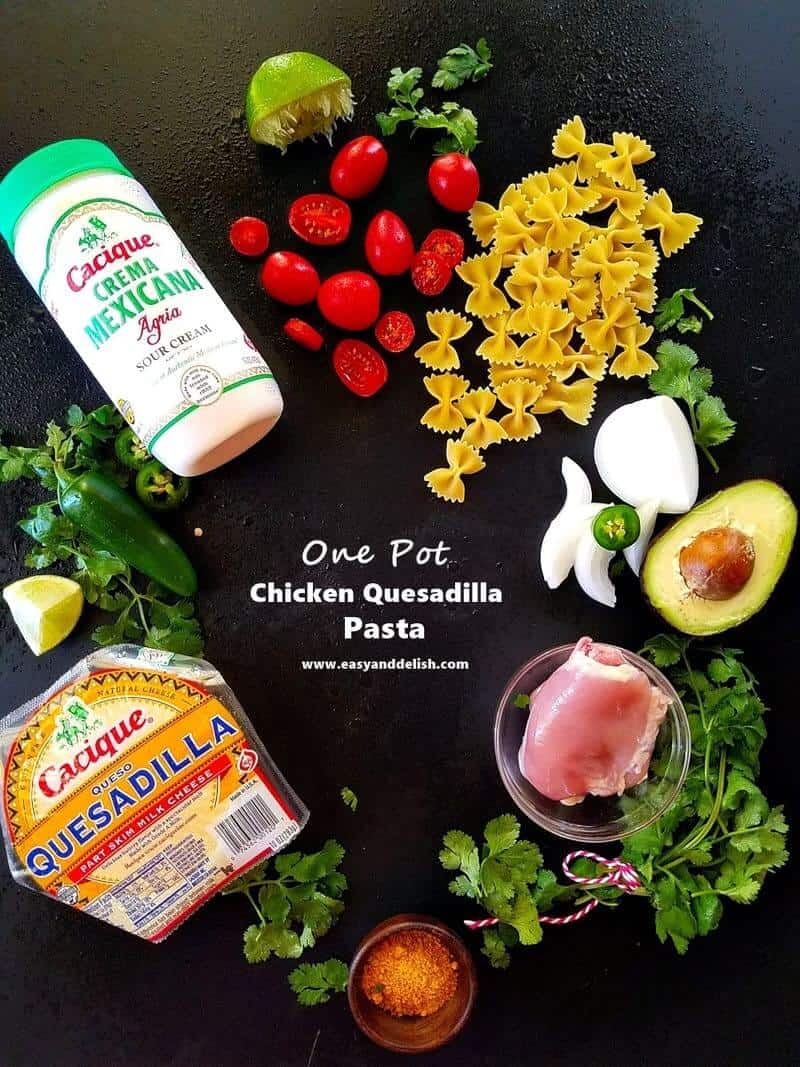 For over 40 years, Cacique's Mexican-style products have used only the finest ingredients and authentic recipes.
It is the #1 brand of Mexican-Style cheeses and creams-- a family owned company dedicated to producing the highest quality authentic products.
Cacique's cheese and crema both shine in this colorful, happy dish! Like one of my children might say, it's a vision!
HOW TO MAKE ONE POT CHICKEN QUESADILLA PASTA
Our one pot chicken quesadilla pasta is so easy to prepare! That's right!
In a medium to large saucepan, heat the oil over medium heat and sweat the onion for about 2 minutes, stirring occasionally.
Increase the heat to medium-high and add the chunks of chicken, the taco seasoning, salt and pepper.
Mix well until combined and let brown for about 5 minutes, stirring every now and then.

Stir in the water and salsa. Add the pasta and let boil for about 10-12 minutes or until cooked.
Add the cheese and crema and stir until cheese is melted and crema is combined. Turn off the heat and toss the jalapeño, tomatoes, and cilantro.
Place avocado chunks on top and squeeze the lime over it. If desired, sprinkle oregano and red pepper flakes.
Serve and enjoy!
As one might expect, my family and I ate and ate... and ate this pasta. It is already on our must-repeat list!
It is exactly what I needed after a full day of work, but with dinner still yet to prepare for a really hungry family.
A girl's gotta do what she gotta do -- pull a dish like this from up her sleeve and get everyone excited. 🙂
But please --don't just take my word for it. Make this One Pot Chicken Quesadilla Pasta... and then you will fully understand why we love it so much.
Another plus is that I only had to wash a single pot afterwards. Yay!
Make this One Pot Chicken Quesadilla Pasta and feast like a king...
After all, you don't need a special occasion for it.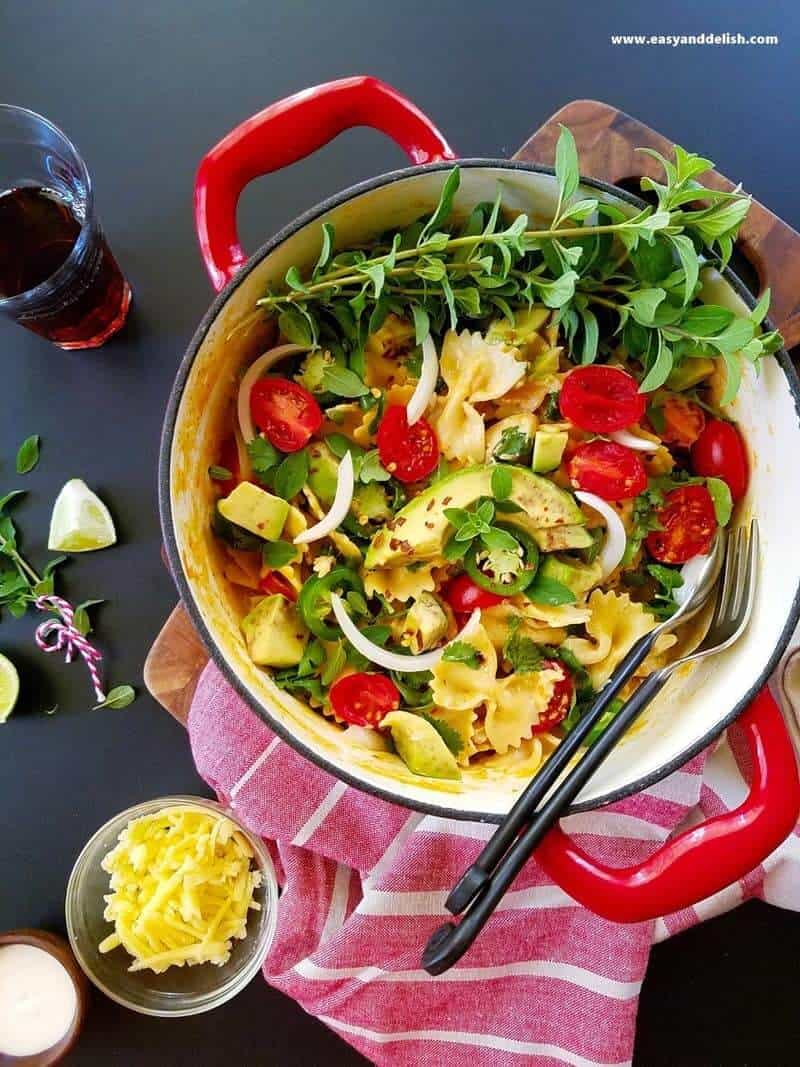 For more delicious recipes like this one, visit the Cacique Blog.
There you can also obtain more info about their products and locate them at a local store near you.
For now, enjoy our pasta!
PIN & ENJOY!