Refreshing, both fuss-free and gluten-free Dulce de Leche Churro Trifle (Brigadeiro de Colher com Doce de Leite) … the perfect treat for your next summer party! If you are crazy for churros and dulce de leche, this will easily become a real fave of yours too.
What to serve for guests at a summer get-together that is refreshing and homemade, yet won't take much time away from the kids? I say Dulce de Leche Churro Trifle. 😉 For me, it is the taste of childhood…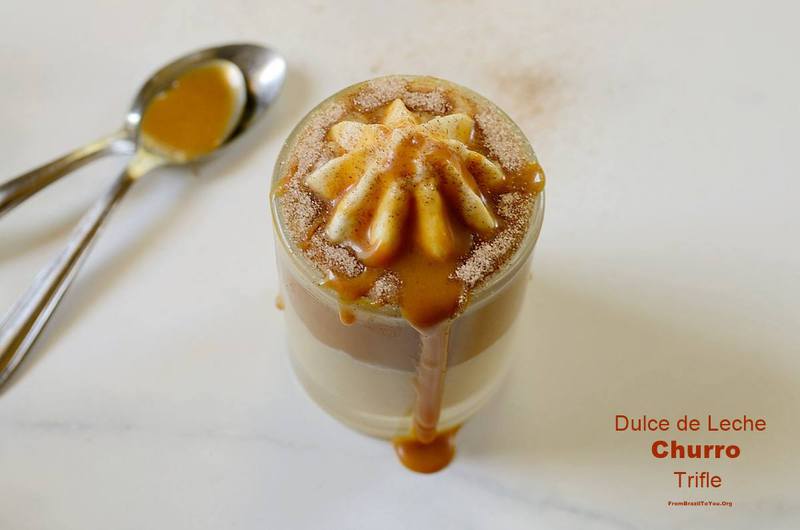 I still remember how churros filled with doce de leite (dulce de leche or caramel spread) used to be one of the most indulgent and fun treats to have as a child — aside from brigadeiros, of course. Every trip to the mall or to a street market would easily turn into the perfect excuse to have churros with dulce de leche — always bringing a smile to my face that spread from one chubby cheek to the other. 🙂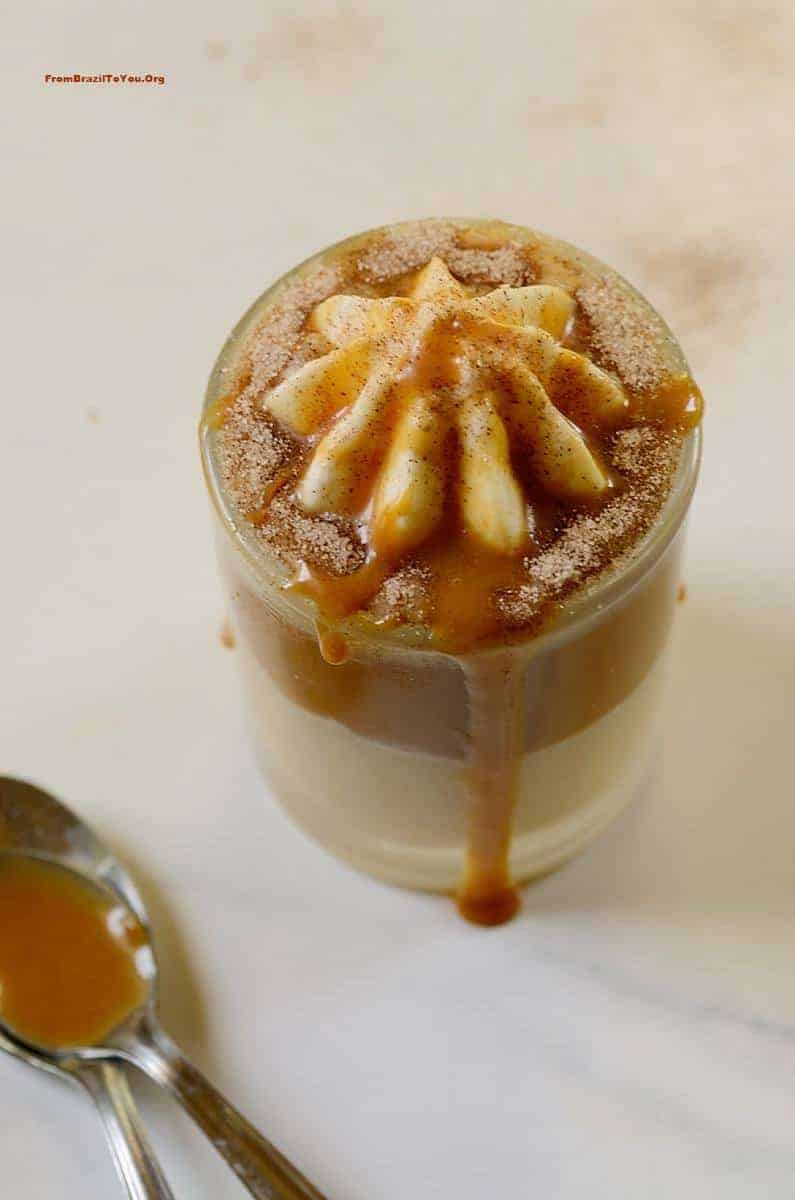 But you know, frying is definitely not one of my favorite things to do in the kitchen — especially during hot weather. At this time of the year, I crave chilled treats more than anything else… but they still have to be comforting! So how to reconcile the two? I think I have found the perfect formula (at least in my mind ): layering soft vanilla-flavored brigadeiros, dulce de leche, and cinnamon sugar into shot glasses and serving them chilled. 😉 A dessert so easy to prepare and so rich too that even a child could make them and looove eating them…
So next time that you are as busy as a bee yet still want to reward your guests with something both summery and comforting, make this dulce de leche churro trifle. It is like raising a toast… with a dessert. And yes, it will be the talk of the party!
Stay cool and enjoy your sweet summer!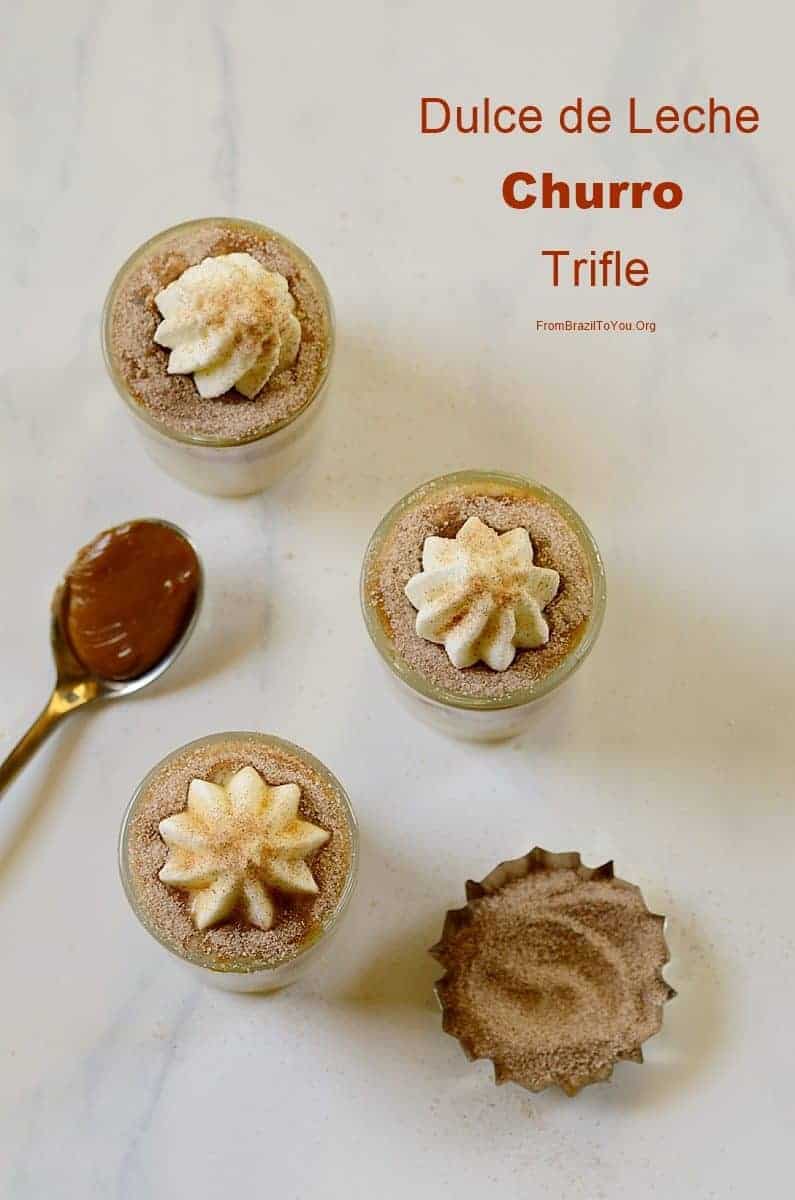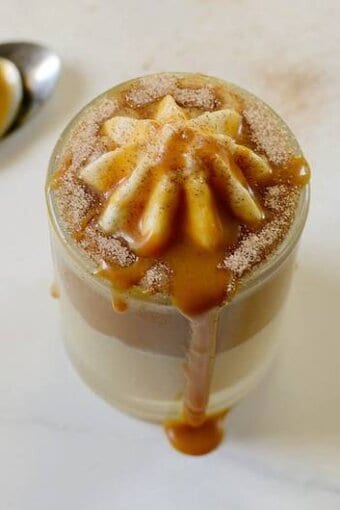 Dulde de Leche Churro Trifle
Refreshing, fuss-and-gluten-free Dulce de Leche Churro Trifle... the perfect treat for your summer party!
Ingredients
1

can

sweetened condensed milk

14 oz

1

tablespoons

unsalted butter

melted

1

teaspoon

pure vanilla extract

3/4

cup

heavy whipping cream

or more to whip and garnish top of trifle

1/2

can dulce de leche or caramel spread

5-6

tablespoons

granulated sugar

1-2

tablespoons

ground cinnamon
Instructions
In a large non stick saucepan, stir well the sweetened condensed milk with the melted butter. Cook over medium heat, stirring constantly with a wooden spoon, for about 10-15 minutes or until mixture has thickened and starts pulling away from the bottom of the pan.

Remove from the heat and stir in both the vanilla and 1/2 cup of heavy cream until obtaining a creamy, homogeneous mixture. Let cool for about 10 minutes and then place 2 Tablespoons into each shot glass.

In a medium bowl, stir in the remaining 1/4 cup of heavy cream with 1/2 can of dulce de leche until obtaining a homogeneous mixture. Place 1-2 tablespoons of the dulce de leche mixture into each shot glass. Top with 2 Tablespoons of the cooked condensed milk mixture.

Mix the sugar with the cinnamon in a small bowl. Sprinkle about 1-2 teaspoons of the sugar-cinnamon mixture on top of each trifle, and then pipe beaten whipped cream on top -- only if desired. Refrigerate and serve either as prepared or drizzled with any remaining dulce de leche/heavy cream mixture. YIELD: 7-9 shot glasses