Hot Chocolate Trifle (Pavê de Chocolate Quente) is a quick and easy dessert that requires no cooking and is made with layers of chocolate cookies, chocolate custard, and marshmallow cream.
Disclosure: This shop has been compensated by @Nestle. All opinions are mine alone. #JuntosconNestle
It's time to celebrate the Jolly season again… Yay! It is certainly a wonderful time, although it can get a bit overwhelming. With this in mind, I made a treat that is both budget-friendly and stress-free to prepare, Hot Chocolate Trifle. Need I say more?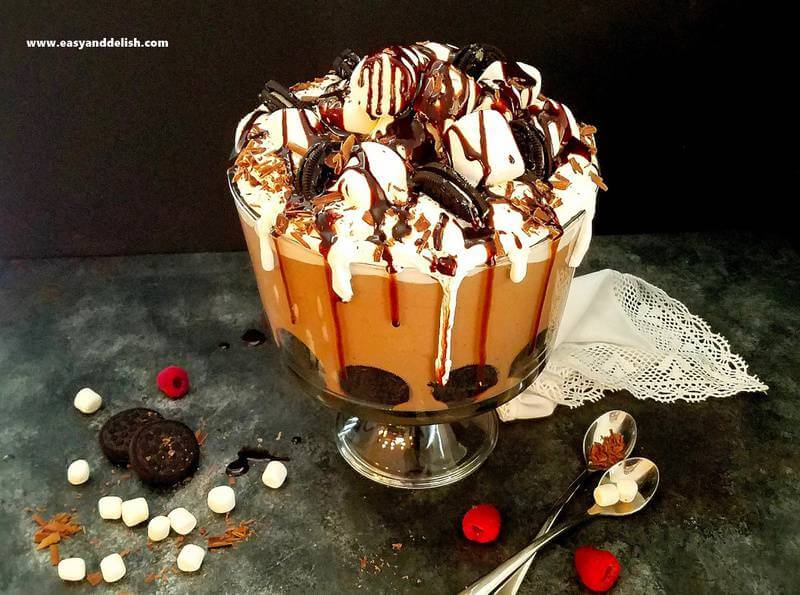 Hot Chocolate Trifle
This recipe is a twist on a popular and rich Brazilian dessert called Pavê de Chocolate (or simply chocolate trifle), which is usually made from layers of cookies, chocolate custard, and sweetened whipped cream. It is something that can be put together in the blink of an eye, saving us time to spend with our loved ones.
As a Latina living in the United States for the last 15 years and having a bicultural family, it's ideal for me to bring together our traditions.
Hot chocolate, which is of course very well-cherished here during this wonderful time of the year, was thrown into the mix, giving birth to our Hot Chocolate Trifle– but with a Brazilian composition. 😉
That is, the traditional layer of cake that you would find in the English version was replaced with cookies.
You won't find any fruit in it because it's a 'hot' chocolate trifle. The custard used in both versions can be made in a jiffy and requires no cooking.
The whipped cream was mixed with marshmallow creme so that we could have the marshmallow topping that usually graces the top of a hot chocolate drink.
I think you get the picture, right?
And the result? A scrumptious, mouthwatering dessert that is quick and easy to prepare… featuring ingredients that are conveniently available and can be picked up in a single trip to your closest Walmart!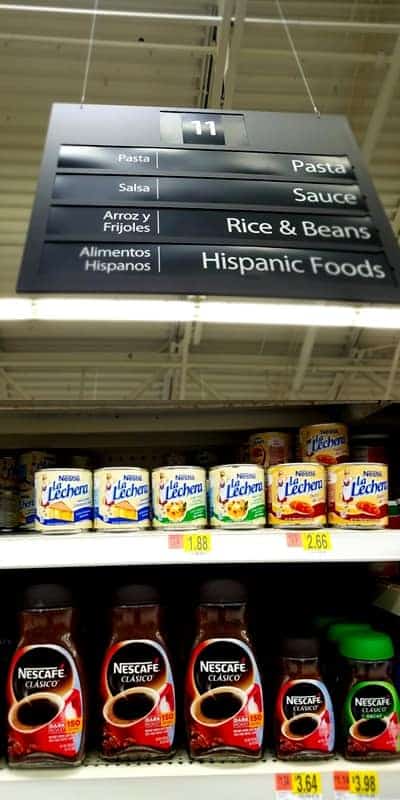 Yes, it's true! This Hot Chocolate Trifle is a tri-layer dessert that requires no cooking: first layer, chocolate cookies of your choice; second layer, a mixture made with chocolate instant pudding mix, milk, cream cheese, a touch of NESCAFÉ® CLÁSICO™, and NESTLÉ® LA LECHERA® sweetened condensed milk; third layer, a mixture of whipped cream and marshmallow creme.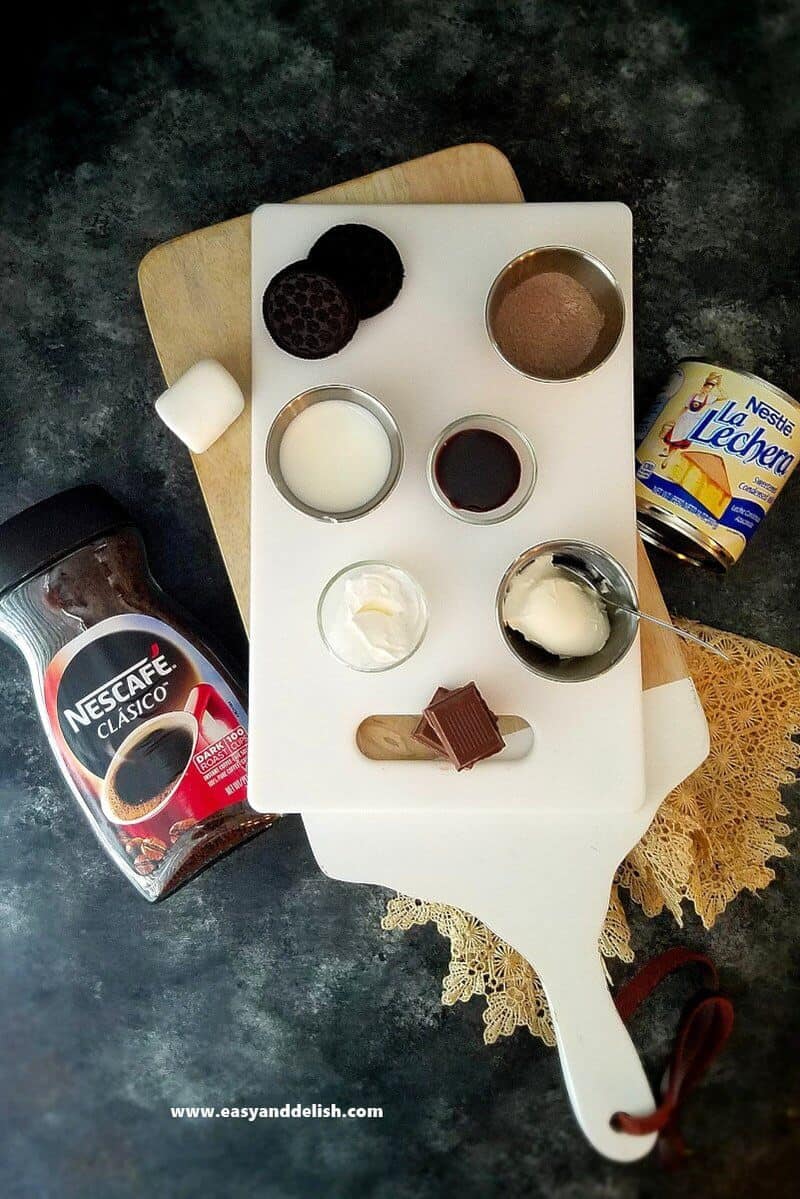 To finish off, it is garnished on top with chocolate shavings and chocolate syrup, resembling a rich hot chocolate drink, although it's served chilled.
It is the magic of creativity in action… a real party for the mouth and eyes!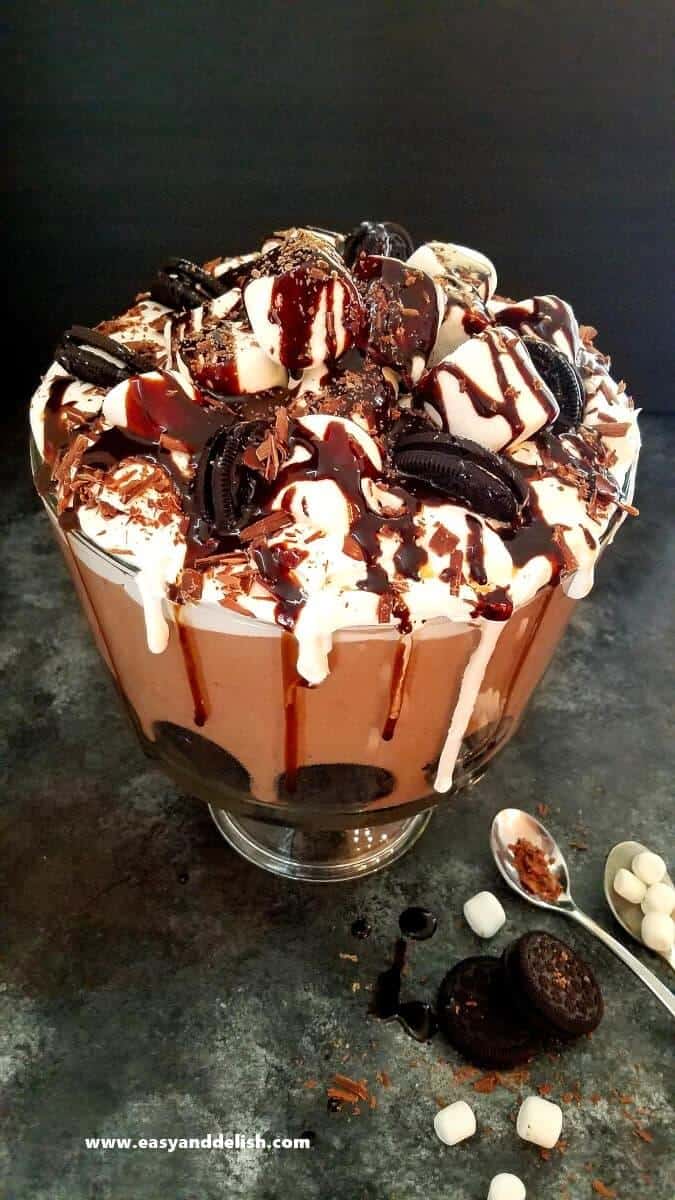 Nestlé products
I grew up enjoying these and many other Nestlé products, and continue to do so because they provide me with smart, simple, delicious solutions to make the holidays survivable and way more joyful.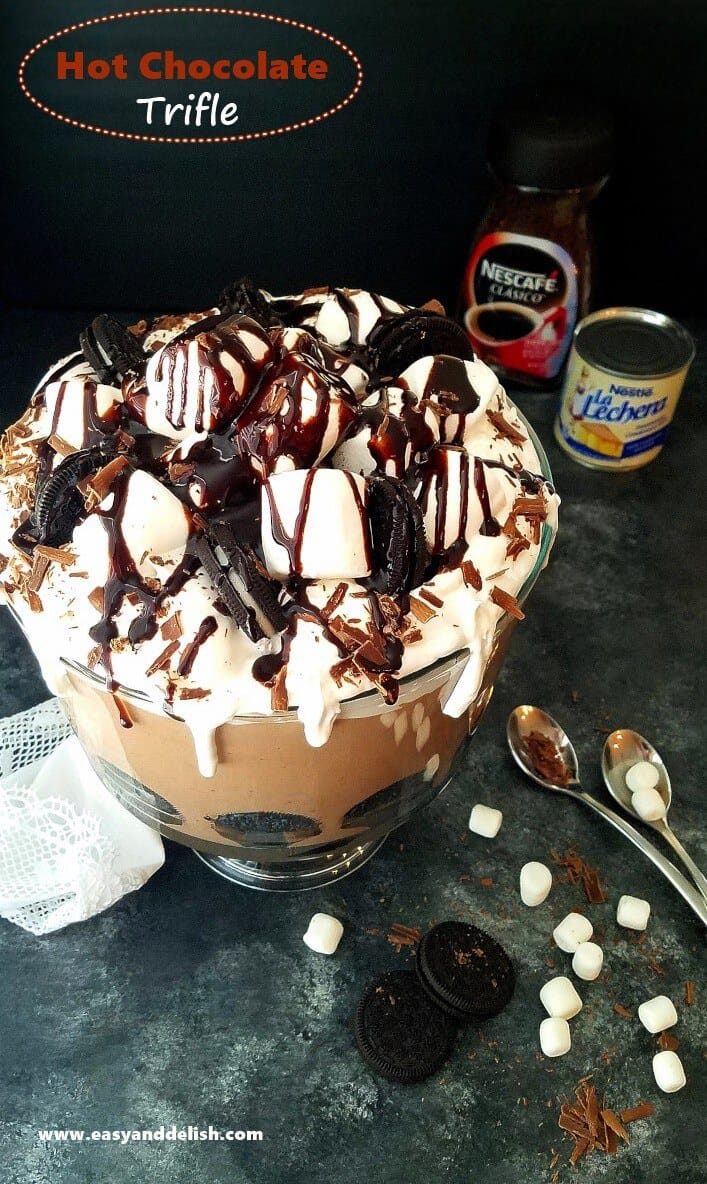 Quick and easy dishes are one of the secrets that I use to survive the holidays while saving time to spend with my family and get all the shopping done.
How about yours? I would love to hear how you manage this busy season.
For now, enjoy our Chocolate Trifle with Marshmallows and have a very merry season! Try also our Oreo Trifle.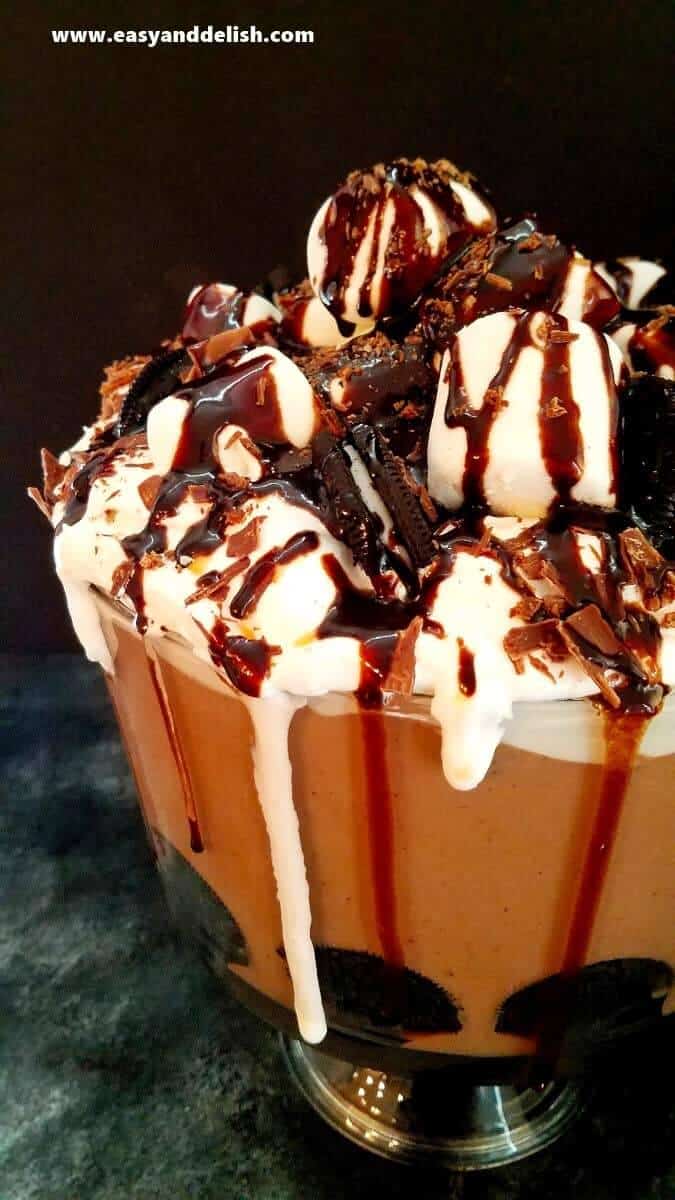 TO PIN AND ENJOY!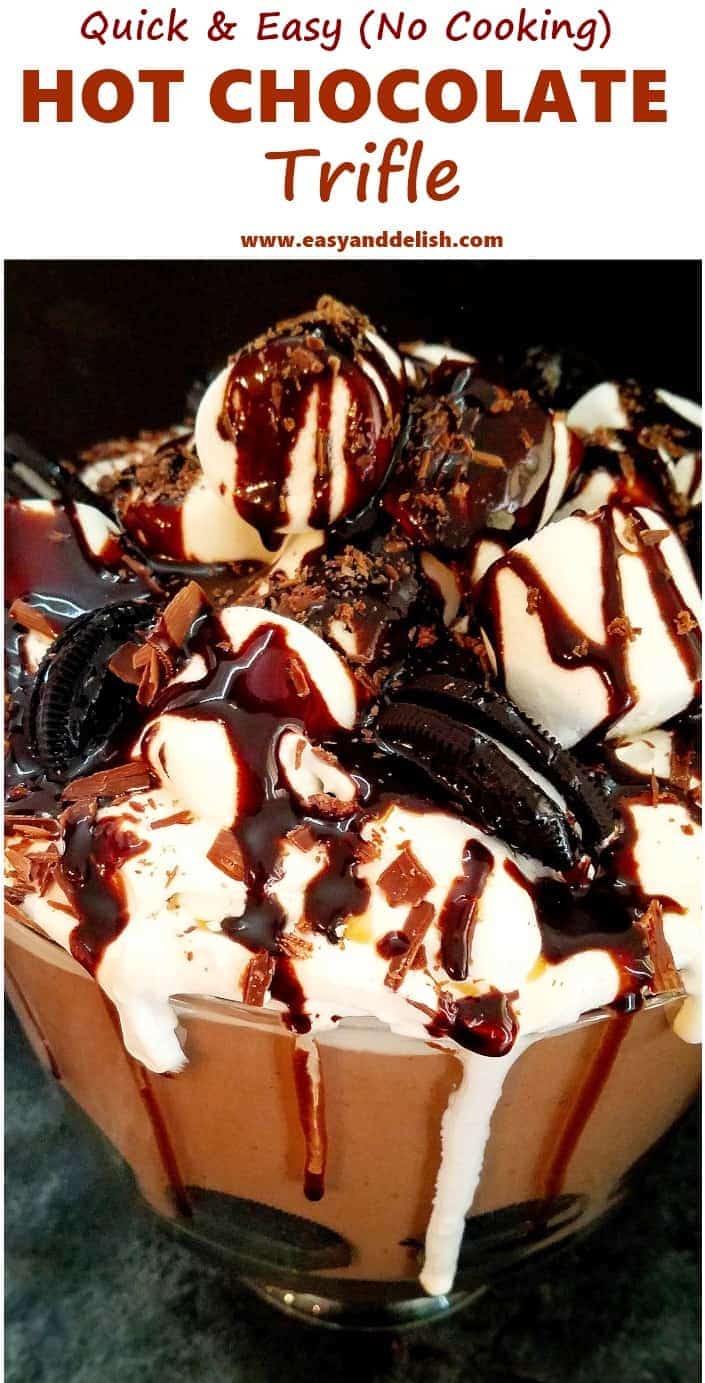 Quick and Easy Hot Chocolate Trifle
Hot Chocolate Trifle (Pavê de Chocolate Quente) is a quick and easy dessert that requires no cooking and is made with layers of chocolate cookies, chocolate custard, and marshmallow cream. 
Ingredients
2

cups

whole milk, divided

1 1/2

teaspoons

NESCAFÉ® CLÁSICO™ Instant Coffee, divided

1

(16 oz)

package chocolate cookies of your choice

1

(5-ounce)

pack chocolate instant pudding mix

1

(8-ounce)

cream cheese, softened

1

(14-ounce)

can NESTLÉ® LA LECHERA® Sweetened Condensed Milk

2

containers

whipped cream (16 oz + 8 oz)

2

cups

marshmallow creme

Large marshmallows, chocolate shavings, and chocolate syrup to garnish (optional)
Instructions
In a small bowl, whisk 1/2 cup of milk with 1/2 teaspoon instant coffee until coffee dissolves. Soak each one of the cookies quickly, one at a time, and shake to remove excess liquid. Stack them in a trifle bowl or in a rectangular baking dish.

If the container is deep (e.g. trifle bowl), reserve half for a second layer so you can alternate with the chocolate pudding mixture. In this case, it would be half of the soaked cookies in the first layer, chocolate pudding mix in the second, the remaining soaked cookies in the third, the other half of the pudding mix in the fourth layer, and the marshmallow cream on the final layer.

But if you have a large rectangular and not so deep baking dish, place all soaked cookies in one single layer, top with the chocolate pudding and then with the marshmallow cream.

In the bowl of an electric mixer, mix the instant pudding mix with 1 1/2 cups of milk and 1 teaspoon of instant coffee. until smooth. In a separate bowl, whisk the softened cream cheese with the condensed milk until smooth (no lumps found).

Add to the pudding mixture, whisking well until combined. Fold in 16 oz of whipped cream until mixture is homogeneous. Pour over the cookies.

In another bowl, beat the marshmallow creme with 8 oz of whipped cream until combined. Spread gently over the chocolate pudding mixture. Refrigerate until chilled or ready to serve. Right before serving, if desired garnish top with large marshmallows, chocolate shavings, and a good drizzle of chocolate syrup. Serve and enjoy our Hot Chocolate Trifle!
Recipe Notes
STORAGE: Keep chocolate trifle covered and refrigerated for up to 5 days. Do not freeze otherwise it will love its creamy consistency and may become gritty. 
Nutrition
Calories:
92
kcal
|
Carbohydrates:
20
g
|
Protein:
1
g
|
Fat:
1
g
|
Saturated Fat:
1
g
|
Cholesterol:
4
mg
|
Sodium:
21
mg
|
Potassium:
58
mg
|
Sugar:
15
g
|
Vitamin A:
66
IU
|
Calcium:
46
mg
** Nutrition labels on easyanddelish.com are for educational purposes only. This info is provided as a courtesy and is only an estimate, since the nutrition content of recipes can vary based on ingredient brand or source, portion sizes, recipe changes/variations, and other factors. We suggest making your own calculations using your preferred calculator, based on which ingredients you use, or consulting with a registered dietitian to determine nutritional values more precisely.
Please note that health-focused and diet information provided on easyanddelish.com is for educational purposes and does not constitute medical advice, nor is it intended to diagnose, treat, cure, or prevent disease. Consult with your doctor or other qualified health professional prior to initiating any significant change in your diet or exercise regimen, or for any other issue necessitating medical advice.
DID YOU MAKE THIS RECIPE?
Comment and rate the recipe. Also follow us on Pinterest at @easyanddelish for more delish recipes.