I am crazy for black beans!  And so are many friends of mine who ask me all the time how to make black beans. To take care of this topic once and for all, I decided to present here not just one but two ways of making black beans: Quick and from scratch. 🙂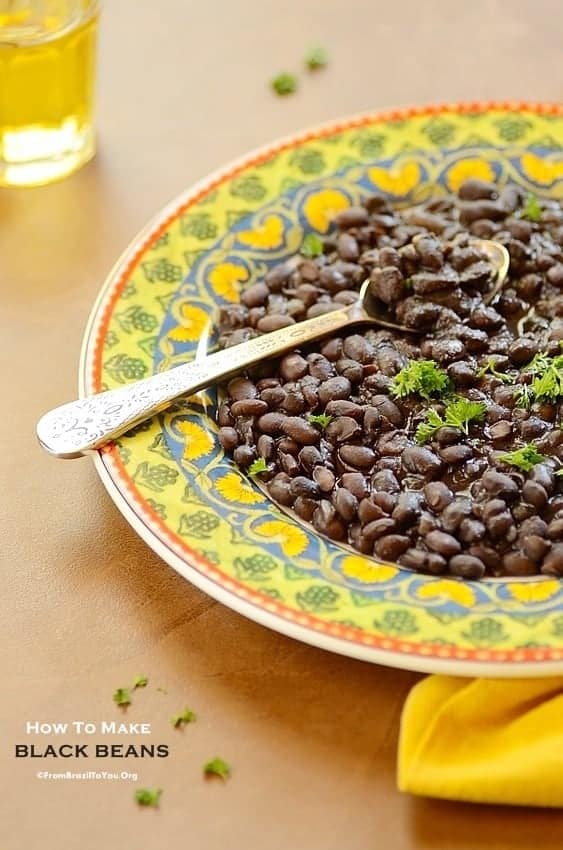 The quick recipe (made from canned black beans) can be seen on A Couple In The Kitchen, the blog that I have been assigned to this month by the Secret Recipe Club.  If you don't want your black beans spicy, simply omit the cayenne pepper from the recipe. As a bonus, you will get a Quick Cuban Pork recipe featured in the same post. Well, to make these canned black beans tastier, first sweat the onion and garlic in a bit of oil and stir in the canned black beans and cumin (and seasonings, if necessary). Simmer for 10 to 15 minutes or follow the directions stated in the quick recipe.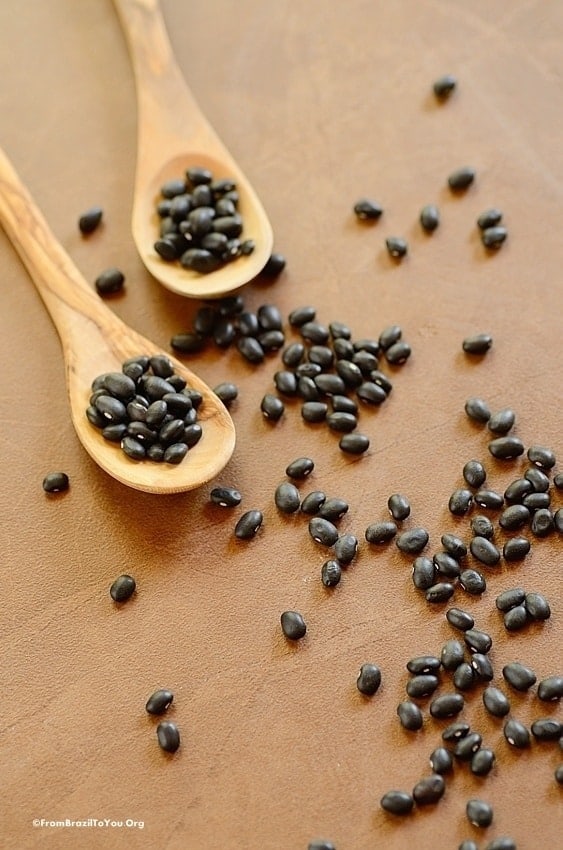 A Couple In The Kitchen is co-authored by Chris and Amy,  "a married couple who are both teachers by day and would-be chefs by night."  Their blog features mostly American recipes with a spin as well as Italian, although Cuban, Portuguese, and others ethnic recipes can be found.
I have to say that it was quite fun to browse their blog. Chris' cooking creativity is exciting! His potato pave is impressive and worth a try — of course, if I didn't hate a mandolin so much.  At the same time Amy cracks me up… This is a compliment,  especially coming from a Brazilian who has a different perception of humor than Americans do.  Her sense of humor really transcends cultural barriers as you can see: " The first thing Amy learned to cook by herself was Kraft Macaroni 'n Cheese. Even way back then, she considered the directions on the box to be merely suggestions, and to this day, prefers her secret shame Kraft dinner to be 'firm, yet watery.' "  Ai, ai, ai… I am about to wet my pants laughing!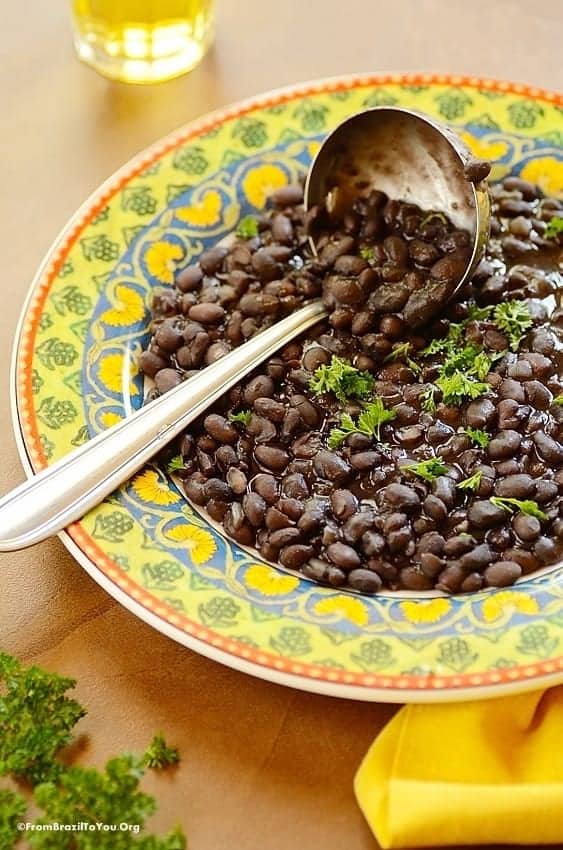 But if you would like to make black beans from scratch though, you can certainly learn from me.  It is not that different from feijoada, minus all the pork meats. You can make a large batch, divide into containers, and freeze so you'll have beans made from scratch anytime that you need. This is what I do often… and it's a time saver!  These beans can also be used for making black bean soup and, of course, in tacos, burritos, and dips.
Well, check out Chris and Amy's quick recipe and enjoy our black beans from scratch — a staple in Brazil!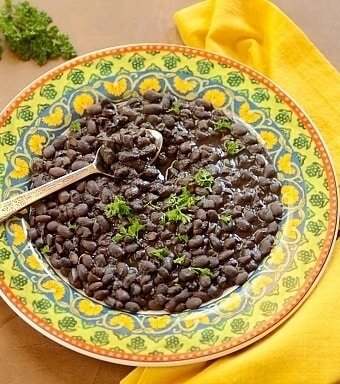 How to Make Black Beans -- Two Ways!
Recipe and method for how to make the best black beans from scratch! For the quick recipe, click
here
.
Cook Time
1
hour
20
minutes
Total Time
1
hour
30
minutes
Ingredients
1

package

package dry black beans

16 ounce or 454 gr.

6

cups

water

2

tablespoons

olive oil

divided

1/4

medium yellow onion

small diced

2

garlic cloves

minced

2

bay leaves

1

tablespoon

plus 1 teaspoon of salt

or more if desired

1/4

teaspoon

ground black pepper

1/2

teaspoon

cumin

1

teaspoon

red wine vinegar

1/4

cup

chopped fresh cilantro or parsley

optional
Instructions
Sort the black beans

, discarding any stones or damaged beans.

Wash the black beans

in a colander and then,

soak them

in three times their volume of cold water for at least 4 hours or best, overnight (12 hours or more) so they will become more tender and cook faster.

Rinse and drain them

. Reserve.

Cook the black beans

: In a large, heavy-bottom pan over medium-high heat, bring the black beans with 6 cups of water and 1 tablespoon of oil to a boil. Oil reduces foaming during the cooking process! Then, cover the pan and reduce heat. Let simmer over low heat for 60 to 90 minutes or until

almost

tender. Remove from heat and reserve, covered.

If cooking black beans in a pressure cooker (something very common in Brazil), make sure the pot is no more than half full of ingredients, including water. Soaked beans may be cooked in about 20 minutes while unsoaked beans generally take 25 to 30 minutes and so to cook depending on how old the beans are. The truth is the older the beans, the more cooking time required.

In a separate pan, heat the oil over medium heat and cook the diced onion until translucent, stirring occasionally. Next, add the garlic and cook for about 30 to 60 seconds, stirring occasionally.

Mix the cooked onion and garlic into the cooked black beans. Add the bay leaves, and stir in all the seasonings, spices, and the vinegar (While vinegar improves taste and reduces gassy elements, it should be added near the end of the cooking time because it may toughen the skins). Add 1/2 to 1 cup of water more,

only if necessary

. Cover and let simmer over medium-low heat for additional 15 minutes or until tender (If black beans were cooked in a pressure cooker, add those ingredients and let simmer for 5 to 10 minutes, uncovered). Stir and remove the bay leaves. If desired, remove about 1 cup of cooked black beans (grains and broth) and blend in a blender until smooth. Add back to the cooked beans and stir. This will make the beans thicker and tastier. Right before serving, sprinkle the chopped cilantro or parsley if desired.

Black beans can be served with white rice (a staple in Brazil) and your favorite meat, or used as a base for black bean soup and dips.

STORAGE: Let cooked black beans cool and refrigerate in an airtight container for up to 5 days, or freeze them for up to 3 months.
Recipe Notes
If desired, 6 strips of diced bacon can be cooked and put into the recipe when adding the sauteed onions and garlic as well as the bay leaves, seasonings and spices, and vinegar. This will make the black beans even tastier!!