Fall has really arrived in Texas now, with temperatures getting lower and lower. Along with the cool weather comes the need for some warm, comforting dishes, including this quick and hearty Black Bean, Pasta, Bacon, and Vegetable Soup -- which I call Brazilian Minestrone. If you have ever tasted a classic minestrone, I know you will become a fan of our soup.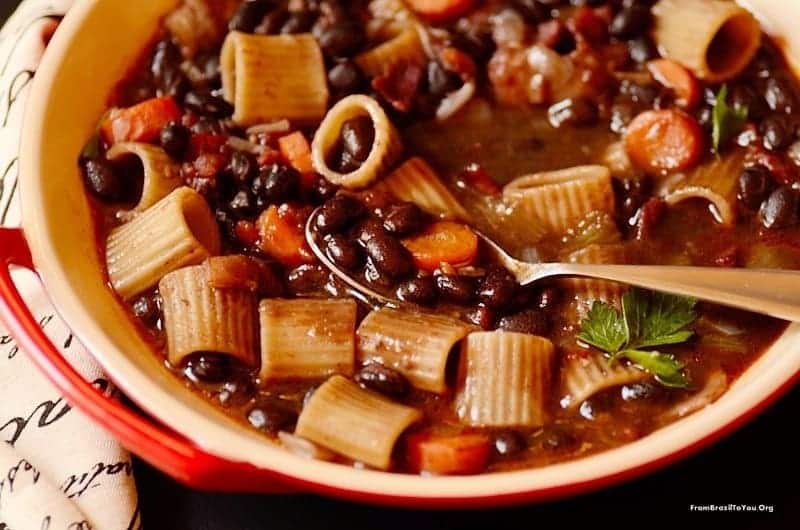 Minestrone means "a big soup"... or a thick soup of Italian origin made with beans, pasta or rice, and vegetables such as onions, celery, carrots, and tomatoes.
Ours contains basically the same ingredients, but with a few variations. White beans have been replaced by black beans, a popular ingredient in Brazilian cuisine... and I have also added bacon to the soup (just as one would find in a feijoada).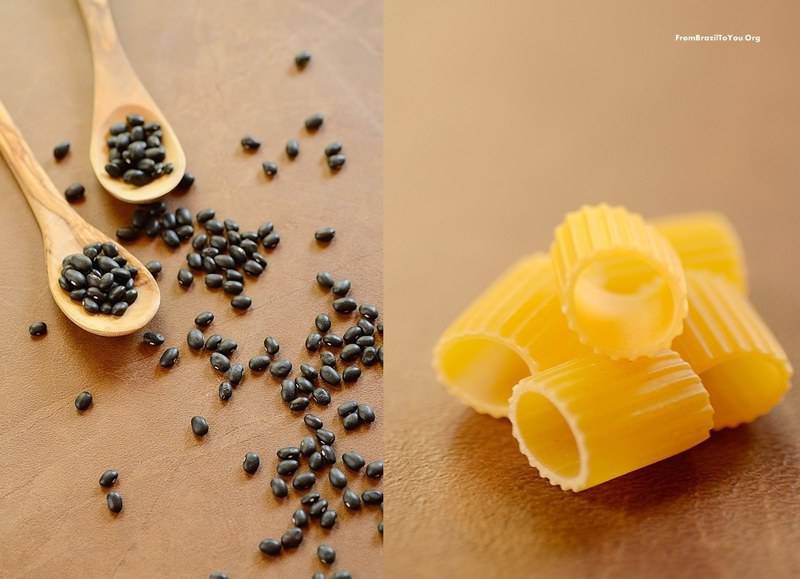 Although this type of soup is known as 'sopa de feijão com macarrão e verduras' (black bean soup with pasta and vegetables), it is actually a variant of the Italian minestrone -- well, at least this particular version of black bean soup. I can only imagine that this must be due to the influence of Italian immigration in Southern Brazil.
I remember my mother used to make hers by pureeing either pinto bean or black bean leftovers in the blender and then cooking them with angel hair pasta -- and oh how I used to love its comforting flavor. But there is more than one version of black bean soup in Brazil. Most of them are made with pinto beans or black beans (pureed or not), a pasta of one's choice, and other optional ingredients such as bacon, beef or sausage, and a variety of different vegetables.
Ours is definitely more similar to the Southern Brazilian version.
Well, enjoy a good bowl of our Brazilian minestrone soup accompanied by your favorite bread... and stay warm.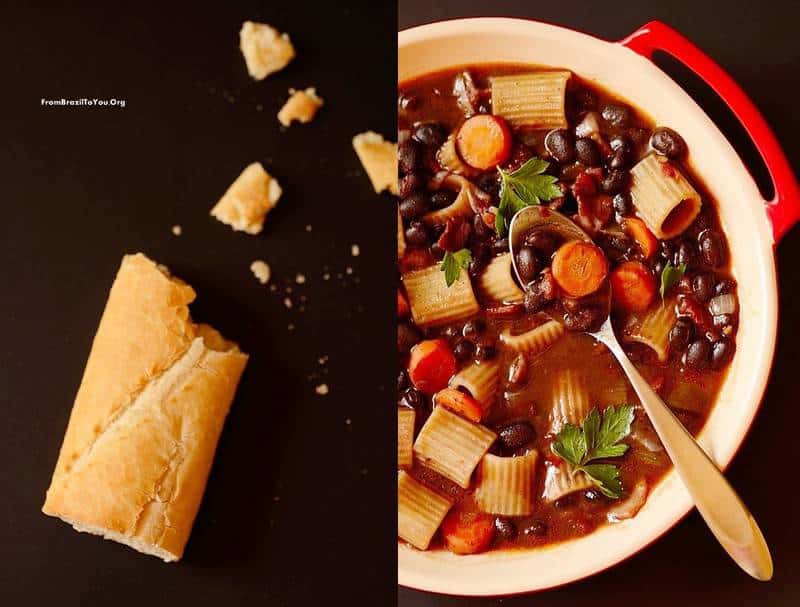 Brazilian Minestrone (Black Bean, Pasta, Bacon, and Vegetable Soup)
Brazilian minestrone is a quick and hearty soup made from black beans, pasta, bacon, and vegetables (the Southern Brazilian version of our black bean soup, with Italian influence).
Ingredients
4-5

strips of thick sliced smoked bacon

chopped

½

large yellow or white onion

chopped

⅓

cup

diced carrots

(if using baby carrots, simply slice them into rounds)

⅓

cup

diced celery

1

can

black beans

26.5 oz/751 g, or homemade black bean leftovers

4

cups

beef stock

1

cup

canned tomatoes and their juice

Salt and pepper to taste

1

cup

mezzi rigatoni pasta

or any other small pasta of your choice such as macaroni or pasta shells

1

bay leaf

Chopped cilantro or parsley

optional
Instructions
In a medium to large non-stick saucepan, cook the chopped bacon over medium heat for about 5 minutes, stirring occasionally. Add the onions and sweat them for about 3 to 5 minutes in the bacon fat. Add the carrots and celery and cook over medium-low heat, stirring occasionally, for 3 to 5 minutes. Add the beans, beef stock, tomatoes and their juice, salt and pepper to taste, pasta, and bay leaf.

Bring to a boil over medium-high heat; then cover, reduce heat to medium low, and simmer for about 10 to 12 minutes (or until pasta is cooked). Remove bay leaf and adjust the salt and pepper if necessary. Serve hot, sprinkled with chopped cilantro/parsley (if desired) and accompanied by bread. Enjoy!
Recipe Notes
To make a vegetarian version of this Brazilian minestrone soup, omit bacon and add 2 to 3 Tablespoons of olive oil to the recipe in order to sauté vegetables. If desired, other vegetables can be added to this soup such as ⅓ cup of chopped potatoes, pumpkin, or butternut squash.
** Nutrition labels on easyanddelish.com are for educational purposes only. This info is provided as a courtesy and is only an estimate, since the nutrition content of recipes can vary based on ingredient brand or source, portion sizes, recipe changes/variations, and other factors. We suggest making your own calculations using your preferred calculator, based on which ingredients you use, or consulting with a registered dietitian to determine nutritional values more precisely.
Please note that health-focused and diet information provided on easyanddelish.com is for educational purposes and does not constitute medical advice, nor is it intended to diagnose, treat, cure, or prevent disease. Consult with your doctor or other qualified health professional prior to initiating any significant change in your diet or exercise regimen, or for any other issue necessitating medical advice.
DID YOU MAKE THIS RECIPE?
Comment and rate the recipe. Also follow us on Pinterest at @easyanddelish for more delish recipes.