'Finally, feijoada (Brazilian black bean stew)!' as one of my cooking class students will no doubt say. No one was more anxious to see it appear in one of my posts than he…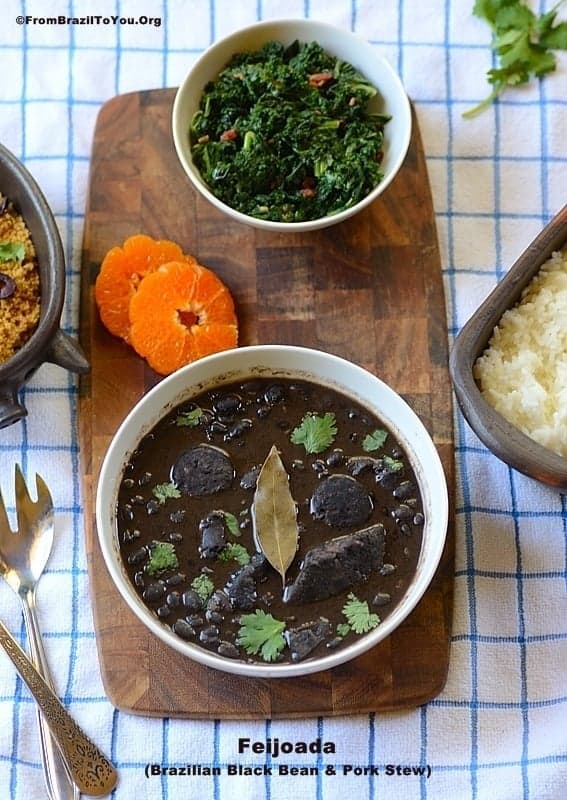 Let's start by introducing this hearty dish briefly which has more than one version.
Brazilian Feijoada is a slow-cooked stew prepared with black beans and an assortment of  pork and sometimes beef products, all nestled in a rich, dark-colored broth.  Its taste is robustly flavorful and savory.  It has been Brazil's national dish for a few centuries.  Yes, centuries.  Remember?  We love beans!!!  Feijoada was born of the fusion of Portuguese traditions with African slaves' superb cooking skills, while modified by their restricted availability of food sources.   At that time, all parts of the hog were taken advantage of, including the ears, trotters, tails, etc.  However, this dish, like many others, has evolved with the passage of time, and most modern recipes for it avoid the use of these humbler parts of the pig due to some people's aversion to them.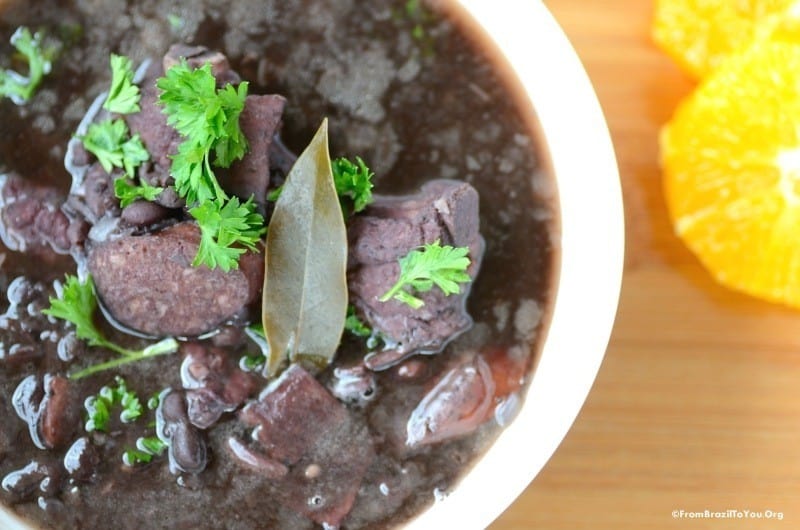 Feijoada (black bean stew) is a delectable yet heavy dish, commonly served at lunchtime (and then followed by a contented, refreshing nap!).  Brazilians love to share feijoada with family and friends on the weekends, just as Americans do with barbecue.
I am pleased to say that both of my daughters (a four- and a five-year old) devoured theirs at dinner time.  According to them, no side dishes were necessary to accompany it — not even rice.   Ah, my eager little diners…. You cannot imagine how happy I was to watch you appreciating mommy's love poured into food.
I wish you a great weekend sharing feijoada, Brazil's beloved dish with your loved ones!
xx
P.S: My hubby asked me to say that my feijoada was even better on the second day. 😉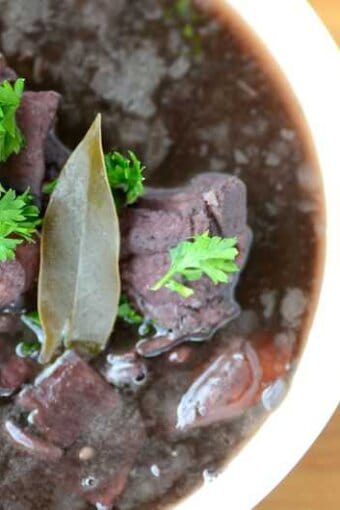 Feijoada (Brazilian Black Bean and Pork Stew)
A traditional Brazilian black and pork stew served with white rice and other accompaniments -- The best beans that one can ever have!
Cook Time
4
hours
10
minutes
Total Time
4
hours
30
minutes
Ingredients
1

package dry black beans

(16 ounce or 454 gr.) soaked overnight and drained 6 - 7 cups wate

6-7

cups

water

6

thick slices smoked bacon

medium diced (I used turkey "bacon" in mine to make the dish lighter and less fatty)

1

tablespoon

olive oil

if necessary

10

ounces

smoked sausage

sliced (e.g. Andouille, smoked Kielbasa) in case paio (a traditional Portuguese and Brazilian smoked sausage made from pork loin, bell pepper, garlic, and salt) is not available., about 282 gr.

1/2

medium yellow onion

chopped

4

garlic cloves

minced

1-1/2

pound

pork baby back ribs

cut, (about 700 gr)

2

slices

smoked ham, chopped

4

ounces

beef jerky

about 100 gr., similar to carne seca

4

bay leaves

2

tablespoons

salt

plus 1 teaspoon

1/4

teaspoon

ground black pepper

1/4

teaspoon

cumin

1/8

teaspoon

ground coriander*

2

teaspoons

red wine vinegar

improves taste and reduces gassy elements

2

teaspoons

tomato paste

1/4

cup

chopped fresh cilantro or parsley

optional

Note: * These ingredients are not part of the traditional feijoada. It was added by me to make the dish tastier.
Instructions
Sort the beans, discarding any shriveled or broken ones. Soak beans in three times their volume of cold water overnight before cooking. Reserve.

Meanwhile, in a separate, large heavy-bottom pan over medium-high heat, bring the beans with 6 cups of water to a boil. Cover the pan and reduce heat. Let simmer over medium-low heat for 60 minutes. Remove from heat and reserve, covered.

Cook the diced bacon in a skillet over medium to medium-high heat until lightly browned. Reserve. In the same skillet, brown the sliced sausage in the bacon fat (if you use turkey bacon, you'll need to add 1 tablespoon of oil to the skillet in order to brown the sausage). Reserve. Then, add the onions and sauté until translucent. Next, add the garlic and sauté both together a bit more (for about 30 to 60 seconds).

Mix the browned bacon and sausage, and also the sautéed onion and garlic into the cooked beans. Add the ribs, chopped ham, the beef jerky, bay leaves, all the seasonings and spices, the vinegar, and tomato paste, to the beans. Add 1 cup of water more, if necessary. Stir well, cover, and let simmer over medium-low heat for 60 to 70 minutes more. Stir and remove the bay leaves. Adjust the seasonings if necessary. If you would like for the feijoada to be have a thicker consistency, blend 1 to 2 cups of the beans with its sauce in the blender until smooth and add to the beans. Right before serving, sprinkle the chopped cilantro or parsley. Serve feijoada warm with white rice*,

farofa

,

couve

, sliced oranges or pineapple,

breaded deep-fried bananas

, and

caipirinha

, cachaça or beer (optional). Other common side dishes for feijoada are boiled or deep-fried cassava and pork rinds (torresmo).

NOTE: In Brazil, it has become more and more common the use of parboiled rice which is available in American supermarkets. Our traditional rice is a white, long-grain one that turns loose (non-sticky) after cooked.