Wondering how does a pressure cooker work? No worries! Find out how to use a pressure cooker and get time-saving recipes that your family will be sure to love.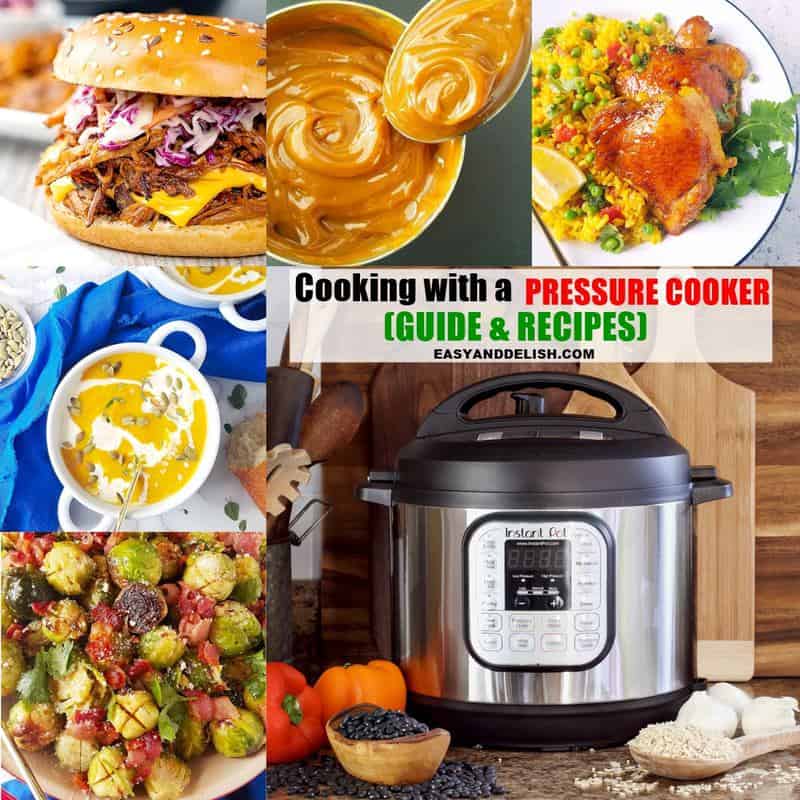 Life can be so busy! We're always looking for new ways to save time while making meals, yet still create healthy, yummy dishes that we'll really enjoy.
With this goal in mind, the pressure cooker is truly one of our best friends in the kitchen! With the help of this handy device, you can make nutritious and tasty meals in just minutes.
Pressure cooking can save you time and money while allowing you to make all sorts of foods that are nutrient-rich, low in fat, and full of flavor.
Although pressure cookers have been around for many years, they have recently grown in popularity thanks to the Instant Pot.
But so many of us also have memories of our grandmas cooking meals in their stovetop pressure cookers (can you remember the sound of the noisy valve?). Now we're learning just why it is that this is such a great way to make food.
What is Pressure Cooking?
Pressure cooking is, at its most basic level, a method of cooking food with steam. The pressure cooker has been around since the 1600s when it was invented by Denis Papin of France. Originally it was called a "Digester" which honestly sounds quite unappetizing! Technology has evolved over the past 400 years and we now have much safer options than the early versions.
How Does a Pressure Cooker Work?
It works by creating steam pressure in a sealed pot. The steam builds up inside which creates high pressure that helps food to cook faster. A valve on the top of the pot controls the steam pressure inside.
The very high-pressure steam impacts the food inside the pot in two ways:
The pressure raises the boiling point of the water/moisture. The boiling point of water is 212°F, but the pressure of the steam in the pot raised the boiling point as high as 250°F. This higher heat level cooks food much faster than conventional methods, such as baking or sautéing. Get our charts for temperature conversion!
Its high-pressure forces moisture into the food. Pressure literally pushes moisture into the food, which cooks it faster and also produces much tenderer meats.
Buying a Pressure Cooker
Choose a pressure cooker that works best for you! With so many types of pressure cookers available today, picking the right one might feel daunting. There are 3 factors to consider when making your purchase:
Your budget: More expensive is not necessarily better, although the higher-end models might offer special features that low-cost pressure cookers do not. Set a budget and get the best pressure cooker you can for your price point.
Size: If you have a family of 5 to feed, the smallest size pressure cooker will be useless to you. Choose the right size for the number of people you will be feeding.
Storage space: The largest ones really take up a good bit of space! My largest Instant Pot will not fit in any of my cabinets and needs its own spot in the pantry closet. Consider how much room you have for storing your pressure cooker before buying.
Also, check out these Instant Pot accessories to find out more about the best ones.
Manual vs. Electric Pressure Cookers
There are two types available: stovetop and electric.
Stovetop: These are the pressure cookers our moms and grandmas used. They heat up on the burner of your stove. These ones need more attention as you'll have to manually control the pressure build-up and closely watch the cooking time. The benefit of a stovetop pressure cooker is the low price.
Electric: We love electric ones because they manage themselves! This is the closest to "fix it and forget it" that you can get, other than with a slow cooker.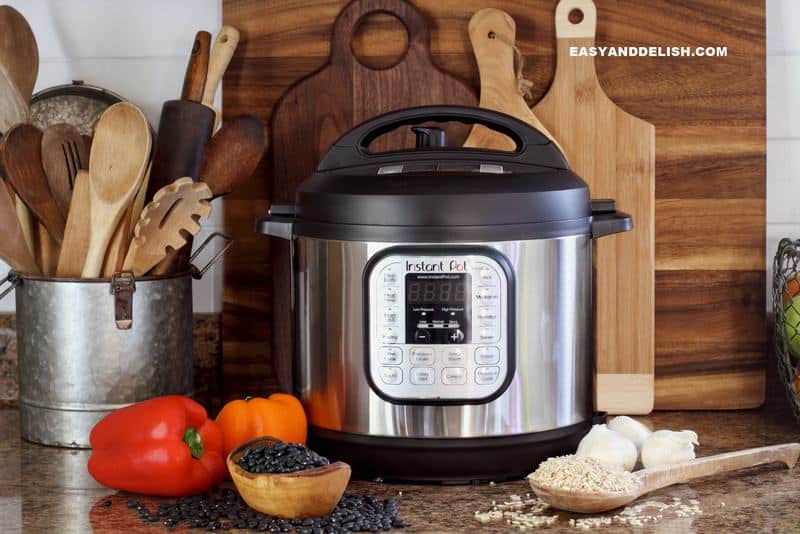 We call the Instant Pot the "fast cooker" because it can do what a slow cooker does in terms of making a tasty, tender meal with little effort, but just so much faster.
Advantages and Disadvantages of Pressure Cooking
Let's start with the cons:
There can be a bit of a learning curve. Knowing how long to cook food takes some practice. You'll be able to find so many recipes, such as the ones I'll share below, that will help you.

Working with a pressure cooker makes it impossible to check the food during cooking. This might be the most frustrating part for those of us used to stirring, tasting, hovering over, and managing the entire process!
Pros:
The high-temperature steam really intensifies the flavor of the food in the pot, which means you'll be able to use less seasoning, such as salt.
Your food will retain more nutrients during pressure cooking than it would with other methods.
It does not require fat. Although liquid will be needed in the pot, you can skip oils if you're trying to reduce fat in your food.
It cooks fast! The high pressure produced in the pot results in food cooked 3 to 10 times faster than with other cooking methods.
Energy-efficient: Due to the shorter cooking times.
Easy cleanup! Many pressure cooker recipes are one-pot meals. You can also sauté ingredients in the pot before starting the pressure cooking.
Health Benefits of Pressure Cooking
The foods retain most of their nutrients. This is because the longer that foods cook, the more of their nutrients get destroyed.
It also makes dinner so much easier to prepare. You can avoid those last-minute decisions to grab takeout! With so many tasty pressure cooker recipes available, you'll be able to quickly make a good-for-you meal in less time than it would take to find a menu, order takeout, and drive to get it or wait for it to be delivered.
Pressure Cooker Safety
When you think of pressure cooking, it could be that the image in your mind is of dodging an exploding pot of green beans in the kitchen. You'll be thrilled to know that today's pressure cookers come with many safety features that allow you to cook with peace of mind.
The main thing to do is to find out how your pressure cooker works. Read the manual that comes with your device and pays close attention to the safety recommendations—then you'll be just fine!
How to Use a Pressure Cooker (6 easy steps):
Wondering how to cook with a pressure cooker? Well, find out how to use a pressure cooker in 6 easy steps as follow:
Add the food and liquid(s) to the pot.

Lock lid and ensure the valve is in the correct position.

Select pressure setting: For electric pressure cookers, select cooking program and time. For manual or stovetop pressure cookers, put on the stovetop and turn heat to high.

Wait for the pressure to build up inside the pot.

Then let the food cook under pressure. For electric pressure cookers, the screen will display the cook time countdown. For stovetop pressure cookers, turn heat to low and start timer using the required cook time.

Release pressure. One of the cons of cooking with a pressure cooker is that you can't taste and adjust the food along the way. This makes you learn how to use a pressure cooker and follow the recipe. But you may halt the process by quickly releasing pressure and opening the lid.
Pressure Cooker Uses and Methods
Using a pressure cooker is an easy task! You can brown, sauté, boil, steam, poach, steam roast, braise, stew, or roast. And yes, you can even use it for canning or bake in your pressure cooker or Instant Pot! Some electric ones come with a slow cooker function.
The possibilities are endless!
Useful Tips
Finding out how your pressure cooker works the key to success! So follow these simple tips:
Never overfill the pot. If you fill your pot too full it will not function properly. As a good rule of thumb, never fill it more than ⅔ full (for most foods). Also, consider the fact that some foods expand and will therefore need more room in the pot. Take a look at the inside of the pot and you should see a maximum fill line to use as a guide.
Liquid is a must. Because pressure cooking uses steam, it obviously needs moisture and plenty of it. Any good pressure cooker recipe will already have factored in the correct amount of cooking liquid. But as you get comfy with your

appliance

you may want to create your own recipes. Always be sure you've added enough liquid or the recipe will fail and you could even damage your Instant Pot. You can check these volume conversions!
Make it a habit to check the sealing vent before you start pressure cooking. Be sure it is clean and clear of food and turned to the "sealing" position if you have a pressure cooker that requires that step.
Release pressure before opening the lid. Depending on the recipe, you may turn the valve to release the pressure, or you might need to let the appliance release pressure on its own over a certain period of time. Either way, do not open the lid until you know the pressure has been fully released.
Read the instruction manual. I know, this has already mentioned, but it is worth repeating. This is one of those appliances that really does require a thorough reading of the manual before use. Every model of the Instant Pot is a bit different, so be sure you're very familiar with yours before use.
Replace the sealing ring. If you start to see water dripping down the sides of your pot, you may need to replace the sealing ring.
Quick vs. Natural Release
Quick-release happens when you know the food is finished cooking and you carefully turn the valve to release the pressure. This is the quickest way to finish the whole cooking process and open the pot as soon as the pressure is released.

Natural release happens when you turn off the heat under a stovetop

pressure cooker or the electric one s

tops cooking and you allow the pressure to slowly release instead of opening the release valve.
The difference really will be in what the recipe calls for. Sometimes the food may continue to cook during the release time, so it's key to follow the instructions outlined in the recipe.
A benefit to the quick release method is of course that it is quick. The natural release can take up to 20 minutes or even longer. You must factor that amount of time into your schedule when preparing a recipe that calls for natural release.
Cooking Times Charts
Here are some handy cooking time charts for you when working with a pressure cooker to prepare common foods:
Meats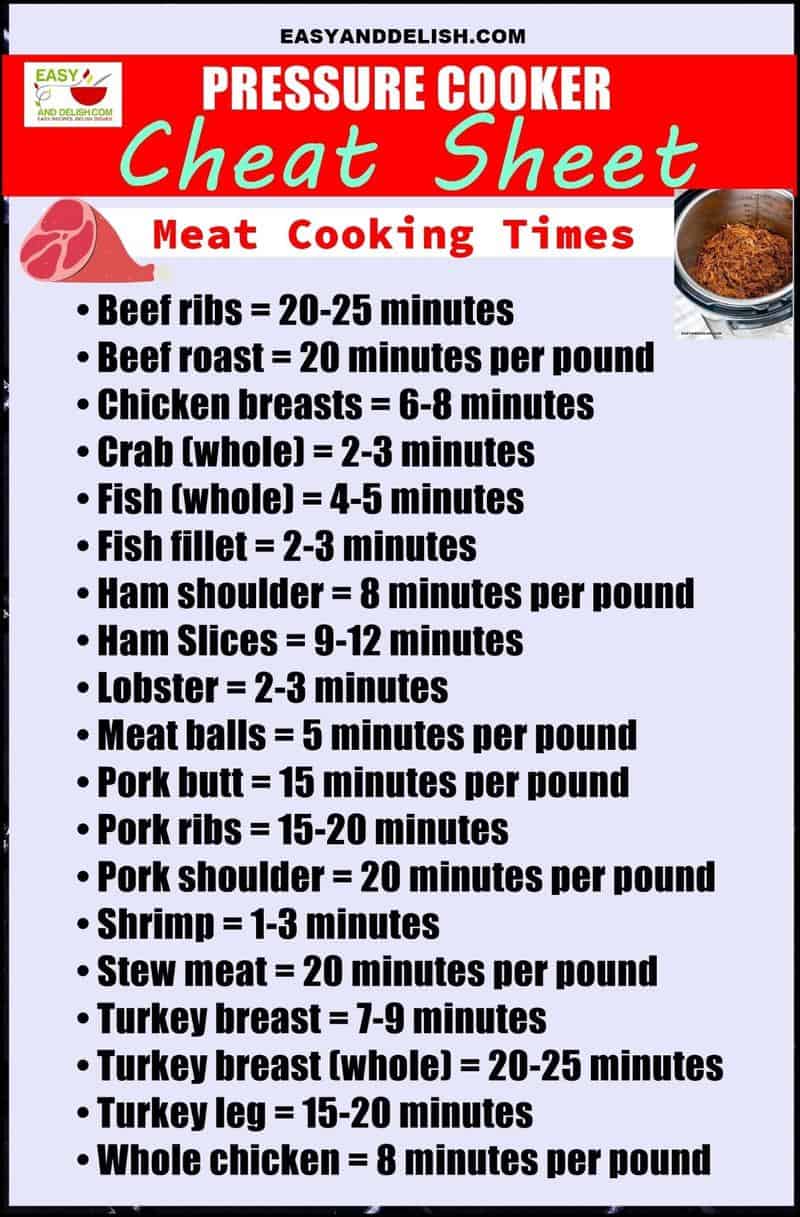 Beef ribs – 20-25 minutes

Beef roast – 20 minutes per pound

Chicken breasts – 6-8 minutes

Crab (whole) – 2-3 minutes

Fish (whole) – 4-5 minutes

Fish fillet – 2-3 minutes

Ham shoulder – 8 minutes per pound

Ham Slices – 9-12 minutes

Lobster – 2-3 minutes

Meatballs – 5 minutes per pound

Pork butt – 15 minutes per pound

Pork ribs – 15-20 minutes

Shrimp – 1-3 minutes

Pork shoulder – 20 minutes per pound

Stew meat – 20 minutes per pound

Turkey breast – 7-9 minutes

Turkey breast (whole) – 20-25 minutes

Whole chicken – 8 minutes per pound

Turkey leg – 15-20 minutes
Vegetables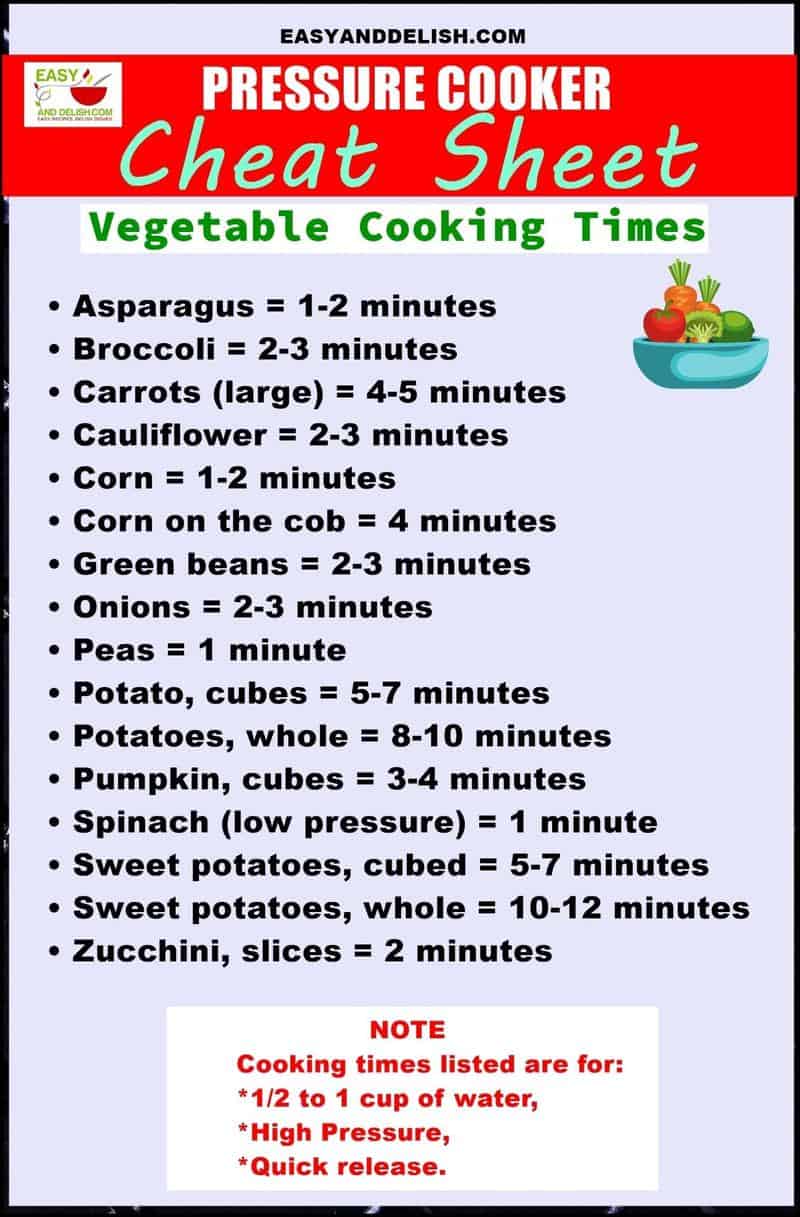 • Asparagus = 1-2 minutes
• Broccoli = 2-3 minutes
• Carrots (large) = 4-5 minutes
• Cauliflower = 2-3 minutes
• Corn = 1-2 minutes
• Corn on the cob = 4 minutes
• Green beans = 2-3 minutes
• Onions = 2-3 minutes
• Peas = 1 minute
• Potato, cubes = 5-7 minutes
• Potatoes, whole = 8-10 minutes
• Pumpkin, cubes = 3-4 minutes
• Spinach (low pressure) = 1 minute
• Sweet potatoes, cubed = 5-7 minutes
• Sweet potatoes, whole = 10-12 minutes
• Zucchini, slices = 2 minutes
Note: Times listed above for pressure cooking are for ½ to 1 cup of water, high pressure, and quick release.
Rice, Beans,

and Grains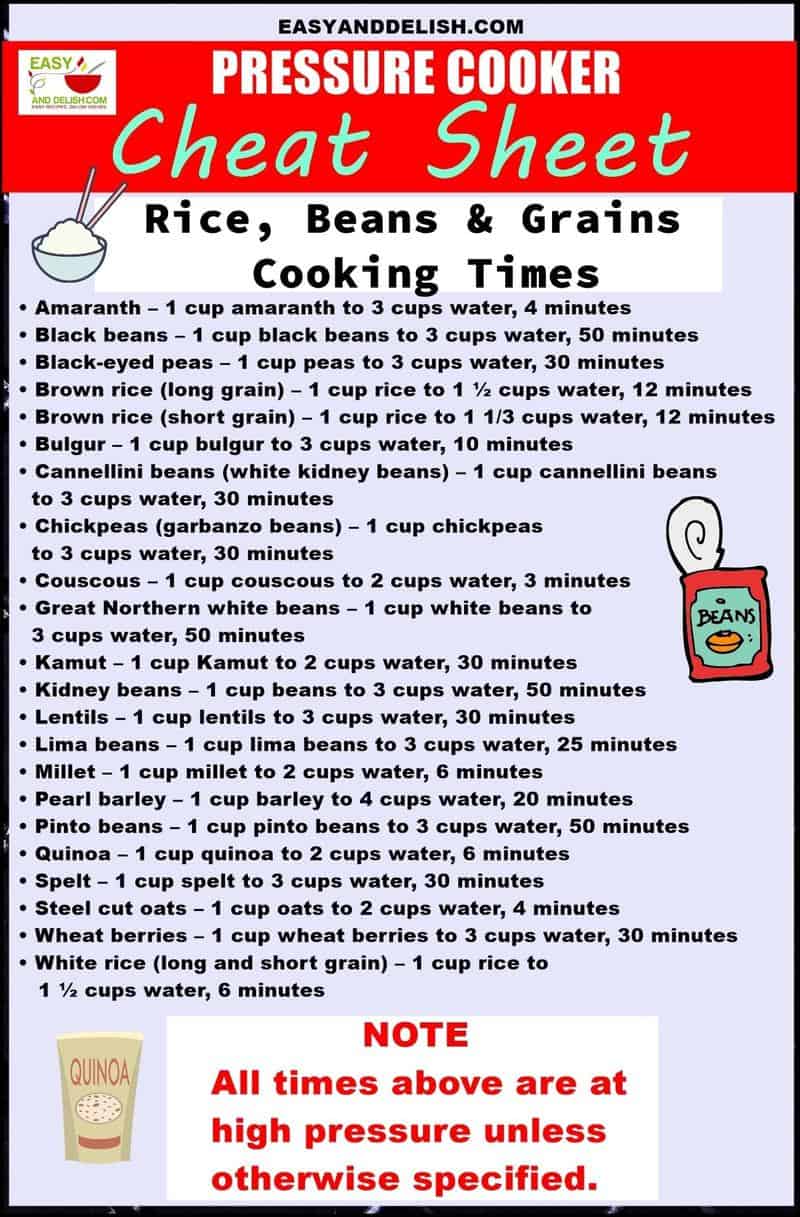 Amaranth – 1 cup amaranth to 3 cups water, 4 minutes

Black beans – 1 cup black beans to 3 cups water, 50 minutes

Black-eyed peas – 1 cup peas to 3 cups water, 30 minutes

Brown rice (long grain) – 1 cup rice to 1 ½ cups water, 12 minutes

Brown rice (short grain) – 1 cup rice to 1 ⅓ cups water, 12 minutes

Bulgur – 1 cup bulgur to 3 cups water, 10 minutes

Cannellini beans (white kidney beans) – 1 cup cannellini beans to 3 cups water, 30 minutes

Chickpeas (garbanzo beans) – 1 cup chickpeas to 3 cups water, 30 minutes

Couscous – 1 cup couscous to 2 cups water, 3 minutes

Great Northern white beans – 1 cup white beans to 3 cups water, 50 minutes

Kamut – 1 cup Kamut to 2 cups water, 30 minutes

Kidney beans – 1 cup beans to 3 cups water, 50 minutes

Lentils – 1 cup lentils to 3 cups water, 30 minutes

Lima beans – 1 cup lima beans to 3 cups water, 25 minutes

Millet – 1 cup millet to 2 cups water, 6 minutes

Pearl barley – 1 cup barley to 4 cups water, 20 minutes

Pinto beans – 1 cup pinto beans to 3 cups water, 50 minutes

Quinoa – 1 cup quinoa to 2 cups water, 6 minutes

Spelt – 1 cup spelt to 3 cups water, 30 minutes

Steel-cut oats – 1 cup oats to 2 cups water, 4 minutes

Wheat berries – 1 cup wheat berries to 3 cups water, 30 minutes

White rice (long and short grain) – 1 cup rice to 1 ½ cups water, 6 minutes
Note: All times above are at high pressure unless otherwise specified. This is why you don't need a temperature chart. As you can see, most foods are quick and easy to cook! If needed, check these cooking conversions.
Pressure Cooker Recipes
Now that you know how a pressure cooker works, here are some great recipes to get you started with creating delicious meals using this great kitchen appliance:
Main Dishes:
Sides:
Dessert:
PIN & ENJOY!