Brazilian beef stew with vegetables is an easy and hearty stew that can be accompanied by white rice. It makes a great weeknight meal!
I have spent most of the day out with my daughters, who are still enjoying their Easter break.  We played in the playground of the city park, ate out, and went shopping.  A small fortune was what I spent at the Disney Store.  This reminds me how wonderful it is to have girls, but also how incredibly expensive it can be, too.
Well, when we finally got home, it was time to prepare my next post.  In my head: a dilemma!  To make, or not to make?  That is the question….
OK, for days I had a dish in mind, although I ended up changing my mind at the very last minute.
I intended to make Banana Empanada (Deep-Fried Bananas)— something different, I bet, from any other fried bananas that you have ever seen or eaten.  I just want to let you know that I haven't given up on the idea of making them.  Oh, no!  Actually, since I did not make them this time around, I will have to do them for my next post.  I just thought that a Beef Stew with Vegetables would be a more suitable dish for dinner — a stand-alone dish that is a complete meal in and of itself. 🙂
This stew is a rustic dish which is especially perfect to eat with a hard-crust bread (e.g. french bread, fresh or toasted) — to soak it in.
In Brazil, this Brazilian beef stew is usually served either with beans, rice, and farofa or with rice and shoestring potatoes.
Whatever dish(es) you choose to eat it with, you won't be disappointed.  This Brazilian beef stew itself is worth the time taken to prepare it.  Enjoy!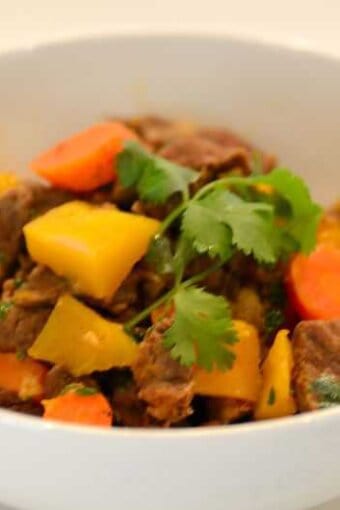 Brazilian Beef Stew with Vegetables (Picadinho de Carne)
Brazilian beef stew with vegetables is an easy and hearty stew that can be accompanied by white rice. It makes a great weeknight meal!
Total Time
1
hour
10
minutes
Ingredients
2.5

beef stew

cubed (or 1.1 kg)

1/2

tablespoon

cumin

1/2

tablespoon

garlic powder

1/2

tablespoon

onion powder

1

teaspoon

salt

1/4

teaspoon

ground black pepper

2

tablespoons

vegetable oil

1/2

large yellow onion

small diced

3

garlic cloves

minced

1

tablespoon

red wine vinegar

2

cups

beef stock

1

teaspoon

tomate paste

1

teaspoon

annatto powder

optional, achiote

1/2

medium butternut squash

deseeded and cubed

2

carrots

peeled and sliced

1

large Yukon potato

peeled and cubed

1/4

cup

fresh cilantro

chopped
Instructions
Season the cubed beef with cumin, both the garlic and onion powder, salt, and pepper. Let rest for about 30 minutes.

In a large heavy-bottomed pan, heat the oil over medium-high heat and sauté the onion for about 2 minutes, stirring occasionally. Add the garlic and sauté for about 30 seconds. Add the seasoned beef and brown for about 5 minutes.

Add the vinegar and let evaporate a bit. Then, add the stock, the tomato paste, and the annatto. Stir. Bring to a boil, cover the pan, and reduce heat to low. Let simmer for approximately 50 minutes. Then add the potato, carrots, and squash and let the stew simmer, covered, for an additional 20 minutes.

Remove from heat, add the cilantro, and serve the Brazilian beef stew piping hot.