It's pumpkin season again… 🙂 So today we will be preparing a Healthy Creamy Pumpkin Soup (Sopa Cremosa de Abóbora) as a main dish to serve for dinner — accompanied by toast points, of course! Happy?
I am!!! I simply adore pumpkin, and all of the goodies — both savory and sweet– that you can prepare with it. Just like Americans, Brazilians also use pumpkin to prepare sweet treats such as pumpkin compote in syrup (doce de abóbora em calda), pumpkin brigadeiros, pumpkin flan (pudim de abóbora), pumpkin-coconut sweet bread (pão de abóbora com coco), among other things. However, Brazilians enjoy pumpkin in savory dishes as well, such as soups (both creamy and chunky), stews, mashed pumpkin, and quibebe (steamed pumpkin chunks topped with shredded dried, salted beef sautéed with onions).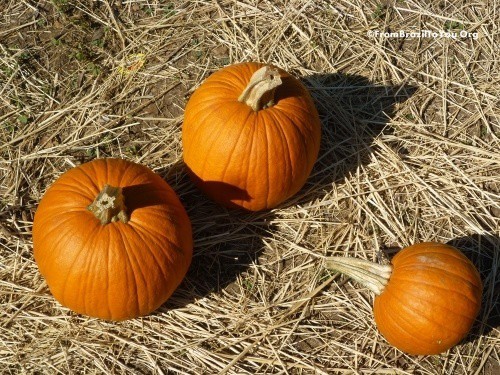 Pumpkin is a fruit (not a vegetable like many think!) that is cultivated and consumed in many Brazilian states, although the Northeastern region is its largest producer. As you know, I am proudly from Northeastern Brazil, with pumpkin dishes having been an important part of my family's table for as long as I can remember… and which continue to be, even after my coming to the USA in 2002. The only difference is that I happily added several more pumpkin goodies to my autumn menu!!! 😉
Well, this pumpkin soup is healthy because is prepared with yogurt instead of heavy cream, plus pumpkin is rich in vital antioxidants and vitamins. Another advantage is that our pumpkin soup is quick and easy to make since everything is blended together in a blender. If you have a busy routine (like me), this is definitely one of those time-saver dishes to add to your repertoire, which pleases both adults and children.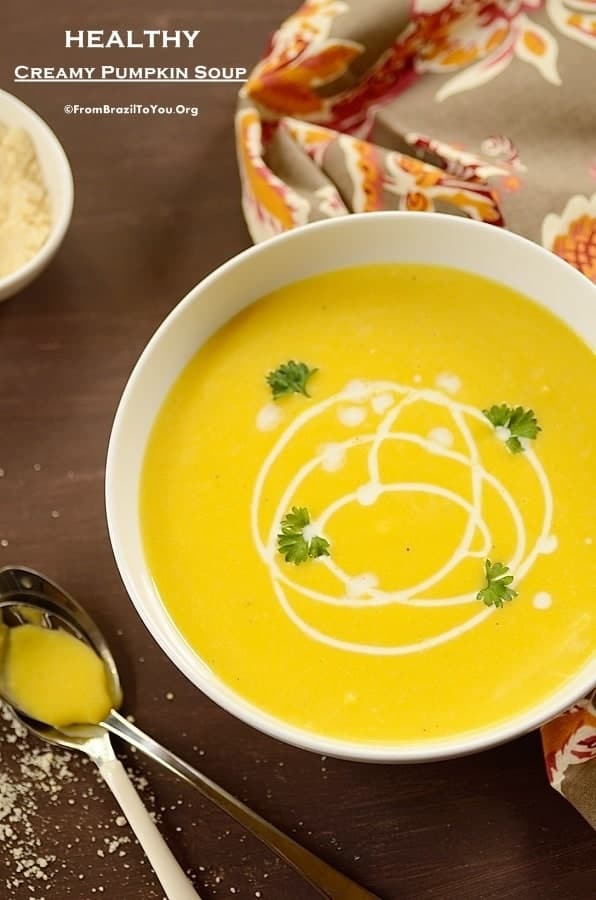 I am telling you… even my picky eldest daughter tried and loved it. Pumpkin is the fruit for this time around.
You can enjoy it as much as you like, without any hesitation!
xx
P.S.: This is HALLOWEEN WEEK!!!! You could serve this healthy creamy pumpkin soup for dinner and one or more of the following as a treat: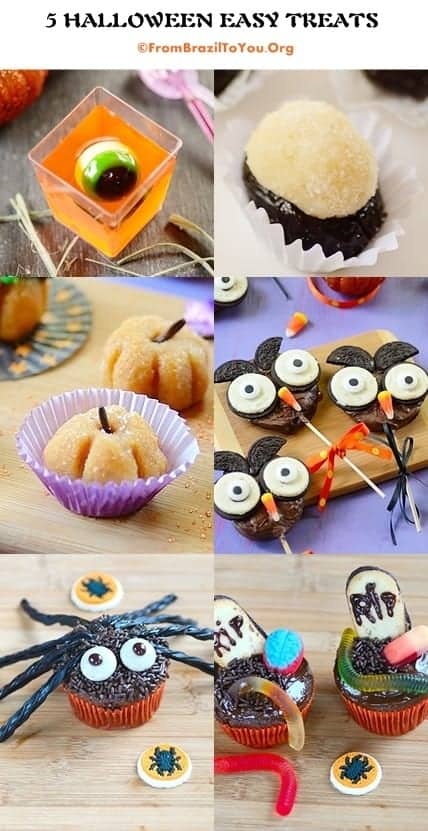 1. Creepy Jello Cups (quick and great for teen and adult parties)
2. Mother-in-Law's Eyes (gluten-free)
3. Pumpkin Brigadeiros (gluten-free)
4. Chocolate-Apple Halloween Owl (gluten-free)
5. Brigadeiro Cupcakes (Cute Spider, RIP, and Black Cat)
Happy Halloween!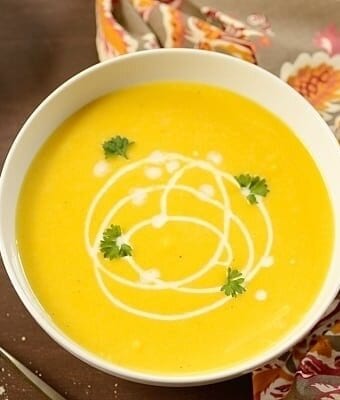 Healthy Creamy Pumpkin Soup (Sopa Cremosa de Abóbora)
This is a creamy and healthy pumpkin soup prepared with yogurt and loaded with antioxidants and vitamins. It is quick to prepare and gluten-free!
Ingredients
1

tablespoon

olive oil

plus more for drizzling

2

tablespoons

butter

1

small yellow onion

chopped

1-1/2

pounds

pumpkin

seeded, peeled, and cut into cubes (pumpkin can be precooked or raw)

Salt and freshly ground black pepper to taste

3

cups

vegetable or chicken broth

1/2

cup

plain yogurt or heavy cream

I used Greek yogurt to add acidity to the soup

Freshly grated Parmesan cheese
Instructions
Heat a medium pot over medium heat, add the oil and butter. When butter melts, sweat the onion and then add the pumpkin. Saute for a couple of minutes. Add salt, pepper, and the vegetable broth, and then cook on medium-high heat for about 5 minutes (or until the pumpkin is fork tender, if starting from raw).

In a blender, puree the pumpkin mixture until creamy. Return mixture to the pot and let cook over medium heat for 5 additional minutes. Add the yogurt or heavy cream, and cook for an additional minute.

Remove the soup from the heat. Serve immediately, topping with a drizzle of olive oil and Parmesan cheese. Enjoy!