Recently the weather has started to change noticeably. The temperature has cooled down, but there is also something different in the air– almost as if announcing that fall is about to arrive. At this time of the year, I start to yearn for hearty and comforting dishes, and today I have a specific craving for Galinhada, Brazilian Saffron rice with Chicken and Vegetables.  Huh??? 🙂
Galinhada (pronounced gah-leen-YA-dah) is a rice made with chicken, saffron, and vegetables, which is a typical Brazilian dish from both the states of Minas Gerais and Goiás. However, in Goiás guariroba (a sour heart of palm) and pequi (a fruit with a strong taste, native to the Brazilian savanna or cerrado) are added to the dish,  distinguishing it from that of Minas Gerais.
Since both the guariroba and the pequi are not so readily obtainable in the United States, I decided to make the version from Minas Gerais. I am telling you: the savory aroma as it simmers on the stove is just unforgettable…
Excuse me, but it's time to eat this simple but yet super-delicious galinhada. I cannot wait any longer. 🙂
See ya later!
xx
Brazilian Saffron Rice with Chicken and Vegetables
(Galinhada Mineira)
Serves 4 – 6
Segment: Brazilian Cuisine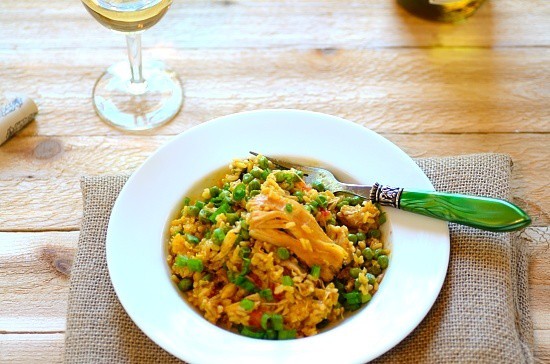 Ingredients:
2 lbs (about 1kg) boneless skinless chicken thighs
1 teaspoon salt
Black ground pepper to taste
1 teaspoon garlic powder
1/2 teaspoon ground cumin
2-3 tablespoons vegetable oil
1 small white onion, small diced
1 large green bell pepper, small diced
2 cloves garlic, minced
2 cups parboiled rice
1/2 cup white wine**
3-1/2 cups chicken broth
1/2 cup water, hot
1 tablespoon saffron threads
1 teaspoon tomato paste**
1 bay leaf
Fresh juice of 1/2 lemon**
3 large diced tomatoes, skin and seeds removed
1 to 1-1/4 cups fresh or frozen peas, cooked
1/4 cup green onions, chopped
** These ingredients are not part of the traditional recipe.
Directions:
Season the chicken thighs with salt, pepper, garlic powder, and cumin. Let rest for about 30 minutes. Meanwhile, dice and chop the vegetables. Reserve.
In a large pan over medium-high heat, sauté the onion and bell pepper for about 2 minutes. Add the chicken and let brown for about 2 minutes each side. Add the garlic and sauté for 30 to 60 seconds. Add the rice and brown quickly. Add the wine and let evaporate.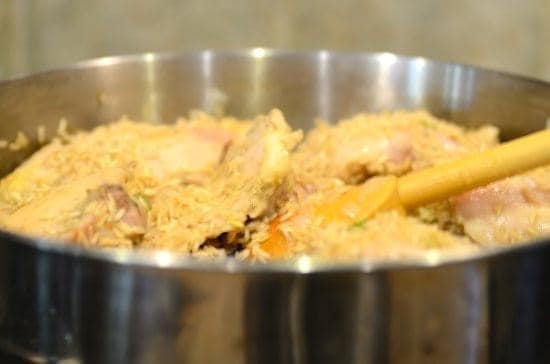 Then, add the broth. Dissolve the saffron in the warm water and add to the pan with the tomato paste and bay leaf. Stir, bring to a boil, reduce heat to medium-low, and cover the pan. Let cook for about 15 to 20 minutes, or until the rice is cooked and all the liquid has completely evaporated. Adjust the salt, if necessary. Remove from the stove, add the lemon juice, the tomato, cooked peas, and the green onions. Mix gently. Serve galinhada with a good chardonnay wine. Enjoy!