I am breaking bread with a wonderful lady today -- who happens to be my favorite neighbor. For those who don't know, my house has been for sale. Knowing that I will miss my neighborhood and especially Ms. C, I decided to make this hearty and tasty Kale Pasta Salad -- as I way to thank her for always being so kind and helpful.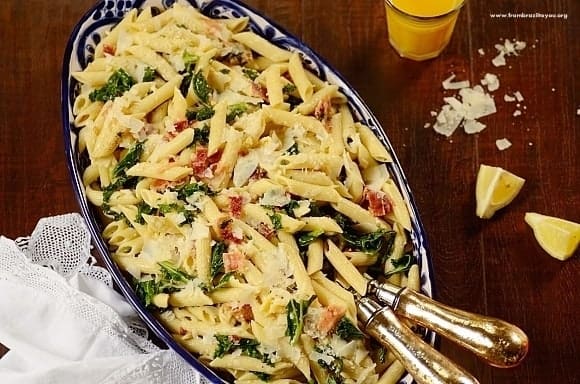 The first thing was to make a stop at Walmart to buy Barilla® Penne...
... and then preparing all the ingredients to assemble our dish such boiling the pasta, mincing the garlic, slicing the lemon, and chopping both the bacon and kale.
This kale pasta salad is a simple yet versatile dish that can be served either cold or warm, as a side or main pasta dish, all year round. Check out this Caprese pasta salad! . Although kale is a cold crop, it's available the entire year in the US. Our dish can be easily adapted to fit a vegetarian diet by simply omitting bacon from the recipe... and was inspired in one of my favorite Brazilian leafy dishes, Couve à Mineira.
To bring its flavor, I just had to cook the kale in medium-high heat until slightly wilted -- softening its bitterness. I could not be more pleased... the kale pasta salad turned out fantastic combining different textures and also flavors (salty, garlicky, smoky, and mildly bitter).
Because temps are already on the high, I am serving it cold... and yes, I can already foresee Ms. C's smile when she takes the first bite. I am foreseeing yours too...
For other delicious pasta dishes, check out Barilla®​ recipes... and enjoy our refreshing kale pasta salad!
Kale Pasta Salad
Kale Pasta Salad is a quick and tasty dish that can be served either cold or warm, as a main or side dish, all year round!
Ingredients
1

pound

Barilla® Penne

6

tablespoons

vegetable oil

divided

5

garlic cloves

minced

10

strips

cooked smoked bacon

chopped (for a vegetarian version, omit bacon)

¾

teaspoon

salt

(or more, if desired)

¾

teaspoon

ground black pepper

1

bunch

kale

washed, pat dry, and chopped

Fresh squeezed juice of 1 lemon

¾

cup

Parmesan cheese

either shaved or shredded
Instructions
Cook pasta in salty boiling water for about 12 minutes. Drain, rinse with cold water, and add to a large bowl. Set aside.

In a large skillet or pan, heat 4 tablespoons of oil and add the minced garlic. Cook over low heat, stirring occasionally, for about 2 minutes. Don't let garlic turn brown! Add the cooked bacon and heat for about 1 to 2 minutes to bring out its flavor. Remove pan from heat, stir in ¾ teaspoon of salt and ¾ teaspoon of pepper. Pour mixture all over the cooked pasta, tossing well to combine. Set aside.

Add the other 2 remaining tablespoons of oil and chopped kale to the same skillet or pan (without wiping it out) and let cook over medium-high heat for about 3 to 5 minutes or until kale is slightly wilted. Warming up the kale over medium-high heat brings out its flavor, avoiding get too bitter. Add kale to the pasta mixture with the lemon juice, and toss to combine. Let sit for about 5 to 7 minutes. When mixture has cool down, add the Parmesan cheese and toss. Taste pasta mixture, adjusting the seasonings if necessary.

Chill kale pasta salad for about 2 to 3 hours (or more if necessary) and serve.
Recipe Notes
This kale pasta salad can be served warm if desired. In this case, place the Parmesan cheese on top just right before serving.
** Nutrition labels on easyanddelish.com are for educational purposes only. This info is provided as a courtesy and is only an estimate, since the nutrition content of recipes can vary based on ingredient brand or source, portion sizes, recipe changes/variations, and other factors. We suggest making your own calculations using your preferred calculator, based on which ingredients you use, or consulting with a registered dietitian to determine nutritional values more precisely.
Please note that health-focused and diet information provided on easyanddelish.com is for educational purposes and does not constitute medical advice, nor is it intended to diagnose, treat, cure, or prevent disease. Consult with your doctor or other qualified health professional prior to initiating any significant change in your diet or exercise regimen, or for any other issue necessitating medical advice.
DID YOU MAKE THIS RECIPE?
Comment and rate the recipe. Also follow us on Pinterest at @easyanddelish for more delish recipes.
This is a sponsored conversation written by me on behalf of Barilla. The opinions and text are all mine.

P.S.: To find out about the health benefits of kale, click here.