Disclosure: This is a compensated campaign in collaboration with Cacique Inc. and Society Culinaria. Thank you, friends, for supporting the brands that I work with and love! 
Breakfast is served... in the form of a tropical and summery Mango Lime Smoothie Bowl, topped with berries, coconut flakes, chia seeds, and fresh mint leaves. A big smile is on too -- and how could it be otherwise, when you get to wake up to sunshine in a bowl, right?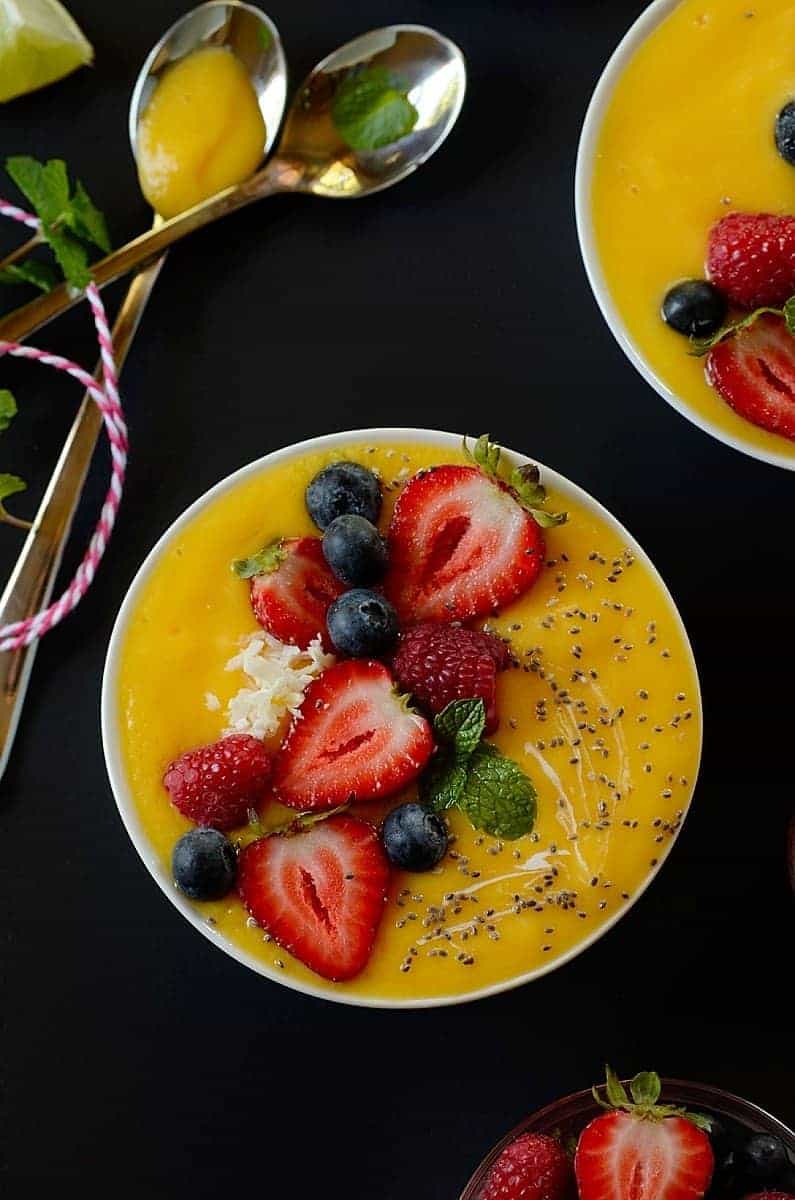 Our mango lime smoothie bowl is healthy, delicious, and super refreshing. It is basically made from a blend of 3 ingredients: frozen mango chunks, fresh lime juice (to accentuate the natural sweetness of the mango while giving the smoothie a hint of acidity), and Cacique mango yogurt smoothie.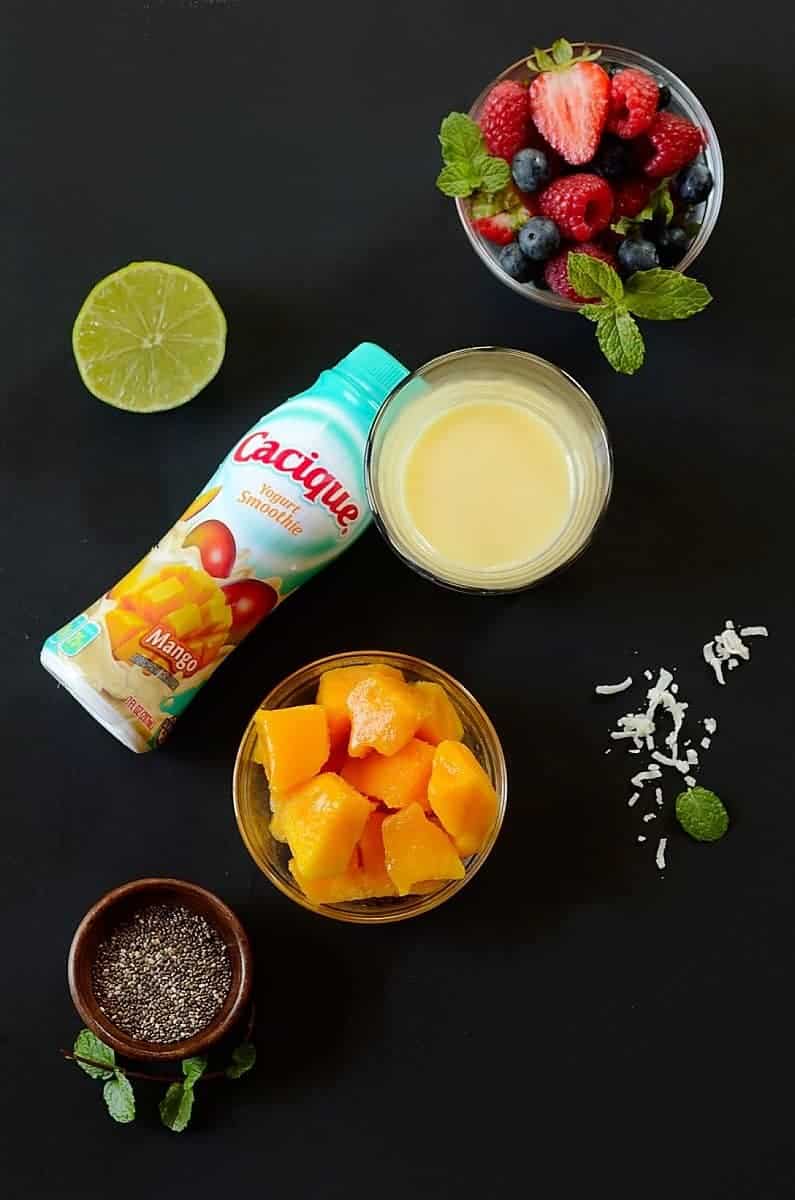 Cacique yogurt smoothie itself contains real fruit flavor blended with creamy yogurt. It is rich in protein (about 8 grams), low in calories and cholesterol, and a good source of calcium (25% of Daily Value) and probiotics.
It comes in 8 different flavors, including mango... and all of them are gluten free with the exception of the three with cereal: Strawberry Banana w/cereal, Prune w/cereal, and Pecan w/cereal. To find out more about all the yogurt smoothie flavors, as well as other delicious products and recipes, visit Cacique USA.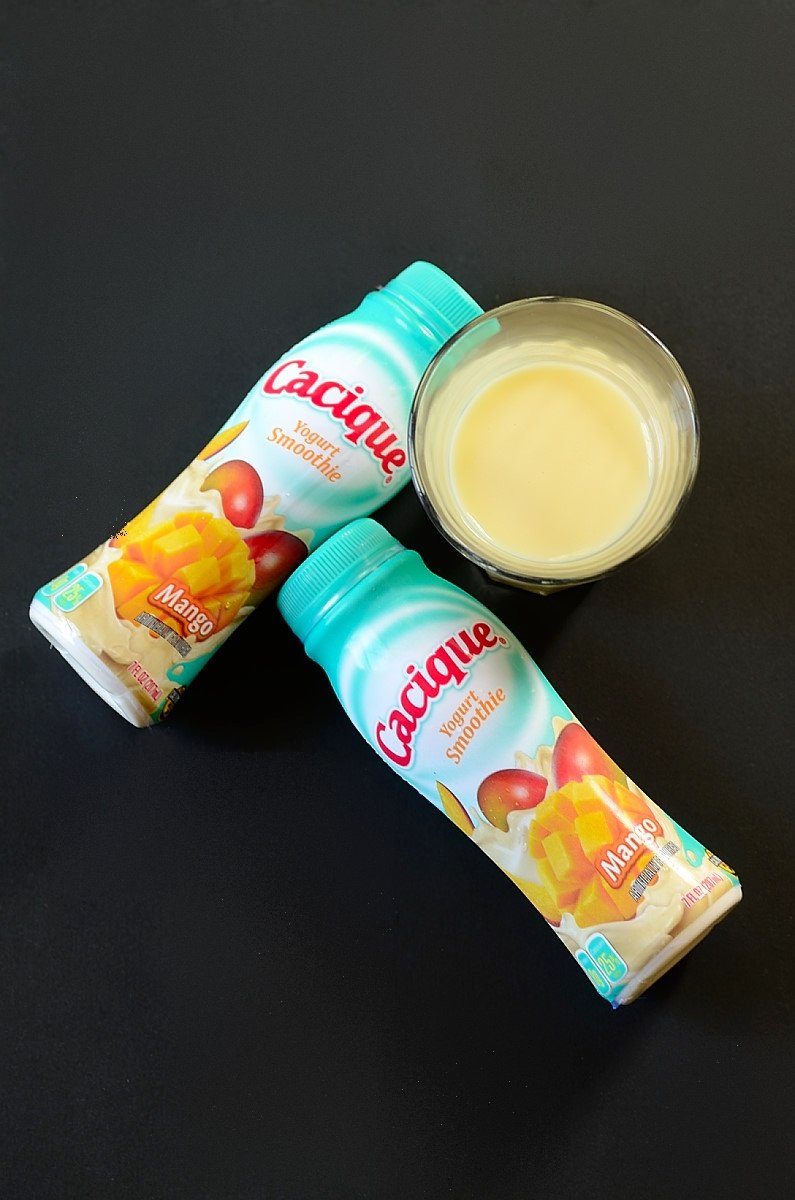 Our fruit smoothie bowl can be prepared in 7  minutes or less. All one has to do is to blend those 3 ingredients in a blender, pour into a bowl, and top with berries, chia seeds, coconut flakes, and mint leaves if desired.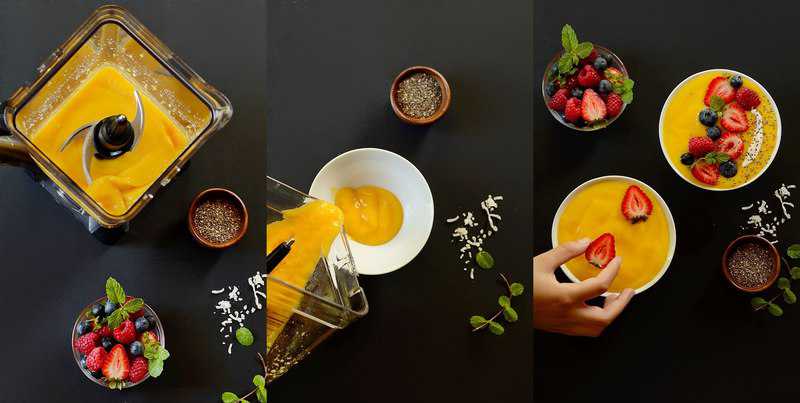 Although originally served in a bowl, this recipe can be conveniently transported in a travel mug wherever you go, any time of day. It makes a healthy and light breakfast or snack.
You can pair different flavors of fruit and Cacique smoothie yogurts, add honey or any other sweetener of your choice, or top with chopped nuts, edible seeds, wheat germ or granola, customizing  your own unique smoothie bowl or cup. Every day  you will have something healthy and satisfying to look for. 😉
My family and I are hooked on both this mango lime smoothie bowl and the Cacique yogurt smoothies themselves.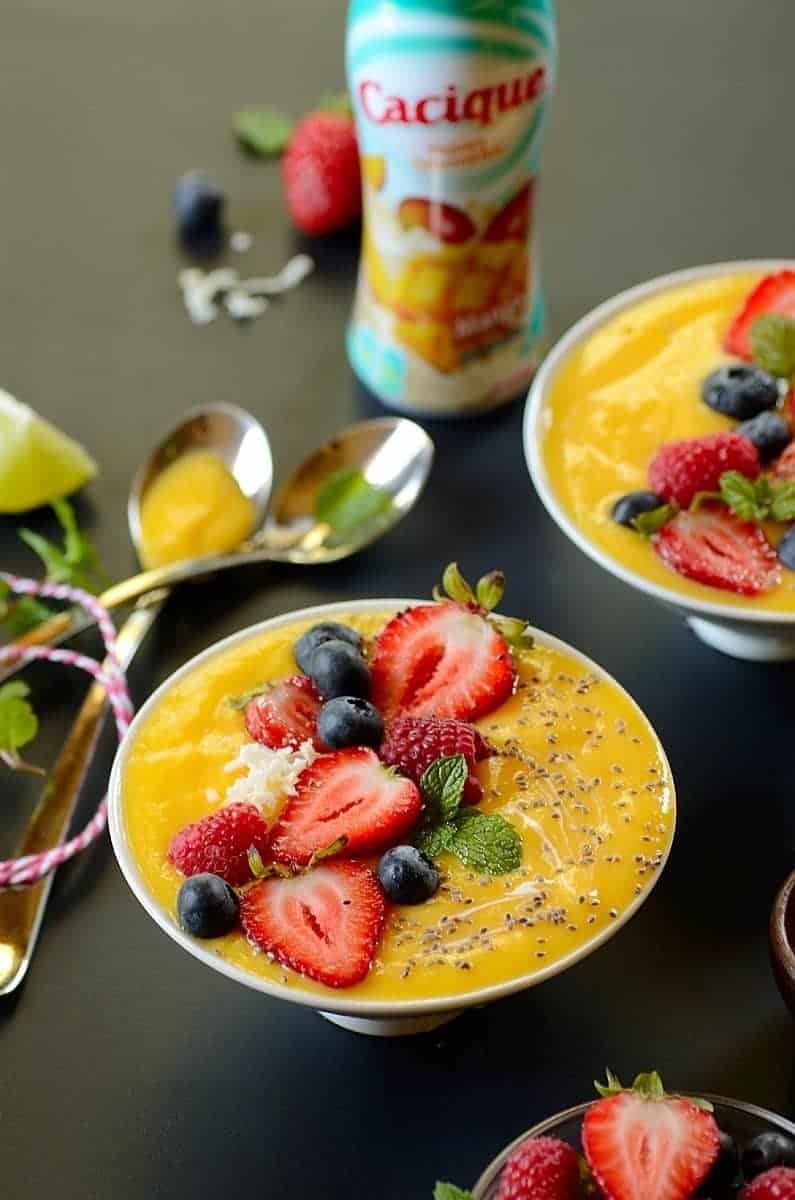 Enjoy summer -- and keep life healthy and fun!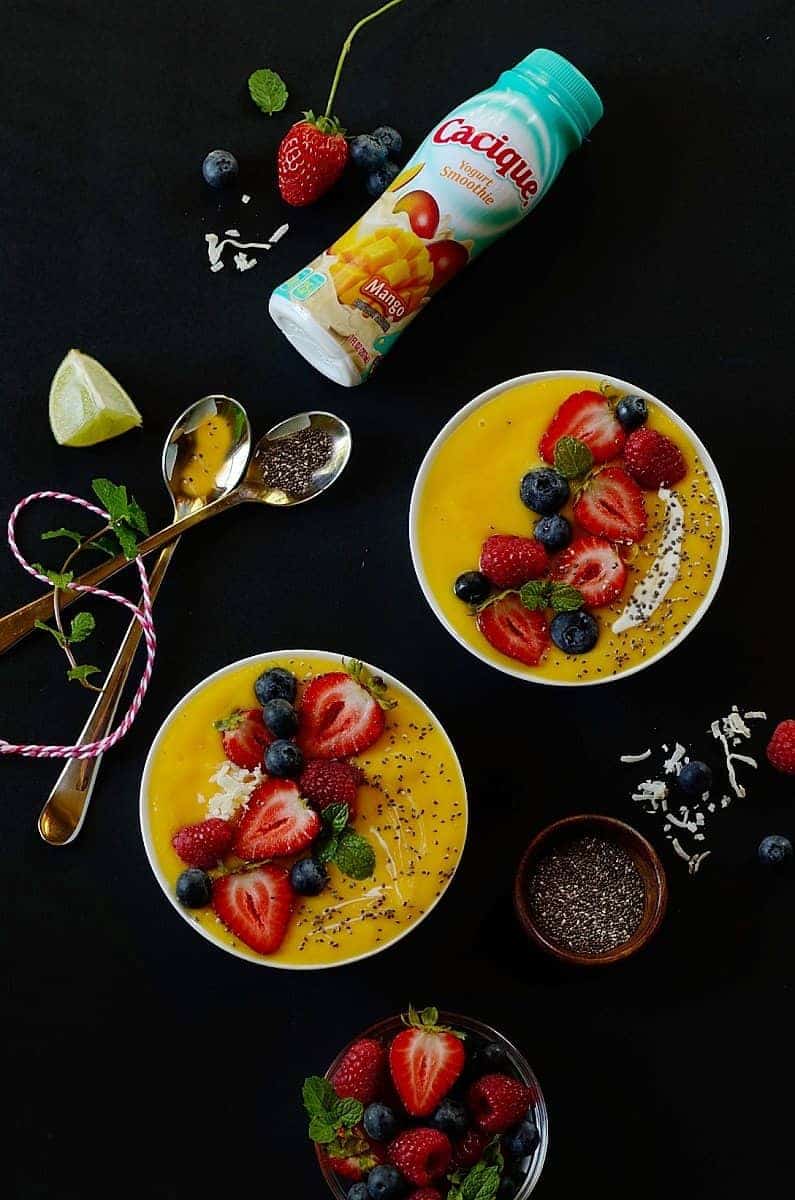 Mango Lime Smoothie Bowl
A healthy, delicious, and refreshing Mango Lime Smoothie Bowl made from frozen mango, lime juice, and yogurt, garnished with berries, Chia seeds, and mint. It makes the perfect breakfast or snack!
Ingredients
For the mango lime smoothie bowl:

2 ½

cups

frozen mango chunks

Fresh juice of ½ large lime

1

Cacique Mango Yogurt Smoothie

7 fl. oz.

Suggested toppings:

1

cup

fresh berries

(strawberries, raspberries, and blueberries)

1

tablespoon

coconut flakes

1

tablespoon

chia seeds

leaves

Fresh mintto garnish

optional
Instructions
Blend the mango, lime juice, and yogurt together in a blender until smooth and creamy. Pour into 2 bowls and top each with ½ cup of berries and ½ Tablespoon of coconut flakes and chia seeds. Garnish with mint leaves if desired. Serve immediately and enjoy!
** Nutrition labels on easyanddelish.com are for educational purposes only. This info is provided as a courtesy and is only an estimate, since the nutrition content of recipes can vary based on ingredient brand or source, portion sizes, recipe changes/variations, and other factors. We suggest making your own calculations using your preferred calculator, based on which ingredients you use, or consulting with a registered dietitian to determine nutritional values more precisely.
Please note that health-focused and diet information provided on easyanddelish.com is for educational purposes and does not constitute medical advice, nor is it intended to diagnose, treat, cure, or prevent disease. Consult with your doctor or other qualified health professional prior to initiating any significant change in your diet or exercise regimen, or for any other issue necessitating medical advice.
DID YOU MAKE THIS RECIPE?
Comment and rate the recipe. Also follow us on Pinterest at @easyanddelish for more delish recipes.
To learn how to peel a mango quickly, click here.