I have started participating in The Secret Recipe Club - SRC. So for this month, I have been assigned to make a recipe from a blog called Making Memories with Your Kids. To honor its mission, I am making something fun with/for my children: Oreo Cookie Balls.
Looking through the blog's recipes, I ended up finding a Brazilian recipe for brigadeiros. I was pleased to find out that its author, Erin, had done an exchange program in Brazil several years ago and has great memories of Brazil and of her Brazilian family -- which made me very happy. Since she made brigadeiros and we had already published our recipe a few months ago, I decided to choose its American counterpart: The equally infamous Oreo Cookies Balls, which are both easy and fun to make. As you can see, this American Oreo cookie balls were approved by my little Chef and daughter Hannah...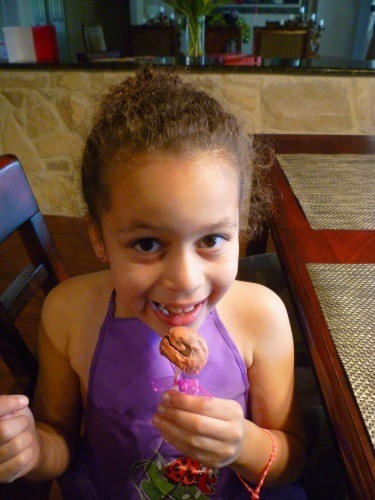 ... as well as by both her Mommy and Daddy. 🙂  Yes, we gobbled our Oreo cookie balls up like little kids. 🙂
Just like brigadeiros, these Oreo cookie balls are very versatile and suitable for many occasions such as baby showers, birthday parties, weddings, to give as gifts, and of course, for many holidays (e.g. Valentine's Day and Easter )-- all depending on which way our Oreo cookie balls are decorated.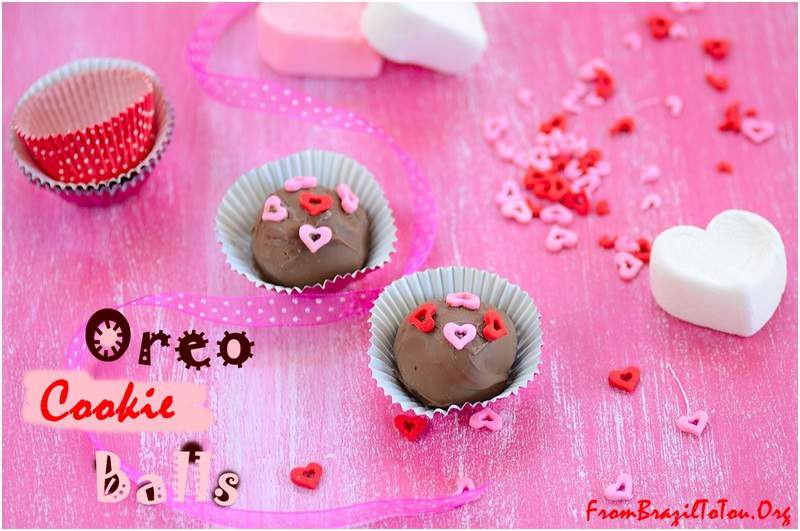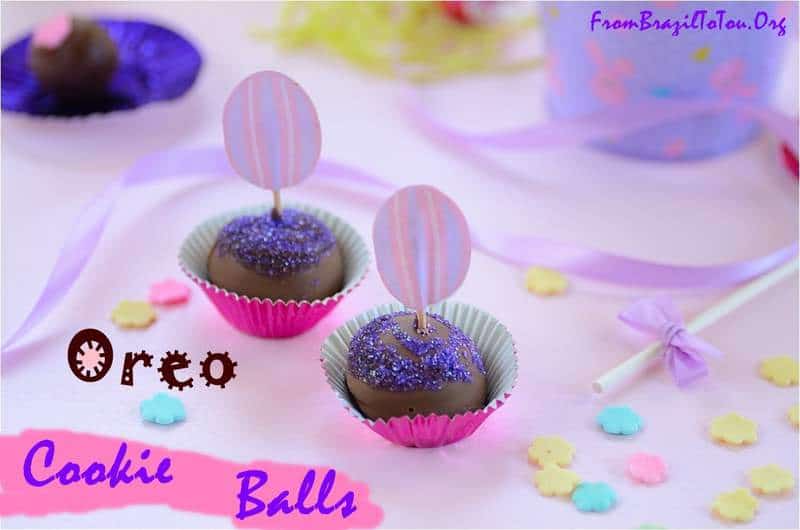 Just use your imagination, and let your inner child be your guide.
xx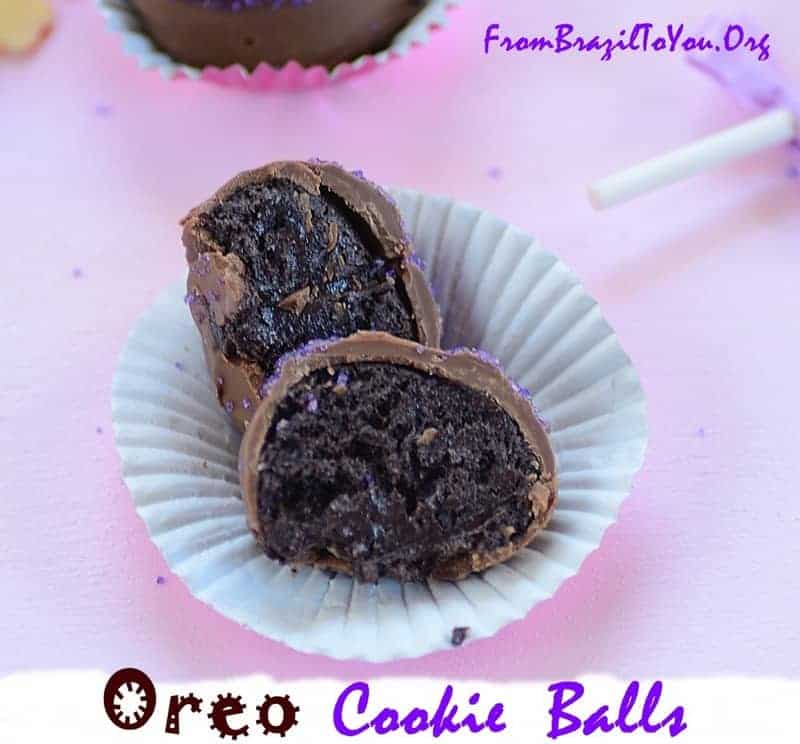 Oreo Cookie Balls
Yield: 18-24 cookie pops
Segment: From My Table To Yours
Ingredients:
½ pkg. (4 oz.) cream cheese, softened
18 oreo sandwich cookies
½ teaspoon pure vanilla extract**
8 - 12 oz. light cocoa candy melts, melted
¼ cup (or more) multi-colored sprinkles
** This ingredient is not part of the original recipe. It was added by me to enhance its flavor.
Directions:
1. In a food processor or blender, process the oreo sandwich cookies until finely crumbed. Mix cream cheese, cookie crumbs, and vanilla with a wood spoon until blended.
2. Shape into 18-24 (1-inch or 1-tablespoon) balls. Freeze Oreo cookie balls for 10-20 minutes in a shallow baking sheet lined with parchment paper. Insert lollipop stick into center of each ball. Dip each one into the melted chocolate; top with the sprinkles while chocolate is not completely dry. Place Oreo cookie balls lollipops standing up in a bowl filled with dry beans (in order to avoiding flat tops) or  if making bonbons, place on a.parchment paper-covered rimmed baking sheet.
3. Refrigerate Oreo cookie balls for 1 hour or until firm. Any spare should be stored in a tightly covered container in the refrigerator.
Note: Recipe adapted from Making Memories with Your Kids, a member of The Secret Recipe Club.