The day has arrived once again-- it is SRC-Secret Recipe Club Day! Our recipe for today is the guilt-free, refreshing, and outrageously creamy Piña Colada Cheesecake Smoothie (Vitamina de Abacaxi com Coco) which was inspired by the Strawberry Cheesecake Smoothies from Melissa's Cuisine. This will be our fourth recipe since we started participating in the SRC. I still remember and will never get enough of our three other dishes from the club: Oreo Cookie Balls, Gnocchi with Collard Greens, Bacon, Grilled Corn, and Tomatoes, and Peanut Butter and Berry Waffles with Nutella Sauce.
For those who may not know, Melissa's Strawberry Cheesecake Smoothie won the vote for the Ultimate Fruit Smoothie recipe in June's Crazy Cooking Challenge! Wow!!! This means that her smoothie recipe was the winner from among all the many other fruit smoothie recipes submitted by several different blogs, and of course I just had to feature that sip of heaven here.
As you know, I love to put my own personal touch on others' recipes and this time was no different. Although I absolutely love strawberries, I wanted to try Melissa's amazing recipe with a tropical combination of flavors: Pineapple and Coconut, which is also known as Piña Colada. This nutritious Piña Colada Cheesecake Smoothie is extremely refreshing, which makes it ideal for warm days. It is literally like having a blissful, guilt-free dessert in a cup that is perfect for enjoying any time, including breakfast!!!
Of course, you are welcome to try not only my Piña Colada Cheesecake Smoothie but also Melissa's Strawberry Cheesecake Smoothie, or customize your own flavor. In either case, I think it will be a win-win!!! Just do not forget to press the lid of the blender on tightly... Unless you want to taste the smoothie directly all over your face. 🙂
Well, anyway, have a refreshing day enjoying  this creamylicious treat...
xx
Piña Colada Cheesecake Smoothie
Yield:  About 3 (8 oz or 240 ml) smoothies
Segment: Secret Recipe Club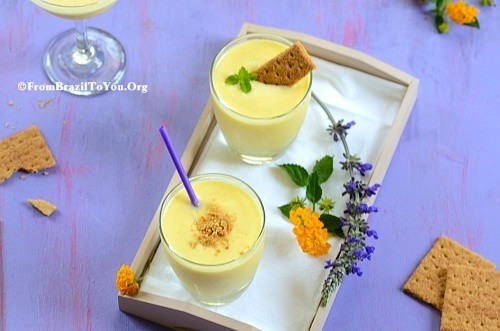 Ingredients:
1-¼ cups vanilla yogurt (I used Dannon Light & Fit Non Fat)
1-¼ cups light coconut milk (the real thing)
2 to 4 tablespoons sugar (or sugar substitute to taste)
2 ounces (about 57 gr.) cream cheese, softened (I used the light one)
3 cups frozen pineapple
Directions:
In a blender, combine all the ingredients well until smooth. Serve immediately with whole or crushed graham crackers on top (I served mine with  cinnamon graham crackers). Enjoy!!!
Note:  This recipe was adapted from Strawberry Cheesecake Smoothies from Melissa's Cuisine. According to Melissa, the original source of the recipe is The Royal Cook.
NEVER MISS A DELICIOUS RECIPE. SUBSCRIBE BY EMAIL: