Are you a vegan? Or perhaps not, but just trying to shed some pounds after all the holiday indulgence? Or even simply trying to cut back on the meat and aspire to a healthier lifestyle, like me? Tight for time? Well, if any of these applies to you, this quick, delicious vegan raw salad is for you, my friend! It's a true razzle-dazzler -- for both the palate and the eyes!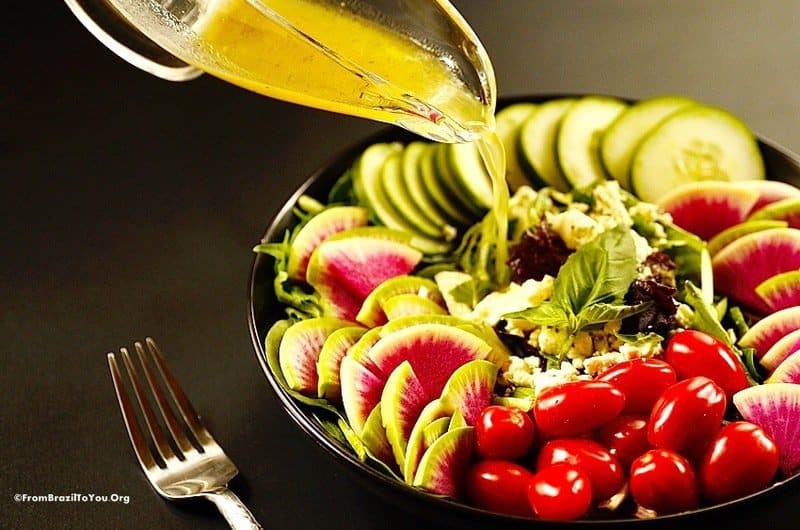 Our vegan raw salad involves no cooking, can be prepared in 10 minutes or less, is low in calories, and is high in fiber and protein. It is made with fresh mixed greens, cucumbers...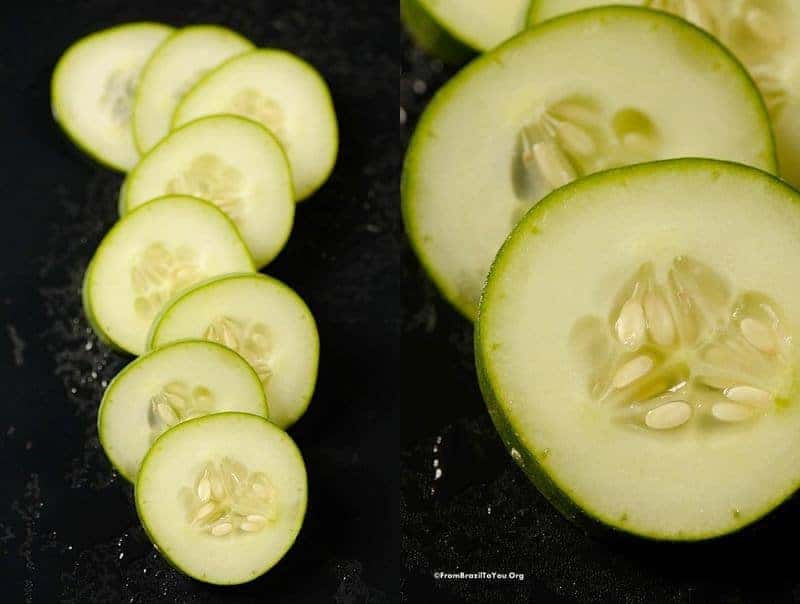 ...watermelon radish...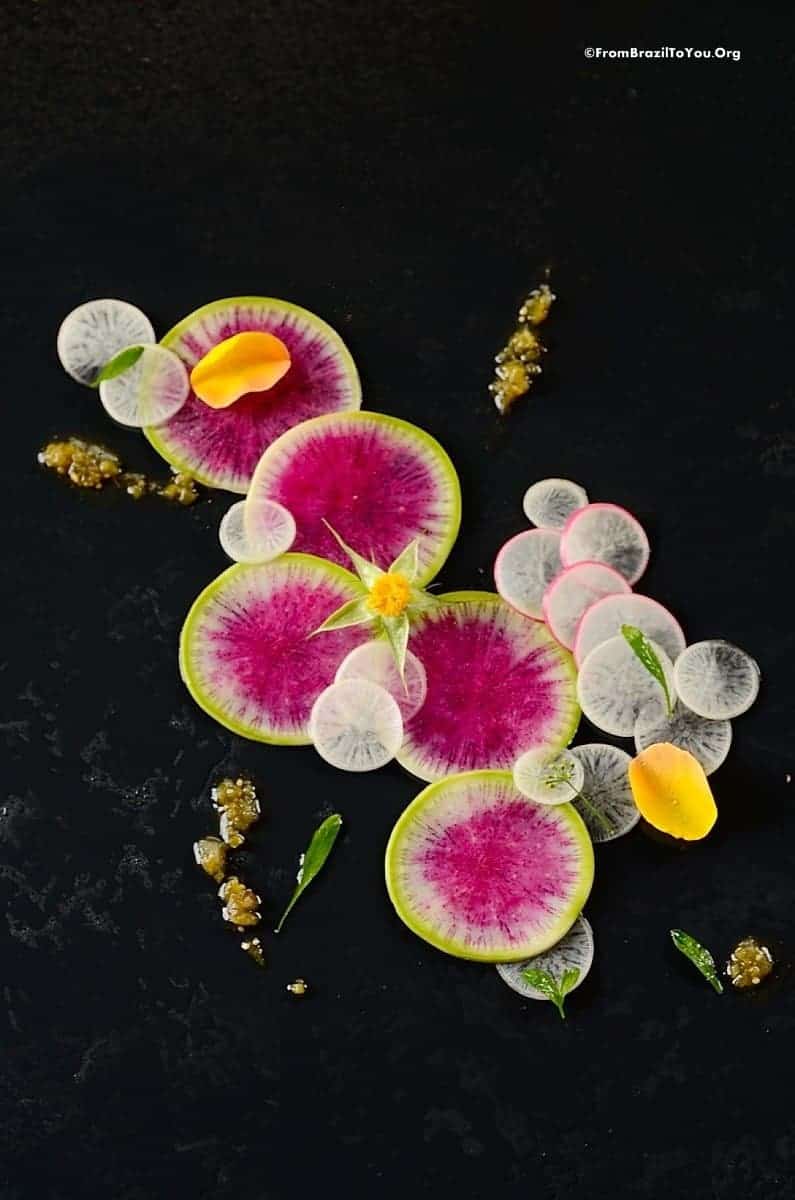 ... grape tomatoes...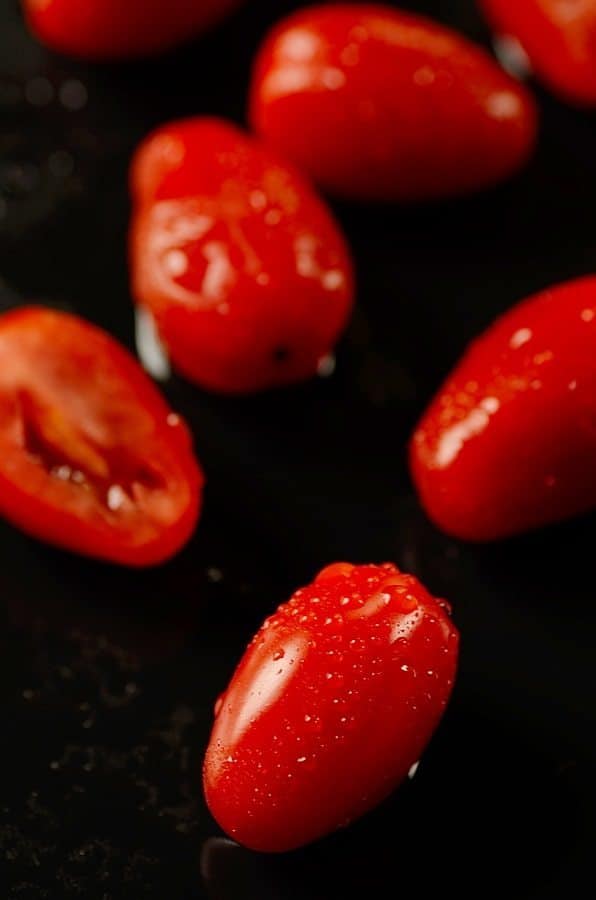 ...either vegan cheese or regular feta for the non-vegan -- and dressed with a citrus vinaigrette.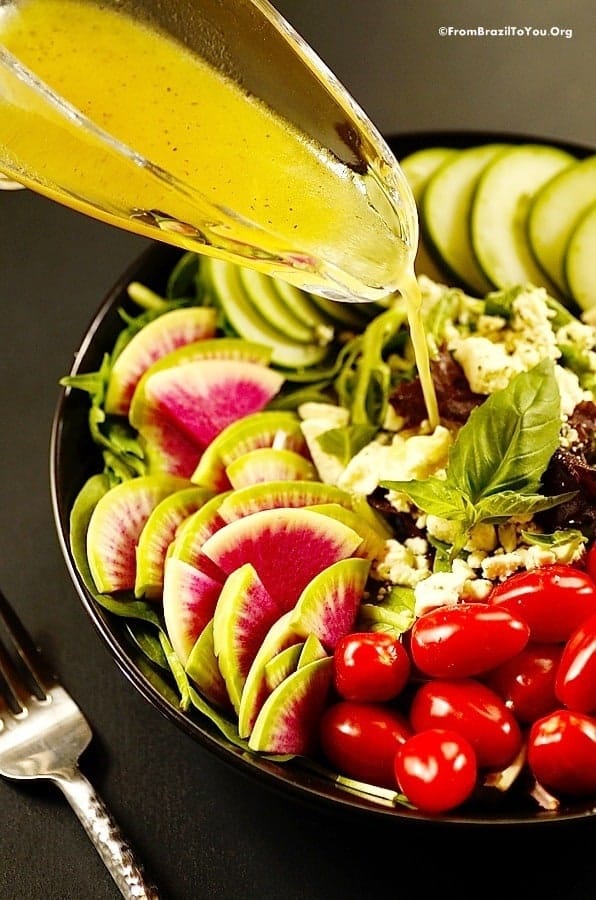 It's a dish with different textures and a combination of varied flavors such as bitter, salty, sweet, tangy, and spicy. I am hooked!
Believe it or not, 8% of the Brazilian population (more than 15 million) identify themselves as vegetarians as of 2012. That number may have increased even more by now, and includes all the different groups of vegetarianism such as veganism, ovo-vegetarian, lacto-vegetarian, macrobiotic, and so on. Vegetarianism, the practice of abstaining from the consumption of meats and/or animal by-products, is on the rise all over the world. My home country of Brazil is no exception! Its percentage of vegetarians places it behind only a handful of other countries such as India (31%), Taiwan (13%), Italy and Sweden (10%), Germany and Austria (9%), and the UK (7-11%).
That is saying a lot considering that we have the largest commercial herd of cattle in the world (more than 200 head per person) and a huge tradition of beef consumption and grilling of meats (barbecue or churrasco).
If you are a vegetarian planning a trip to Rio for the upcoming Olympic games or to the rest of Brazil for other purposes, don't worry! You will have great options there -- from sit-down and buffet restaurants to fast food chains. Yes!!! You heard me right.
Of course, the reasons for the growth of vegetarianism in Brazil -- as in the rest of the world -- vary from person to the next. Some include health-related, political, religious, ethical, environmental, cultural, aesthetic, or economic reasons. Studies have shown that compared to omnivores, vegetarian dieters have lower overall mortality rates and benefit from a reduced incidence of heart disease, type 2 diabetes, and cerebrovascular disease. Many also look to this lifestyle as a way to cut back on the fat and get or stay slim.
Are you a vegetarian? Why? Or why not?
I confess that I am not. I love a good chunk of beef and especially churrasco (barbecued meats). But still I have cut back my meat consumption considerably for health reasons.
Still, vegetarian or not, I hope that you give our vegan raw salad, this creamed spinach recipe , and also this keto coleslaw a try and enjoy all the benefits it will bring to you.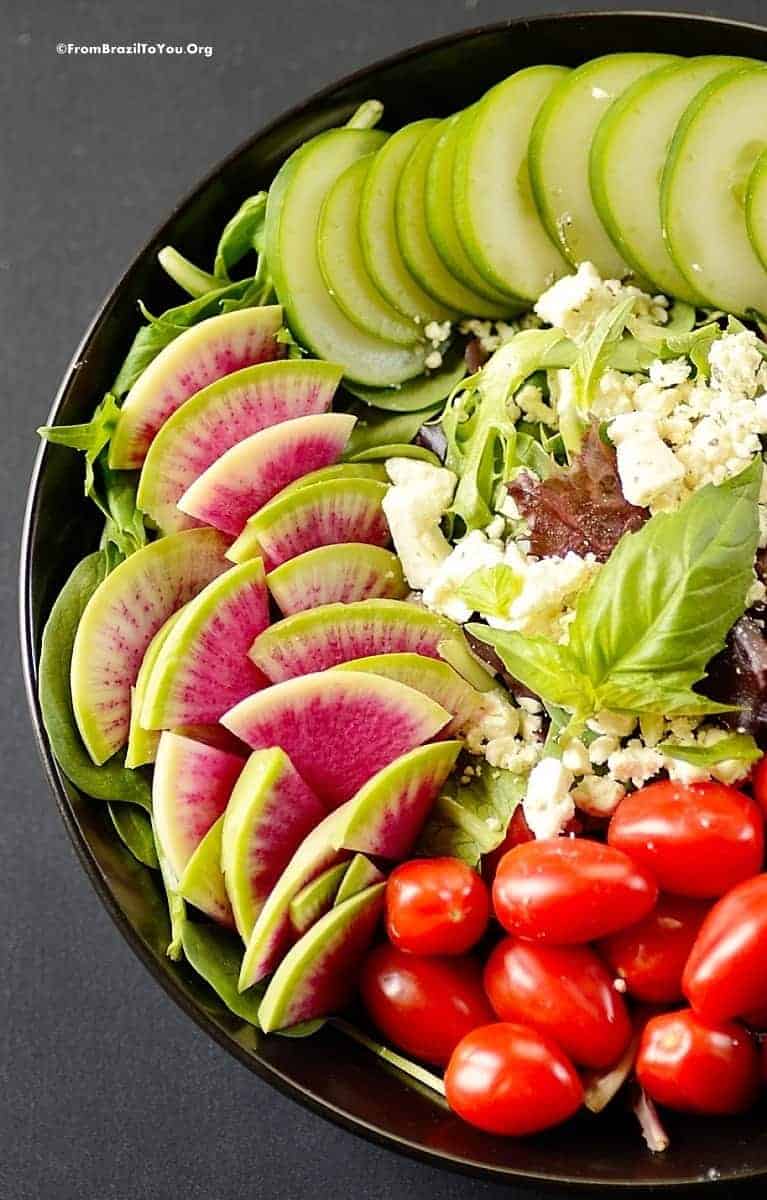 May this be the year of your best self!
FOLLOW ME ON PINTEREST & INSTAGRAM FOR EASY, YUMMY RECIPES AND MORE!
Vegan Raw Salad
A quick vegan raw salad with fresh greens, cucumber, watermelon radish, tomato, and vegan feta cheese, dressed with a citrus vinaigrette. It's a real razzle dazzle! FOLLOW ME ON
PINTEREST
&
INSTAGRAM
FOR EASY, YUMMY RECIPES AND MORE!
Ingredients
For the vegan raw salad:

3

oz

Organic spring mix and baby spinach

(Half & Half Mix) or other fresh greens of your choice

1

medium to large cucumber

washed and sliced into rounds

1

large watermelon radish

washed, sliced into rounds, and then quartered

12

or more grape tomatoes

washed

½ to 1

cup

soy feta cheese

dairy-free almond feta cheese, tofu, or other of your choice, crumbled or chunked (Cooked quinoa also makes a great substitute for vegans. If you are not vegan, you can use regular feta cheese, shaved Parmesan cheese or other of your choice)

A few leaves of fresh basil to garnish

optional

For the citrus vinaigrette:

3

tablespoons

olive oil or other vegetable oil of your choice

3

tablespoons

fresh squeezed orange or lemon juice

1

pinch

salt

1

pinch

freshly ground black pepper

1-2

teaspoons

maple syrup or agave nectar (if you are not vegan

you can use a pinch of sugar instead if desired)
Instructions
Place greens on a serving plate, and arrange the other vegetables on top of the greens as follows: cucumber rounds along the upper-rim of the plate, quartered radish distributed on both sides, and tomatoes along the lower-rim.

Prepare the vinaigrette by placing all ingredients into a small jar with lid securely fastened and then shaking well until homogeneous. Alternatively, place juice, salt, pepper, and maple syrup into a small bowl and whisk while pouring in the oil slowly. Whisk well until mixture is homogeneous.

This vegan raw salad should be dressed right before serving, or served on the side.

Yield:

2 if served as main dish, or 4 if served as a side dish.
Recipe Notes
Suggestions: Depending on your diet or needs/likes, roasted nuts, hard-boiled eggs, or shrimp/fish can be added to the salad or simply used as a substitution for cheese.
** Nutrition labels on easyanddelish.com are for educational purposes only. This info is provided as a courtesy and is only an estimate, since the nutrition content of recipes can vary based on ingredient brand or source, portion sizes, recipe changes/variations, and other factors. We suggest making your own calculations using your preferred calculator, based on which ingredients you use, or consulting with a registered dietitian to determine nutritional values more precisely.
Please note that health-focused and diet information provided on easyanddelish.com is for educational purposes and does not constitute medical advice, nor is it intended to diagnose, treat, cure, or prevent disease. Consult with your doctor or other qualified health professional prior to initiating any significant change in your diet or exercise regimen, or for any other issue necessitating medical advice.
DID YOU MAKE THIS RECIPE?
Comment and rate the recipe. Also follow us on Pinterest at @easyanddelish for more delish recipes.