Hello, y'all!  I hope you were excited about our last holiday side dish, my famous Mashed Sweet Potatoes with Coconut Milk, Bacon, and Cilantro.  This time I am going to be sharing with you Mac and Cheese Carbonara, a recipe adapted from Chef Bobby Flay.
I though this mac and cheese might be a great side dish to add to either our Thanksgiving or Christmas table — or as an everyday main dish as well.  Chef Bobby Flay's Mac and Cheese Carbonara is a scrumptious variation on the traditional mac and cheese. Of course, there is nothing wrong with the traditional mac and cheese, but having something familiar on our plates with a new flavor can be exciting, don't you think?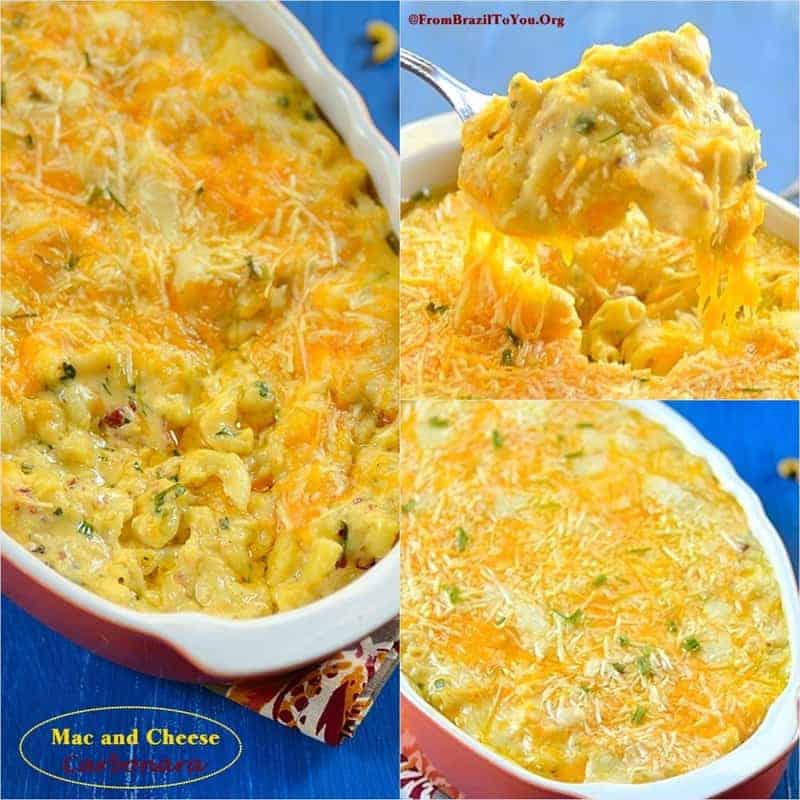 In case you didn't know, the term Carbonara applies to an Italian pasta dish from Rome that was created in the middle of the 20th century, and is based on eggs, cheese (Pecorino Romano or Parmigiano-Reggiano), bacon or pancetta, and black pepper.  Although spaghetti is the customary pasta used, we will be using elbow macaroni to compose our mac and cheese carbonara… A real fusion between American and Italian cuisine!!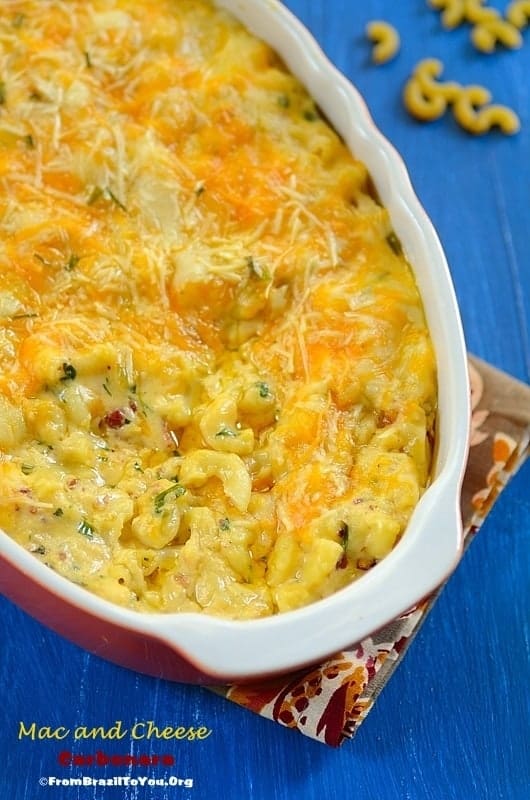 I hope that you enjoy our creamy mac and cheese as much as my family and I did.
xx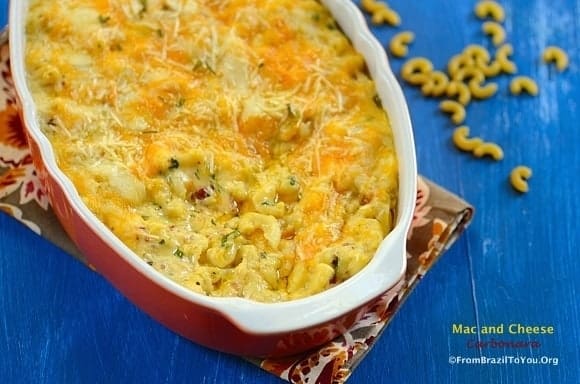 | | |
| --- | --- |
| | |
Preheat oven to 350 degrees F (about 177 degrees C). Grease the bottom and sides of a 3-quart baking dish with butter and set aside.

In a large saute pan, heat the olive oil over medium heat. Add the diced bacon and cook until golden brown. Remove with a slotted spoon to a plate lined with paper towels.

Add the garlic to the pan and cook until lightly golden brown. Whisk in the flour and cook for 1-2 minutes. Next, whisk in 6 cups of the hot milk, increase the heat to high, and cook, whisking constantly until thickened, for 3-5 minutes. Whisk in the light beaten egg yolks until incorporated and let cook for 1- 2 minutes, stirring constantly. Remove from heat and whisk in the chopped chives, cayenne, and all of the cheese until completely melted. Season with salt and pepper. If the mixture appears too thick, add some of the remaining milk 1/4 cup at a time.

Mix in the cooked macaroni, reserved bacon and chopped parsley, and stir until combined. Transfer the mixture to the prepared pan. Combine together additional Asiago, Cheddars, Mozzarella, and Parmigiano cheeses in a bowl and sprinkle evenly over the top of the macaroni. Bake in the oven until heated through and the top is lightly golden brown (about 12-15 minutes). Remove from the oven and let rest 10 minutes before serving.
To visit its original source, please click here.