Disclosure: 4 Bean appetizers is a compensated campaign in collaboration with Bush's Cocina Latina™ and Latina Bloggers Connect. The opinions expressed here are honest and my own, as always.
I have a smile on my face wider than a mile! I was chosen to host an event at my house for 5 bloggers, sponsored by Bush's Cocina Latina™. For this event, I developed, cooked, and served 4 QUICK bean appetizers: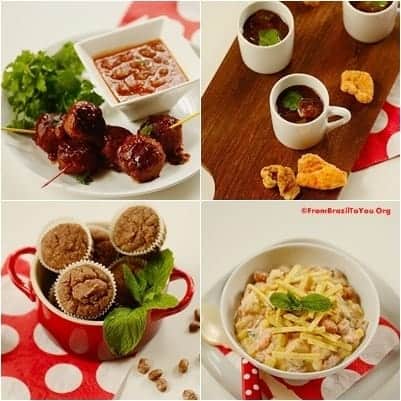 1. Pinto Bean "Meatballs" (MEATLESS "meatballs" with a zing), 2. Black Bean Pick Me Up (inspired by a Brazilian drinkable appetizer, caldinho de feijão, which can make you wonder if you are sipping a soup or a warm beverage), 3. Spicy Bean Corn Muffins (a spicy baked goodie inspired by corn muffins, incorporating a cornmeal base and pinto beans a la Diabla), 4. Cold Pinto Bean Salad (inspired by a popular Brazilian chicken salad ,'Salpicão de Frango', this is a cold bean salad with green apples, raisins, and vegetables topped with shoestring potatoes).
Yes, you can say that I am a gal on a mission. Each one of my 4 bean appetizers features a different flavor from Bush's Cocina Latina line:
Frijoles Charros Machacados (traditional smashed pinto beans with tomatoes, serrano peppers and bacon FAT — Not bacon pieces) for the Pinto Bean "Meatballs".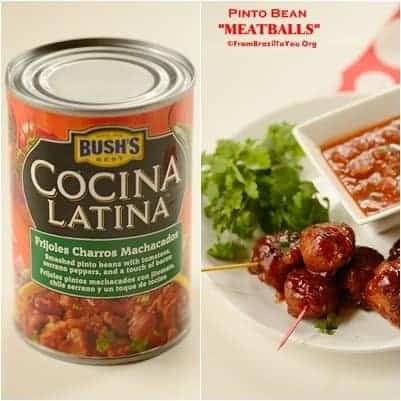 Frijoles Negros Machacados (smashed black beans with poblano chiles and bacon) for the Black Bean Pick Me Up.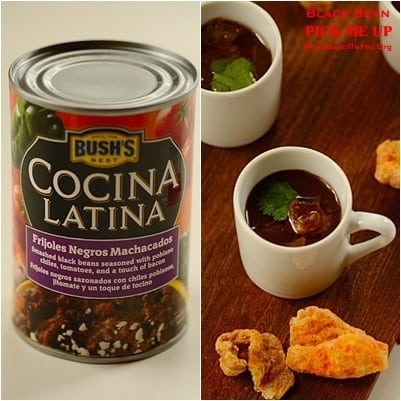 Pintos a La Diabla (Pinto beans with chile de árbol, jalapeños and serrano peppers) for the Spicy Bean Corn Muffins.
Frijoles a la Mexicana (Pinto Beans with tomatoes, serrano peppers and bacon) for the Cold Pinto Bean Salad.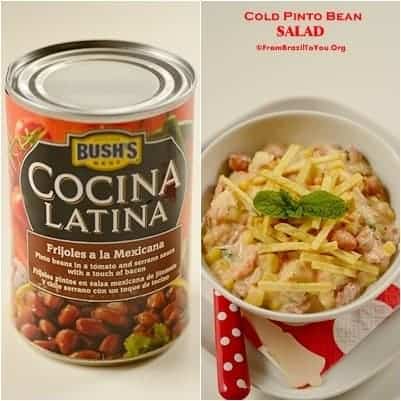 Need I say how happy I am? With the selection of four rich LATIN flavors available for Bush's Cocina Latina, I can personally guarantee there will be a favorite for everyone in your family — just like in mine!
Bush's Cocina Latina beans remind me of my Mom's and Grandma's well-seasoned, slow-cooked beans — robust and full of flavor! Not only can I detect the delicious ingredients in each flavor, but the taste reminds me of home.
What also reminds me of home, is the joy of sharing a meal with others who appreciate good food. We got to eat, chat, teach each other a thing or two, and laugh aloud. Work has never been so pleasant.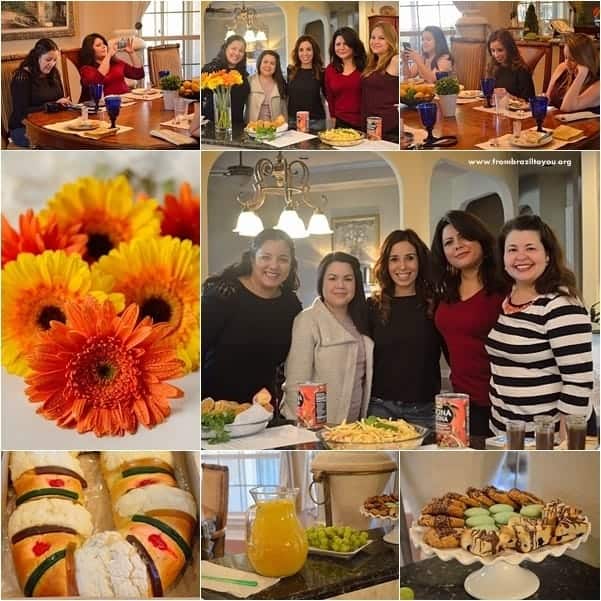 I hope you try my four bean appetizers, and pay a visit to each one of the bloggers that came over to share a fun afternoon together: Michelle Cantu from A Thrifty Diva, Michelle Hernandez from Family Love in My City, Rocio Chavez from Your Sassy Self, Telma Garcia from At The Fire Hydrant, and Kristina Nunez from Hott Mama in the City, — in order to see their take on our "meal." I also invite you to visit FrijolesBush.com for authentic Bush's Cocina Latina chef recipes, pairings, and tips.
Invite your friends over, cook with them, and have fun!
xx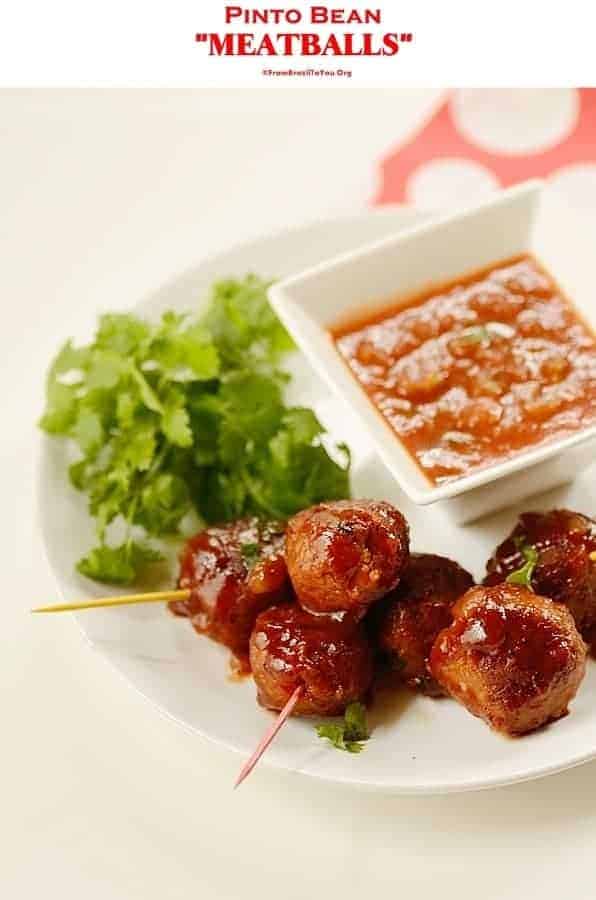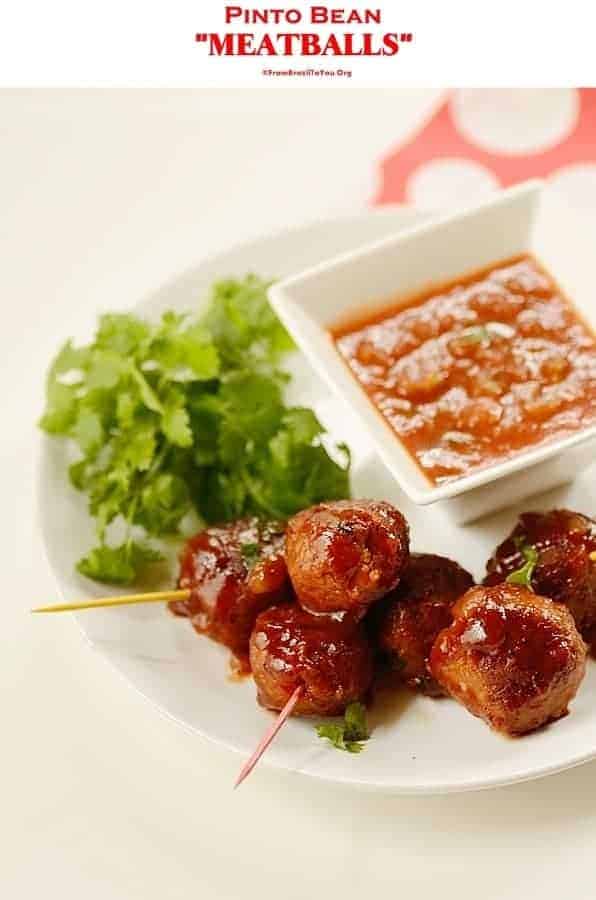 | | |
| --- | --- |
| | |
In medium bowl, stir together mashed beans, breadcrumbs, cilantro or parsley, salt, and pepper. Taste and adjust seasonings if necessary. Stir in the beaten egg until obtaining a homogeneous mixture. Let mixture rest for about 5-10 minutes to thicken. Using a Tablespoon as measurement, form about 26 "meatballs."

Heat a large nonstick skillet over medium heat; then, spray skillet with nonstick spray or pour enough olive oil to lightly coat skillet and pan-fry "meatballs." Transfer meatballs to skillet and let them cook, turning occasionally, for about 4 to 5 minutes or until browned on all sides and warmed through. Preferably, cook meatballs in batches to avoid overcrowding pan.

Serve Pinto Bean "Meatballs" with warm Mexican salsa or barbecue sauce, garnished with chopped cilantro or parsley on top.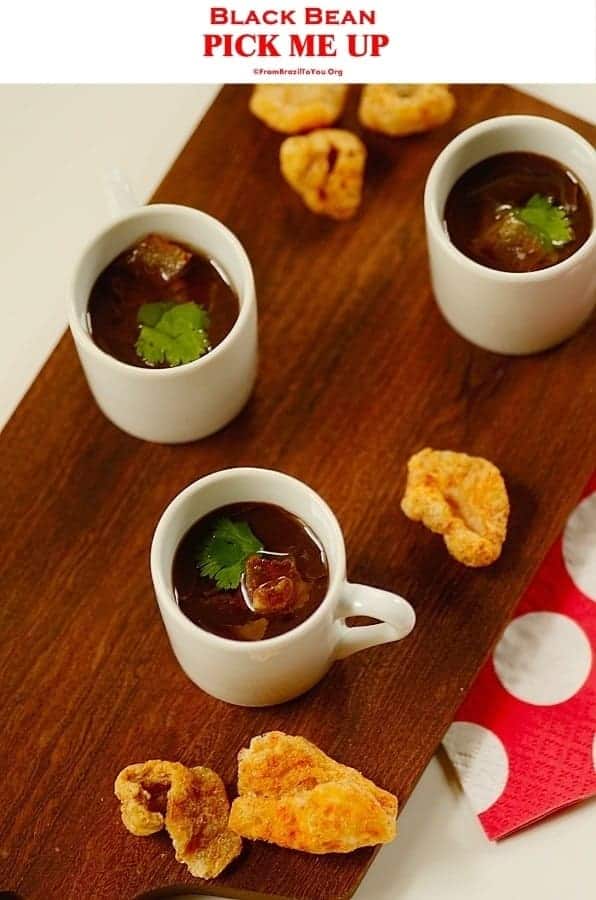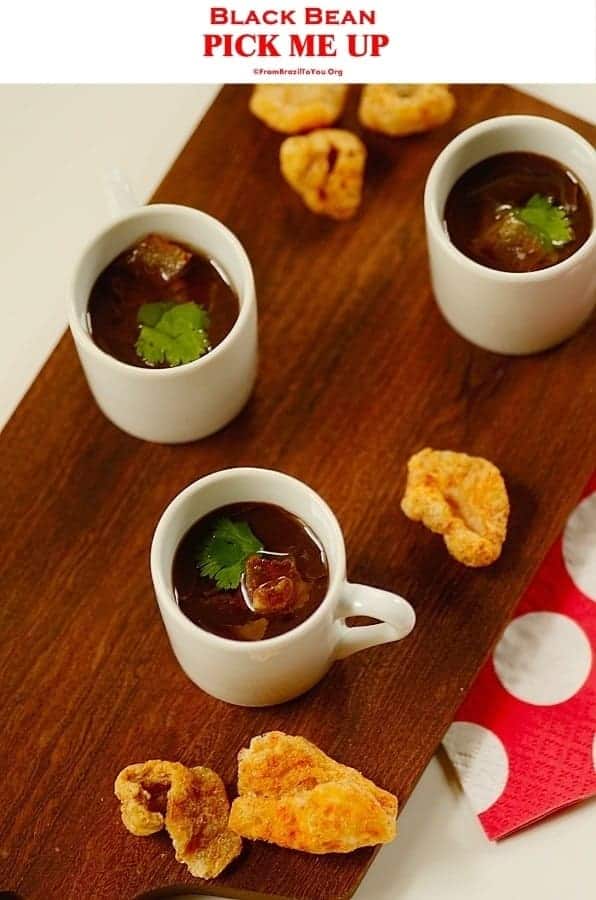 | | |
| --- | --- |
| | |
In a large non stick skillet, heat the oil over medium-high heat and cook chopped bacon until browned (about 4-5 minutes). Transfer to a plate lined with kitchen paper to drain, and allow to cool.

Put the black beans and water in a food processor or blender and season with salt and pepper. Blend to a smooth purée. Pour into a non-stick small pan and bring to a boil over medium-high heat. Reduce heat to medium-low, stir well, and let simmer for about 5 minutes. Stir again.

Pour soup into small heatproof glasses or cups. Garnish with a drizzle of olive oil, bacon, and chopped cilantro or parsley. Serve hot accompanied by toast points or pork rinds.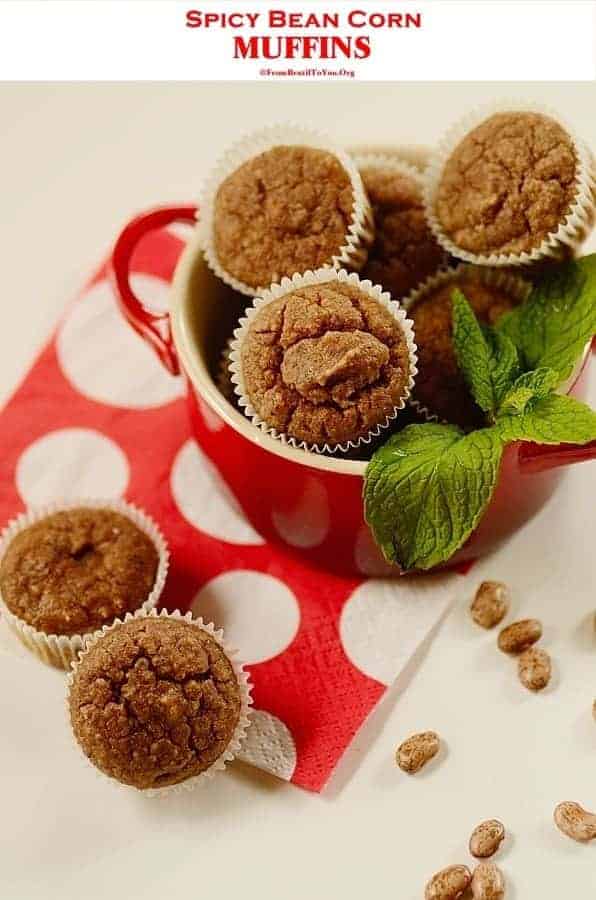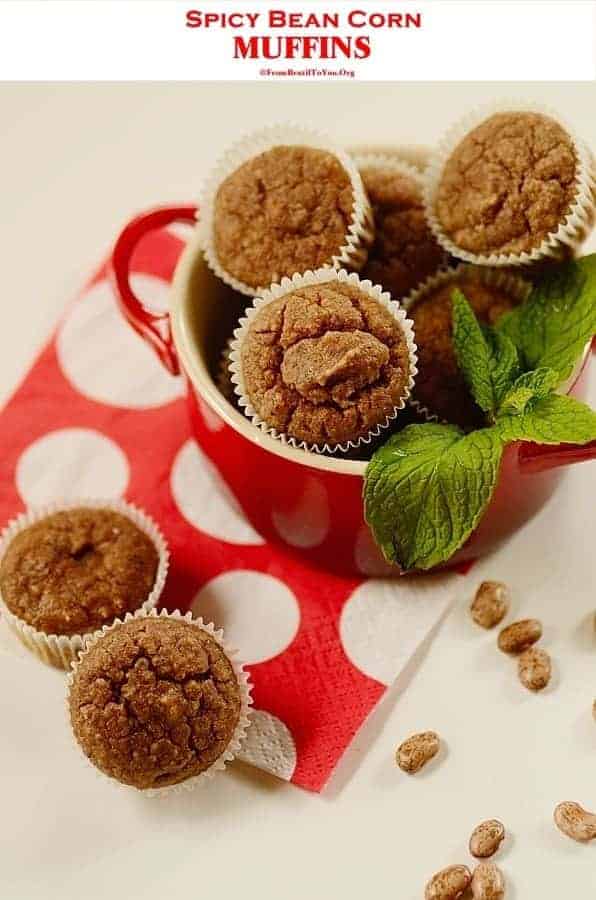 | | |
| --- | --- |
| | |
Preheat the oven to 400 degrees F (200 degrees C). Line a mini muffin baking pan with paper baking cups.

Drain beans (reserve drained broth in a measuring cup) and then purée beans in a blender or food processor. If necessary, add water to the reserved broth to bring to 1 cup total.

In a large bowl, mix together puréed beans, corn meal, flour, sugar, baking powder and salt. Add beaten egg, oil, the 1 cup of reserved bean broth, chopped cilantro or parsley, and bacon (if desired). Stir gently to combine.

Using a cookie scooper, fill the paper cups ¾ full with the batter. Clean off any stray drips from the baking pan with a wet paper towel. Bake for about 10-11 minutes. Remove from the oven, let cool and enjoy!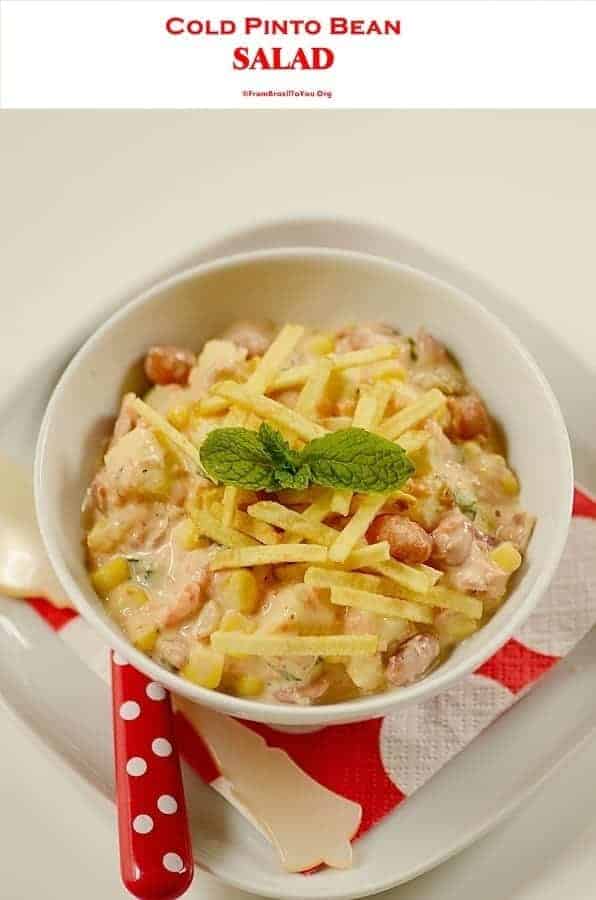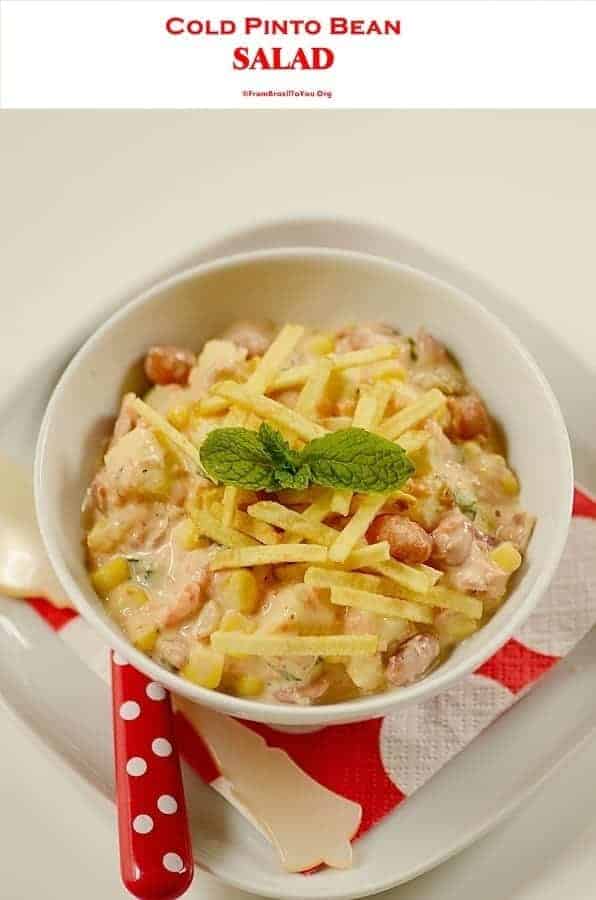 | | |
| --- | --- |
| | |
In a medium bowl, mix together drained beans, corn, shredded carrots, chopped onions, chopped apple drizzled with 1 Tablespoon fresh lemon juice, raisins, cilantro or parsley, and the cooked bacon. Season with salt and pepper to taste.

In a separate bowl, mix together the yogurt, mayo, olive oil and the remaining tablespoon of lemon juice, stirring well. Add to the bean mixture and stir to combine. Place in serving glasses or bowls, cover, and refrigerate for at least 2 hours. Right before serving, sprinkle a bit of shoestring potatoes on top and enjoy!