Disclosure: 4 Bean appetizers is a compensated campaign in collaboration with Bush's Cocina Latina™ and Latina Bloggers Connect. The opinions expressed here are honest and my own, as always.
I have a smile on my face wider than a mile! I was chosen to host an event at my house for 5 bloggers, sponsored by Bush's Cocina Latina™. For this event, I developed, cooked, and served 4 QUICK bean appetizers: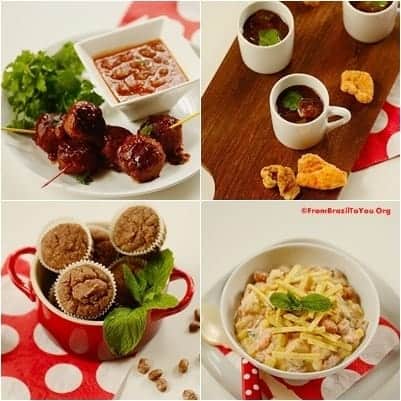 1. Pinto Bean "Meatballs" (MEATLESS "meatballs" with a zing), 2. Black Bean Pick Me Up (inspired by a Brazilian drinkable appetizer, caldinho de feijão, which can make you wonder if you are sipping a soup or a warm beverage), 3. Spicy Bean Corn Muffins (a spicy baked goodie inspired by corn muffins, incorporating a cornmeal base and pinto beans a la Diabla), 4. Cold Pinto Bean Salad (inspired by a popular Brazilian chicken salad ,'Salpicão de Frango', this is a cold bean salad with green apples, raisins, and vegetables topped with shoestring potatoes).
Yes, you can say that I am a gal on a mission. Each one of my 4 bean appetizers features a different flavor from Bush's Cocina Latina line:
Frijoles Charros Machacados (traditional smashed pinto beans with tomatoes, serrano peppers and bacon FAT -- Not bacon pieces) for the Pinto Bean "Meatballs".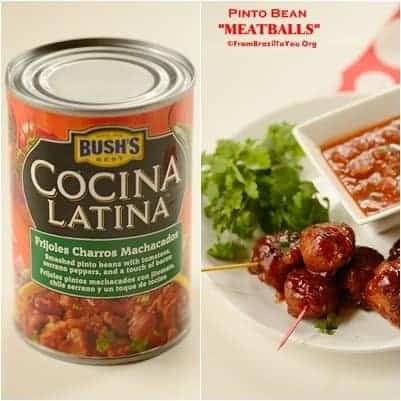 Frijoles Negros Machacados (smashed black beans with poblano chiles and bacon) for the Black Bean Pick Me Up.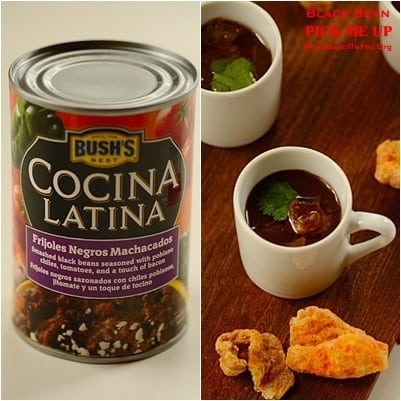 Pintos a La Diabla (Pinto beans with chile de árbol, jalapeños and serrano peppers) for the Spicy Bean Corn Muffins.
Frijoles a la Mexicana (Pinto Beans with tomatoes, serrano peppers and bacon) for the Cold Pinto Bean Salad.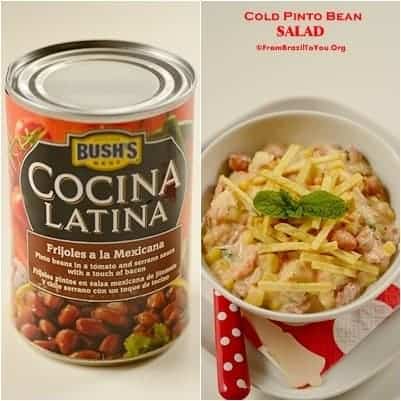 Need I say how happy I am? With the selection of four rich LATIN flavors available for Bush's Cocina Latina, I can personally guarantee there will be a favorite for everyone in your family -- just like in mine!
Bush's Cocina Latina beans remind me of my Mom's and Grandma's well-seasoned, slow-cooked beans -- robust and full of flavor! Not only can I detect the delicious ingredients in each flavor, but the taste reminds me of home.
What also reminds me of home, is the joy of sharing a meal with others who appreciate good food. We got to eat, chat, teach each other a thing or two, and laugh aloud. Work has never been so pleasant.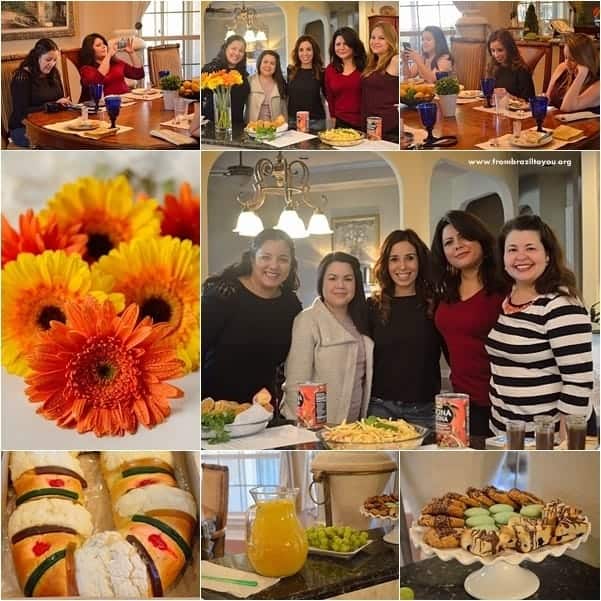 I hope you try my four bean appetizers, and pay a visit to each one of the bloggers that came over to share a fun afternoon together: Michelle Cantu from A Thrifty Diva, Michelle Hernandez from Family Love in My City, Rocio Chavez from Your Sassy Self, Telma Garcia from At The Fire Hydrant, and Kristina Nunez from Hott Mama in the City, -- in order to see their take on our "meal." I also invite you to visit FrijolesBush.com for authentic Bush's Cocina Latina chef recipes, pairings, and tips.
Invite your friends over, cook with them, and have fun!
xx