We have put together 13 mouthwatering 4th of July dishes recipes to celebrate America's birthday BIG! We hope that you find inspiration in our dishes and have a great time with family and friends commemorating such an important day...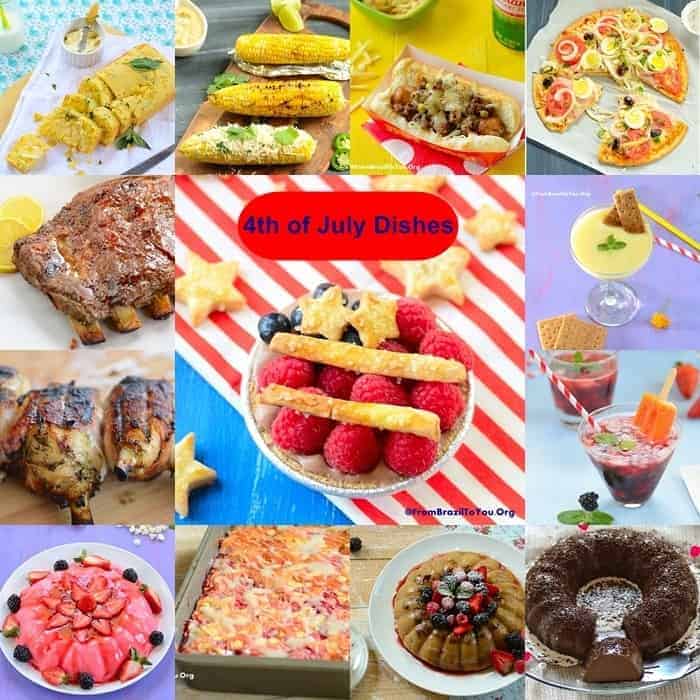 4TH OF JULY DISHES RECIPES
Main dishes: 
1. Brazilian-Style Pork Ribs
2. Grilled Chicken Legs Wrapped in Bacon 
3. Brazilian Hot Dog
4. Pizza à Portuguesa
Side dishes:
5. Corn Bread with Basil
6. Grilled Corn on the Cob with Jalapeño-Lime Aioli and Parmesan Cheese
Drinks:
7. Piña Colada Cheesecake Smoothie
8. Berry Caipilé with Tangerine Popsicle
Desserts:
9. Chocolate Pudding Ice Cream Pie
10. Strawberry-White Chocolate Flan
11. White Chocolate-Cherry Pie Bars  (topped with ice cream)
12. Coimbra-Style Bread Pudding (served with ice cream)
13. Chocolate Fudge Flan (Brigadeirão)
 
HAPPY INDEPENDENCE DAY, AMERICA!!!!!!!!
______________________________________________________________
** Fireworks image credit: Beverly & Pack via Flickr, Creative Commons.