Baked rice casserole is a cheesy, complete dish with sausage, bacon, and vegetables. It is hearty and comforting!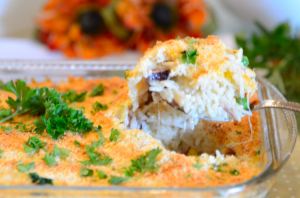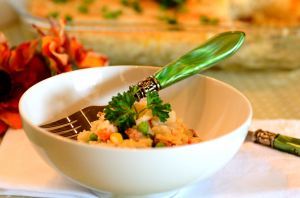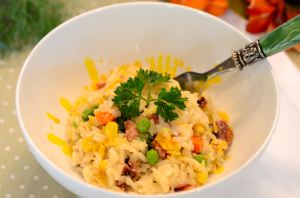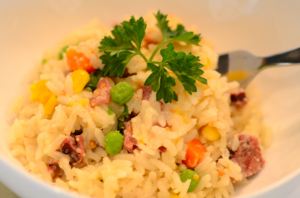 OK... I have to confess that I truly struggled to decide which rice recipe to post first here.
"Why? It's just rice!" someone might say.
Well, the reason is because rice is universal -- simple, yet essential to so many people in so many different cultures. This, in and of itself, makes the task intimidating. Also, it's because Brazil has a multitude of wonderful rice recipes, which makes the task even more daunting.
And with that reply, let us return to the reason why I decided upon this recipe specifically: it's sort of a redemption of the many common versions of Baked Rice Casserole that one encounters floating around in Brazil. Most call for a mixture of heavy cream and egg yolks as a "sauce." Yet, when heated up for several minutes in the oven, the result is... curdled rice. How sad!
In my reworking of this baked rice casserole recipe, I have kept the wonderful taste of the traditional version, but improved the texture by avoiding this culinary mistake. The result? You shall see!
Baked Rice Casserole (Arroz de Forno Cremoso)
Baked rice casserole is a cheesy, complete dish with sausage, bacon, and vegetables. It is hearty and comforting!
Ingredients
1

oz

smoked sausage

small diced, 8or 250 gr

4

slices

smoked bacon

chopped

½

medium yellow onion

small diced

2

cups

long-grain white rice

raw

4

cups

chicken stock

1

teaspoon

salt

Mornay sauce

recipe follows

⅓

cup

kernel of corn (fresh

frozen or canned)

⅓

cup

peas

fresh or frozen

⅓

cup

cubed carrot

fresh or frozen

4

cups

shredded mozzarella

provolone or gruyere cheese

¼

cup

grated parmesan cheese

or 1 cup shoestring potatoes

¼

cup

chopped fresh parsley

For the Mornay Sauce:

4

cups

whole milk

4

tablespoons

clarified or unsalted butter

4

tablespoons

all-purpose flour

2

teaspoon

salt

Ground white pepper

to taste

½

teaspoon

chicken flavor bouillon Knorr

¼

teaspoon

freshly grated nutmeg

½

cup

shredded gruyere or provolone cheese
Instructions
Prepare the mornay sauce according to the recipe below. Reserve.

In a medium sauce pan, over medium heat, brown the sausage along with the bacon in their own fat (about 3 minutes), stirring occasionally.

Add the onion and sauté until translucent (about 2 minutes). Add the rice and sauté lightly (about 1 minute). Add the stock and the salt, stir, and bring to a boil over medium-high heat. Stir again, cover, and reduce heat to low. Let cook until tender (12 -15 minutes).

Remove from heat, and mix in the mornay sauce and vegetables. Place into a 13" x 9" greased glass pan, layer 2 cups of the cheese on top. Then, make a second layer of rice and finish with the other 2 cups of cheese. Cover with a greased sheet of aluminum foil. Let bake in a preheated oven at 350 F (180º C) for about 25 minutes.

Remove foil and sprinkle the parmesan cheese. Return to the oven, uncovered and let broil until cheese browns, about 3 minutes. Sprinkle the parsley and serve.

Alternatively, remove foil and sprinkle shoestring potatoes on top instead and then, the parsley. Serve immediately.

For the mornay sauce: In a heavy-bottomed saucepan, bring the milk to a simmer over medium heat, stirring occasionally and taking care not to let it boil.

Meanwhile, in a separate heavy-bottomed stainless steel saucepan, melt the butter over medium heat until it becomes frothy.

With a wooden spoon, stir the flour into the melted butter a little bit at a time, until it is fully incorporated into the butter, yielding a pale-yellow-colored paste. Heat this paste (called roux) for another minute or so, to cook off the taste of raw flour.

Using a wire whisk, slowly add the hot milk to the roux, whisking vigorously to ensure that it is free of lumps.

Simmer for about 20 minutes, or until the total volume has reduced by about 20 percent, stirring frequently to make sure the sauce doesn't scorch at the bottom of the pan. The resulting sauce should be smooth and velvety. If it is too thick, whisk in a bit more milk until it is just thick enough to coat the back of a spoon.

Remove the sauce from heat. For an extra-smooth consistency, carefully pour the sauce through a strainer. Mix the cheese. Season the sauce with salt, white pepper, bouillon, and nutmeg. Keep the sauce covered until you are ready to use it.
** Nutrition labels on easyanddelish.com are for educational purposes only. This info is provided as a courtesy and is only an estimate, since the nutrition content of recipes can vary based on ingredient brand or source, portion sizes, recipe changes/variations, and other factors. We suggest making your own calculations using your preferred calculator, based on which ingredients you use, or consulting with a registered dietitian to determine nutritional values more precisely.
Please note that health-focused and diet information provided on easyanddelish.com is for educational purposes and does not constitute medical advice, nor is it intended to diagnose, treat, cure, or prevent disease. Consult with your doctor or other qualified health professional prior to initiating any significant change in your diet or exercise regimen, or for any other issue necessitating medical advice.
DID YOU MAKE THIS RECIPE?
Comment and rate the recipe. Also follow us on Pinterest at @easyanddelish for more delish recipes.