It was one of those win-win situations  this past Tuesday, October 30th, in Austin...This is why I am sharing with you this delicious Cocada de Forno.
While my husband and I took a break from our busy daily routine to celebrate our 11th wedding anniversary, we also got a taste of Brazilian music again with none other than Gilberto Gil. This seven-time Grammy Award winning Brazilian singer, songwriter, and guitarrist is famed for his signature musical style that incorporates mainly rock, samba, reggae, and African-Brazilian music. He was also an important figure in both the tropicália movement of the 1960's and also the MPB (Música Popular Brasileira) movement that first got its start in the late 1960's.
He is indeed a man of many talents with a unmistakable voice. What else can I say? I love Gil and his music. I feel fortunate to have had the opportunity to attend the spectacular show that he put on in Austin. The man can sing!!! And he is also a superb entertainer...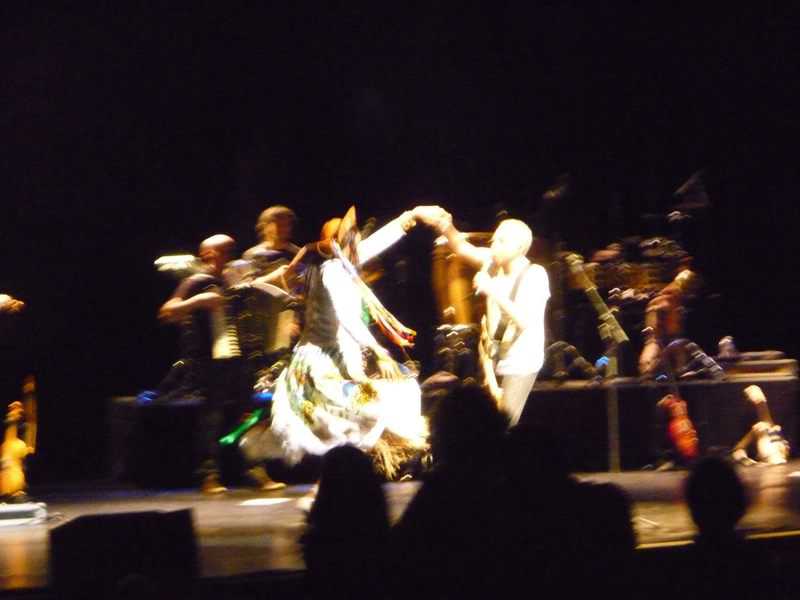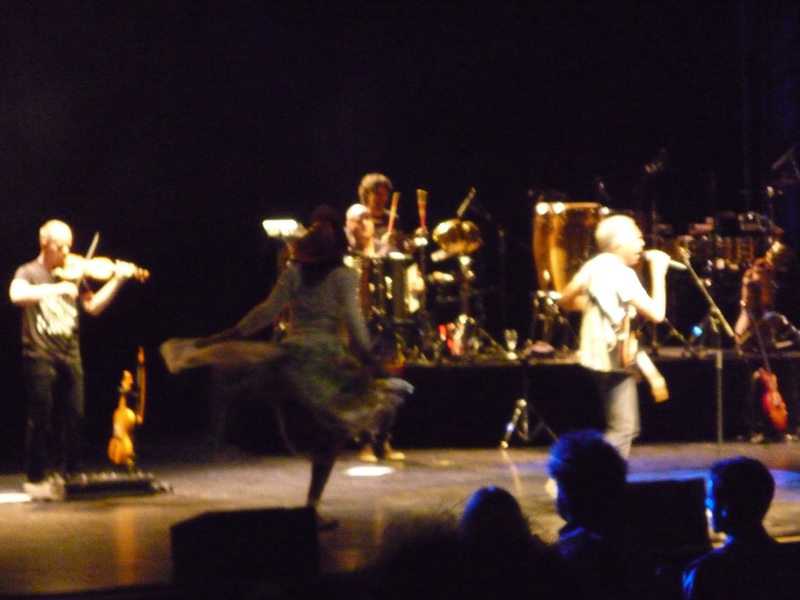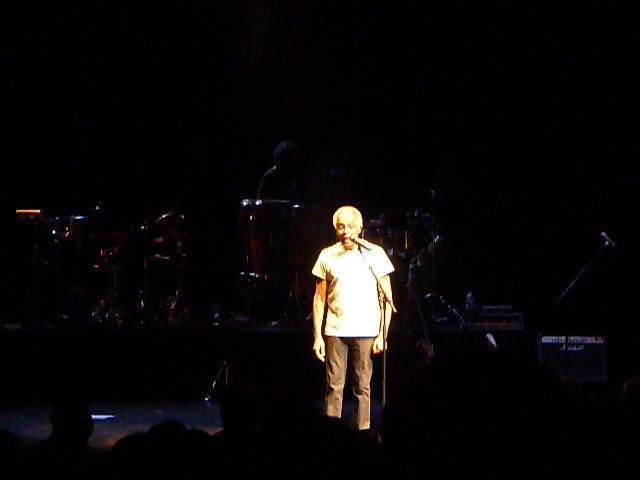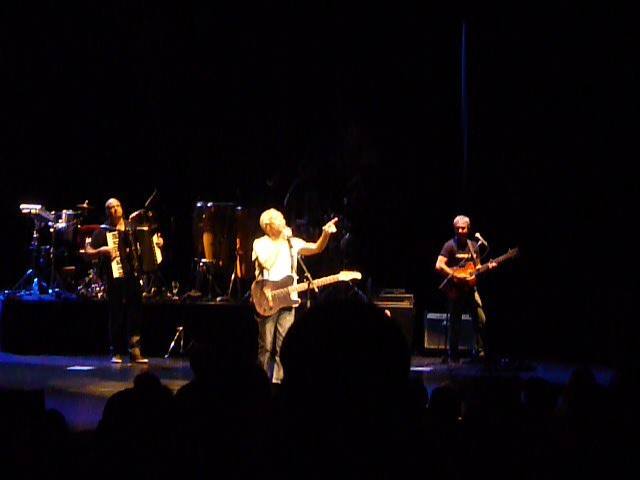 Although he is from the state of Bahia, Gil's new CD "For All" celebrates a prominent figure from my home state, Pernambuco, the late Luiz Gonzaga  (also known as "The King of Baião") and his music.
Videos:
Baião da Penha
O Xote das Meninas
Madalena
In consideration for the stellar performance of this Bahian, whose new CD includes popular dances and rythms from my state (Forró, Xote, Xaxado, and Baião) -  which were once played so by our dear Gonzagão, as Luiz Gonzaga is also known in Brazil- I decided to make a dish typical from Bahia, the famous cocada de forno.
Cocada is traditionally a candy made mostly out of coconut and sugar, with myriad variations as to the recipe. Some recipes also incorporate egg yolks, milk, coconut milk, or water, while its most modern versions call for sweetened condensed milk or unrefined raw cane sugar (rapadura). Fruit pulps can also be added to the recipe. Cocada can be prepared on the stovetop and later cut on a marble slab (cocada de corte) or in the oven (cocada de forno). Our recipe will be prepared in the oven. But that is not all!
I intend to add to the traditional cocada de forno recipe an ingredient that is often present at the Pernambucan table, and a must-have at the American table during this season -- sweet potato. Looking for a unique dessert for your Thanksgiving dinner? Well here is a great one. Plus, it is gluten-free...
But I must say that the color of our cocada de forno would not be the same if made with the Brazilian sweet potato. In Brazil, the sweet potato is invariably purple skinned with a green flesh and light purple streaks. Instead of making sweet potato pies and casseroles, we serve it in other ways , such as simply boiled, roasted, mashed, sliced and stir-fried, or in soups and stews. When it comes to desserts, the most popular one is a sweet potato preserve (Doce de Batata Doce) either served by itself or mixed with coconut (Doce de Batata Doce com Coco). Although sweet potato is an essential ingredient in many dishes of African influence, it was introduced into Brazilian cuisine by our natives....
Well, since the Brazilian sweet potato is not available here in the US, I'll make our cocada de forno with the orange-fleshed sweet potato that is typical here.
So you see, the Bahian Gilberto Gil sang Pernambucan rythms in his show, and so in return I, a proud daughter of Pernambuco state, will cook a typical Bahian dessert with a Pernambucan flavor.
How about you? Well, my dear reader, you will get to enjoy two of the best things from Brazil: the taste of its food and the irresistible sound of its music.
Enjoy our cocada de forno!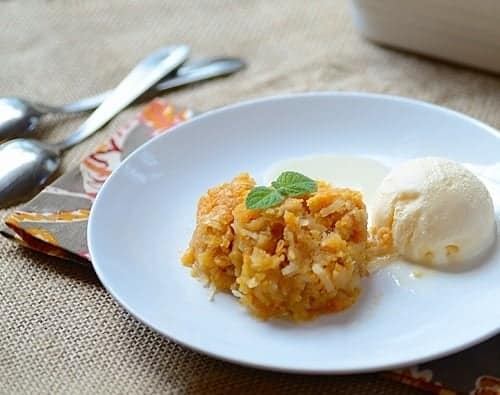 Cocada de Forno de Batata Doce (Coconut-Sweet Potato Custard) and Gilberto Gil's Music
Recipe for a delicious, gluten-free, custardy cocada de forno de batata doce or coconut-sweet potato custard -- which can be served warm accompanied by vanilla ice cream.
Ingredients
2

sticks of unsalted butter

softened, or 1 cup

1

cup

granulated sugar

5

large eggs

at room temperature

½

cup

sweetened condensed milk

½

cup

coconut milk

1

tablespoon

pure vanilla extract

1

tablespoon

grated orange peel

1

teaspoon

ground cinnamon

⅛

teaspoon

freshly ground nutmeg

1

dash

salt

4

cups

sweetened coconut flakes

1

cup

mashed sweet potatoes**

⅓

cup

cornstarch

sifted
Instructions
Preheat oven to 350 degrees F (about 180º C). Lightly grease an 11 x 9 x 2-½ inch (28 x 23 x 6.5 cm) pan, or any oblong or rectangular 48-ounce baking dish with a butter-flavored non-stick cooking spray.

In the electric mixer, mix the butter with the sugar at medium speed until obtaining a creamy mixture. Add the eggs - one at a time- mixing after each addition until well incorporated. Scrape the sides of the mixer bowl, add both the condensed milk and the coconut milk, the vanilla extract, orange peel, cinnamon, nutmeg, and salt, and mix again at medium speed until blended. Then, stir in the coconut flakes and the mashed sweet potato until batter is homogeneous although grainy.

With a rubber spatula, fold in the flour/cornstarch and pour the batter into the prepared baking dish.

Bake for about 70 - 80 minutes, or until the edges are set and the center wobbles slightly when the pan is gently shaken. Remove from oven and let rest for about 15 minutes before serving. It can be accompanied by a scoop of either cinnamon or vanilla ice cream. Enjoy!
Recipe Notes
The batter can be made one day ahead, covered, and refrigerated. In this case, bring dish to room temperature before baking.
** Nutrition labels on easyanddelish.com are for educational purposes only. This info is provided as a courtesy and is only an estimate, since the nutrition content of recipes can vary based on ingredient brand or source, portion sizes, recipe changes/variations, and other factors. We suggest making your own calculations using your preferred calculator, based on which ingredients you use, or consulting with a registered dietitian to determine nutritional values more precisely.
Please note that health-focused and diet information provided on easyanddelish.com is for educational purposes and does not constitute medical advice, nor is it intended to diagnose, treat, cure, or prevent disease. Consult with your doctor or other qualified health professional prior to initiating any significant change in your diet or exercise regimen, or for any other issue necessitating medical advice.
DID YOU MAKE THIS RECIPE?
Comment and rate the recipe. Also follow us on Pinterest at @easyanddelish for more delish recipes.