Have you ever loved a treat so much that you just had to have it no matter what? Well, I sure have! I made the most AD-DIC-TIVE and comforting dessert ever, right in time for my birthday: Crustless Banana Meringue Pie... an out-of-this-world, naturally gluten-free treat good enough to make you go yum (to not say something else). This is serious stuff, folks!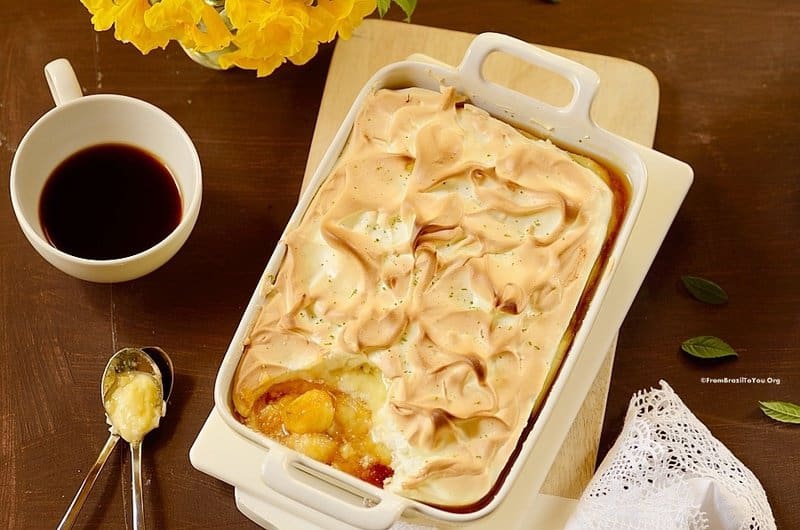 Our banana meringue pie is made up of layers of banana caramel, custard cream, and toasted meringue (Seriously, if that isn't enough to make you want to have it, you just might be dead, honey!). I won't deny that it will demand a bit of patience since we have to prepare each of those 3 layers, but its scrumptiousness will be worth of every minute you spend to prepare it (as well as every calorie).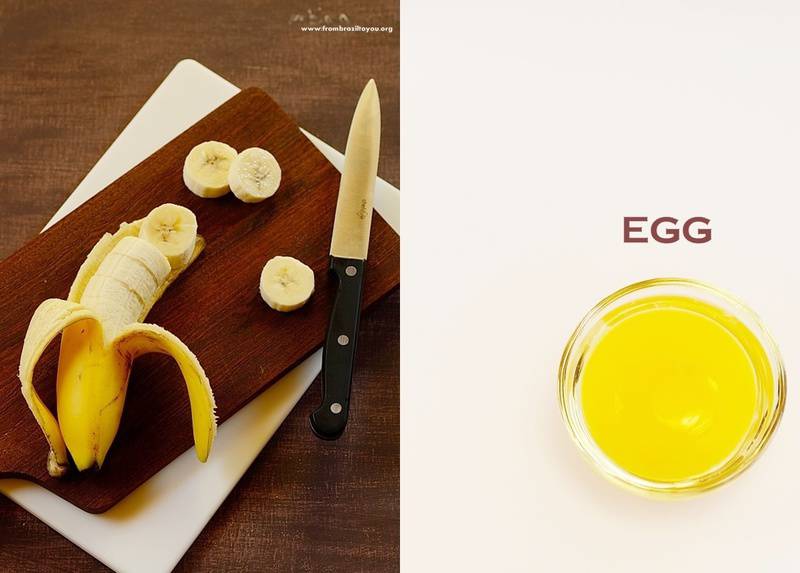 I am craaaaazy for sweets, but if I had to choose just one to place on the same pedestal as caramel flan, this would be it.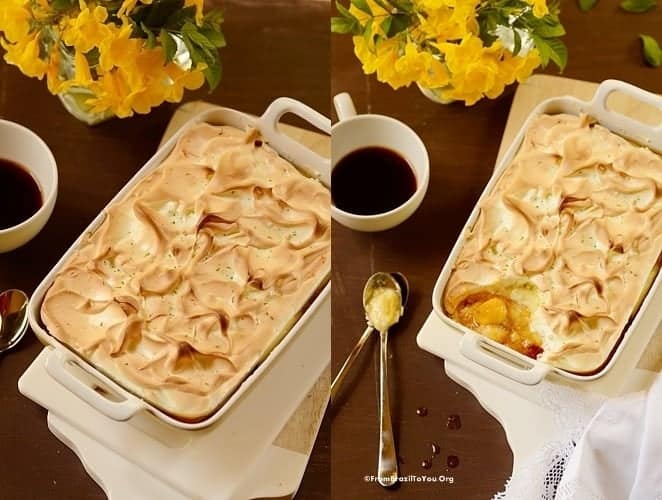 In Brazil, the only point of unanimity about this dessert is the layers that compose it-- while on the other hand, its origin and name are controversial. 🙂 Rio Grande do Sul State contests the origin of the dish along with Paraná and Santa Catarina... all southern Brazilian states. Down there the dessert is known by the following curious name: Chico Balanceado. Who knows why?! In various other parts of Brazil, it is known as Torta de Banana (or Banana Pie, a more accurate name), Manezinho Araújo, Peito de Moça, or Manezinho de Banana. 🙂
The fact is, whatever its true origin and name, it is a delightful treat -- somewhat similar to the American banana pudding and banana cream pie -- and with the advantage that the bananas won't turn brown. If you love these, you will be crazy for our banana meringue pie.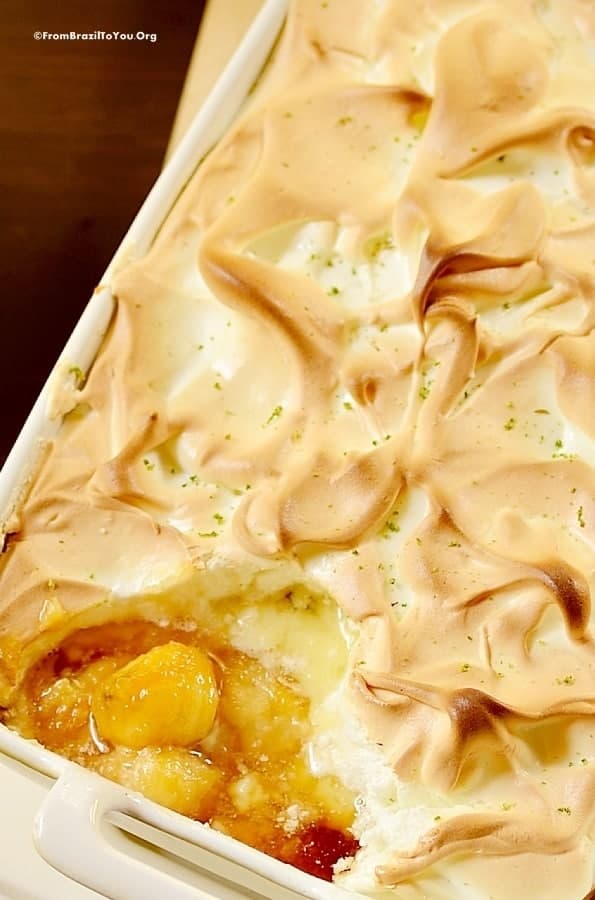 Although I named it Crustless Banana Meringue Pie in honor of its Brazilian name/idea, this is actually a baked trifle, in light of its layers and absence of a crust.
Well, enjoy... and savor the moment (in heavenly style). 🙂
-------------------------------------------------------------------------
WANT TO SEE MORE DELICIOUS RECIPES? Sign up for our FREE newsletter delivered to your inbox! And stay in touch on Facebook, Google+, Pinterest, and Instagram for all the latest updates.
-------------------------------------------------------------------------
Crustless Banana Meringue Pie (Torta de Banana)
Comforting, gluten-free, superb Crustless Banana Meringue Pie -- a triple-layered dessert with banana caramel, custard cream, and toasted meringue. It's literally to die for!
Ingredients
For the Banana Caramel:

1

cup

water

3

cups

granulated sugar

Juice of ½ lime

10

large ripe yet firm bananas

sliced into ½-inch thick slices

¼

cup

boiling water

only if necessary

For the Custard Cream:

4½

tablespoons

cornstarch

3¾

cups

whole milk

6

large egg yolks

1

can sweetened condensed milk

14 oz

1

tablespoon

pure vanilla extract

2

tablespoons

unsalted butter

at room temperature

For the Meringue:

6

large egg whites

1½

cups

granulated sugar

Zest of 1 lime
Instructions
Prepare the banana caramel: In a heavy-bottom, high-sided saucepan, combine water, sugar and lemon juice (to keep the mixture from hardening). Cook mixture over low to medium-low heat, stirring constantly with a wooden spoon, until sugar dissolves and mixture becomes clear and begins to simmer. If using a thermometer, sugar melts at about 320 degrees F.

After sugar dissolves and mixture is simmering, cook for approximately 8 to 10 minutes over medium-low to medium heat,

without stirring at all

. To distribute color evenly as sugar caramelizes, hold handle of pan and gently tilt the pan off the heat. It will be done when mixture reaches a golden brown (light amber) color. If using a thermometer, the temperature should register a final temperature of approximately 340 to 350 degrees F. Watch the changing of the color (or the temperature) carefully as it can go past the light brown stage quickly and burn.

Remove pan from the heat, add the sliced bananas carefully, stir mixture gently to cover the bananas in caramel, and add boiling water, if caramel is too thick.

Using a large spoon or ladle, spoon banana caramel into a large (13 x 9-inch) baking dish, distributing bananas in an even layer. Set aside and let cool.

Prepare the custard cream: In a medium to large stainless steel saucepan, whisk cornstarch with a bit of milk until mixture presents no lumps. Place egg yolks in a sieve and strain in order to remove membrane. Add to the cornstarch/milk mixture, whisking/stirring well just until combined. Add the remaining milk and sweetened condensed milk, and stir to combine. Place pan on the stove top (large burner) and cook mixture over medium-low to medium heat, whisking constantly until mixture has thickened and coats the back of a spoon (about 8-12 minutes). Remove pan from the heat, add the vanilla and butter, stirring well until butter has completely melted.

Spoon custard cream in an even layer on top of the banana caramel and let cool. NOTE: Do not use an aluminum pan if using a whisk to stir mixture, otherwise metal will scorch, resulting in metallic contamination.

Preheat oven to 425 degrees F (220 degrees C).

Prepare the meringue: In the bowl of a mixer with a whisker attachment, whisk the egg whites at medium speed until stiff. Add the sugar a third at a time, whisking well between each addition until stiff and shiny. Stir in the lime zest.

Spoon the meringue on top of the custard cream, piling it up in the center and swirling with the back of a spoon in order to form waves and peaks. Bake in the preheated oven just until the top of the meringue becomes golden, about 5-10 minutes.

Serve banana meringue pie warm, or let it cool before chilling in the refrigerator. Although this is a crustless, gluten-free dessert, you can serve with vanilla wafers if desired. Enjoy!
** Nutrition labels on easyanddelish.com are for educational purposes only. This info is provided as a courtesy and is only an estimate, since the nutrition content of recipes can vary based on ingredient brand or source, portion sizes, recipe changes/variations, and other factors. We suggest making your own calculations using your preferred calculator, based on which ingredients you use, or consulting with a registered dietitian to determine nutritional values more precisely.
Please note that health-focused and diet information provided on easyanddelish.com is for educational purposes and does not constitute medical advice, nor is it intended to diagnose, treat, cure, or prevent disease. Consult with your doctor or other qualified health professional prior to initiating any significant change in your diet or exercise regimen, or for any other issue necessitating medical advice.
DID YOU MAKE THIS RECIPE?
Comment and rate the recipe. Also follow us on Pinterest at @easyanddelish for more delish recipes.
You might also enjoy these other comforting meringue desserts: