Fudgy and decadent churro blondies filled with dulce de leche that are easy to make and can be served with your favorite ice cream.
Desserts have always been at the top of my list of faves… especially moist cakes, brownies, and blondies (brownies without chocolate). Let me tell you that these fudgy dulce de leche churro blondies are among the best. They are one of those comforting, rich treats that you have to try real hard to keep from devouring one right after the other.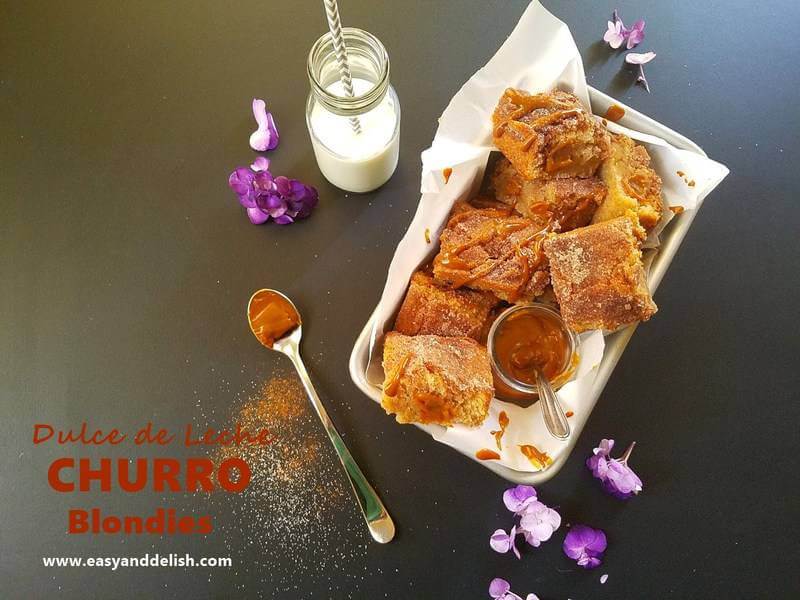 They are fortunately easy to make. Combine the batter ingredients in the bowl of an electric mixer, pour half of it into a greased baking pan, spoon dulce de leche on top, and finish by layering on the other half of the batter and sprinkling with a cinnamon-sugar mixture.
Bake at 350 degrees F for about 35 minutes and voila! You have one of the most scrumptious treats ever — just like our dulce de leche churro trifle!
Yep, easy peasy!!!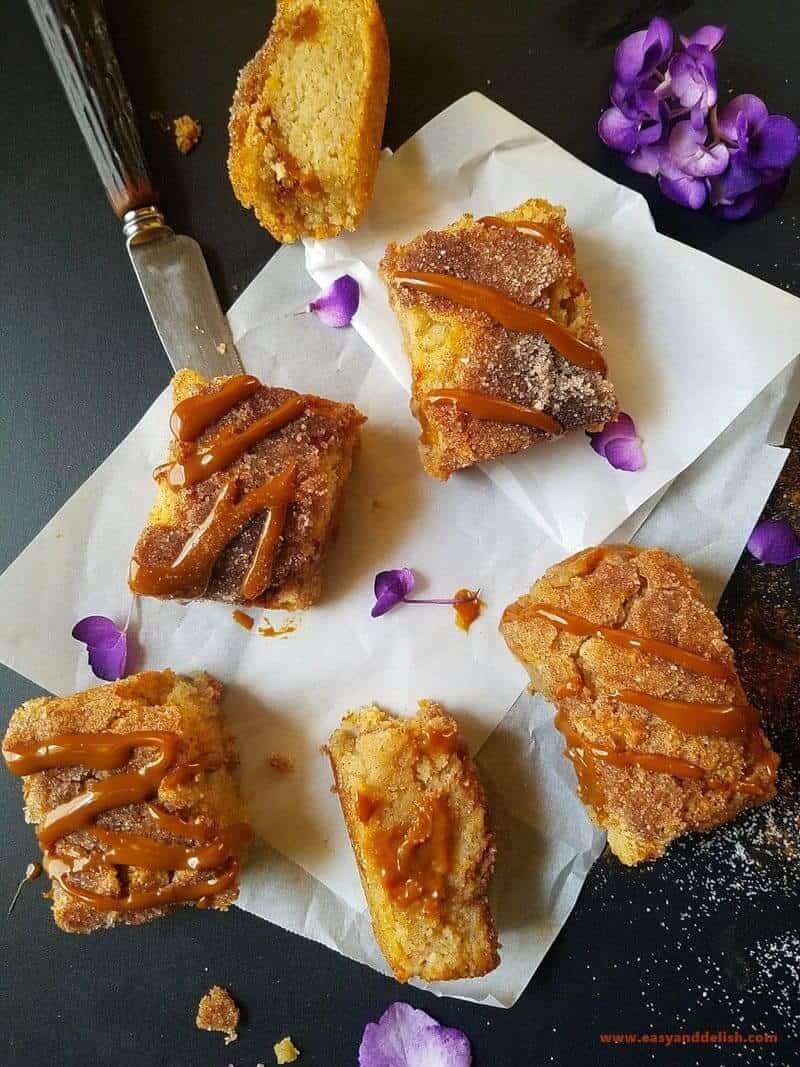 It goes without saying that the contrasting texture of the fudgy blondie with the crisp/crumbly cinnamon-sugar topping can wow any palate.
If you want to make them even more special, serve these churro blondies with a drizzle of softened dulce de leche and a glass of milk… or heat them up and top with a scoop of ice cream. Man, oh man… it is like hearing a choir of angels singing! 😉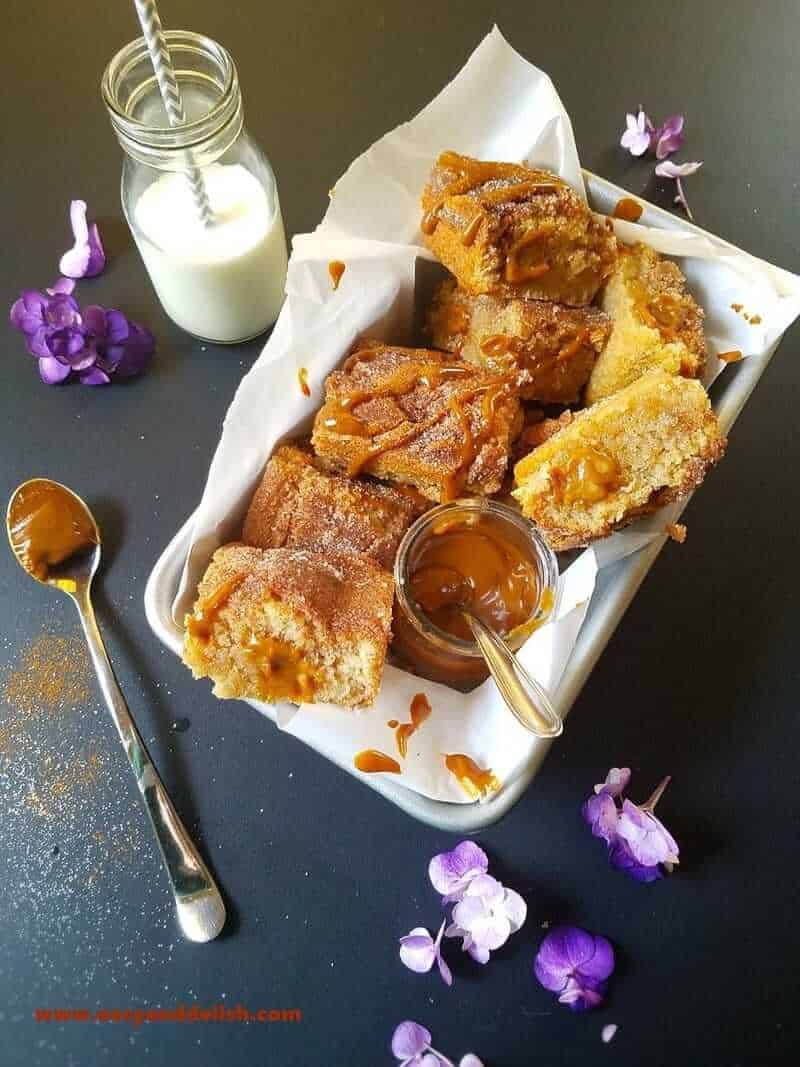 They will be the talk of your next get-together… or snack time. Because yes, my family and I snacked on them like there would be no tomorrow. They are still looking forward to the next batch.
Enjoy!!!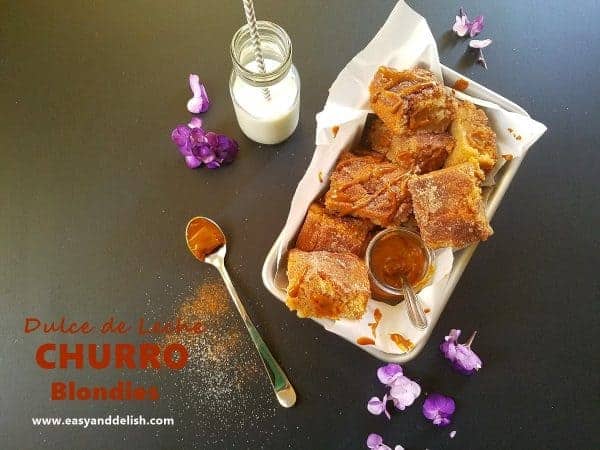 | | |
| --- | --- |
| | |
Preheat oven to 350°F. Lightly grease a 8x8- inch baking pan with cooking spray and then line with parchment paper.

In a large bowl of a stand mixer, cream together butter and sugar. Mix in eggs and vanilla, followed by salt, baking powder, cinnamon, and flour. Mix until smooth. Pour half of the blondie batter and smooth into an even layer in prepared baking pan. Spoon dulce de leche onto layered batter; then, spoon and smooth the remaining blondie batter on top.

In a small bowl, mix 3 Tablespoons sugar with 1 1/4 teaspoons cinnamon and sprinkle on the top. Bake for 30-35 minutes.

Let dulce de leche churro blondies tcool before slicing. Store in an airtight container for up to several days. Serve them by themselves or with a drizzle of dulce de leche on top (and your favorite ice cream if desired).