It's Easter time! Every single detail is ready-- including my Easter dessert, Manjar Branco or Blanc-Mange.
I'm not talking about just any dessert, but a delicious and fitting one for the special occasion that we are celebrating.
With so many options from which to choose, I specifically chose the manjar branco for a couple of different reasons. First, it reminds me of a simple and elegant Italian dessert that I have been craving lately, panna cotta. Also, because its beautiful white color reminds me both of the secular tradition of the white Easter bunny and, especially, of the purity of Jesus Christ my Lord.
The manjar branco has a mild coconut taste. Traditionally in Brazil, it is served with a stewed prune sauce.
However, for this occasion I chose two additional sauces: a chocolate sauce representative of our secular Easter traditions, and a berry sauce which announces that spring is here. So you have one dessert, with three different sauces from which to choose.
The colors of the dessert and of the chocolate and berry sauces also make it suitable to serve for Christmas or for many other occasions.
I hope that you enjoy our manjar branco as much as I do. Happy Easter!!!
" ... He has risen..." (Mt. 28:6)
Blanc-Mange
(Manjar Branco)
Serves 4
Segment: Brazilian cuisine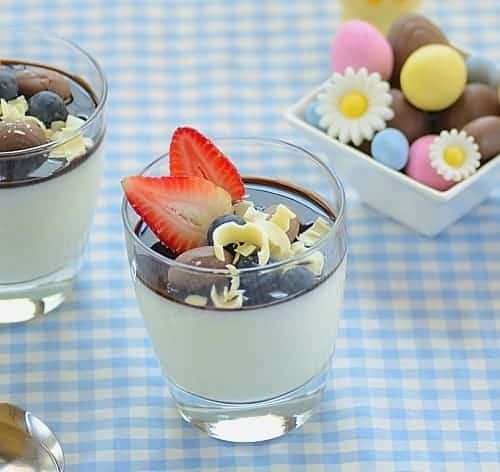 Ingredients:
For the Manjar Branco:
1 (14 oz or 396g)  can condensed milk
3-½ cups milk
7 oz or 200 ml coconut milk
½ cup corn starch
⅓ cup sugar
A dash of salt
1 teaspoon vanilla extract
For The Prune Sauce: 
5 oz or 150 g prunes
1-½ cups sugar
1 cinnamon stick
4 cloves
A dash of nutmeg
Directions:
Dissolve the corn starch in the coconut milk. Stir in in the other ingredients, except the vanilla extract.
Pour into a medium saucepan over medium heat, stirring constantly for about 12 - 15 minutes or until the mixture has thickened.
Remove from heat, add the vanilla extract, stir, and pour mixture into cups, let cool down, cover, and refrigerate for at least 6 hours. Do not unmold. Serve with a room temperature chocolate sauce, or a chilled prune sauce or berry coulis on top (recipes follow) and decorate as desired.
To make the prune sauce: Mix all the ingredients together. Bring to a boil, reduce heat to medium-low, and let simmer for about 10 minutes. Remove the cinnamon stick and the cloves. Serve cold with the Blanc-Mange.
Note: Since my blanc-mange recipe takes cornstarch instead of unflavored gelatin, I do not advice you unmold it.
For the

Chocolate Sauce

: click on the link 

(Half of the chocolate sauce recipe is enough to top our Blanc-Mange)