Easy Easter Cookie Bars with layers of graham crackers, chocolate, and caramel, topped with Cadbury's mini eggs. They are to die for!
Easter has already arrived at our blog! And these quick, decadent, and fun Easter Cookie Bars will be one of our treat for this year!!! They are made from graham cracker crumbs, topped with chocolate (brigadeiro) and caramel (doce de leite), and garnished with candy Easter mini eggs (ovos de Páscoa)... Sounds good? 🙂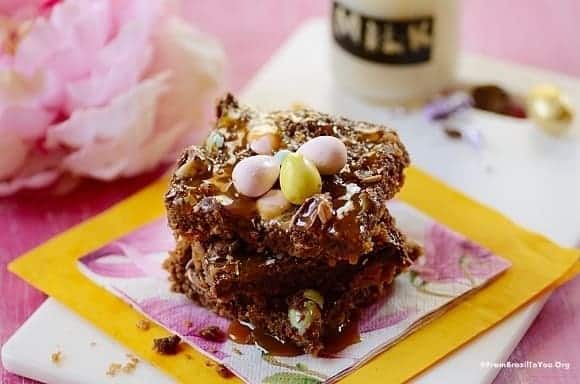 They are so easy and fun to prepare that they make a great cooking project for children... and therapy for adults in the midst of another holiday! Not only are they great for your Easter table, but also for giving away as Easter presents!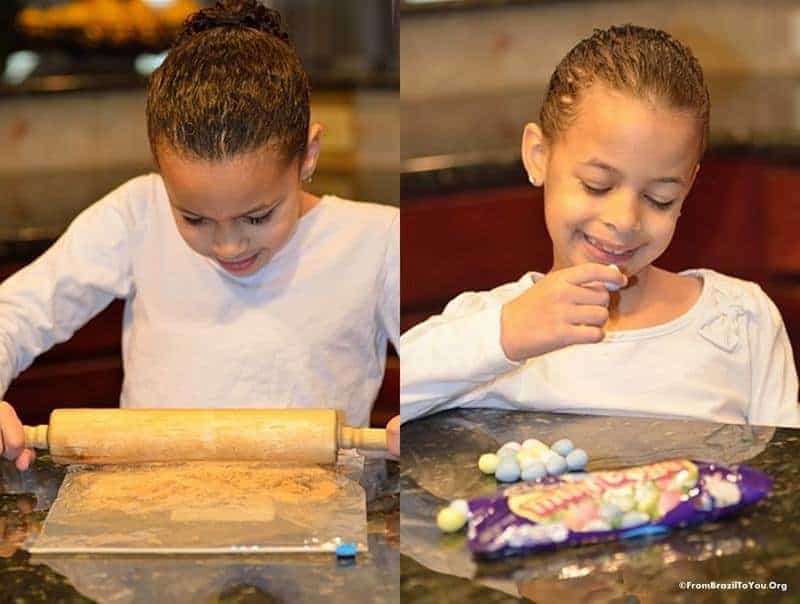 If you haven't noticed, this isn't our first Easter treat made with candy Easter eggs... Our Easter Chocolate Cake and Easy Birds Nest Cookies are two other examples. Chocolate Easter eggs and treats made with them have long been a tradition in Brazil and in this blog. Why?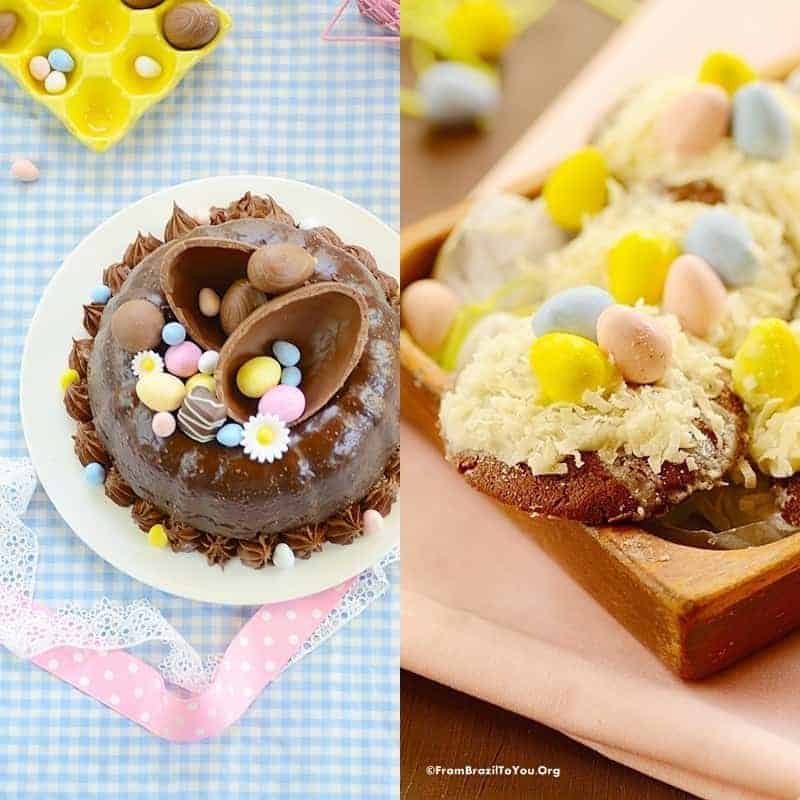 Brazil, unlike the US, doesn't have a tradition of plastic eggs filled with jelly beans or Easter egg hunts. It's all about chocolate eggs, which are brought to children by the Easter bunny. Don't believe it? Well, see for yourself...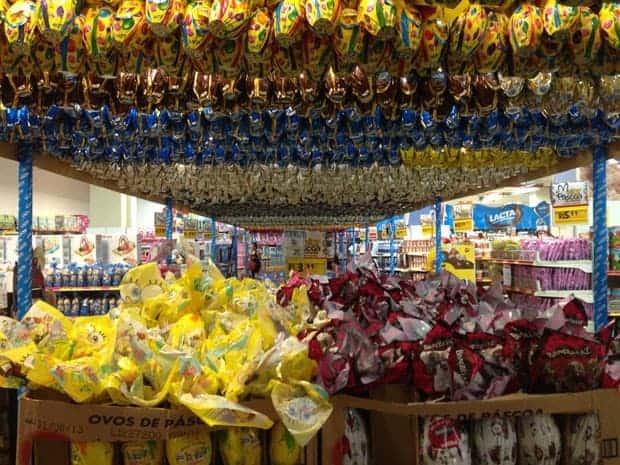 This is why our dessert for Easter this year, scrumptious Easter Cookie Bars, are decorated with chocolate eggs... And what chocolate eggs they are!!! Folks, these are my favorite Easter eggs in the US. I mean, every single year I look forward to them with great anticipation...and devour them voraciously-- both straight from the bag and incorporated in other treats. 🙂
Dishes made from cod fish (bacalhau), such as our Bacalhau a Zé do Pipo (Codfish Shepherd's Pie) provide additional symbols of Easter in Brazil-- since most Brazilians are Catholic, having to abstain from eating red meat during this period.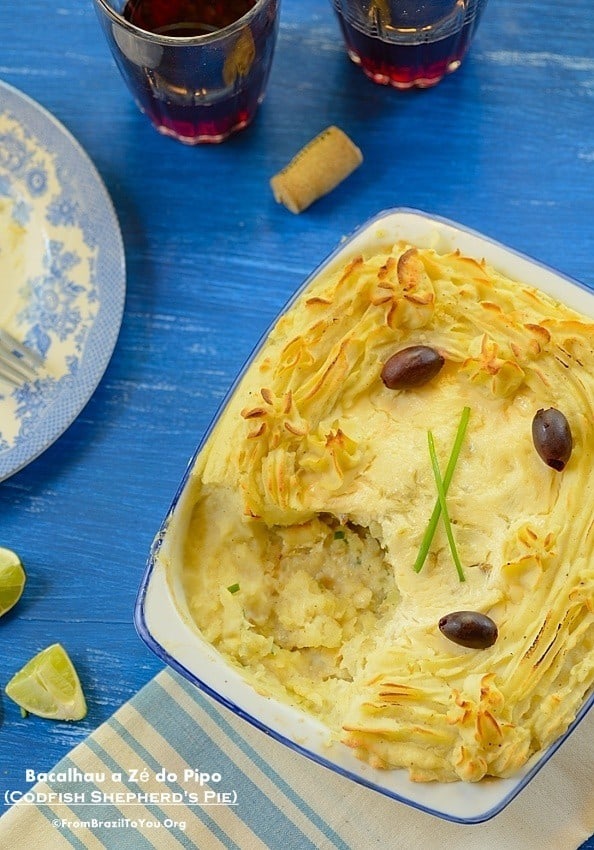 Save the recipe and make our Easter Cookie Bars this year... you won't regret it!
xx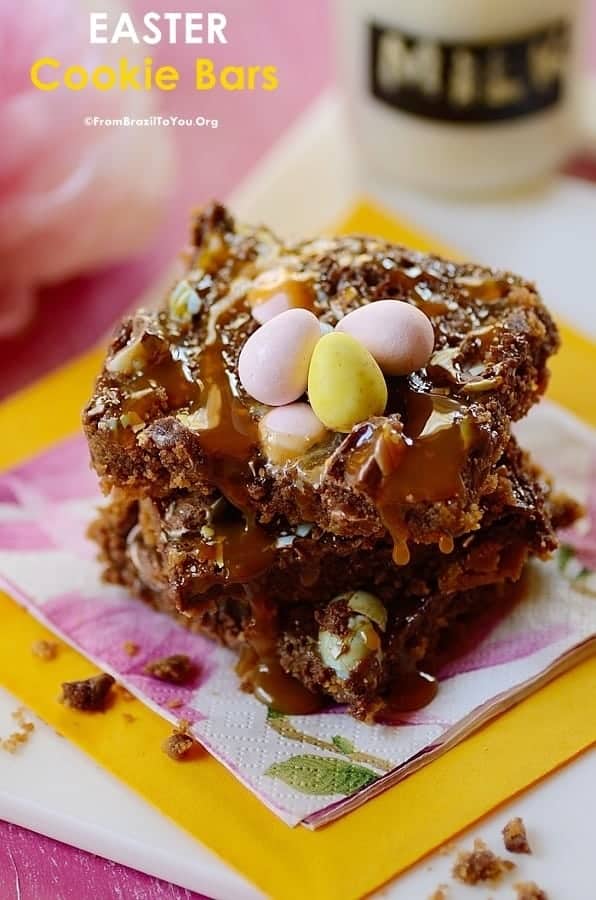 6-Ingredient Easter Cookie Bars
Easy Easter Cookie Bars with layers of graham crackers, chocolate, and caramel, topped with Cadbury's mini eggs. They are made in 35 minutes with 6 ingredients only and are to die for!
Ingredients
3¾

cups

graham cracker crumbs

or 18 full sheet crackers

1¼

cups

unsalted butter

melted, or 2½ sticks

1

can

sweetened condensed milk

14-ounce

3

tablespoons

unsweetened cocoa powder

⅓

cup

store-bought caramel topping

or homemade dulce de leche sauce

1

bag

Cadbury mini eggs to decorate

10 oz or 283 g, some chopped and some whole
Instructions
Heat oven to 350 degrees F (180 degrees C). Coat 13x9-inch baking pan with non-stick cooking spray and set aside.

Combine graham cracker crumbs and butter. Press into bottom of prepared pan. In a small bowl, mix condensed milk with cocoa powder until obtaining a homogeneous mixture and pour evenly over crumb mixture, gently smoothing with the back of a spoon to distribute in an even layer.

Bake for 15 minutes, remove from the oven, and drizzle caramel topping on top. Evenly sprinkle chocolate Cadbury's mini eggs over the whole bar and return bar to the oven. Bake for an additional 10 minutes.

Let pan cool on a rack and cut into 12 bars -- or more if desired. Store our Easter cookie bars covered at room temperature.
Recipe Notes
If desired, you can use Oreos or chocolate cookies instead of graham crackers. If you love the salty/sweet combination, you can replace the graham crackers with saltine crackers.
** Nutrition labels on easyanddelish.com are for educational purposes only. This info is provided as a courtesy and is only an estimate, since the nutrition content of recipes can vary based on ingredient brand or source, portion sizes, recipe changes/variations, and other factors. We suggest making your own calculations using your preferred calculator, based on which ingredients you use, or consulting with a registered dietitian to determine nutritional values more precisely.
Please note that health-focused and diet information provided on easyanddelish.com is for educational purposes and does not constitute medical advice, nor is it intended to diagnose, treat, cure, or prevent disease. Consult with your doctor or other qualified health professional prior to initiating any significant change in your diet or exercise regimen, or for any other issue necessitating medical advice.
DID YOU MAKE THIS RECIPE?
Comment and rate the recipe. Also follow us on Pinterest at @easyanddelish for more delish recipes.
___________________________________________________________
Credit:
Image of Easter eggs at a supermarket in Brazil is from Rádio Piratininga de Jaú.