Carrot cake, like culture, shows differences based upon their place of origin– at least American and Brazilian carrot cakes do!
American carrot cakes contain nuts and sometimes crushed pineapple and shredded coconut or raisins, adding richness to the cake by the addition of other flavorings.  The Brazilian version is simpler, less sweet, and has carrots as its sole flavoring agent. As an added bonus, Brazilian carrot cake is ideal for kids since the carrots are well blended into the cake (no visible slivers of carrot) and it is topped with chocolate sauce.  The type of pan preferred for baking this cake also differs from one country to the other.   In the US, carrot cakes are often prepared in a round baking pan, a loaf pan, or even in a cupcake tin.  On the other hand, in Brazil they are generally baked in a ring mold or a rectangular baking pan, although personal preferences also apply.
Ah yes, they also differ when it comes to frosting.  While American-style carrot cake is frequently topped with a cream cheese frosting, Brazilian-style carrot cake is either served plain (like a coffee cake) or more typically, topped with a chocolate sauce.  I have to confess that I do prefer mine dusted with powdered sugar instead of topped with chocolate sauce.  I love both American and Brazilian carrot cakes… and now that you know about Brazilian carrot cake, there is something new and wonderful for you to try on your plate, right?!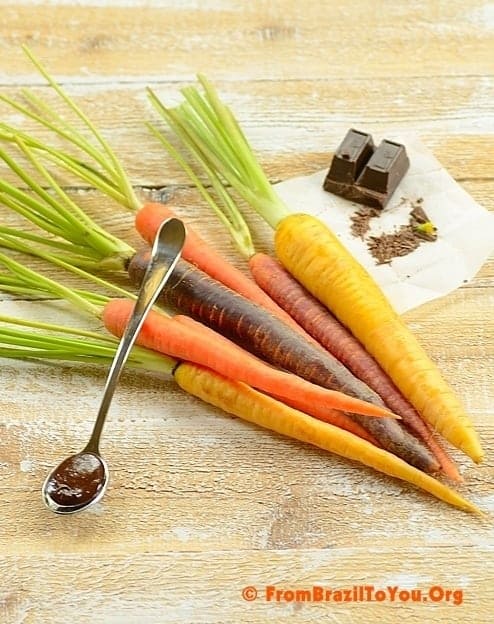 Regardless of how they might differ from one another, both carrot cake versions fall into the baking category of shortened, oil cakes– which means that this particular type of cake is moister and denser than those known as shortened, butter cakes (such as traditional yellow cake, marble cake, and most wedding and birthday cakes). In addition, the fat and sugar are not creamed… oil is the added fat used for moistness and density in the carrot cake.   Since oils always remain liquid and never set into solid form, this type of cake can be refrigerated without losing its tenderness and moistness.
Although when properly structured oil cakes are moist, butter cakes can be also.  Here are a few tips to add moistness to your cakes and prevent them from drying out:
Tips for a moist cake:
Substitute a fruit puree (e.g. applesauce, pumpkin puree, mashed ripe bananas, canned crushed pineapple or plum puree) for 1/2 of the oil or butter that is called for in the recipe.  The fiber in the fruit puree helps to absorb moisture and keep the cake moist.   It is true that the cake will be a little denser than one without a fruit puree, but it will be moist.

Add 1/4 cup of sour cream, instant pudding (the undissolved powder), or mayonnaise (the real thing) to the batter of butter cakes (Remember: butter cakes are the ones in which butter and sugar are creamed). 

Replace milk with buttermilk, but do not forget to add baking soda to the batter to neutralize the acids present in the buttermilk.  The general ratio is 1/2 teaspoon of baking soda per 1 cup of buttermilk. 

For butter and oil cakes made with gluten-free flour, use the amount of butter or oil called for in the recipe and add a 1/2 cup of a fruit puree (e.g. applesauce) to the batter.
If you are making a layered cake, brush the baked and cooled cake layers with simple syrup.  This is a technique professional bakers use to keep the layers of a cake moist, whether the cake is from scratch or from a mix.  After the simple syrup has been applied, spread a thin coating of frosting and let the frosting dry before putting on the final layer.

To prevent a cake from drying out, always store it well covered.  Butter cakes are best kept at room temperature, while oil cakes can be refrigerated.
With all that said, let's go to the kitchen to get this baby baked!
xx
Carrot Cake with Chocolate Topping
Yield: 1 (9-inch or 23 cm) cake
Segment: Brazilian cuisine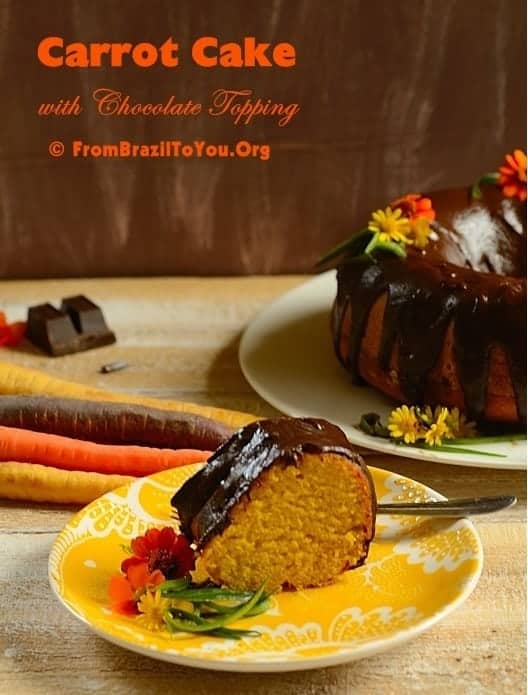 Ingredients:
For the Carrot Cake Batter:
340 g carrot (about 2-1/2 large carrots), peeled and grated
240 ml vegetable oil
2 teaspoons (or 10 ml) pure vanilla extract
260 g all-purpose flour (or your favorite gluten-free flour. In this case, add 1/2 cup of applesauce to the batter)
2 teaspoons (or 10g) baking powder
Pinch of salt
3 large eggs at room temperature
1 large egg yolk at room temperature
400 g granulated sugar
Chocolate Sauce
For the Chocolate Sauce:
100 g milk chocolate, chopped
1 cup (240 ml) milk
1 tablespoon (or 15 g) unsalted butter
2 tablespoons (or 30 ml) honey
1 tablespoon (15 ml) pure vanilla extract
Directions:
1. Preheat oven to 350 degrees F (about 180 degrees C).  Grease  a round ring mold (9-inch or 23 cm diameter) and dust with flour.
2. In a blender, blend the carrot, oil and vanilla together very well until the mixture is homogeneous and smooth.  Reserve.
3. In a large bowl, sift the flour and baking powder.  Reserve.
4. Using an electric mixer, beat the eggs and the yolk at medium speed until frothy (about 1 minute).  Gradually add the sugar and beat until sugar has been well incorporated (about 1 minute).  Stir in the mixture of blended carrots using a spatula.  Then, add the flour/yeast mixture in 3-4 additions and also a pinch of salt, beating on low speed until the flour has been incorporated to the batter (Please, do not overbeat!!!).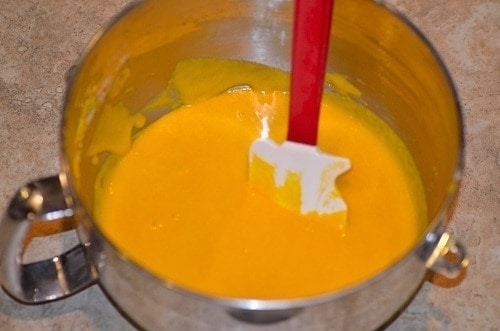 5. Pour batter into the prepared pan.  Bake for about 40 minutes or until a toothpick inserted in the center comes out clean.  Let cool completely on a wire rack. Unmold and top with chocolate sauce.  Decorate as desired. You can also serve this cake plain or dusted with powdered sugar instead of topping with chocolate sauce. This cake is moist without being oily!!! If you are intolerant to dairy, serve cake dusted with powdered sugar.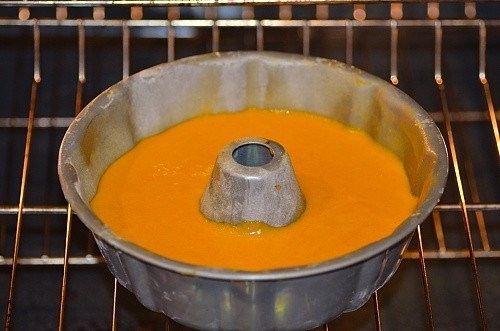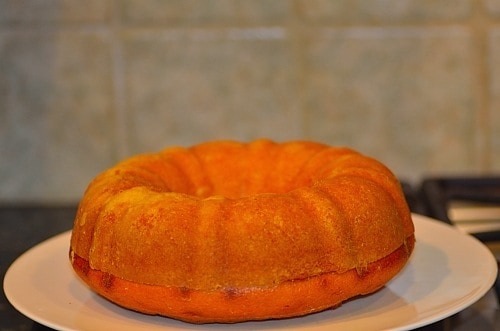 6. To prepare the chocolate sauce: In a saucepan, combine all the ingredients and cook over medium-high heat, whisking constantly.  When it starts to boil, lower the heat to medium-low and simmer until sauce had thicken (about 5 minutes).  Remove from heat, stir in the vanilla extract, and let sauce cool down to warm.  Pour over cake.
Note: If you don't have a ring mold pan, you can bake the batter in a standard-size cupcake pan.  In this case, fill 3/4 full and bake for approximately 18-20 minutes.  Please, always do the toothpick test!!  You can either use paper liners, or grease and dust the cupcake pan. 
NEVER MISS A RECIPE!!! SUBSCRIBE BY EMAIL:
You might also enjoy:
_______________________________________________________________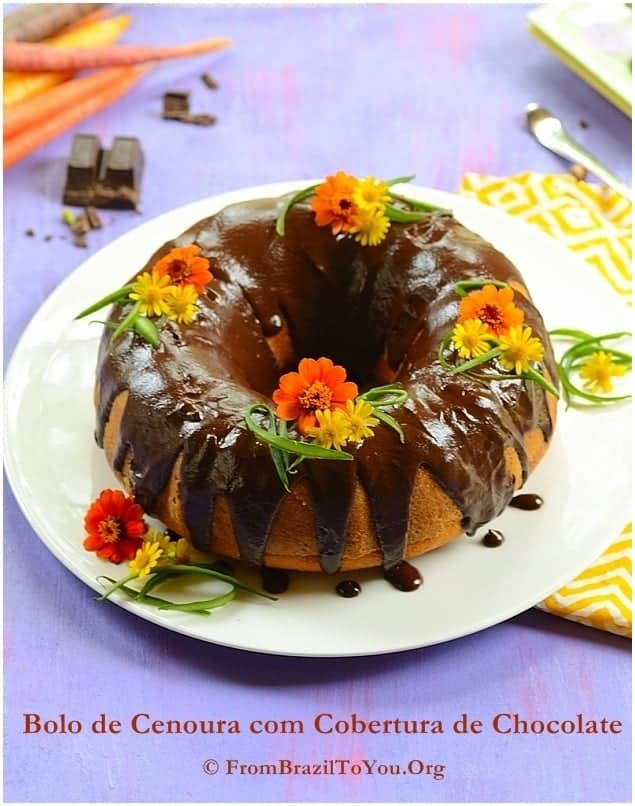 NEVER MISS A RECIPE!!! SUBSCRIBE BY EMAIL: