Traditional codfish dishes such as Bacalhau a Zé do Pipo or Codfish Shepherd's Pie, as well as chocolate treats, are must-haves at any Brazilian table on Easter… Why is that?
Brazil has the largest Catholic population in the world, which observes Lent for about 6 weeks from Ash Wednesday to Easter Sunday. One abstains from eating meat as a form of penance in honor of the death of Christ on the cross. Even those from other religions, observing old traditions, usually enjoy fish dishes on Easter — especially cod (bacalhau). With a range of dishes to choose from, each enriched with the comforting flavor of divine pardon,  who wouldn't? 🙂
Well, Bacalhau a Zé do Pipo (pronounced roughly bahk-all-YAW ah Zeh doo PEEP-oo) is one of those dishes. It is a baked casserole made from well-seasoned cod and onions, topped with mayonnaise and piped mashed potatoes. Yummm!!! This dish is named after its creator, Zé do Pipo, who owned a famous eatery in Porto, Portugal during the 1960's. Bacalhau a Zé do Pipo became famous throughout Portugal after he won a national cooking contest with this recipe. Subsequently, many restaurants placed it on their menus. It has enjoyed enduring popularity to this day, including in Brazil, which absorbed many different Portuguese dishes and traditions.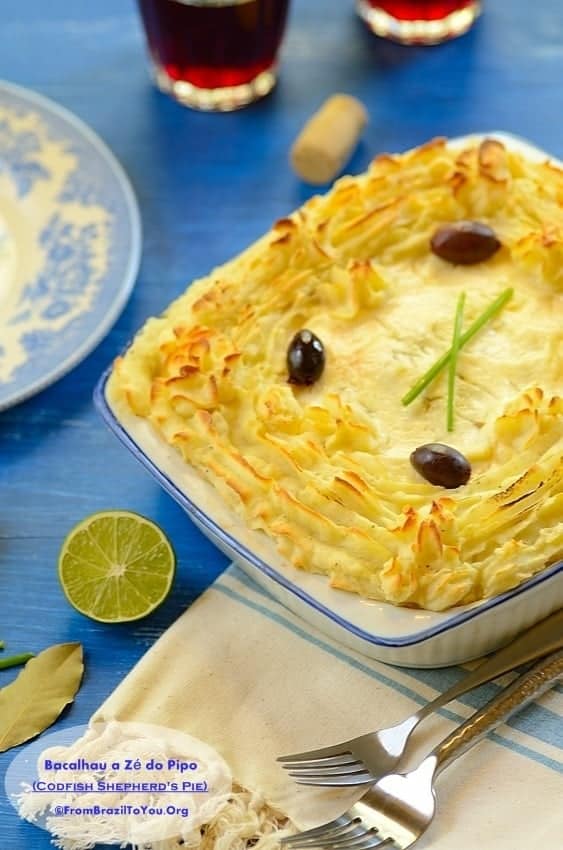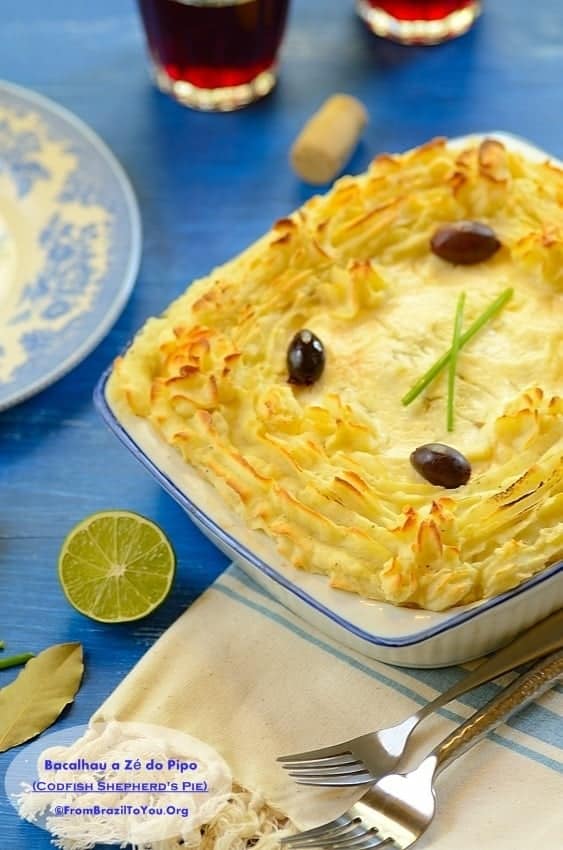 Some of these traditions include the Procissão do Fogaréu in Goiás Velho, Goiás State, and the Passion Play in Nova Jerusalém and Recife, both in my home state of Pernambuco. But perhaps one of the most unique traditions of Holy Week is the decoration of streets for the Sunday procession. For example, in Outo Preto, a historic town in Minas Gerais State, people create colorful carpets with wood shavings, flour, coffee, flowers and other decorative elements on the eve before Sunday in order for the people in the procession to walk upon.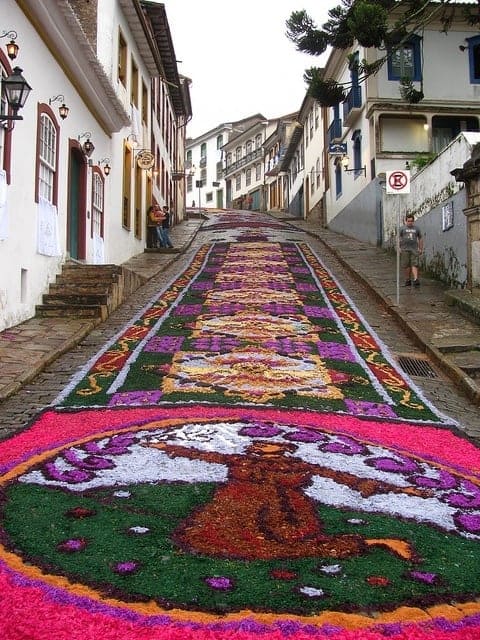 However, not all Brazilian Easter traditions are religious. A very popular secular tradition is to present family and friends with Easter eggs made of chocolate. Supermarkets often decorate a special aisle with a tunnel made of brightly wrapped Easter eggs produced by various brands such as Laka, Garoto, and Nestlé. Some of the most well-known franchises selling fine Easter eggs in Brazil are Kopenhagen and Cacau Show.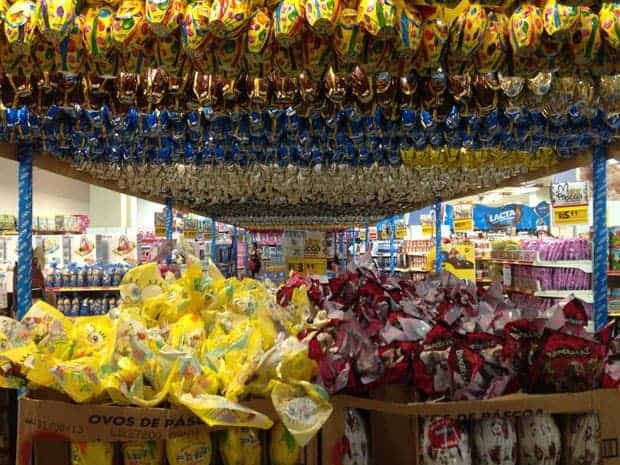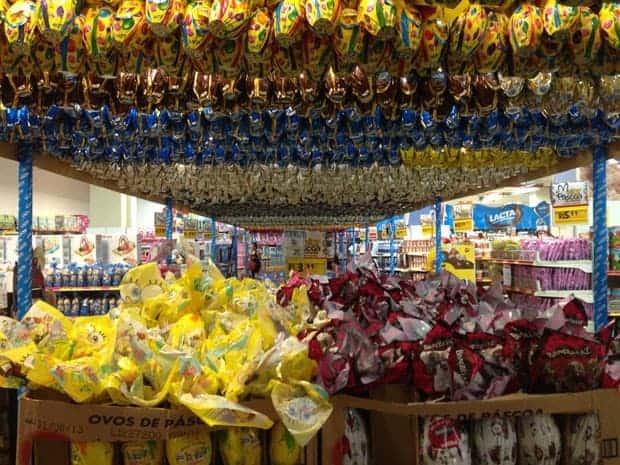 In contrast to the United States, Brazil does not have a tradition of holding Easter egg hunts.
Parents, however, try to educate the kids and let them know that the day is not only about the Easter Bunny, but about Christ and the resurrection and the teachings of God…
Happy Easter!
To take a look at our latest Spring Album in a blue bonnet field, click

here

. To see many other photos, click 

here

 as well! 
Codfish Shepherd's Pie (Bacalhau a Zé do Pipo)
A traditional and hearty casserole made from well-seasoned codfish and onions, topped with mayonnaise and piped mashed potatoes.
Ingredients
For the Codfish:

2-1/2

pounds

salted codfish fillets

(not dry-weight codfish) or 1.8 pounds salted, dry-weight codfish, skinned

5

tablespoons

olive oil

divided

1

teaspoon

salt

1/2

teaspoon

freshly ground black pepper

2

teaspoons

Knorr chicken flavor bouillon powder

Juice of 1/2 lime

2

tablespoons

fresh chives

chopped

1

large white onion

small diced

2

tablespoons

minced garlic

1/2

cup

homemade or good-quality

store-bought mayonnaise

6

pitted black olives to decorate dish

For the Mashed Potatoes:

3

pounds

russet potatoes

peeled and cut into chunks

1/3

cup

heavy cream

1/3

cup

whole milk

1-1/4

teaspoons

salt

1/8

teaspoon

ground pepper

1

pinch

freshly ground nutmeg

2

tablespoons

unsalted butter

melted

1

large egg yolk

at room temperature
Instructions
Preparing the codfish:

First, de-salt the codfish by soaking in plain water (enough to cover) for at least 24 hours in the fridge. Change the water 4 or more times. If using salted, dry-weight codfish, bring it to a quick boil. Drain well and pat dry the codfish just before you are about to start cooking. Cut codfish fillets into smaller pieces. Codfish preserved in salt tastes much better than fresh cod, which is rather bland.

In a large, non-stick skillet, heat 2 tablespoons of olive oil over medium heat, then add the onion. Cook onion until translucent, about 3 to 4 minutes (the goal here is to cook the onions without browning). Add the garlic and let cook for about 1 minutes, stirring often. Transfer cooked onion and garlic to a small bowl, and reserve.

Using the same skillet where the onions and garlic were cooked, heat remaining 3 tablespoons of olive oil and cook the codfish pieces over medium heat until soft, about 7 to 8 minutes, turning them at least once. Remove from heat and flake them with tongs while they are still hot. Season with salt, pepper, and the bouillon; stir. Add the lime juice and the chopped chives, and stir again. Reserve. At this point, you can either combine the cooked flaked cod with the cooked onion-garlic mixture, or reserve each separately for assembly according to the instructions below. Since this recipe does not call for sliced onions, when I prepare the dish I prefer to combine the cod and the onion-garlic mixture right away.

Making the mashed potatoes:

In a large pot, cover potatoes with salted cold water and bring to a boil over medium-high heat; then, reduce heat to medium and let simmer until fork tender (about 20 minutes). Drain cooked potatoes and mash them well. Heat the heavy cream and milk together over medium heat until simmering. Add to the mashed potatoes and stir until combined. Stir in the salt, pepper, nutmeg, and the melted butter. Let mixture cool and mix in the yolk. Reserve.

Assembling Bacalhau a Zé do Pipo:

Preheat oven to 375 degrees F (190 degrees C). In a medium rectangular glass baking dish or oven-resistant ceramic baking pan, pile prepared flaked codfish in the center and fill the edges around the codfish with mashed potatoes, reserving about 1/3 of the mashed potatoes to pipe with. Make sure that the codfish pile and the mashed potatoes are nearly level in height (mashed potatoes should be slightly higher than the codfish pile). Distribute the reserved cooked onions on top of the codfish pile (if not already mixed with the flaked cod), and then spread mayonnaise over the onions or flaked cod-onion mixture. Pipe the remaining 1/3 of the mashed potatoes over the leveled mashed potatoes and around the edges of the baking dish using a medium star tip (you can make whatever design that you wish. I like to pipe waves all around my dish). Bake uncovered for about 20 to 30 minutes or until mashed potatoes and mayonnaise are lightly browned. Decorate with the olives and serve.

Bacalhau a Zé do Pipo

is best accompanied by Portuguese full-bodied white wines, or light-to-medium, not too fruity, reds.
Recipe Notes
1. The traditional Bacalhau a Zé do Pipo recipe calls for salted, dry-weight codfish. Use it preferably in this recipe if it is available at supermarkets in your area.
2. There is more than one way to make Bacalhau a Zé do Pipo. For visual/presentation purposes, I do prefer to use flaked cod and diced onions instead of cod fillets and sliced onions. I have added a few seasonings to the traditional recipe, in order to make the dish tastier.
DID YOU MAKE THIS RECIPE?
Comment and rate the recipe. Also follow us on Pinterest at @easyanddelish for more delish recipes.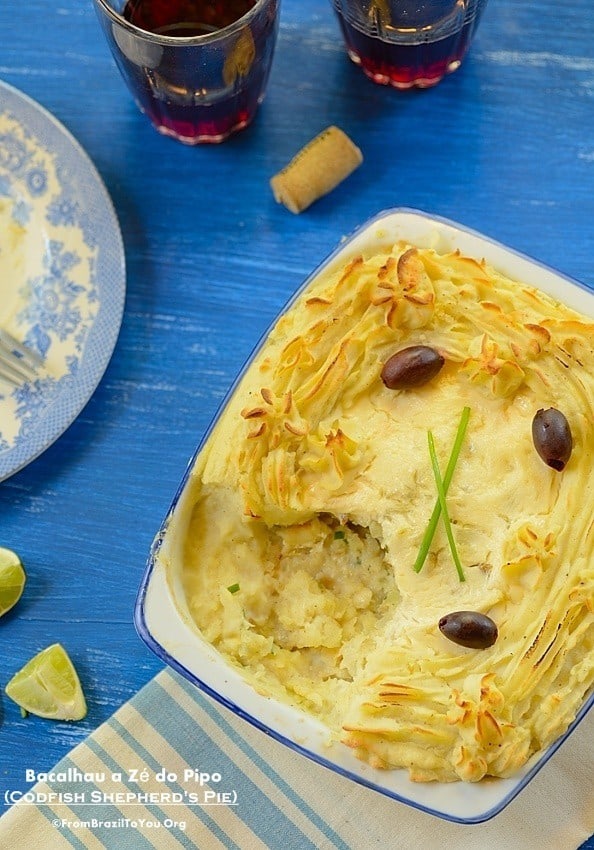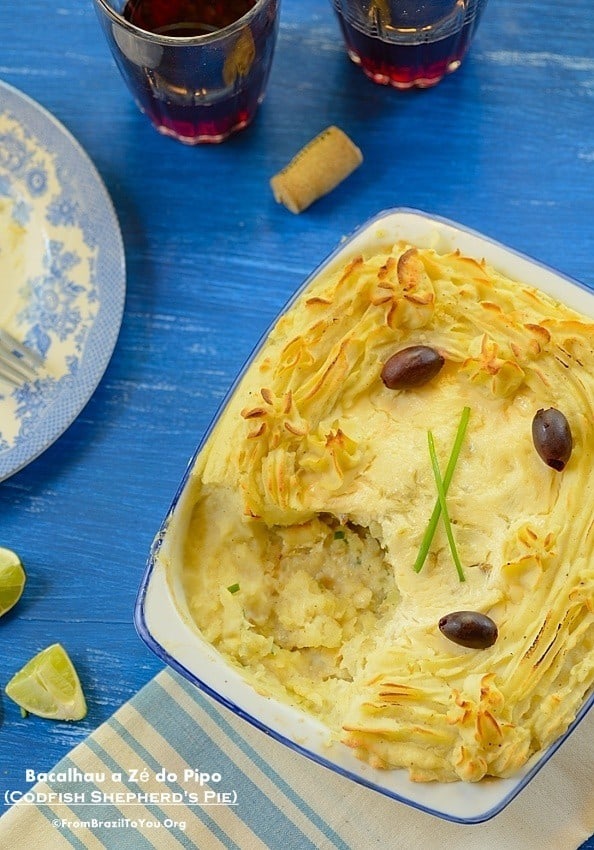 Image Credits:
1. Streets decorated in Ouro Preto, Brazil, from Priscila RP;  2. Easter Chocolate Eggs at Lojas Americanas, Brazil, by Heloisa Fávaro/G1 from Cabestro blog.