Disclosure: This is a compensated campaign in collaboration with Flatout Bread and Society Culinaria. All opinions however are honest and 100% mine.
Preparing dinner can sometimes be like putting a puzzle together. Yes, it takes time... and patience. But not when you can quickly prepare a healthy family meal like these Flatbread Ham and Cheese Brazilian Enchiladas. It's literally life made easy and totally delish!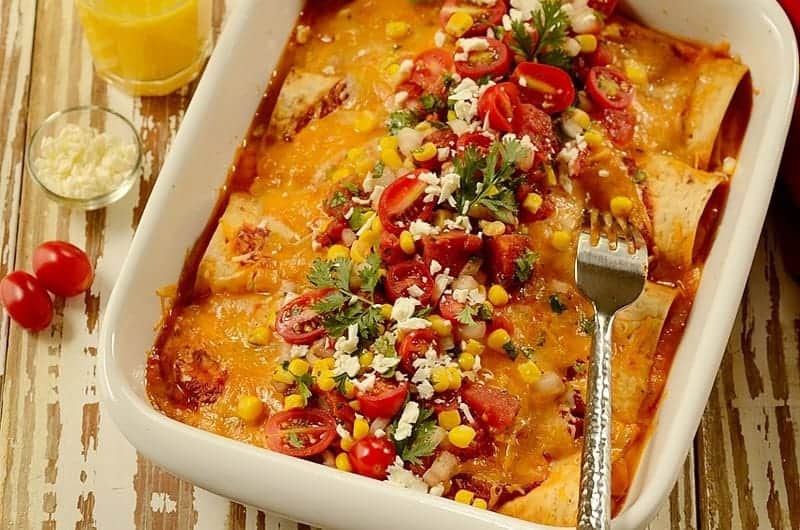 How? All that is needed is to grab a bunch of ready-made ingredients such low-fat flatbread, deli smoked ham, cheeses, tomato sauce, and a vegetable salsa, and transform them into a complete dish that will have your family singing its praises... and asking you to make it again and again.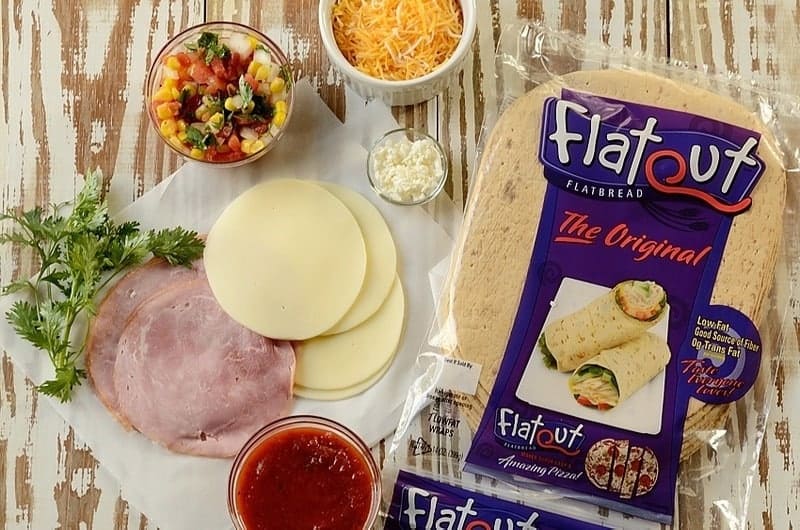 A dish that requires no special skills. That's right! Layering ham and cheeses on a flatbread, rolling it up, pouring tomato sauce on top, baking, and then serving with a vegetable salsa on top... nothing could be easier. Using the flatbread instead is certainly much quicker than having to prepare an enchilada batter. Huh? Our enchiladas are inspired by a popular Brazilian main dish, panquecas (similar to a thick rolled crepe, filled with a variety of fillings, and topped with tomato sauce).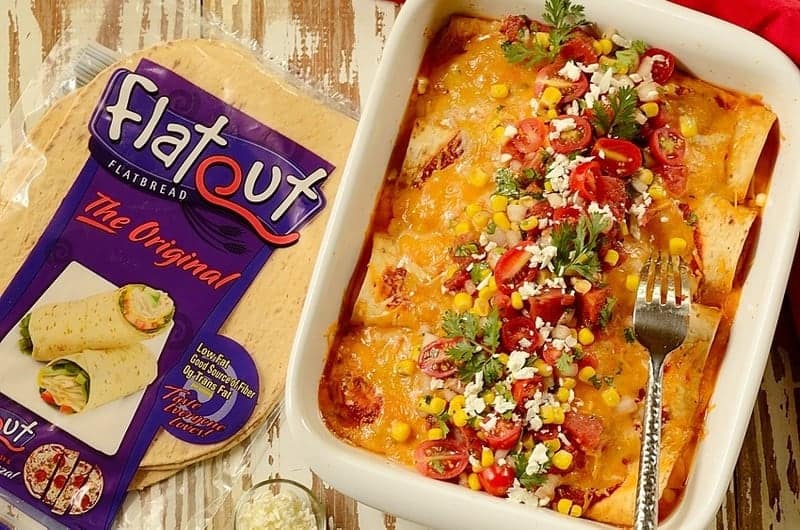 But making magic is easy with Flatout flatbread -- which is a blank canvas, the perfect partner for helping people of all ages to make healthier choices and tasty dishes like our Flatbread Ham and Cheese Brazilian Enchiladas. In fact, every Flatout flatbread variety is low in fat and a good source of fiber, making them perfect for wraps, pinwheels, super easy pizzas... and enchiladas too.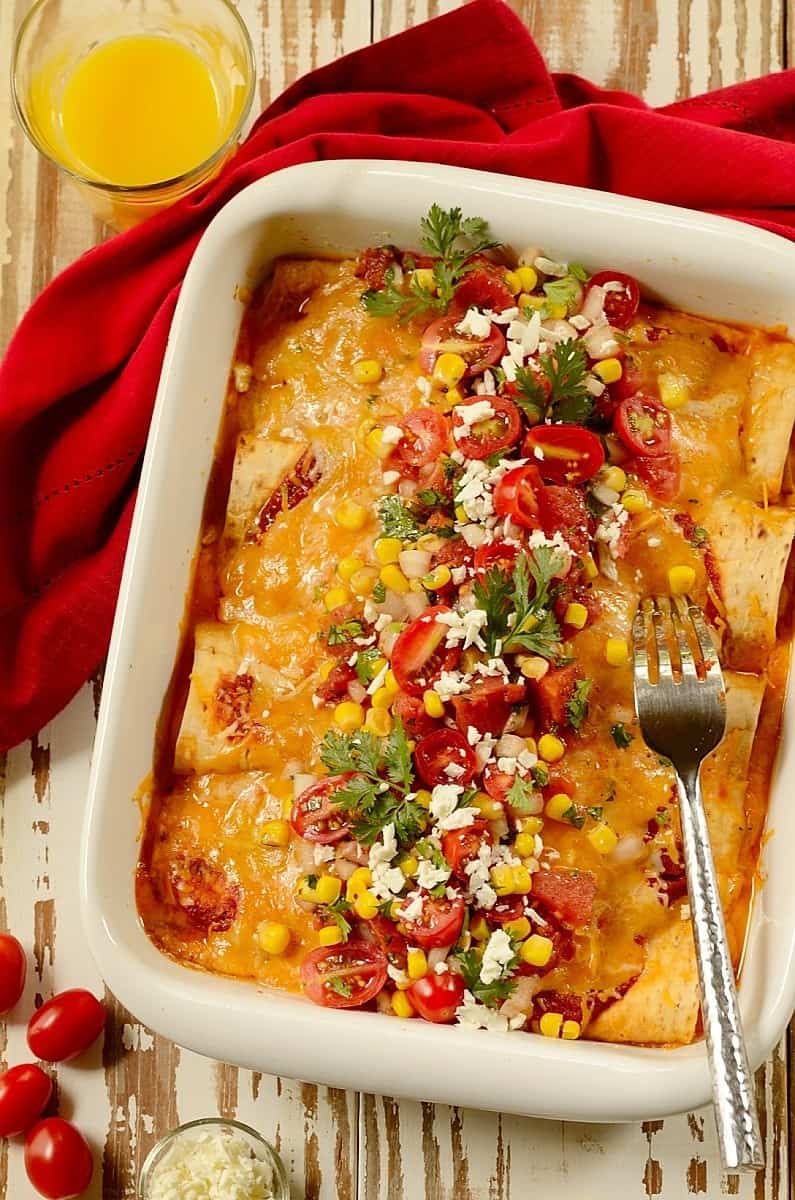 All the ingredients in our dish are available in local supermarkets. But you can use this store locator to check the availability of Flatout flatbreads in your area.
It has truly become one of my new fave ingredients on account of its versatility -- I can prepare my panquecas in a blink of an eye. With the same flatbread, I can make individual pizzas for another dinner, wraps for my children's school lunch, pinwheels to serve as small bites while we watch our favorite sport games, and even use it in a dessert...as a substitute for a jelly roll. Options, both sweet and savory, are as unlimited as our imaginations!
Well, for now enjoy our flatbread ham and cheese Brazilian enchiladas... but please, don't forget to share with me your own creation using this versatile flatbread. I am always looking for inspiration!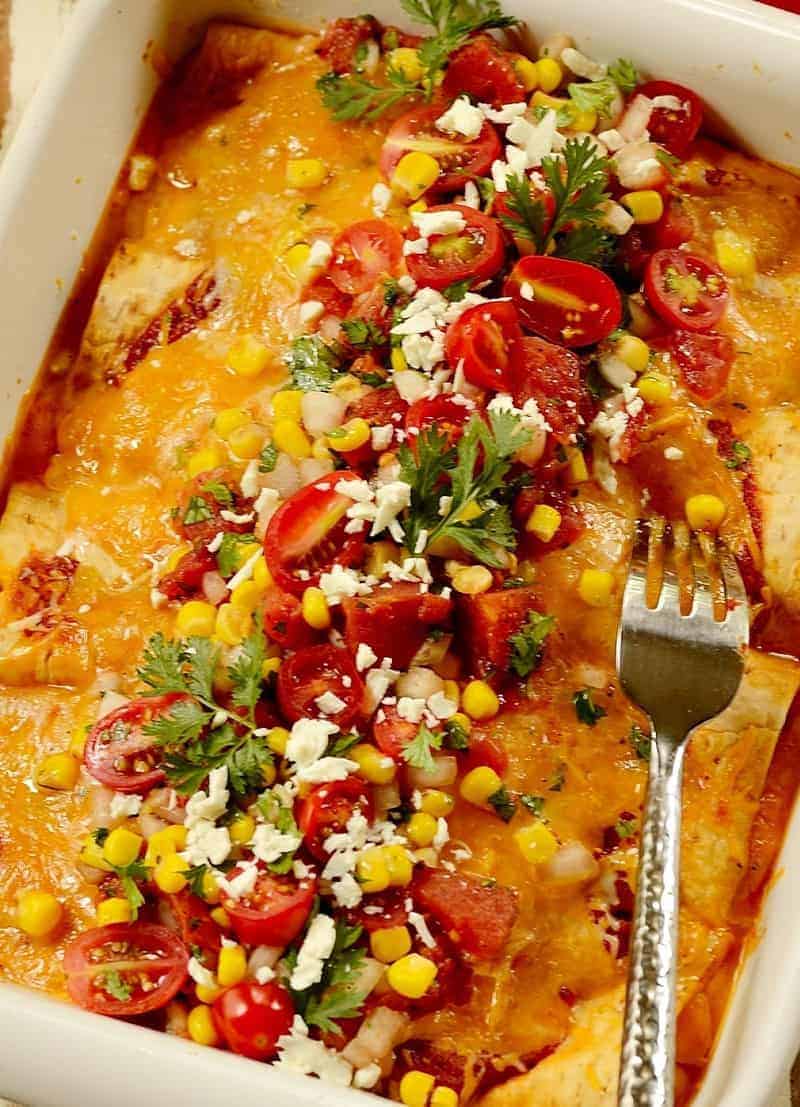 Flatbread Ham and Cheese Brazilian Enchiladas
Easy and delicious Flatbread Ham and Cheese Brazilian Enchiladas... a complete, healthy meal to serve either for lunch or dinner.
Ingredients
For the enchiladas:

4

Flatout Flatbread The Original

16

slices

provolone cheese

16

slices

deli smoked ham

4

cups

shredded cheese blend

divided

2

cups

tomato sauce

divided

For the salsa or vegetable mixture :

optional

1

cup

canned diced tomatoes with herbs

drained

½

cup

canned corn

drained

¼

large white onion

small diced

¼

cup

chopped cilantro or parsley

1-2

tablespoons

olive oil

⅓

cup

crumbled queso fresco or feta cheese

optional
Instructions
Preheat oven to 375 degrees F. Grease a medium pyrex baking dish with nonstick cooking spray and reserve.

Top each flatbread with 4 slices of provolone cheese, 4 slices of ham, and then ½ cup of shredded cheese. Roll up each flatbread.

Distribute ½ cup of tomato sauce into the greased pirex. Only if desired, stir in a pinch of salt and ground black pepper into the tomato sauce before pouring into the pyrex baking dish. Line up flatbread rolls into the baking dish in one single layer.

Pour the remaining 1-½ cups tomato sauce over the flatbread rolls, sprinkle with the remaining 2 cups of shredded cheese, and cover with a greased sheet of aluminum foil. Bake for about 25-30 minutes or until cheese has melted.

Meanwhile, prepare the salsa by mixing together diced tomatoes, corn, onion, cilantro/parsley, and olive oil in a small bowl (only if you desire to serve enchiladas topped with the salsa). Right before serving baked enchiladas, top with the salsa or vegetable mixture and sprinkle with queso fresco or feta cheese. Serve Ham and Cheese Brazilian Enchiladas hot, and enjoy!
** Nutrition labels on easyanddelish.com are for educational purposes only. This info is provided as a courtesy and is only an estimate, since the nutrition content of recipes can vary based on ingredient brand or source, portion sizes, recipe changes/variations, and other factors. We suggest making your own calculations using your preferred calculator, based on which ingredients you use, or consulting with a registered dietitian to determine nutritional values more precisely.
Please note that health-focused and diet information provided on easyanddelish.com is for educational purposes and does not constitute medical advice, nor is it intended to diagnose, treat, cure, or prevent disease. Consult with your doctor or other qualified health professional prior to initiating any significant change in your diet or exercise regimen, or for any other issue necessitating medical advice.
DID YOU MAKE THIS RECIPE?
Comment and rate the recipe. Also follow us on Pinterest at @easyanddelish for more delish recipes.