A 4-ingredient, 5-minute Fluffy Nutella Dip topped with assorted berries and served with buttery shortbread cookies.
Happy Mother's Day! As a mother of two, I share this same special day with you... and also a love for our kids and for scrumptious treats. From one chocoholic to the other, here is something gorgeous, easy to prepare, and quite delish: A naturally gluten-free Fluffy Nutella Dip topped with assorted berries and served with buttery shortbread cookies. I am grinning from ear to ear -- are you too?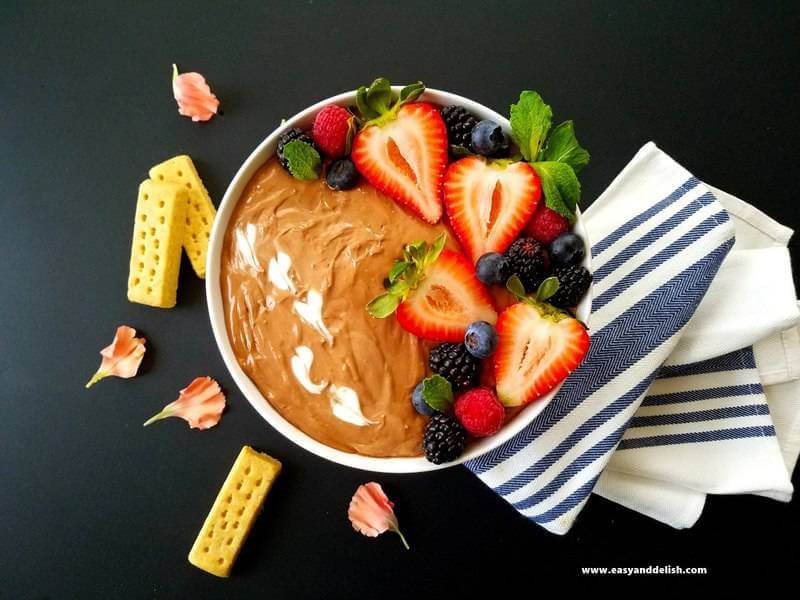 My… oh, my! This is one of the most delicious things ever. With only 4 simple ingredients — Nutella, whipped cream, assorted berries, and shortbread cookies, this fluffy Nutella dip came to life… and was a real hit! A simple way from little ones to say thank you to me!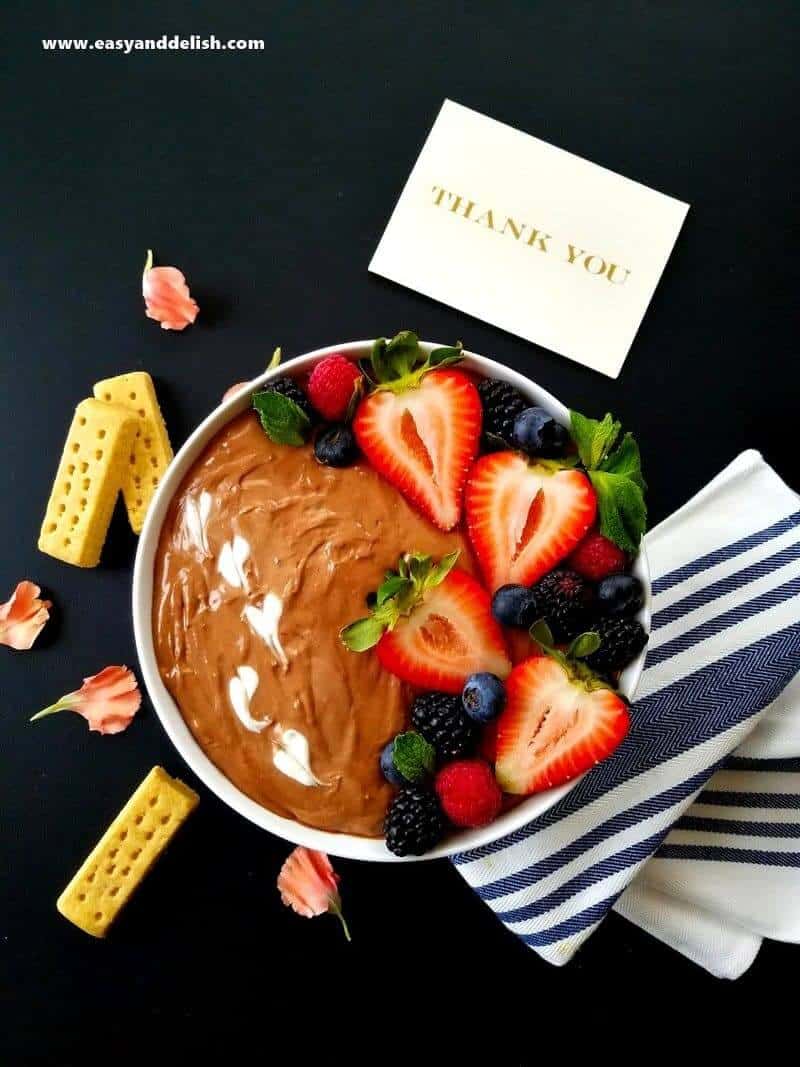 All we had to do was to fold whipped cream with Nutella, then cover and refrigerate until chilled. Right before serving, the dessert was topped with strawberries, blackberries, blueberries, and raspberries... garnished with fresh mint leaves, and voilà! A treat fit for a queen, ready in no time flat. The best part was scooping up creamy, fluffy mounds of pure deliciousness with the buttery shortbread cookies.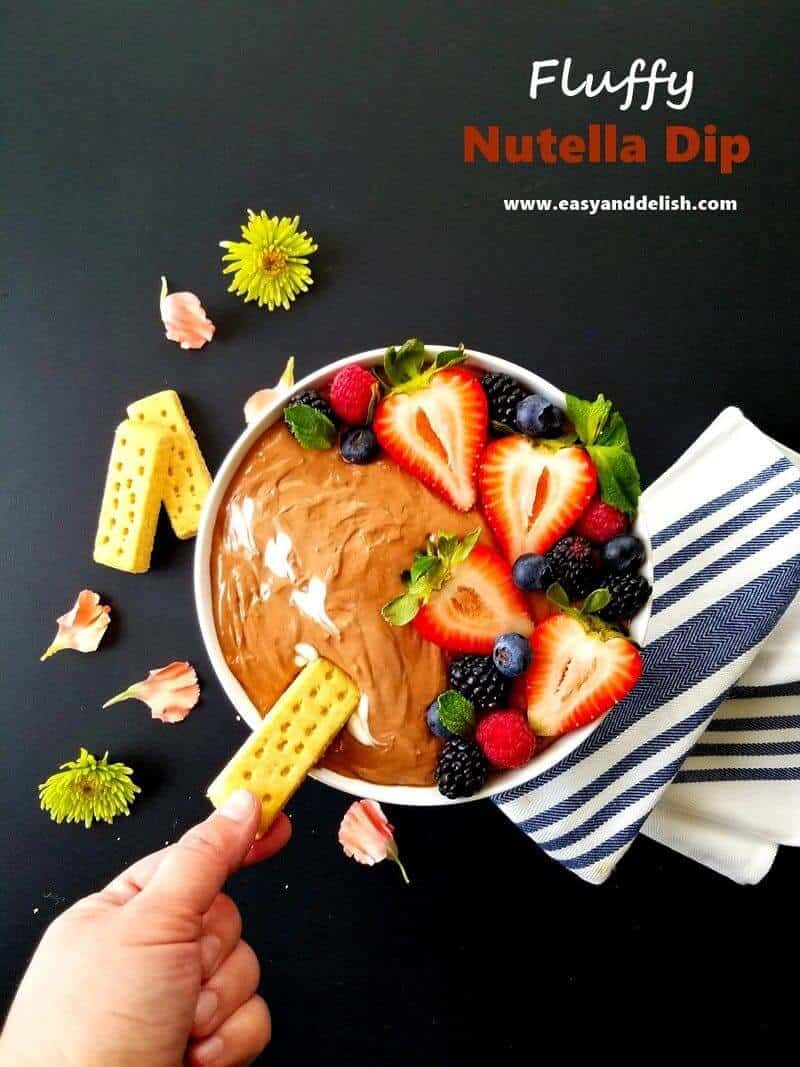 I am not kidding… in 5 to 10 minutes, we made magic in the form of this Nutella Dip. 😉
The result? A stunning, rich dessert without too much effort! And that's my kind of treat! Something that even a kid could make for his/her Mom.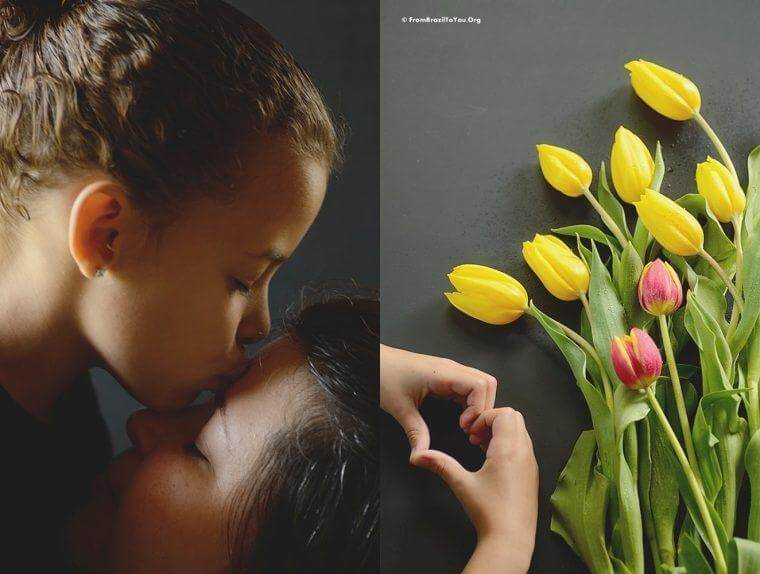 Or an adult could put together in the blink of an eye for a sports game, a party, get-together, or a surprise guest.
For more quick and easy sweet treats and also savory dishes, visit our quick and easy recipe index. It will help you celebrate this and any other occasion without fuss.
I hope you enjoy our beautiful and delicious fluffy Nutella Dip, and most importantly, have a very…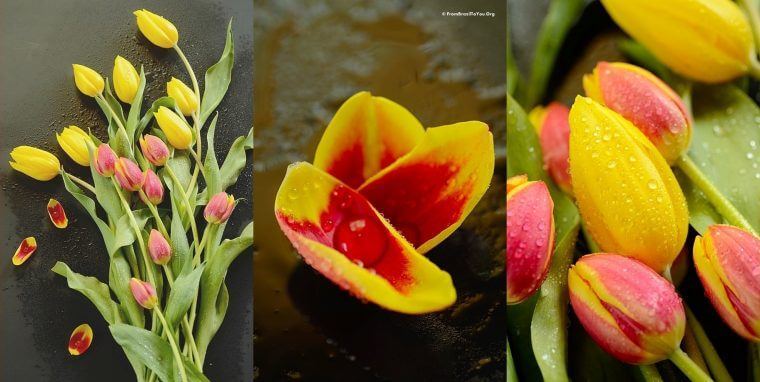 HAPPY MOTHER'S DAY!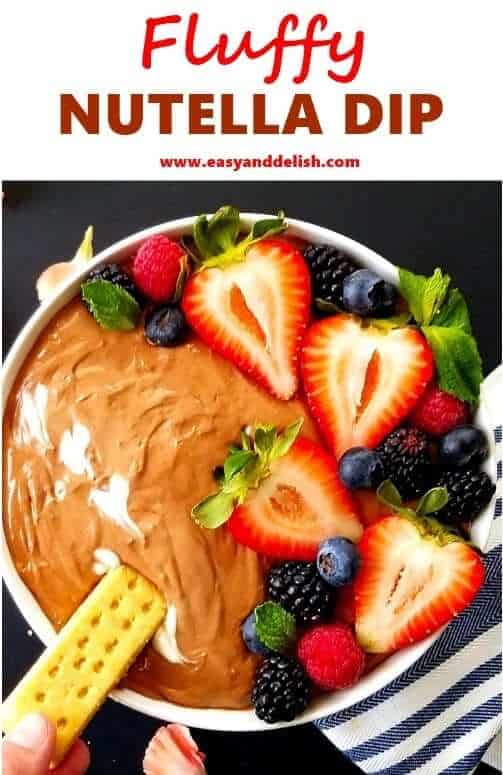 Fluffy Nutella Dip with Berries
A 4-ingredient, 5-minute Fluffy Nutella Dip topped with assorted berries and served with buttery shortbread cookies.
Ingredients
¾ of a

33.5 -ounce container

Nutella or chocolate hazelnut spread

1

(16-ounce) container

whipped cream, thawed

Assorted berries

Fresh mint leaves (to garnish), optional

Shortbread cookies
Instructions
Place Nutella into a medium bowl. Fold the thawed whipped cream gently until obtaining a creamy, homogeneous mixture. Cover and refrigerate until chilled.

Top beautifully with assorted berries and garnish with mint leaves if desired. Serve with shortbread cookies and enjoy!
** Nutrition labels on easyanddelish.com are for educational purposes only. This info is provided as a courtesy and is only an estimate, since the nutrition content of recipes can vary based on ingredient brand or source, portion sizes, recipe changes/variations, and other factors. We suggest making your own calculations using your preferred calculator, based on which ingredients you use, or consulting with a registered dietitian to determine nutritional values more precisely.
Please note that health-focused and diet information provided on easyanddelish.com is for educational purposes and does not constitute medical advice, nor is it intended to diagnose, treat, cure, or prevent disease. Consult with your doctor or other qualified health professional prior to initiating any significant change in your diet or exercise regimen, or for any other issue necessitating medical advice.
DID YOU MAKE THIS RECIPE?
Comment and rate the recipe. Also follow us on Pinterest at @easyanddelish for more delish recipes.