Disclosure: This is a compensated campaign in collaboration with Kikkoman and Latina Bloggers Connect. The opinions expressed herein are from the author.
Gaúcho-Style Flatbread or "Grilled" Skirt Steak (fraldinha) with Chimichurri Sauce Flatbread is our ultimate creation... a dish proudly prepared using Kikkoman Soy Sauce as a marinade, natural browning 'agent', and flavor booster. It is a dish that can be served as a quick main dish or as an appetizer, once sliced.
I said proudly because if you didn't know, Kikkoman was started by a woman at a time when women usually didn't start companies. The company has been governed for 19 generations, not by a corporate policy, but by a family philosophy – Isogaba maware, a Japanese axiom that translates into "Make Haste Slowly." It means to advance and grow, but to do so with tremendous thought and care.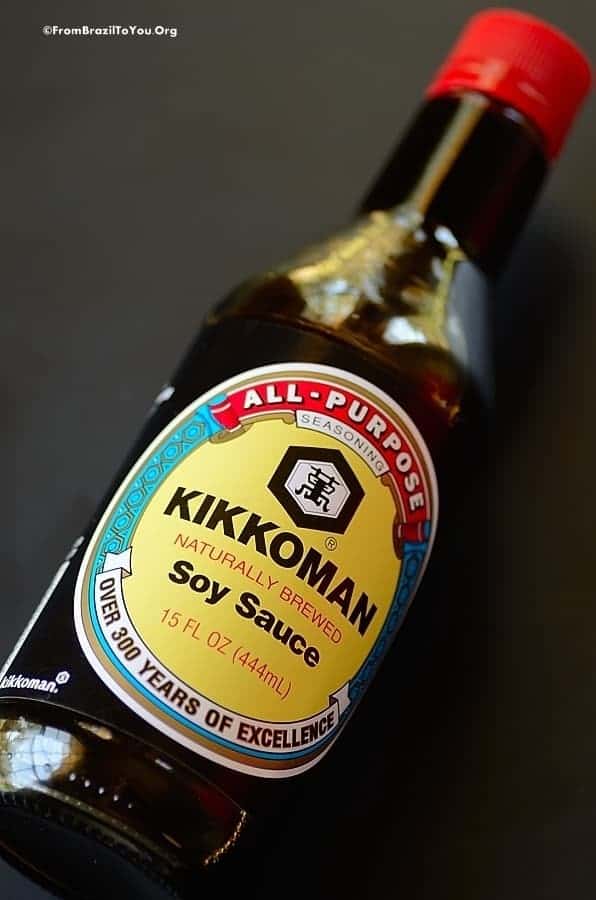 From its meticulous six-month natural brewing process to a heritage that dates back to feudal Japan, Kikkoman has exemplified this philosophy ever since its humble beginnings in the seventeenth century. A family business to this day, Kikkoman's growth has been inspired and guided by a family creed, a set of 16 articles passed down for nineteen generations. This creed speaks to the core values that have enabled Kikkoman to survive and to thrive for more than 300 years.
OK!!! I know, I know... You might reasonably be asking: "How come you used Kikkoman Soy Sauce, an Asian ingredient, to prepare a Brazilian-inspired dish?"
Although Asian in its origin, Kikkoman Soy Sauce is a versatile ingredient that can be used to cook many different types of cuisines -- yes, including Brazilian! In addition, did you happen to know that Brazil is the home of the largest number of Japanese outside of Japan? Further, Kikkoman Soy Sauce is naturally brewed and perfectly balanced to naturally enhance many recipes. So for excellent results, go ahead and consider using Kikkoman Soy Sauce in marinades, as well as a natural browning sauce and flavor booster -- just as I did for my skirt steak.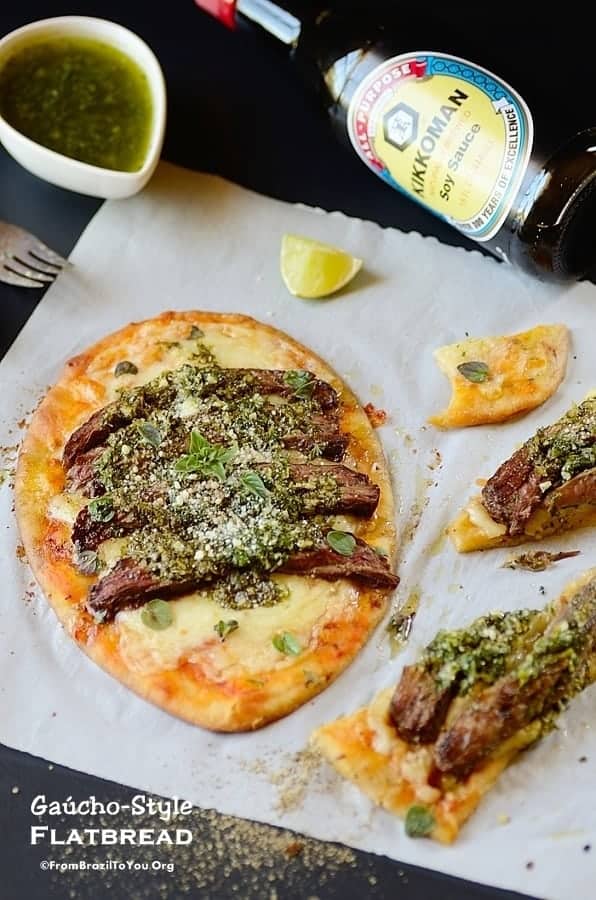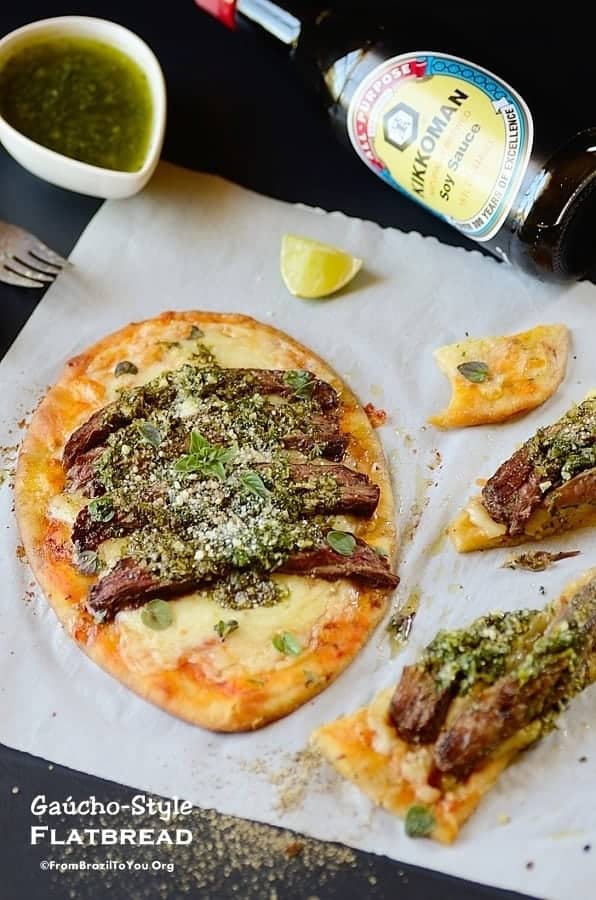 Our gaúcho-style flatbread is a family favorite recipe! The term gaúcho (Portuguese: [ ɡaˈuʃu] ) refers to Brazilian 'cowboy' from Southern Brazil as well as to residents from the state of Rio Grande do Sul. In Southern Brazil, skirt steak (or fraldinha -- traditionally only salted and grilled) is a popular dish which is often served accompanied by chimichurri sauce, the South American pesto. This green sauce is originally from Argentina, yet widely consumed in Southern Brazil. Having leftovers permitted me to use both the skirt steak and chimichurri sauce as toppings for this flatbread (and pizzas), as well as fillings for sandwiches and tacos.
Well, to find out more about Kikkoman products (e.g. Teriyaki and Sriracha Hot Chili Sauce) and to get great recipe ideas, click HERE.
For now, enjoy our gaúcho-style flatbread and happy cooking!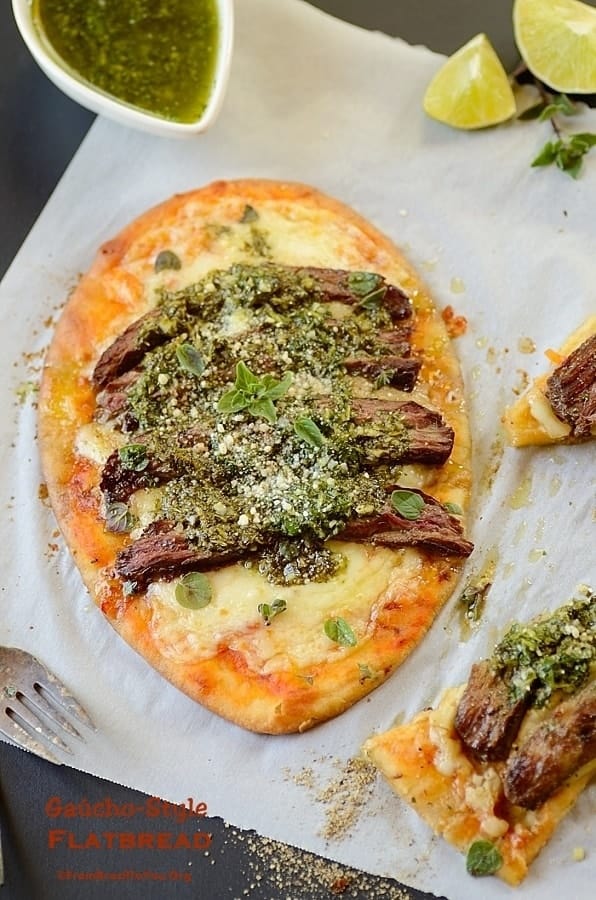 Gaucho-Style Flatbread
Gaucho-Style Flatbread topped with 'grilled' skirt steak (fraldinha) and chimichurri sauce, and served either as a quick main dish or ,when sliced, as an appetizer.
Ingredients
For the Skirt Steak:

½

cup

Kikkoman® Soy Sauce

¼

cup

olive oil

1

tablespoon

freshly ground black pepper

1-½

lbs

skirt steak

trimmed of excess fat and cut into half crosswise

½

lime

For the Chimichurri:

6

garlic cloves

minced

¼

cup

red wine vinegar

1

bunch

fresh flat-leaf parsley

finely chopped, about 1-½ cups

1

teaspoon

fresh oregano

finely chopped

1-½

limes

juiced

¾

cup

olive oil

1

pinch

salt

only enough to taste

1

pinch

ground black pepper

For the Flatbread:

4

Naan breads

1

teaspoon

Olive oil for brushing

divided

4

teaspoons

tomato sauce

divided

2

cups

provolone cheeses

divided

Slivered or grated Parmesan cheese to atop
Instructions
Prepare the skirt steaks: Remove steaks from the refrigerator and let sit at room temperature for 20 minutes prior to marinating and cooking. Tenderize the meat by placing on a cutting board, covering its top with a sheet of plastic wrap, and hammer (side with spikes) on both sides. Whisk together the soy sauce, olive oil, and black pepper in a small bowl. Pour marinade into a long rectangular pyrex and lay both steaks in the marinade. Marinate the steaks for 5 to 7 minutes in one side and then flip steaks to marinate for additional 5 to 7 minutes on the other side. Remove meat from marinade and shake to remove excess marinade. NOTE: In Southern Brazil, traditionally only coarse salt is applied to the meat right before grilling on a long metal skewer over flames. The marinade with soy sauce is my own way of re-creating this family fave!

Heat a large cast-iron griddle (flat side of the griddle without the grill marks) over high heat on a large burner.

When griddle is sizzling hot (sprinkle a bit of water to test and let evaporate), add the steaks. Let meat get a good sear for about 2 minutes on each of both sides. Place seared steaks in double thickness of aluminum foil and wrap well to avoid heat escaping from the wrap. Place wraps onto a baking sheet, cover with an inverted pyrex, and allow to sit for 15 minutes at room temperature. Remove meat from foil, sprinkle lime juice on top, let sit for about 5 minutes, and slice thinly against the grain of the meat (or chop into fine, small slivers). Since Brazilians use cutlery to eat pizza and flatbreads, I arranged sliced steak on top of mine. If you eat pizzas and flatbreads with bare hands (American way), chop steak finely to top flatbread. This flatbread can also be simply folded like a taco!

While meat is wrapped in foil, preheat oven to 400 degrees F, prepare the chimichurri sauce, and assemble the flatbread.

To prepare the chimichurri sauce (a type of South American pesto): In a food processor, combine the garlic, vinegar, parsley, oregano, lime juice, and olive oil. Process enough for all ingredients to blend in together well while yet obtaining a chunky sauce. Transfer to a bowl and season with salt and pepper. Mix well and set aside.

To assemble the flatbreads: Place the naan breads on a large baking sheet lined with parchment paper. Brush each bread with ¼ teaspoon of olive oil and then, spread 1 teaspoon of tomato sauce over each bread. Sprinkle evenly about ½ cup of cheese on top of each bread.

If you prefer to keep steak rare to medium-rare, bake flatbreads for about 8 minutes, remove from oven, and only then arrange sliced or finely chopped steak on top. Pour about 2 tablespoons of chimichurri sauce per flatbread on top of the steak, sprinkle with Parmesan cheese, and serve immediately.

However, if you do prefer steak well-done, arrange either sliced or finely chopped steak on top of the flatbread, pour 2 tablespoons of the chimichurri sauce per flatbread on top of the steak, and bake for about 4 to 5 minutes or just enough for the cheese to melt. Remove from oven and serve while still hot with the remaining chimichurri sauce and Parmesan cheese. Flatbread can be accompanied by a glass of red wine. Enjoy our Gaúcho-style flatbread!
Recipe Notes
Since Kikkoman® Soy Sauce contains sodium, do NOT add salt to the marinade.
** Nutrition labels on easyanddelish.com are for educational purposes only. This info is provided as a courtesy and is only an estimate, since the nutrition content of recipes can vary based on ingredient brand or source, portion sizes, recipe changes/variations, and other factors. We suggest making your own calculations using your preferred calculator, based on which ingredients you use, or consulting with a registered dietitian to determine nutritional values more precisely.
Please note that health-focused and diet information provided on easyanddelish.com is for educational purposes and does not constitute medical advice, nor is it intended to diagnose, treat, cure, or prevent disease. Consult with your doctor or other qualified health professional prior to initiating any significant change in your diet or exercise regimen, or for any other issue necessitating medical advice.
DID YOU MAKE THIS RECIPE?
Comment and rate the recipe. Also follow us on Pinterest at @easyanddelish for more delish recipes.