I am nuts for nuts! 🙂  Although my palate doesn't discriminate, my favorite type of nut is one those that I grew up eating lots of: cashew nuts, native to Northeastern Brazil. While they can be used in a range of recipes or consumed by themselves raw or roasted, Glazed Cashew Nuts (or Castanha de Caju Glaceada) is by far my preferred way to devour cashew nuts.
The curious thing is, cashew nut is NOT A NUT. Huh? That's right! It is marketed as a nut, but is actually a seed, attached to its meaty, sweet, astringent fruit as you can see below.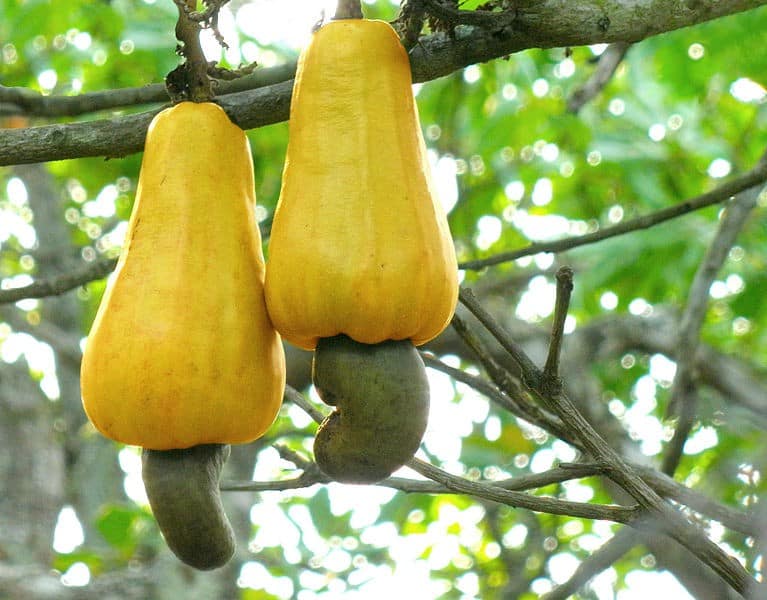 The fruit, cashew apple (caju in Portuguese), makes great compotes (my mother's is the best!), juice, alcoholic (e.g. caipicaju) and non-alcoholic drinks (cajuína), ice cream, vegetarian stews such as the Bahian moqueca de caju, and other dishes. Both cashew fruit and cashew "nuts" are very popular in Brazil-- much of the world has never experienced the fruit, however, and only seems to be aware of the cashew "nuts".  
Did you know that the World's largest cashew tree is in Northeastern Brazil? It is named Cajueiro de Pirangi (Pirangi's Cashew Tree), located in the state of Rio Grande do Norte. According to the Guinness Book of Records,  it covers an area between 7,300 square meters (1.8 acres) and 8,400 square meters (2.1 acres). This is the size equivalent to 70 normally sized cashew trees!!!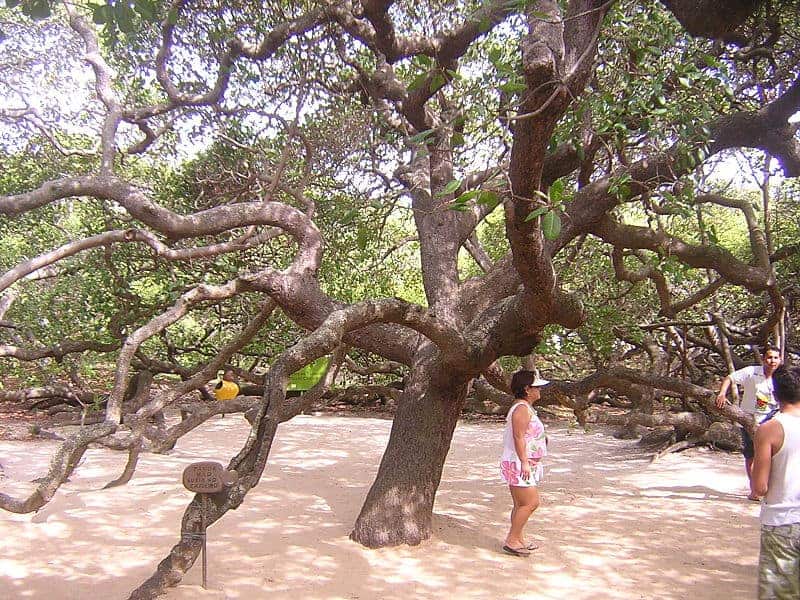 Returning to our glazed cashew nuts recipe, it has been adapted from My Catholic Kitchen... the blog that I have been assigned to this month by the Secret Recipe Club.  Veronica is its author and a self-taught cook from Coastal Virginia, whose blog serves as a creative outlet for both her faith and cooking passion. My Catholic Kitchen features both classic and modern American recipes as well as Italian dishes, and other family favorites. Bookmarking several of her recipes, I came across what she calls Crack Cashews. Perusing her recipe with such an interesting title, I found myself in familiar territory: Castanha de Caju Glaceada (or Glazed Cashew Nuts)! Of course, I had to pick a favorite of mine (and of many) to feature here... 🙂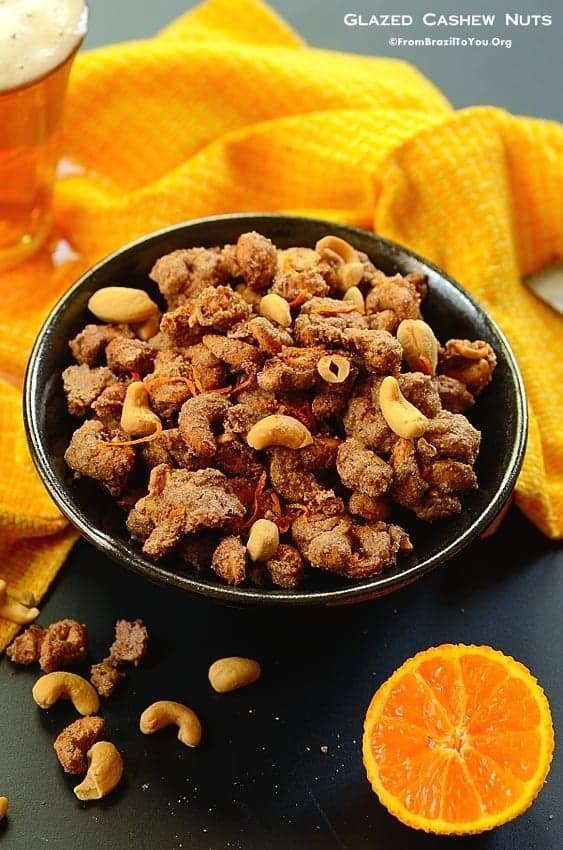 As always, I modified Veronica's recipe a bit so I could call it my own. I substituted orange juice for water, as well as a mix of ground cinnamon and nutmeg for pumpkin pie spice. You are welcome to try either recipe, or to put in your own personal touch(es) as well.
My kitchen smelled just like Christmas! I could barely control myself from noshing on these fabulous glazed cashew nuts while taking the photographs... But now, if you will excuse me, I have some serious  cashew snacking to take care of...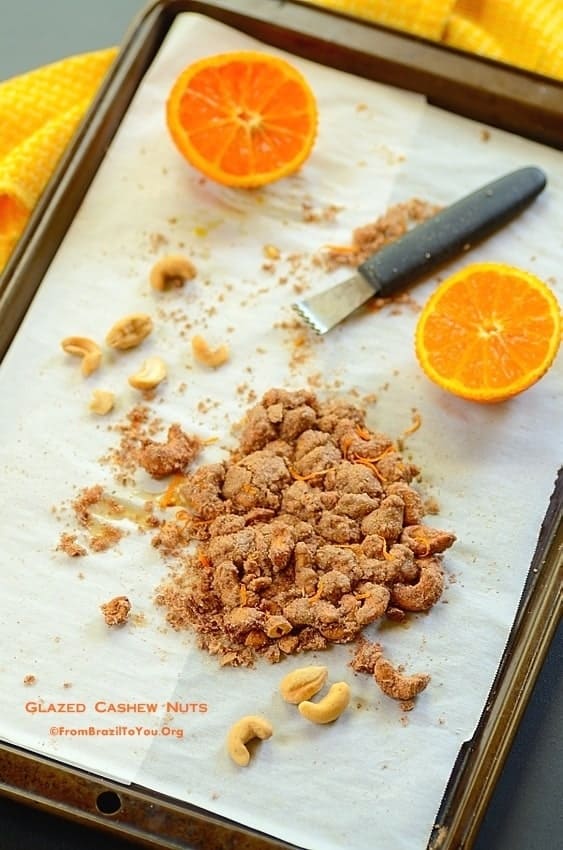 JOIN THE CONVERSATION
What's your favorite cashew nut recipe? Did you know about the existence of cashew fruit?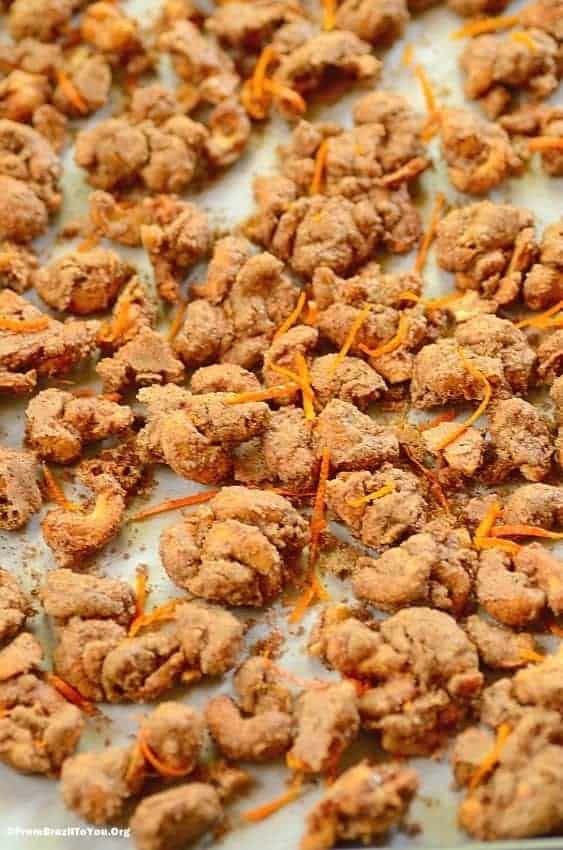 Glazed Cashew Nuts (Castanha de Caju Glaceada)
Aromatic, sinfully tasty Glazed Cashew Nuts that can be served by themselves or accompanied by an ice-cold beer, guaraná soda, or other drink of your choice.
Ingredients
1

large egg white

1

pinch

salt

1

tablespoon

freshly squeezed orange juice

¾

cup

granulated sugar

1

tablespoon

ground cinnamon

¼

teaspoon

ground nutmeg

3

cups

whole cashew nuts

about 14 ounces

Zest of 1 large orange
Instructions
Preheat oven to 325 degrees F (163 degrees C). Line 2 large baking sheets with parchment paper and set aside.

Beat egg white until foamy. Stir in both the salt and orange juice. Combine sugar and spices together in a small bowl. Stir in into the egg white mixture until obtaining a paste. Stir in cashew nuts enough to coat. Lay cashews evenly onto the 2 lined baking sheets, in one single layer on each sheet. Bake cashews for 21 to 23 minutes, stirring once or twice for even baking. Remove from the oven and sprinkle orange zest on top while still hot. Enjoy! Glazed Cashew Nuts make a great snack (tira-gosto) all by themselves, or can be accompanied by an ice-cold beer, guaraná soda, or other drink of your choice.
** Nutrition labels on easyanddelish.com are for educational purposes only. This info is provided as a courtesy and is only an estimate, since the nutrition content of recipes can vary based on ingredient brand or source, portion sizes, recipe changes/variations, and other factors. We suggest making your own calculations using your preferred calculator, based on which ingredients you use, or consulting with a registered dietitian to determine nutritional values more precisely.
Please note that health-focused and diet information provided on easyanddelish.com is for educational purposes and does not constitute medical advice, nor is it intended to diagnose, treat, cure, or prevent disease. Consult with your doctor or other qualified health professional prior to initiating any significant change in your diet or exercise regimen, or for any other issue necessitating medical advice.
DID YOU MAKE THIS RECIPE?
Comment and rate the recipe. Also follow us on Pinterest at @easyanddelish for more delish recipes.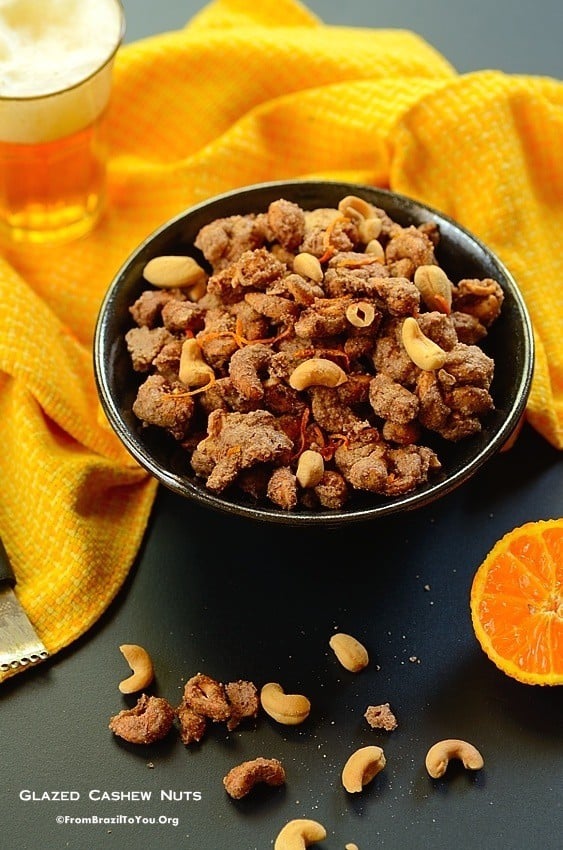 Image credits:
1. Ripe cashew apples by Abhishek Jacob from Wikimedia Commons, 2. World's largest cashew tree by Wolfhardt from Wikimedia Commons.