Darn delicious gluten-free marbled orange brownies that are fudgy with a mild orange flavor. They are addictive and can be served for breakfast too! Who wouldn't like to have brownies for breakfast?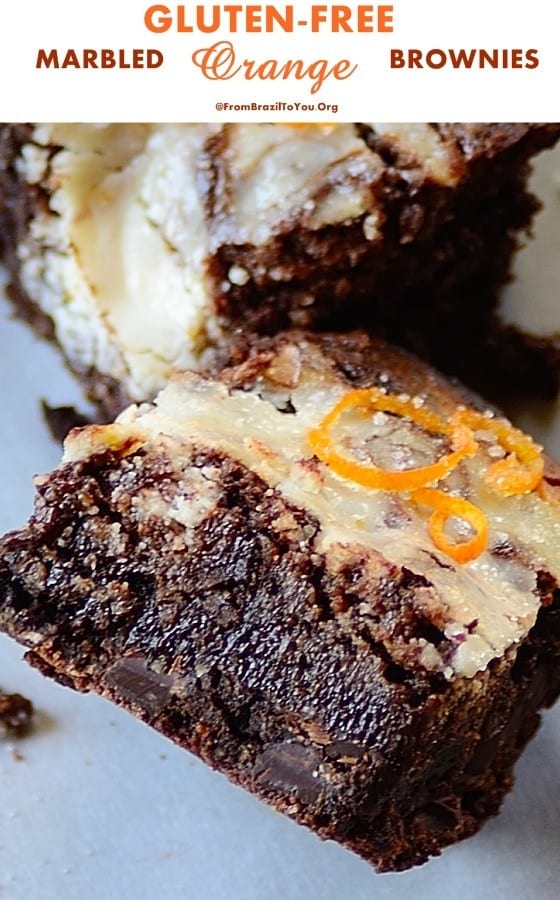 Howdy!!! Christmas will be here in just a few days and I'm still running around trying to finish preparing and delivering all of the presents… Phew!!!
Well, since we can't forget all our gluten-free friends, let's whip up a batch of these fudgylicious gluten-free marbled orange brownies (made from OATS, with contrasting textures and a hint of orange) to give away as holiday food presents.
There is only one problem: Don't love them so much that you eat them all — like I did! 🙂
Although I'm not gluten-intolerant, I devoured them quick, enjoying every bite. This is definitely one of those GF treats that doesn't taste like CARDBOARD. 🙂
I don't know what it is, but I found them comforting and addictive. There is something about oats, chocolate, and a hint of citrus from the orange, combined with the fudgy texture, that make me crave these orange brownies.
Since I cannot make anything without sampling it, my strategy will be to double the batch next time: one for me and the other for my friends…
The best way to make everyone happy, don't you think? They are mildly sweet, making them ideal not as a dessert, but even as a breakfast treat.
Enjoy our orange brownies and catch a glimpse of your friends' smile. I hope you have enjoyed all our presents from the kitchen this month!!!
Thank you for your love and support for almost 3 years — one of the best presents that this gal could ever have.
Wishing your and your family a very, very MERRY CHRISTMAS! 
Gluten-Free Marbled Orange Brownies
Fudgy brownies with a mild orange flavor and contrasting textures. They are gluten-free (made from oat flour) and super addictive! Great to give away as presents!!!
Ingredients
For the brownie batter:

2

cups

oat flour

3/4

teaspoon

baking soda

1/2

teaspoon

salt

1

cup

unsweetened cocoa powder

1/2

cup

plus 1 tablespoon of extra virgin olive oil

1-1/2

cups

white granulated sugar

3

large eggs at room temperature

1

teaspoon

orange extract

2

tablespoons

freshly squeezed orange juice

Zest of 2 large navel oranges

1

cup

semisweet chocolate chips or chunks

For the Sour Cream Swirl:

1/2

cup

full fat sour cream

2

tablespoons

white granulated sugar

1

teaspoon

fresh orange zest

For Garnishing:

optional

Extra-Virgin Olive Oil for drizzling

EVOO

2

large oranges

granulated sugar
Instructions
Preheat oven to 350 degrees F.

Line an 8×8-inch baking pan with aluminum foil (both bottom and sides) and grease with olive oil no-stick cooking spray. Set aside.

In a medium bowl, combine together oat flour, baking soda, and salt. Reserve.

To prepare the marbled orange brownies: In a mixer with the paddle attachment, beat the cocoa powder with olive oil at low speed until mixed.

Then, beat in the sugar. Add eggs, one at a time, beating after each addition just until combined.

Add the reserved dry ingredients (flour, baking soda, and salt) and beat at low speed just until well combined.

Stir in the orange extract, juice, and zest. Then, fold in chocolate chips or chunks. Spread brownie batter into the prepared pan.

To prepare the sour cream swirl: Stir together sour cream, sugar, and orange zest in a small bowl and then dollop in several spots over the surface of brownie batter.

Use the blunt edge of a knife to swirl it in, so as to create a marbled effect. Do not overmix!

Bake for approximately 30-38 minutes or until center is set. Remove pan from the oven and let cool on a rack.

Cover and refrigerate for at least 3 hours. Using the edges of the foil, lift uncut brownie out of pan.

Using a large, sharp knife, cut into 9 equal-sized orange brownies, wiping clean after each cut.

Serve either chilled or bring to room temperature before serving.

Right before serving, garnish top of orange brownies with a thin drizzle of EVOO and orange curls. If you are giving them away, skip the drizzle of EVOO.

NOTEhttps://www.easyanddelish.com/wp-admin/post.php?post=9865&action=edit#: To make the orange curls, use a lemon zester tool to take the zest off of the oranges (thin, long strips). Toss the orange strips with granulated sugar in a ramekin and curl them.
Recipe Notes
STORAGE: Store sliced, ungarnished orange brownies in a clean, airtight container in the refrigerator for up to 2 days.
DID YOU MAKE THIS RECIPE?
Comment and rate the recipe. Also follow us on Pinterest at @easyanddelish for more delish recipes.