It's spring, yet we can still have comforting dishes… wouldn't you agree? "Greek" Rice or Arroz à Grega is one of those dishes. It's easy, quick, and colorful. It looks so festive that it makes me smile!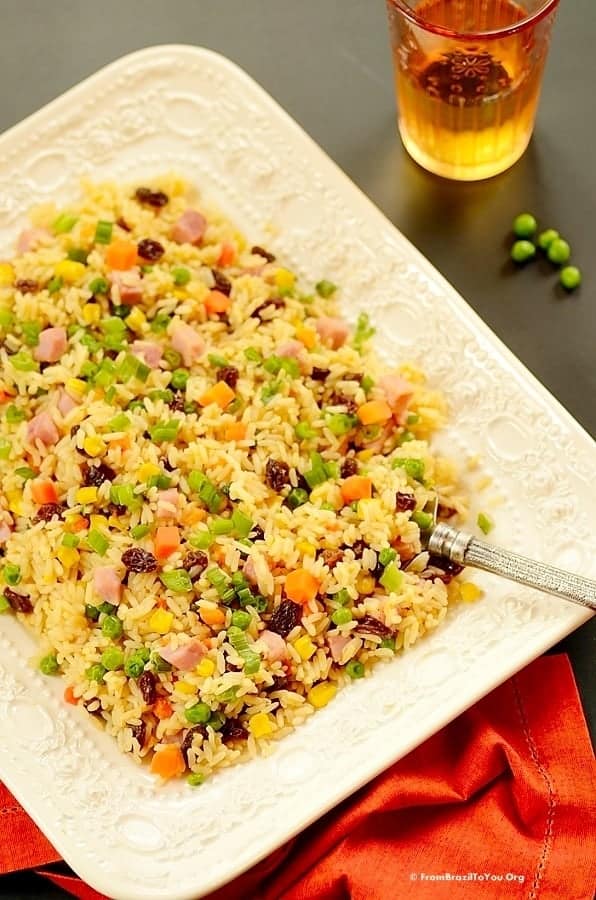 It is made with rice — of course– as well as assorted vegetables that can vary from one recipe to the next, raisins, and sometimes cubed ham. Regardless of variations in its ingredients, it's a complete meal! Greek rice can be served as main dish or a side for chicken. Since I put ham in mine, I serve it all by itself.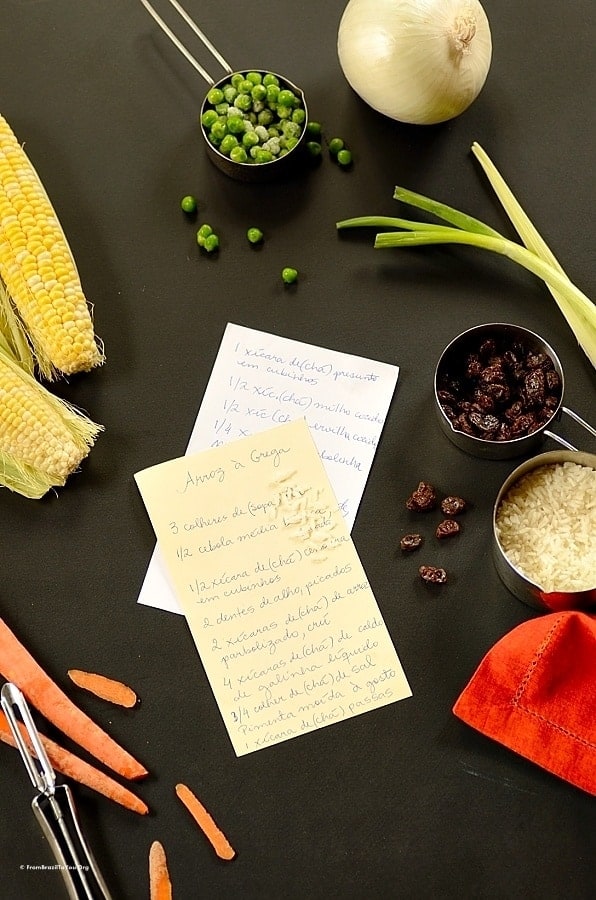 Although given the name "GREEK," this rice dish is, in fact, BRAZILIAN. 🙂 I searched… and searched for the origin of its name, only to come away without any explanation. That's when I told myself that it was time to consult Panos and Mirella, from Little Cooking Tips, my favorite Greek food blog.
According to them, in Greece there is no such rice dish per se, although many folks there use raisins, vegetables, or ham/sausage mixed with rice as ingredients for stuffing tomatoes, bell peppers, or chicken/lamb. Most likely this name was given to the dish by Greeks living abroad using the rice stuffing recipe as a main or side dish. It is so good to find answers!!!!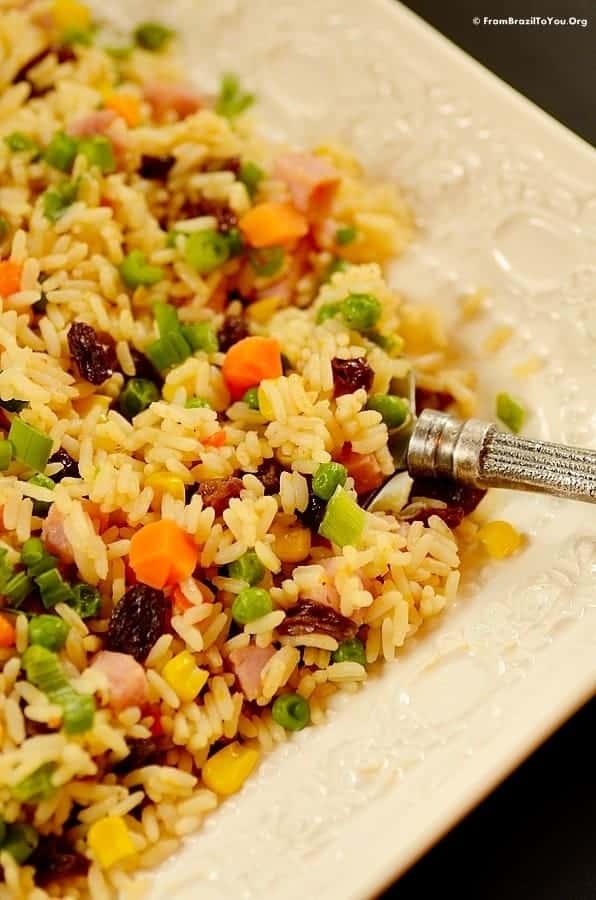 But don't you worry! The most important thing of all is flavor… and boy, "Greek" rice sure delivers, in every single spoonful.
Bom Apetite!
"Greek" Rice (Arroz à Grega)
Greek Rice is, in fact, a Brazilian dish that is made with assorted vegetables, raisins, and sometimes cubed ham. It's a complete meal all by itself -- and can be served as a main dish or as a side for chicken.
Ingredients
3

tablespoons

vegetable oil

1/2

medium white onion

small diced

1/2

cup

cubed carrots

2

garlic cloves

minced

2

cups

parboiled rice

uncooked

4

cups

chicken broth

(or vegetable broth, for a vegetarian version)

3/4

teaspoon

salt

or more if necessary. Amount will vary depending on how salty the broth is

Ground black pepper to taste

1

cup

raisins

1

cup

cubed ham

(for a vegetarian version, skip this ingredient)

1/2

cup

corn

cooked

1/2

cup

peas

cooked

1/4

cup

green onions

chopped
Instructions
To prepare Greek rice, heat the oil over medium heat in large pan and sauté both the the onion and carrots, stirring occasionally, until onion has softened (don't let brown). Add the garlic and cook for about 30-60 seconds, stirring constantly to not let brown. Add the rice, sauteeing for about 2 minutes (do not let brown). Add the broth and let come to a boil. Add salt and pepper, and stir. Reduce heat to medium-low and cover pan. Let rice cook for about 15 minutes or until al dente. Taste and adjust salt if necessary.

Fluff rice with a fork and mix in the raisins, ham, cooked corn and peas, and green onions. Serve Greek rice hot (sprinkled with grated Parmesan cheese on top, if desired) by itself as a main dish or as a side for chicken.
Recipe Notes
STORAGE: Greek rice can be refrigerated for up to 2-3 days. Cooled rice can be frozen in a ziploc bag for up to 3 months.
DID YOU MAKE THIS RECIPE?
Comment and rate the recipe. Also follow us on Pinterest at @easyanddelish for more delish recipes.