I can still remember... Sorvete Nata Goiaba (Sweet Guava-and-Cream Ice Cream) used to be one of my favorite flavors back home in Brazil.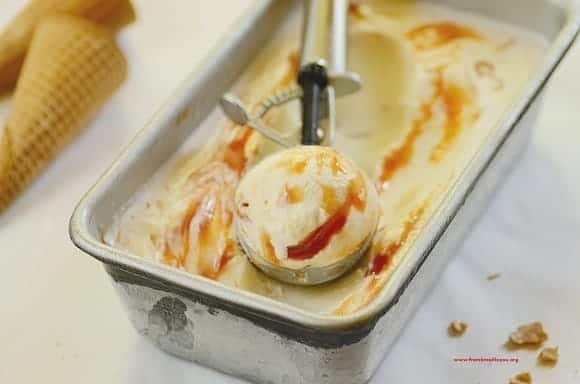 Oh, how I have missed it!!! But not anymore. That's right! I took matters into my hands and finally made sorvete nata goiaba (THE ice cream). Whoo-hoo!!!!!!!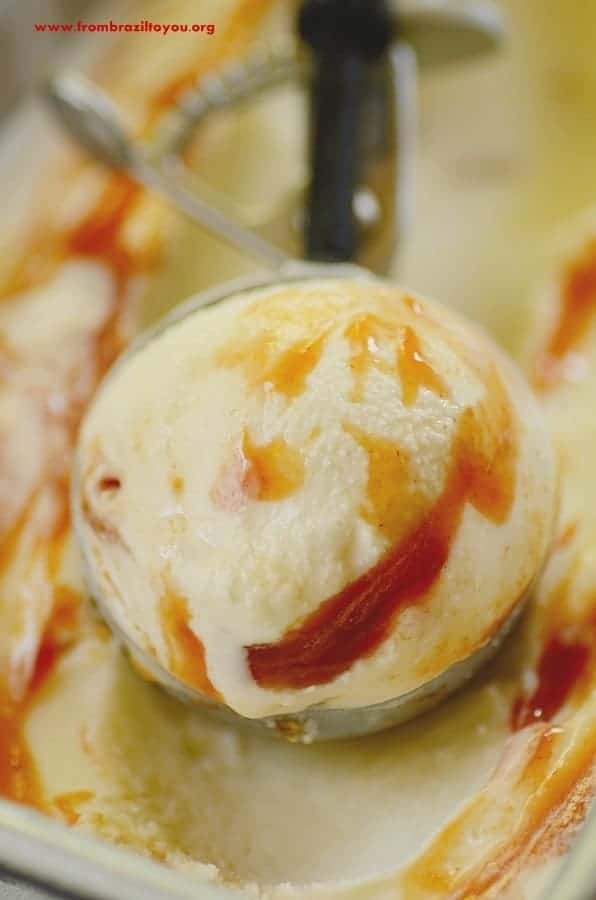 Tasting it again (actually, the proper word would be "devouring") made me smile from ear to ear. I felt like a kid again, eating her favorite candy. 😉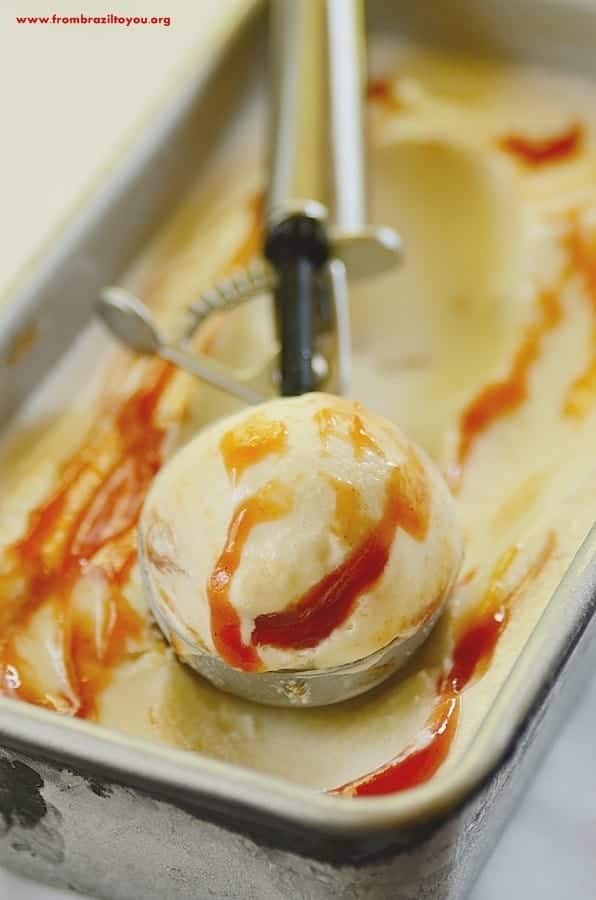 I tasted it gingerly, then took a few licks, got big bite, licked again, let it a melt in my mouth, and then wound up totally devouring the ice cream. From the middle to the very end, it just kept getting better and better. You know, the satisfying crunch of a great wafer cone along with the creaminess of this delicious homemade ice cream just can't be beat.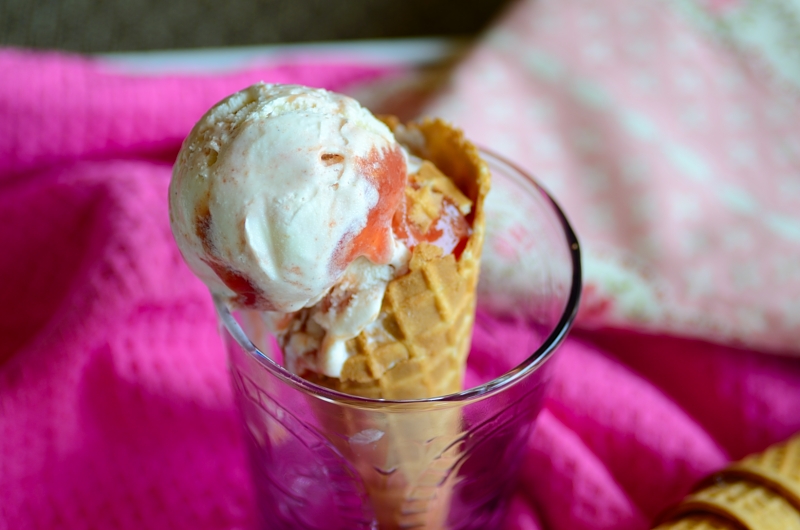 It really made my day!!!!!!!!!!!!!!! I hope it makes yours, too. Enjoy our sorvete nata goiaba and stay cool!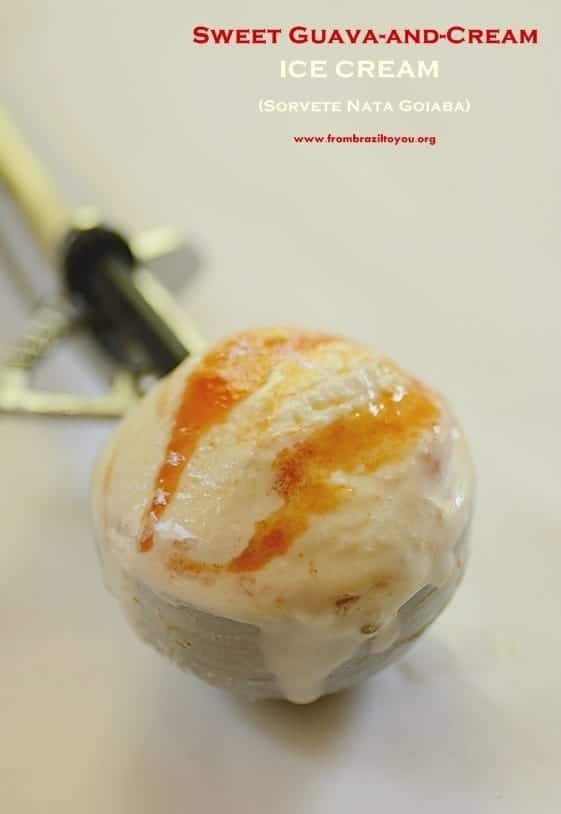 Sweet Guava-and-Cream Ice Cream (Sorvete Nata Goiaba)
Sorvete Nata Goiaba (Sweet Guava-and-Cream Ice Cream) is a vanilla, sweet cream based ice cream with guava sauce swirls. One of the best ice creams ever!
Ingredients
16

fl. oz

heavy whipping cream

500 ml

⅔

cup

granulated sugar

1

pinch

of kosher salt

1

vanilla bean pod

split

2

teaspoons

pure vanilla extract

8

fl. oz

whole milk

250 ml

1-⅓

cup

guava sauce

see note
Instructions
In a medium sauce pan, combine 1 cup heavy cream, the sugar, and the salt over low-heat. Meanwhile, split the vanilla bean pod in half lengthwise using a sharp knife. Then, scrape the seeds with a small spoon.

Stir both the seeds and the pod into the mixture over medium-heat until sugar is completely dissolved. Remove from the heat, add the vanilla extract, the remaining cup of heavy cream, and the milk. Stir well.

Pour mixture into a glass container, cover, and refrigerate for at least 2 hours, maximum overnight. In this way the blend will become well-chilled, and the vanilla flavor will suffuse and permeate the mixture well, adding a wonderful taste to the ice cream.

Right before churning the ice-cream mixture, remove the vanilla bean pod. Process the mixture in your ice cream maker according to manufacturer's instructions (about 30 minutes). Remove from the ice cream maker and let sit at room temperature for approximately 2 minutes so that the ice cream will soften enough to be stirred.

Finally, add the guava sauce little by little, swirling a bit with a stirring rod/stick. Note: do not stir vigorously in order to homogenize and fully incorporate the guava sauce- swirl just enough to streak the guava sauce into the ice cream, as in the picture below.

Put the sorvete nata goiaba (ice cream) into an airtight container and freeze it for at least 4 hours. Enjoy! Yield: 1 qt or almost 1 L.
Recipe Notes
Guava Sauce is available at any Latin supermarket. It can be replaced by ½ cup guava paste (chopped) heated with ½ cup water over medium-heat until fully melted. Stir well and refrigerate before mixing into the ice cream.
** Nutrition labels on easyanddelish.com are for educational purposes only. This info is provided as a courtesy and is only an estimate, since the nutrition content of recipes can vary based on ingredient brand or source, portion sizes, recipe changes/variations, and other factors. We suggest making your own calculations using your preferred calculator, based on which ingredients you use, or consulting with a registered dietitian to determine nutritional values more precisely.
Please note that health-focused and diet information provided on easyanddelish.com is for educational purposes and does not constitute medical advice, nor is it intended to diagnose, treat, cure, or prevent disease. Consult with your doctor or other qualified health professional prior to initiating any significant change in your diet or exercise regimen, or for any other issue necessitating medical advice.
DID YOU MAKE THIS RECIPE?
Comment and rate the recipe. Also follow us on Pinterest at @easyanddelish for more delish recipes.