Easy-to-prepare, healthy Keto Mediterranean Chicken Foil Packets that are perfect for a family-friendly weeknight meal and those busy days.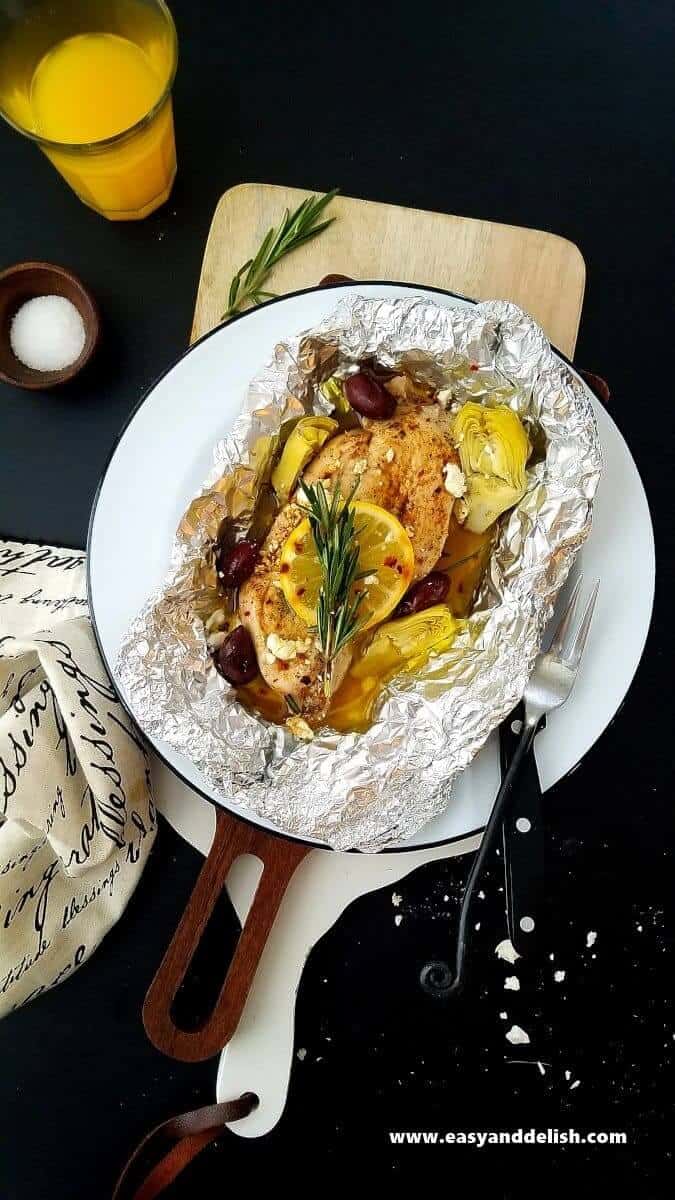 Have you heard about the ketogenic diet? If not, it is a low carb, moderate protein, and high fat diet that forces the body to burn fats rather than carbohydrates.
The carbs in our Keto Mediterranean Chicken Foil Packets are by and large mostly obtained from vegetables.
This is a dish that is easy to put together, yet big on flavor! And you know what? You won't have to wash a single pot to prepare this dish! How can that be? Well, check it out.
Our Mediterranean chicken foil packets are like no other. They are easy to prepare yet healthy... and you won't wind up with any pots to wash. I call it "the magic meal!" 🙂
How to Make Mediterranean Chicken Foil Packets
All you have to do is lay down slices of lemon, chicken breast, and a few vegetables such as canned artichoke hearts and Kalamata olives on to aluminum foil...
... and then top with lemon slices, season with salt and pepper, drizzle with olive oil and fresh lemon juice, and place a sprig of rosemary on top.
Next, wrap and bake for about 25 minutes. Voilá... right there you have a healthy meal fit for a king! Like I told you, it just can't get any better than that, honey!!!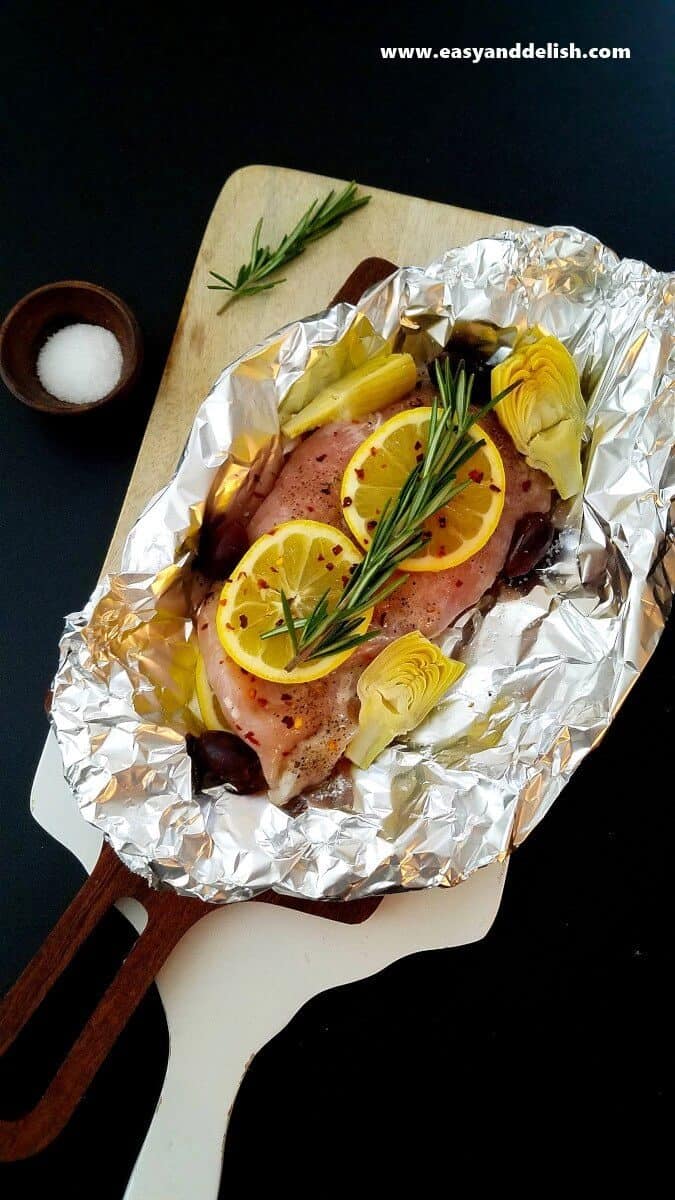 Right before serving, sprinkle on a bit of crumbled feta cheese and enjoy!
These are great as a gluten-free weeknight meal, especially when you want to eat well after a busy and tiresome day of work.
This is my little way of enjoying a tasty meal while allowing for my busy-yet-health-conscious lifestyle. Life is all about balance; each of us has to find our own.
Healthy yet tasty food and moderate exercise are one way to find enjoyment without taking years off of one's life... right?
I not only try to live by this principle, but also to pass it on to my children. Speaking of children, this dish is so easy that even a child could prepare it. There is nothing complicated about layering, seasoning, drizzling, and wrapping.
As you see, it demands no special cooking skills. The same thing goes for cleaning up after preparing our keto Mediterranean chicken recipe.
Again, surely even a child can do that! Try also our 10-Minute, Healthy Fish Stew Foil Packets and this Keto Chicken Casserole.
In addition, take a look at How to Eat Clean for a Week? 21 Easy Meals that You Can Do in Your Sleep. They will help you eat better!
I hope you enjoy our Easy Keto Mediterranean Chicken Foil Packets, and have an amazing week!
PIN & ENJOY!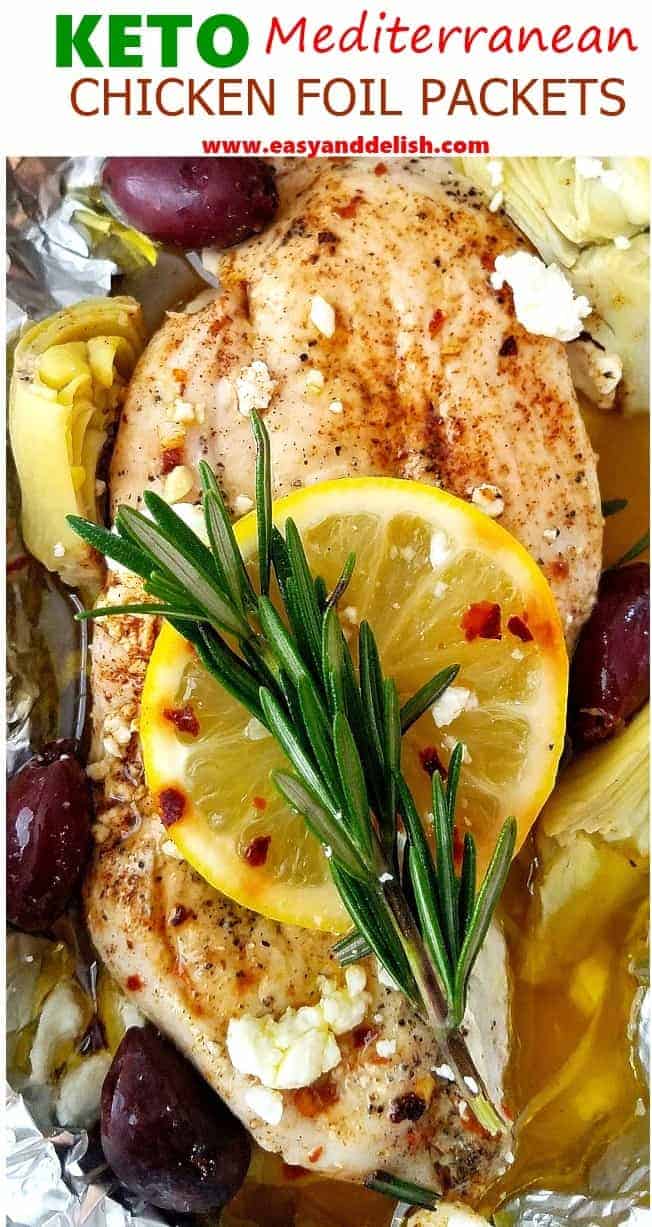 Easy Keto Mediterranean Chicken Foil Packets
Easy-to-prepare, healthy Keto Mediterranean Chicken Foil Packets that is perfect for a family-friendly weeknight meal. 
Ingredients
6

lemons (4 sliced into rounds and 2 halved crosswise)

4 (6-8 oz)

boneless, skinless chicken breasts

Salt to taste

Ground black pepper to taste

A pinch

paprika (optional)

4

Tablespoons

olive oil

4

canned whole artichoke hearts

12-16

kalamata olives

4

sprigs of fresh rosemary

4

Tablespoons

crumbled feta cheese
Instructions
Preheat oven to 400 degrees F. Tear off four double sheets of foil, about 12-inches long each.

Place about 3 slices of lemon onto each foil. Fold up all 4 sides of each sheet of foil, forming each into a packet.

Season both sides of each chicken breast with salt and pepper (and also paprika if desired).

Lay one breast onto each foil sheet (on top of the slices of lemon).

Drizzle each with the juice of one half of a lemon and 1 tablespoon of olive oil.

Halve or quarter the artichoke hearts and distribute among the foil packets along with the whole olives, fitting them in on the sides.

Top each chicken breast with remaining slices of lemon, and one sprig of rosemary for each.

Fold the sides of each foil sheet over the chicken, covering completely, and then sealing the packets closed.

Place foil packets in a single layer on a baking sheet and bake for about 25-28 minutes.

Right before serving, open the foil packets and sprinkle one tablespoon of feta cheese over each chicken breast.
Recipe Notes
>>>NET CARBS: 13 g
>>>WW FREESTYLE SMART POINTS: 15
Our Mediterranean Chicken Foil Packets can be enjoyed either by themselves or along with a fresh salad or hard-crusted bread.
Nutrition
Calories:
604
kcal
|
Carbohydrates:
19
g
|
Protein:
65
g
|
Fat:
31
g
|
Saturated Fat:
7
g
|
Cholesterol:
196
mg
|
Sodium:
871
mg
|
Potassium:
1279
mg
|
Fiber:
6
g
|
Sugar:
5
g
|
Vitamin A:
699
IU
|
Vitamin C:
98
mg
|
Calcium:
158
mg
|
Iron:
3
mg
** Nutrition labels on easyanddelish.com are for educational purposes only. This info is provided as a courtesy and is only an estimate, since the nutrition content of recipes can vary based on ingredient brand or source, portion sizes, recipe changes/variations, and other factors. We suggest making your own calculations using your preferred calculator, based on which ingredients you use, or consulting with a registered dietitian to determine nutritional values more precisely.
Please note that health-focused and diet information provided on easyanddelish.com is for educational purposes and does not constitute medical advice, nor is it intended to diagnose, treat, cure, or prevent disease. Consult with your doctor or other qualified health professional prior to initiating any significant change in your diet or exercise regimen, or for any other issue necessitating medical advice.
DID YOU MAKE THIS RECIPE?
Comment and rate the recipe. Also follow us on Pinterest at @easyanddelish for more delish recipes.