Soft, scrumptious Monster Peanut Butter-Cheesecake Sandwich Cookies with Chocolate Drizzle is our contribution for the Chocolate Party this month, hosted by Roxana's Home Baking!!! Our secret ingredient is the infamous peanut butter, a favorite of many Americans -- and of this Brazilian as well!
I must say that I could have chosen some other treat that combines both peanut butter and chocolate together, but I picked cookies (again!)... or rather, sandwich cookies, in order to vary slightly from our last month's Easy Bird's Nest Cookies. 🙂 I hope you don't mind much! A dear friend and follower of this blog asked me for a peanut butter cookie recipe last December. Although I intended to make something sooner in order to fulfill my promise, I wasn't able to. Many prior commitments made me postpone this till now.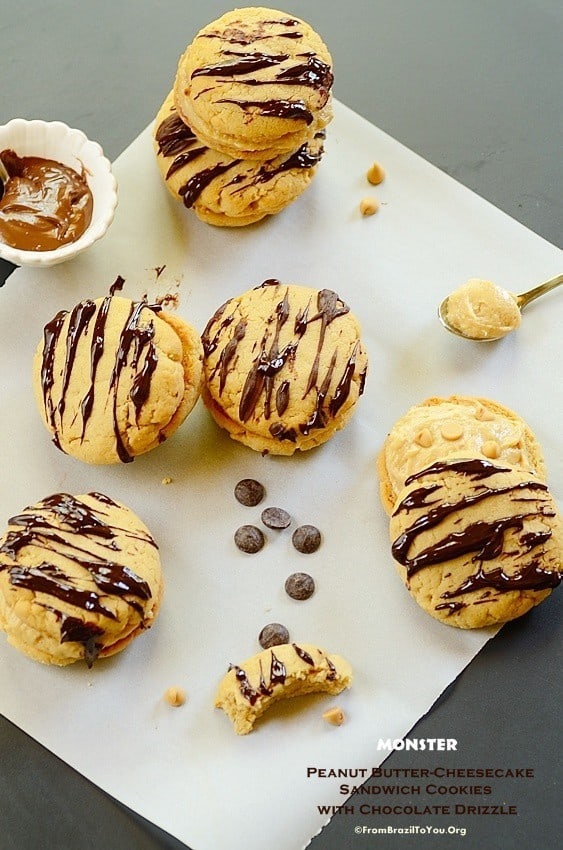 But you know what? I'm thrilled that I made these sandwich cookies. Man, oh man... These are one of the best cookies that I have ever had. If you are a follower of this blog, you will know that I am not that crazy for cookies -- although I do enjoy munching on them once in a while. For me to say that I really did enjoy these sandwich cookies is a big deal -- and it is not just because I developed the recipe!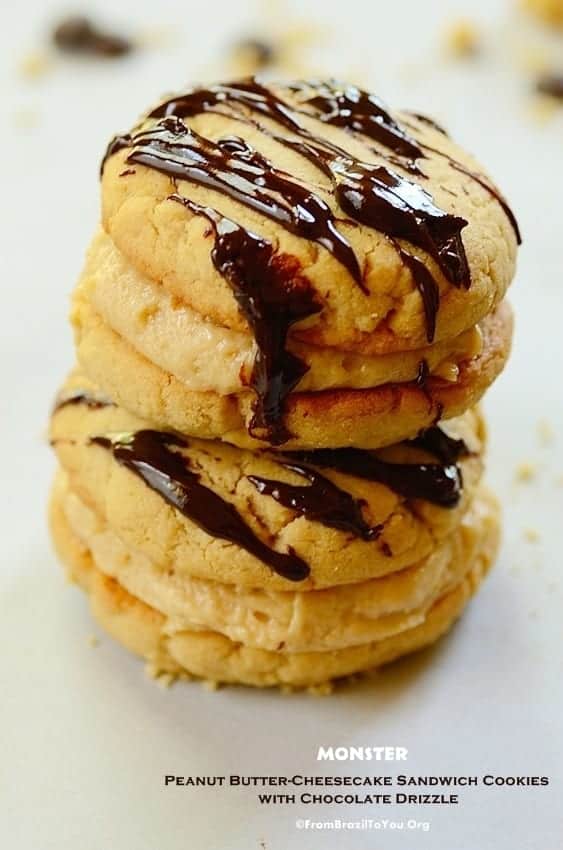 How could I not enjoy soft, scrumptious, HUGE/MONSTER peanut butter cookies filled with peanut butter cheesecake and topped with chocolate drizzle? Just talking about these peanut butter sandwich cookies makes me drool over the keyboard. Yes... They are addictive -- and perfect for parties and other occasions as well!
These are also one of those treats that I should not have that often. 🙁 For now, I will enjoy these super duper peanut butter sandwich cookies, and may the Lord help me tomorrow when I step onto the scale. Yes, cover your ears...
JOIN THE CONVERSATION!
What's your favorite peanut butter-chocolate treat?
Bonus: Here is a guide how to make the perfect peanut butter ever... at home.
Monster Peanut Butter-Cheesecake Sandwich Cookies with Chocolate Drizzle
Scrumptious Monster Peanut Butter Sandwich Cookies filled with Peanut Butter Cheesecake and drizzled atop with Chocolate.
Servings
10
sandwich cookies
Ingredients
For the peanut butter sandwich cookie dough:

1½

cups

unsalted butter

softened, 3 sticks

1½

cups

sugar

1½

cups

peanut butter

creamy

2

large eggs

at room temperature

2

teaspoons

pure vanilla extract

3¾

cups

all-purpose flour

1½

teaspoons

baking powder

1

teaspoon

baking soda

½

teaspoon

salt

For the peanut butter cheesecake filling:

1

package cream cheese

at room temperature, 8 oz

½

cup

peanut butter

1

cup

sugar

2

teaspoons

pure vanilla extract

For the chocolate drizzle:

½

cup

semisweet chocolate chips

2 to 3

tablespoons

heavy cream*
Instructions
To prepare the dough

: In a stand mixer with a paddle attachment, cream the butter and sugar together at medium speed until fluffy. Add the peanut butter, eggs, and vanilla. Beat just until combined (1-2 minutes).

In a large bowl, sift and combine the flour, baking powder, baking soda, and salt. Slowly add to the peanut butter mixture, beating at low speed until well incorporated.

Refrigerate cookie dough for about 30 to 60 minutes to firm up.

Meanwhile,

prepare the filling

by blending its ingredients in a mixer until smooth. Cover and refrigerate.

Preheat oven to 375 degrees F (about 190° C). Line 2 to 3 large baking sheets with parchment paper or silpat, and set aside.

Using an ice cream scooper, scoop about 20 cookies and place onto the lined baking sheets (about 2-inch apart from each other) and press the top of each cookie with the palm of your hand to flatten.

Bake for 13 -15 minutes. Place baking sheet on a rack and let cookies cool enough to handle without breaking apart. Place 10 cookies face down and top each one with 2 to 3 tablespoons of the peanut butter cheesecake filling. Top each cookie with another cookie to form a sandwich. Set aside.

Make the chocolate drizzle:

Microwave both the chocolate chips and heavy cream in a microwave-safe bowl at medium power (50%) for about 60 to 90 seconds and stir well. If necessary, heat again at 15-30 second intervals until chocolate is melted and smooth. Using a fork, drizzle melted chocolate over the sandwich cookies. Let drizzle set and enjoy!
** Nutrition labels on easyanddelish.com are for educational purposes only. This info is provided as a courtesy and is only an estimate, since the nutrition content of recipes can vary based on ingredient brand or source, portion sizes, recipe changes/variations, and other factors. We suggest making your own calculations using your preferred calculator, based on which ingredients you use, or consulting with a registered dietitian to determine nutritional values more precisely.
Please note that health-focused and diet information provided on easyanddelish.com is for educational purposes and does not constitute medical advice, nor is it intended to diagnose, treat, cure, or prevent disease. Consult with your doctor or other qualified health professional prior to initiating any significant change in your diet or exercise regimen, or for any other issue necessitating medical advice.
DID YOU MAKE THIS RECIPE?
Comment and rate the recipe. Also follow us on Pinterest at @easyanddelish for more delish recipes.