Less than 30-minute, easy to prepare, darn delicious Pan Fried Barbecue Pork Chops. A 'one-pan' dish that is perfect for any time of the year!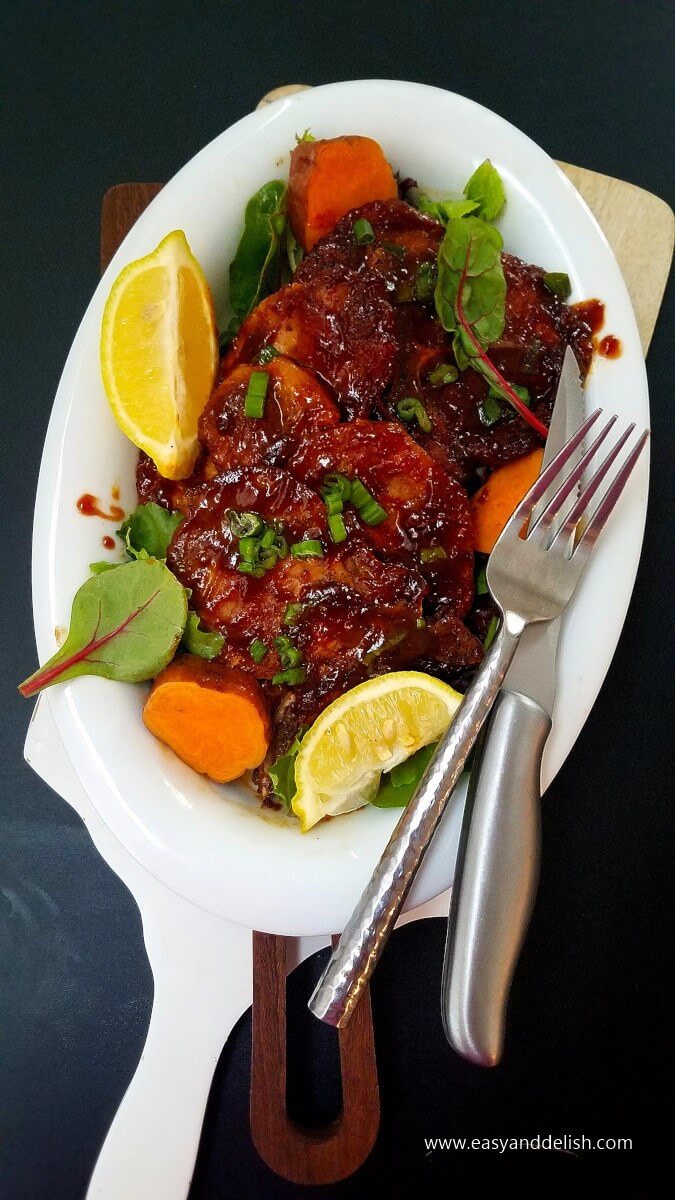 Valentine's Day will be celebrated a few days from now in the United States… and I will be serving one of my husband's favorite dishes: these super flavorful Pan Fried Barbecue Pork Chops.
Yep, it works well as a "guy dish" — on account of the meat (although I am also a huge fan — and my daughters as well!)
How to Make Pan Fried Barbecue Pork Chops
These quick Pan Fried Pork Chops are easily prepared by seasoning both sides of the chops with salt and pepper.
Then, the pork chops are place into a hot pan with oil and browned for about 2-3 minutes per side.
Next, a mixture of barbecue sauce, ketchup, spices, vinegar, brown sugar, and mustard  is pour over the chops, brought to a boil, and left to simmer together for about 5 minutes.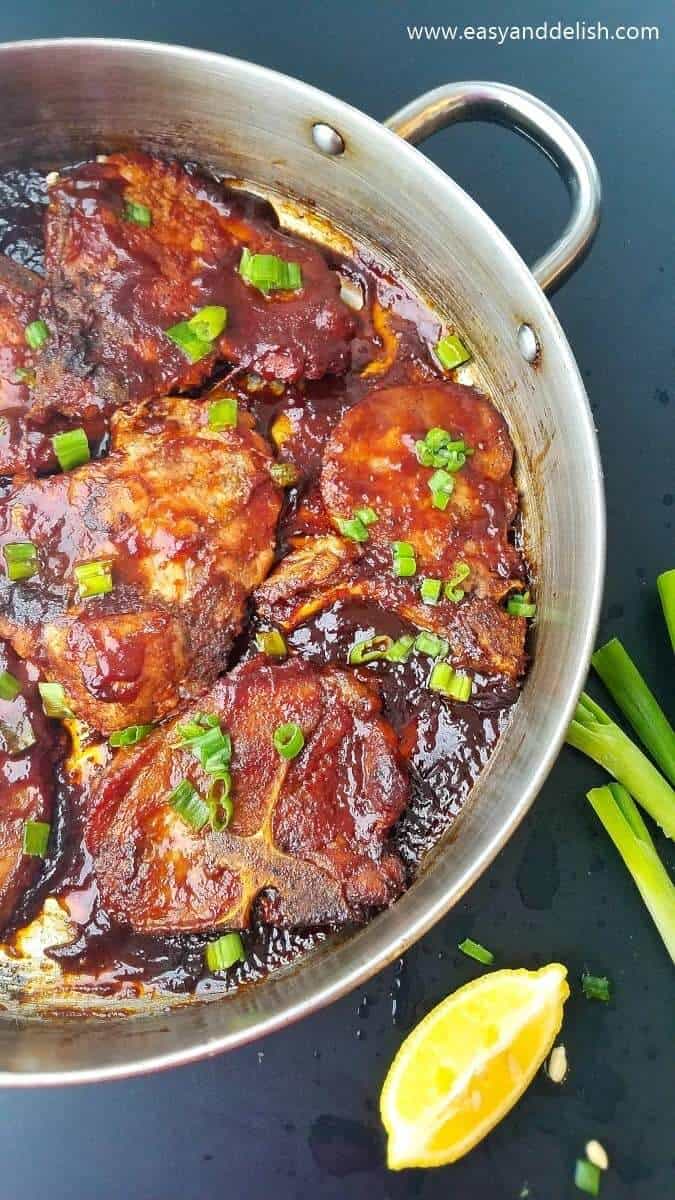 There you have it, my friend!  A dish fit for a king, ready to be devoured down to the very last bite.
Simple, right? Oh… and quick, too, because the entire dish takes less than 30 minutes to prepare.  A real present for both the cook and eater!!! 😉
Serve our Barbecue Pork Chops with a side of steamed, baked or roasted baby potatoes or sweet potatoes, and a fresh salad or steamed vegetables… and just wait and see how your honey will look at you.
Our Barbecue Pork Chops also work great as a 'one-pan', no-fussy weeknight meal.
I kept the recipe easy and delish, hearty, and desirable to a man's eyes. 😉  After all, my honey deserves this type of TLC and way more.
But that's not all! We are serving a Nutella Tart for dessert… Yaasss!!!!!  Pure indulgence is the order of the day here.
Well, Happy V-Day to my hubby as well as to each one of you. Enjoy your day!!!
TO PIN & ENJOY!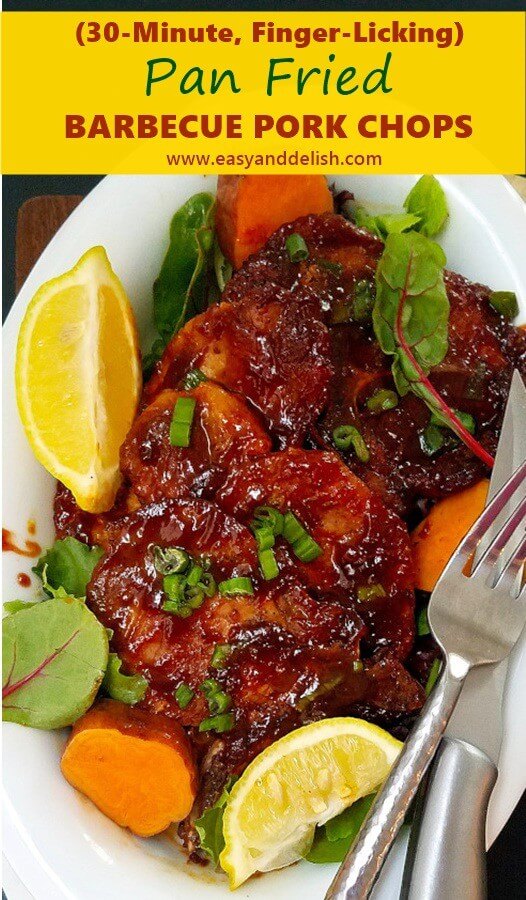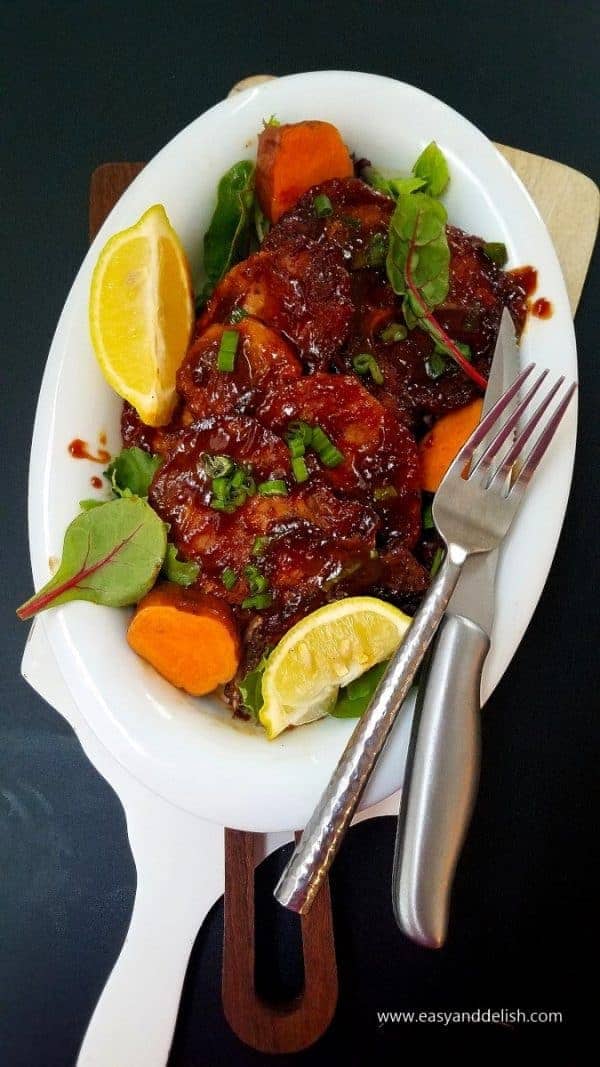 | | |
| --- | --- |
| | |
Season both sides of each pork chop with enough salt and pepper. 

Then, heat a large skillet over medium-high heat and add 2 Tablespoons of oil.

Place 4 chops at a time into the hot pan and let brown without disturbing for about 2-3 minutes per side.

Remove the 4 chops and place onto a plate. Pour in the remaining oil and brown the other 4 chops.

Meanwhile, combine the spices, 1/2 teaspoon black pepper, mustard, vinegar, sugar, barbecue sauce, and ketchup in a medium bowl, whisking well until homogeneous and free of lumps.

Return all 8 chops to the pan, pour on the sauce mixture, and bring to a boil.

Reduce heat to medium-low, cover, and let simmer for about 5 minutes.

Serve immediately with chopped green onions on top. Enjoy!
Suggested sides: steamed, baked, or roasted baby potatoes or sweet potatoes, and a fresh salad (or cooked vegetables such as corn or green beans).