I still remember... Growing up in Brazil, Pizza à Portuguesa used to be one of my favorite pizzas.
I don't know exactly why it got the name à Portuguesa (Portuguese-style pizza)-- I suppose it is because the pizza is topped with hard-boiled eggs and Portuguese chouriço sausage. For those who may not know, eggs are a very important ingredient in Portuguese cuisine, and have a prominent place in many popular dishes.
This Pizza à Portuguesa is topped with tomato sauce, mozzarella cheese, tomato, hard-boiled eggs, onions, ham, chouriço sausage, green bell peppers, olives, and oregano. Are you overwhelmed? Trust me: it is one of the best -- if not the best-- pizzas that you will ever eat. The thickness of the crust as well as its texture vary from place to place nowadays, although the traditional pizza crust, brought initially by Italian immigrants to São Paulo, was thin and crispy.
Pizza à Portuguesa is one of those dishes that are quick and easy to prepare, yet extremely flavorful -- ideal to share with family during a busy week, or with friends on weekends. Well, I do hope you try and enjoy our dish for today, Pizza à Portuguesa, as much as my husband and I enjoyed ours...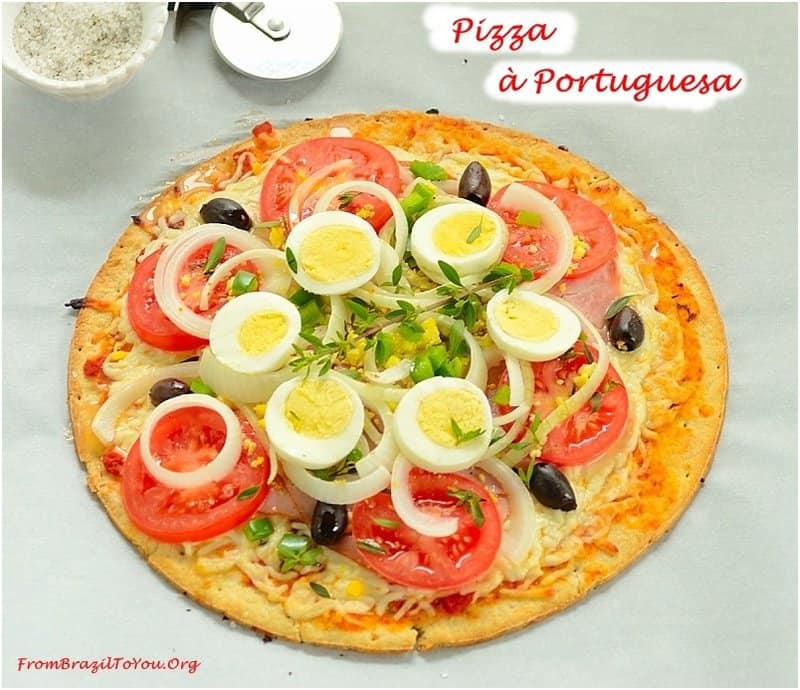 Pizza à Portuguesa
A delicious pizza featuring hard-boiled eggs and savory Portuguese chouriço sausage as toppings, Pizza à Portuguesa is quick and easy to prepare, yet extremely flavorful-- ideal for sharing with family during a busy week, or with friends on the weekends.
Ingredients
1

12- inch/30.5 cm homemade or store-bought pizza crust

(I used Mama Mary's thin and crispy crust)

Olive oil to brush crust and drizzle the pizza

optional

⅓

cup

tomato sauce

3

cups

mozzarella cheese

shredded

8-10

thin slices

deli smoked ham

6-8

slices

chouriço sausage

stir-fried (optional)

1

large tomato

sliced

1

medium yellow onion

sliced

½

medium green bell pepper

small diced

2

large hard-boiled eggs

6-8

pitted black olives

Fresh oregano

1

pinch

Kosher salt

1

pinch

freshly ground black pepper
Instructions
Preheat the oven to 425º F/ 218º C (or at the temperature indicated on the package).

 Line a large, round baking sheet with parchment paper.
To make the Pizza a Portuguesa:
Brush one (12-inch) pizza crust with olive oil, if desired (It seals the crust and makes it crispier).  Spread the tomato sauce on top and then distribute the shredded cheese.  Overlap the ham in the center of the pizza, and arrange the slices of sausage (optional), tomato and onion.

Slice one of the hard-boiled eggs and reserve to decorate the pizza when it comes out of the oven. Chopped the yolk of the other hard-boiled egg and sprinkle in the center of the pizza. Decorate with black olives, sprinkle on the oregano, and season with salt and pepper.

Bake for 10 minutes (or follow instructions on the package of the pizza crust), remove from oven, and decorate with the slices of hard-boiled egg. Drizzle the pizza a portuguesa with a little bit of olive oil if desired. Enjoy!
Recipe Notes
Chouriço is a Portuguese sausage made with pork, fat, wine, paprika and salt. It is stuffed into natural or artificial casings and slowly dried over smoke. It is similar to Spanish chorizo (the sweet one — not the spicy).  If chouriço is not available, you can use the sweet chorizo from Spain instead (not the one from Mexico because it contains different seasonings)
Nutrition
Calories:
288
kcal
|
Carbohydrates:
27
g
|
Protein:
16
g
|
Fat:
13
g
|
Saturated Fat:
7
g
|
Cholesterol:
81
mg
|
Sodium:
760
mg
|
Potassium:
151
mg
|
Fiber:
2
g
|
Sugar:
5
g
|
Vitamin A:
561
IU
|
Vitamin C:
10
mg
|
Calcium:
226
mg
|
Iron:
2
mg
** Nutrition labels on easyanddelish.com are for educational purposes only. This info is provided as a courtesy and is only an estimate, since the nutrition content of recipes can vary based on ingredient brand or source, portion sizes, recipe changes/variations, and other factors. We suggest making your own calculations using your preferred calculator, based on which ingredients you use, or consulting with a registered dietitian to determine nutritional values more precisely.
Please note that health-focused and diet information provided on easyanddelish.com is for educational purposes and does not constitute medical advice, nor is it intended to diagnose, treat, cure, or prevent disease. Consult with your doctor or other qualified health professional prior to initiating any significant change in your diet or exercise regimen, or for any other issue necessitating medical advice.
DID YOU MAKE THIS RECIPE?
Comment and rate the recipe. Also follow us on Pinterest at @easyanddelish for more delish recipes.