I love empanadas, although it has been a while since I have last eaten them. I also love pizza...This is why we'll be making two dishes in one: Pizza Empanadas!!! Excited?
Because of the American football Super Bowl which is coming up soon, I decided to make the pizza empanadas dough ahead of time for freezing, so that they can simply be filled and baked on the day that they will be served. What a time saver!
If you weren't already aware, empanadas are not exclusively a dish from Hispanic Latin America, but are also widely esteemed in Brazil, including both fried (pastel frito) and baked (pastel de forno) versions with sweet and savory fillings. Brazilians call these beauties "pastel" (in Mexico, a similar pastry is called an empanada, and through Mexican influence that is also the term by which the pastries have generally come to be known in English).
The baked empanadas (pastéis) are usually served with a cup of coffee (cafezinho), a glass of guaraná soda, or beer, while the fried ones are preferrably served with sugarcane juice, guaraná soda, or beer. They make for a quick afternoon snack or a great appetizer for parties and bar conversation (conversa de botequim).
I confess that I do prefer the baked empanadas (pastel de forno) for obvious reasons - they are less messy and greasy to prepare.
That is why our pizza empanadas are baked. There is a wide variety of possible fillings, but I picked what we call the pizza filling: ham, cheese, tomato, and oregano. It is like having empanadas and pizza in the same dish. 😉 Don't you?
Well, enjoy our pizza empanadas and have a great time with your friends and family watching the Super Bowl.
xx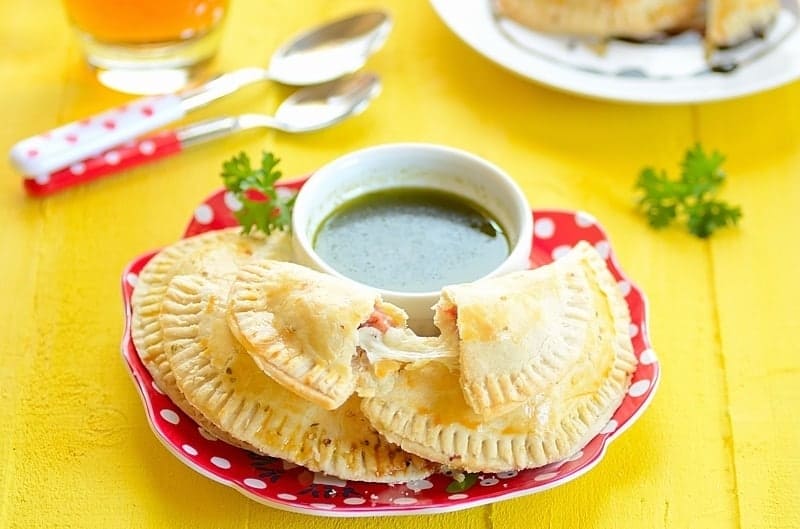 Pizza Empanadas -- Two dishes in one! Got yours?
Pizza Empanadas (Pastel de Pizza)
Two popular dishes in one to celebrate The Super Bowl!
Servings
10
medium or 18 small
Ingredients
For the pizza empanadas dough:

3

cups

all-purpose flour

teaspoon

¼salt

6

oz

unsalted butter

cold and cut into small pieces, 170 g, 1 ½ sticks

1

large egg

chilled

5

tablespoons

cold water

Note: The dough recipe was adapted from Laylita's Recipes.

For the pizza empanadas filling:

¾

cup

shredded ham

¾

cup

shredded mozzarella cheese

12

cherry-tomatoes

sliced in half

1

pinch

dried oregano

1

large egg

whites and yolk separated
Instructions
In a food processor, mix the flour and salt together. Add the butter, egg, and water until a clumpy dough forms. Do not overwork the dough!!!

Form a ball, wrap in plastic wrapper, and chill in the refrigerator for approximately 30 minutes.

Then, unwrap and roll out the dough into a thin sheet over a floured surface, working from the center of the dough to the edges. Cut out round disc shapes using a round medium-size or small mold or cutter.

Use immediately or store in the freezer for up to 3 months (In this last instance, pile one disc on top of the other with plastic wrapper in between them. Wrap the pile well and store in a ziploc bag. Thaw in the refrigerator before filling the pizza empanadas).

For the filling of the pizza empanadas (In Brazil, we call this type of filling "pizza"): In a small bowl, mix both the ham and cheese. Reserve. Assemble the pizza empanadas, adding a spoonful of the ham and cheese mixture on the center of each empanada disc. Top with 2 halves of a tomato and sprinkle a little bit of oregano.

Brush the edges of the pizza empanada discs with the egg whites or a little bit of water although the whites are a better "glue" to seal the pizza empanadas. Fold the empanada discs and seal the edges gently with your fingers.

Then, press the edges of the pizza empanadas with a fork to crimple. Lightly brush the top of the pizza empanadas with the egg yolk thinned with ½ teaspoon of water. Layer the pizza empanadas in a single layer in a deep baking pan or pyrex dish. Cover with aluminum foil (don't let it touch the pizza empanadas). Let the pizza empanadas rest in the fridge for about 30 minutes or until ready to bake.

Pre-heat the oven to 400º F (200º C) and bake for 10 - 15 (small) or 15 - 20 minutes (medium) or until golden. Serve pizza empanadas warm by themselves, with your favorite dipping sauce (I used chimichurri sauce) plus a drink, or with a fresh salad.
Recipe Notes
Please note, prepackaged refrigerated phyllo dough, or an empanada dough from your local Latin American grocery store can be substituted for dough made from scratch, if desired.
** Nutrition labels on easyanddelish.com are for educational purposes only. This info is provided as a courtesy and is only an estimate, since the nutrition content of recipes can vary based on ingredient brand or source, portion sizes, recipe changes/variations, and other factors. We suggest making your own calculations using your preferred calculator, based on which ingredients you use, or consulting with a registered dietitian to determine nutritional values more precisely.
Please note that health-focused and diet information provided on easyanddelish.com is for educational purposes and does not constitute medical advice, nor is it intended to diagnose, treat, cure, or prevent disease. Consult with your doctor or other qualified health professional prior to initiating any significant change in your diet or exercise regimen, or for any other issue necessitating medical advice.
DID YOU MAKE THIS RECIPE?
Comment and rate the recipe. Also follow us on Pinterest at @easyanddelish for more delish recipes.