Hello, good boys and girls! What do you think about our semi-homemade, quick panettone shortcake? For the most part it just requires assembling, but the result is so stunning that anyone might think that it took a lot of effort to make. That is the beauty of the dish! You don't have to slave in the kitchen or spend a lot of money in order to have a show-stopper like this for the holidays.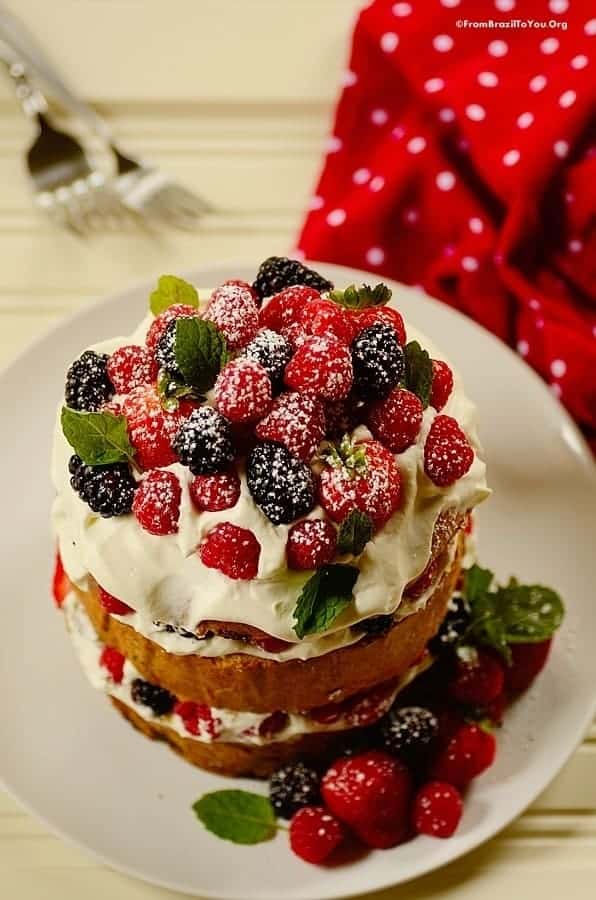 I really wish you were here to have a bite... this dessert looks, smells, and tastes like Christmas. Oh, yeah! Just like a shortcake, this is overall a mildly sweet dessert made from layers of chocolate chip panettone, vanilla whipped cream, and berries. It is one of those treats where it is hard to just have one slice. My husband had several... and so my children and I as well. 🙂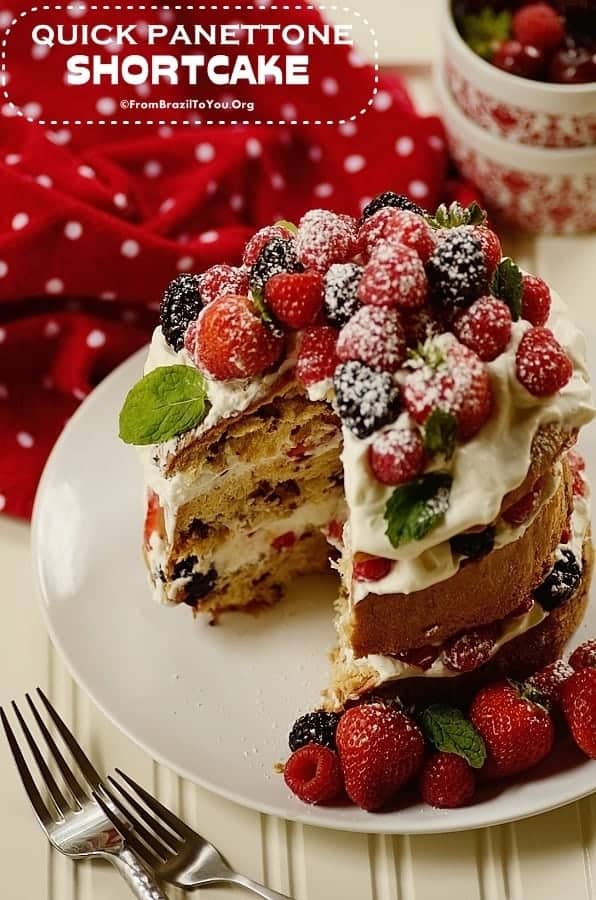 As I explained in our post Upside-Down Panettone French Toast from last year, panettone is a staple in my home country of Brazil. It is something that we always have for Christmas, either by itself or incorporated into other desserts-- and this year could be no different.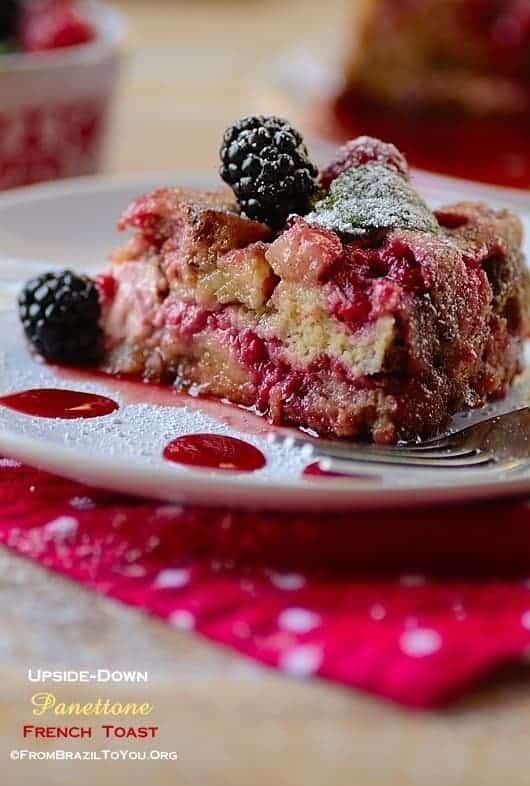 I hope you enjoy it in the form of panettone shortcake. It only takes about 20 minutes to put this together, NO cooking or baking is involved, and the results are amazing -- both in taste and looks... so that you can spend more time shopping, setting a beautiful holiday table, preparing the main and side dishes, and catching up with your loved ones. 😉
Bom apetite!
xx
Quick Panettone Shortcake (Bolo de Panetone)
A semi-homemade, quick panettone shortcake that will brighten your holiday table...
Ingredients
1

oz

panettone with chocolate chips or any panettone of your choice

(I used the Brazilian brand Bauducco, which can be purchased at Walmart or Walgreens), 17.5or 500 g

1

pint

heavy whipping cream

½

cup

powdered sugar

1

teaspoon

pure vanilla extract

½ to 1

quart

fresh

clean berries of your choice ( I used a combo of raspberries, blackberries, and strawberries -- sliced strawberries for in between the layers and whole for the top layer)

leaves

Fresh mint

optional
Instructions
Remove panettone from the box and plastic bag, and place on a cutting board. Using a large serrated knife, slice horizontally into 3 layers. Set aside.

Pour heavy cream into the bowl of a mixer. Whip the cream until it forms soft peaks, add the sugar and vanilla, and whip again until just stiffened. Please do not over-mix -- unless you want to wind up with sweet butter instead of sweet whipped cream!

To assemble panettone shortcake: Place bottom panettone round on a serving plate and spread on about ⅓ of the whipped cream. Top with a layer of a third of the amount of berries. Top with the other panettone round and spread with another third of whipped cream. Top with a third of the amount of berries. Top with the top panettone round and spread the remaining whipped cream on top. Garnish with the remaining berries, and fresh mint leaves if desired. Slice panettone shortcake and enjoy!
Recipe Notes
STORAGE: Panettone shortcake must be stored in an airtight container in the refrigerator, and must be consumed within one day.
** Nutrition labels on easyanddelish.com are for educational purposes only. This info is provided as a courtesy and is only an estimate, since the nutrition content of recipes can vary based on ingredient brand or source, portion sizes, recipe changes/variations, and other factors. We suggest making your own calculations using your preferred calculator, based on which ingredients you use, or consulting with a registered dietitian to determine nutritional values more precisely.
Please note that health-focused and diet information provided on easyanddelish.com is for educational purposes and does not constitute medical advice, nor is it intended to diagnose, treat, cure, or prevent disease. Consult with your doctor or other qualified health professional prior to initiating any significant change in your diet or exercise regimen, or for any other issue necessitating medical advice.
DID YOU MAKE THIS RECIPE?
Comment and rate the recipe. Also follow us on Pinterest at @easyanddelish for more delish recipes.