Who doesn't love panettone? At my table, it is a family tradition! In Brazil, Christmas dishes can vary from one region to the next, or even from family to family, yet panettone seems to be a near-unanimous national preference. Old-fashioned French toast (or rabanada in Portuguese) is another tradition handed down by my late maternal Grandmother,  a Portuguese descendant. By uniting two family traditions, I came up with my own, with this scrumptious Upside-Down Panettone French Toast (Rabanada de Panetone) — a festive treat that can be served either for Christmas breakfast or as a dessert. Way cool, don't you think?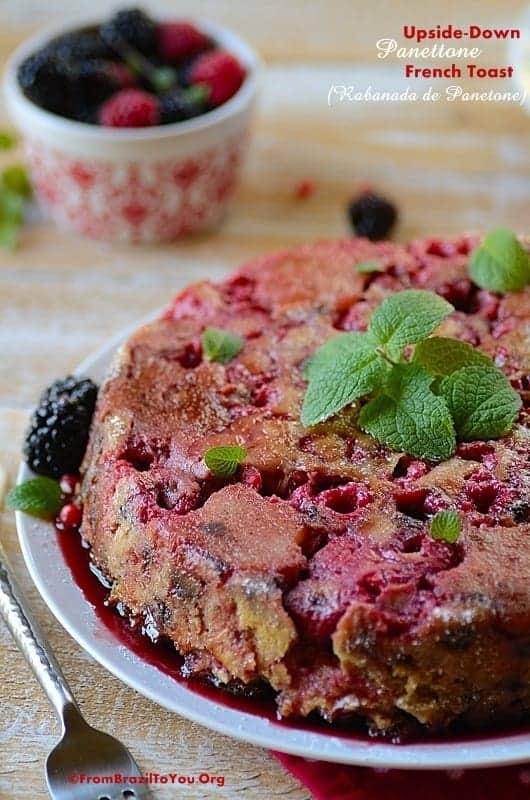 'Wait a minute! Isn't panettone Italian?' someone might ask… So 'why is panettone a tradition in Brazil?' Good question!
This dome-shaped sweet bread loaf from Milan, Italy is a tradition in Brazil because my native country is home to the largest number of Italians outside of Italy. 🙂  They have brought their traditions along with them, and influenced both Brazil's cuisine and its culture — especially in the Southern and Southeastern regions.
Although panettone is marketed under several brand names around the world, Bauducco is the most popular one in Brazil. In recent years, Brazilian-made panettone has been available in the US at Walmart supermarkets, among other places. Panettone is also enjoyed in many other countries in South America, Portugal, Southeastern France, Spain, Germany, and Switzerland. Its popularity is due to its delicious taste, low cost, and abundance. The most traditional type contains candied fruits and raisins– but nowadays, many variations are available, such as this one with chocolate chips.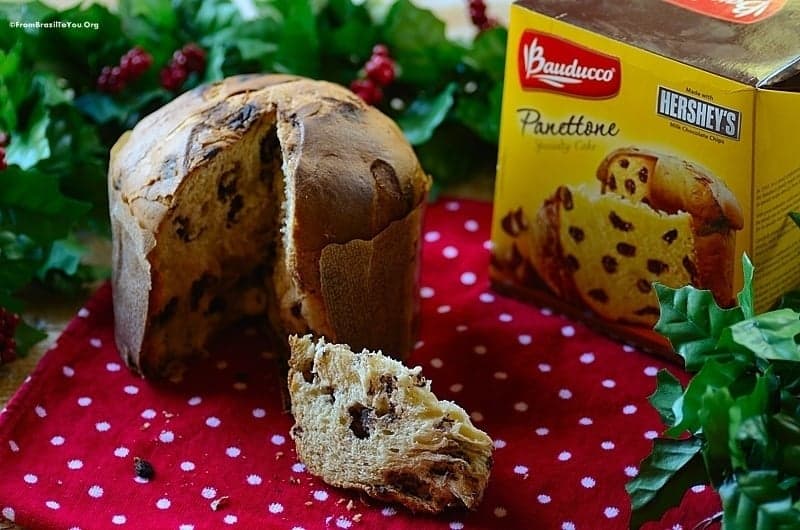 Some of the other panettone flavors found in different parts of the world include tiramisu, lemon, pear, fig, and herbs.
Panettone is far older than one might imagine. Its origins date back to the Roman Empire, when ancient Romans used to sweeten a type of leavened cake with honey. Many centuries later, in its previous fruitcake-like shape, it appears in a sixteenth-century painting by the Flemish Renaissance painter Pieter Brueghel the Elder…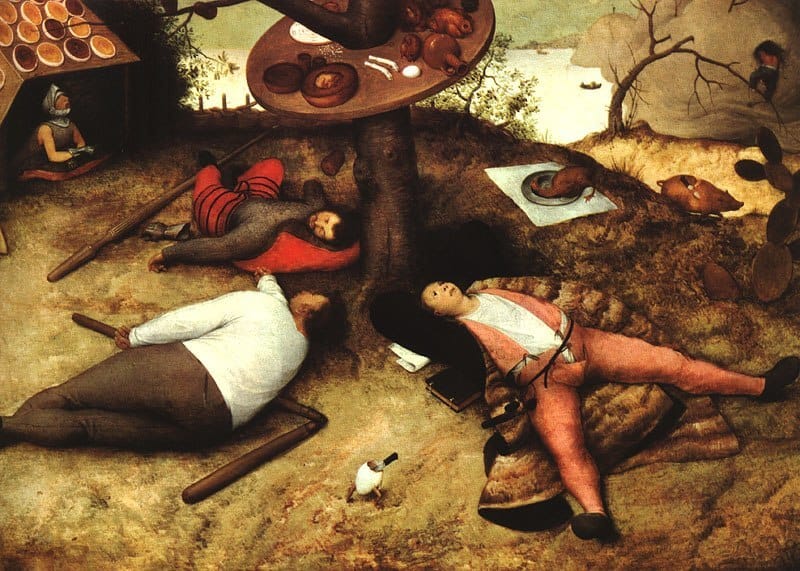 …as well as receiving mention in a contemporary cookbook of that time, Opera dell'arte del cucinare,  penned by Bartolomeo Scappi — personal chef to popes and cardinals.
But only later, in the 18th century, did panettone come to be associated with Christmas. It was referred to in the writings of the Milanese illuminist Pietro Verri, who recorded its name as "Pane di Tono" (luxury cake).
In the early 20th century, panettone began to be produced in large quantities in Italy, where it acquired its present tall, domed shape and light texture. Its popularity soon spread to other countries, where it began to take on different flavors.
Nearly all who take a bite become instant fans. Personally, I can enjoy panettone plain, toasted and spread with butter or jam, in sweet sandwiches, tiramisu, trifles, bread puddings, panettone french toasts, and in many other culinary creations.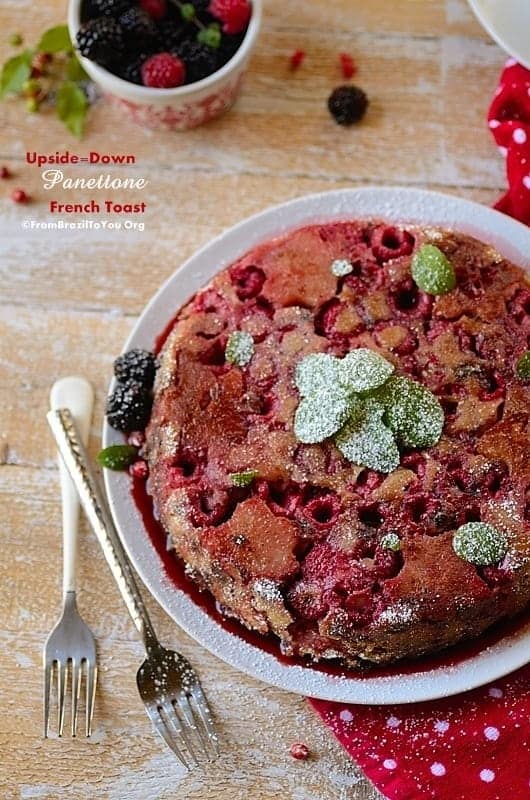 OK, I confess it… I'm a huge fan of panettone! Great is whoever invented it, and blessed are we who can feast our souls enjoying its sweet, airy richness. Well, whether Bauducco brand or not, grab your panettone and come to the kitchen with me to prepare the best panettone French toast that you will ever have…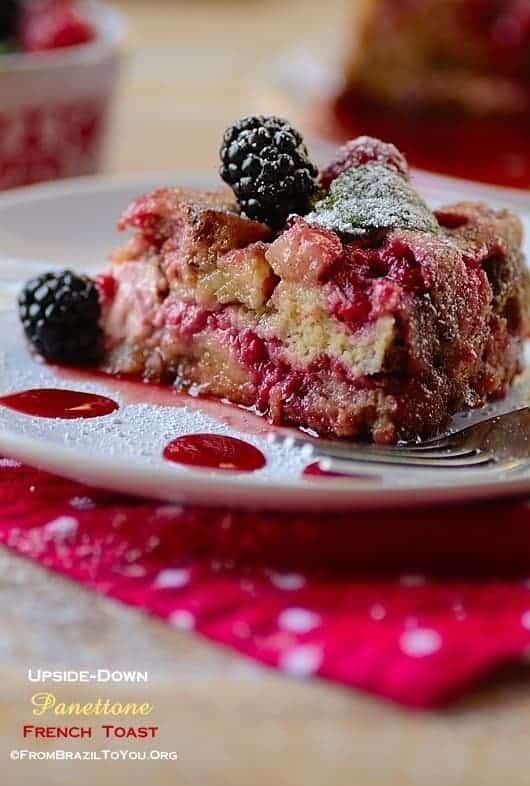 xx
P.S.: I am curious… What is your favorite panettone (brand and flavor)?
Upside-Down Panettone French Toast
A festive, gorgeous french toast made from panettone, pears, and raspberries, that can be served for Christmas breakfast or as a dessert.
Ingredients
2

large ripe yet firm pears

Freshly squeezed juice of 1 lemon

1/4

teaspoon

ground cinnamon

1

pinch

nutmeg

2

tablespoons

unsalted butter

4

tablespoons

light brown sugar

divided

2-1/2

cups

fresh raspberries

divided

1

pinch

powdered sugar

plus 1 tablespoon

4

large eggs

at room temperature

1

cup

whole milk

1/2

cup

white granulated sugar

1

teaspoon

pure vanilla extract

1

panettone

cut into 1/2-inch cubes, 17.5 ounces, dried fruit/raisins or other of your choice

8

ounces

mascarpone cheese (or cream cheese

cut into 3/4-in cubes)
Instructions
Preheat oven to 350 degrees F (177 degrees C).

Peel and slice pears crosswise into rounds about 1/2-inch thick. Remove seeds carefully with a sharp paring knife. Using a medium to small star shape cookie cutter, cut into stars. Place the star-shaped pears in a large bowl, and toss all sides gently with a mixture of lemon juice (to prevent discoloration), cinnamon, and nutmeg.

In a large non-stick skillet, melt the butter over medium-high heat. Add the star-shaped pears and sauté for about 30 seconds. Add 2 tablespoons of the brown sugar and cook, agitating the skillet, until the sugar has dissolved (about 30-60 seconds). Remove from heat.

Lightly grease a dark 9- inch round baking pan with butter (or butter flavored non-stick cooking spray). Arrange the star-shaped sautéed pears into the buttered pan. Then, arrange raspberries (about 1 to 1-1/2 cups) in the empty spaces and sprinkle raspberries with a pinch of powdered sugar.

In a large bowl, beat the eggs, then whisk in milk, white sugar, and vanilla. Dip, tossing gently, panettone cubes into the egg-milk-sugar mixture just to moisten. Using a slotted spoon, transfer

half

of the panettone cubes to the pan, arranging into a single layer over the layered fruits until no empty spaces are seen.

In a small bowl, mash with a fork 1 cup of raspberries with 1 tablespoon of powdered sugar. Then, pour and spread this berry mixture over the layered panettone cubes. Using a teaspoon, spoon mascarpone cheese over the mashed raspberries (or place cream cheese cubes over the panettone cubes) .

Next, layer the remaining panettone cubes on top and pour any leftover egg-milk-sugar mixture over the layered panettone cubes, making sure that there is no empty space left. (At this point, the panettone French toast can be covered and refrigerated overnight if desired).

Sprinkle 2 tablespoon of brown sugar on top and bake the panettone French toast, uncovered, for about 35-40 minutes or until the top is golden. Allow to cool for 5 minutes on a rack.

Run a knife around the edges gently. Place a serving tray/plate over the top of the pan, and carefully flip it over to unmold the panettone French toast onto the plate. If desired, sift a bit of powdered sugar on top of the panettone French toast to give a snow effect and garnish with fresh mint leaves. Extra fresh berries can be served on the side. Serve panettone french toast warm for breakfast, or chilled as a dessert (In this last case, drizzle

berry coulis

or

Port wine sauce

on top).
Recipe Notes
Raspberries are cultivated in both Southern and Southeastern Brazil.
DID YOU MAKE THIS RECIPE?
Comment and rate the recipe. Also follow us on Pinterest at @easyanddelish for more delish recipes.
Panettone French Toast… and panettone French toast…
…Panettone French toast.  Upside-down panettone French toast! Festive panettone French toast 
my panettone French toast. A delightful panettone French toast served for breakfast…