A quick and easy Salsa Verde Chicken with Vegetables to dazzle all the senses for your next weeknight meal!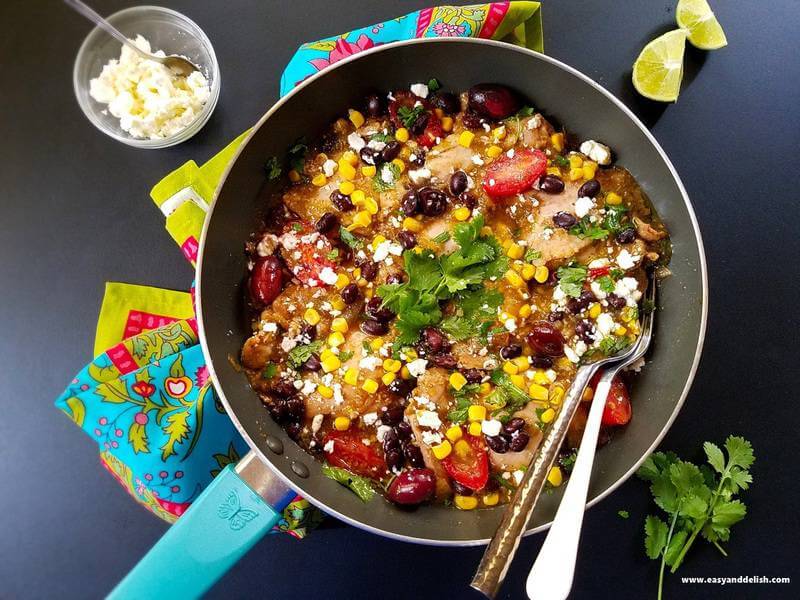 It's chicken madness!!! America's most popular meat is a real favorite at my household.
This Salsa Verde Chicken with Vegetables, prepared with store-bought Mexican salsa verde (green sauce), is one of many chicken dishes that has become a hit due to its amazing flavor and easy preparation.
A must-make for your next weeknight meal -- and a festive way to celebrate Fiesta in my home city of San Antonio, Texas!
This quick version uses seasoned, whole skinless chicken thighs browned in oil and mixed with a store-bought medium-spicy green sauce made from tomatillos and chili pepper.
The dish is then topped with a vegetable salsa (canned corn, black beans, cilantro, black olives, and tomato) to give a colorful, party-time look.
Green sauce or salsa verde is used to prepare traditional Mexican dishes such as enchiladas, tacos, and quesadillas.

It takes less than 30 minutes to prepare our Salsa Verde Chicken, which can be served with tortillas, or over rice or noodles. Sour cream makes an excellent garnish to top the dish.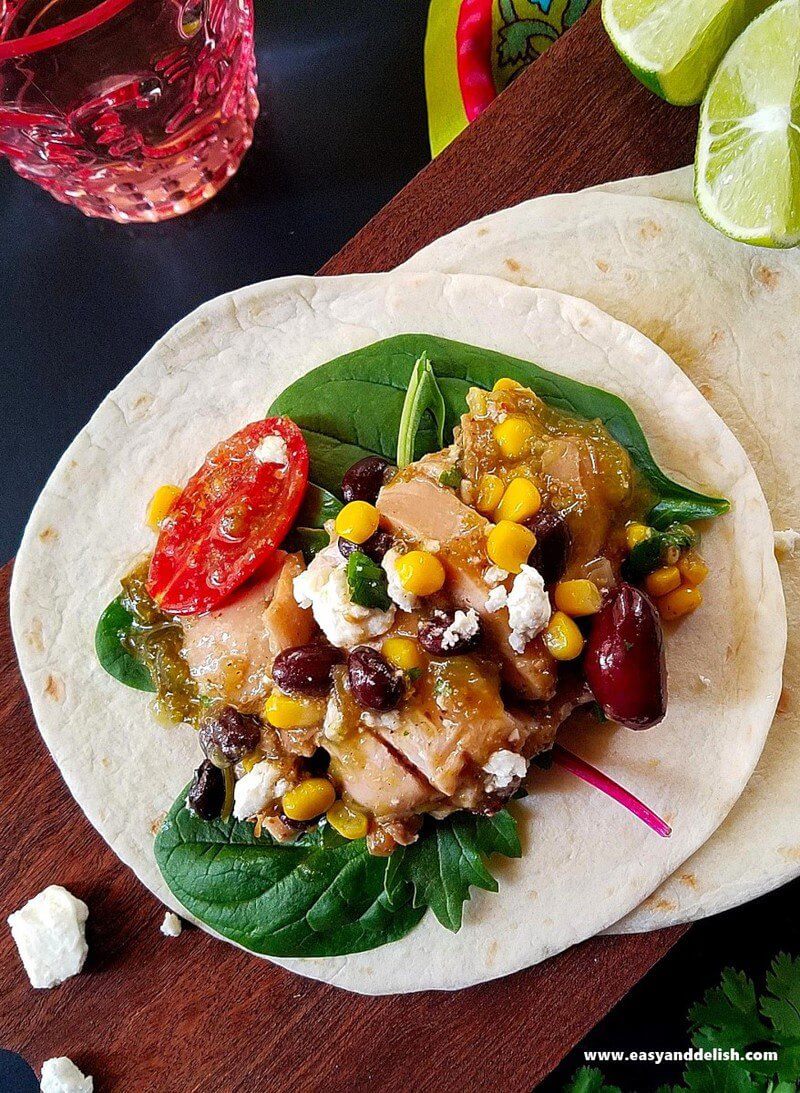 Our Salsa Verde Chicken is one of those dishes that makes both the cook and the diner happy-- the first because of its hassle-free prep, and the second due to its appetizing look and delicious flavor.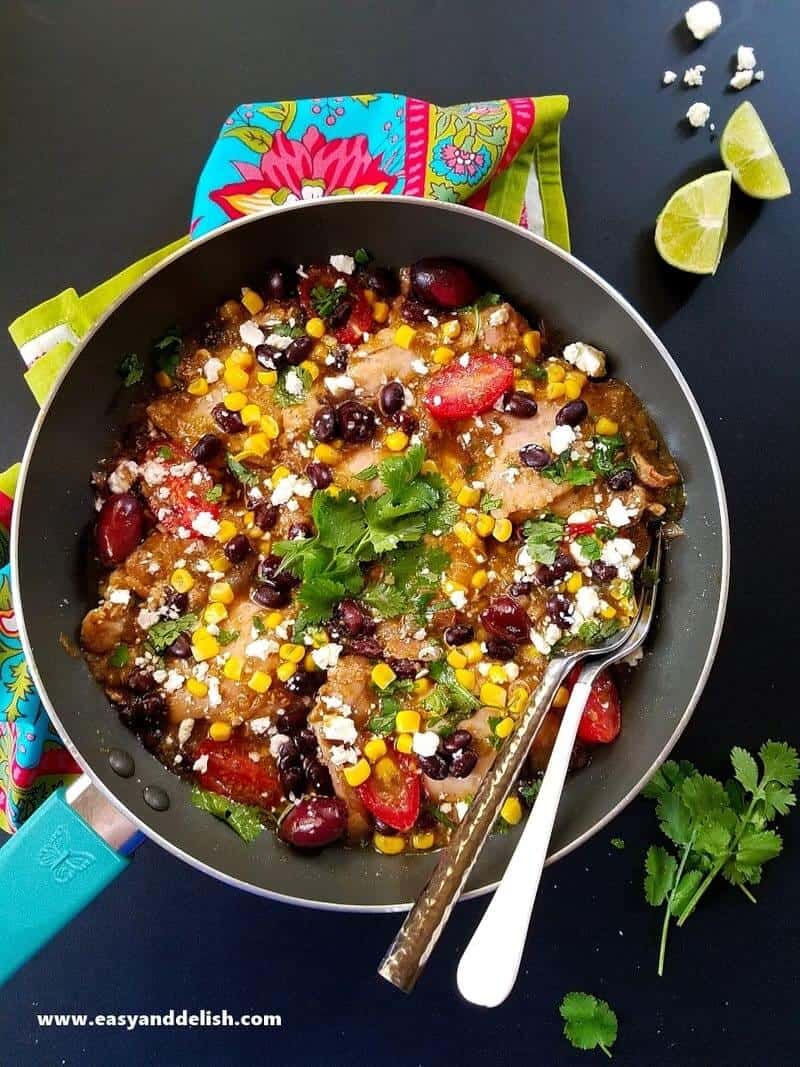 As you may know, I live in San Antonio, Texas. Every April the city holds a very important festival, Fiesta,  which has been celebrated since the late 19th century.
The festival honors the memory of the battles of the Alamo and San Jacinto.
Fiesta is known for its parades with extravagantly decorated floats, music (mariachi, jazz, country among others), amazing street food, marching bands, colorful decorations, and cascarones (colorful eggshells filled with confetti), among other things.
It is a 11-day citywide party to excite the eyes, spirit, and palate!
Whether you can get here to enjoy Fiesta or not, have a taste of it by trying our easy Salsa Verde Chicken. It will evoke the spirit of this traditional cultural event... without making you sweat in the kitchen! 😉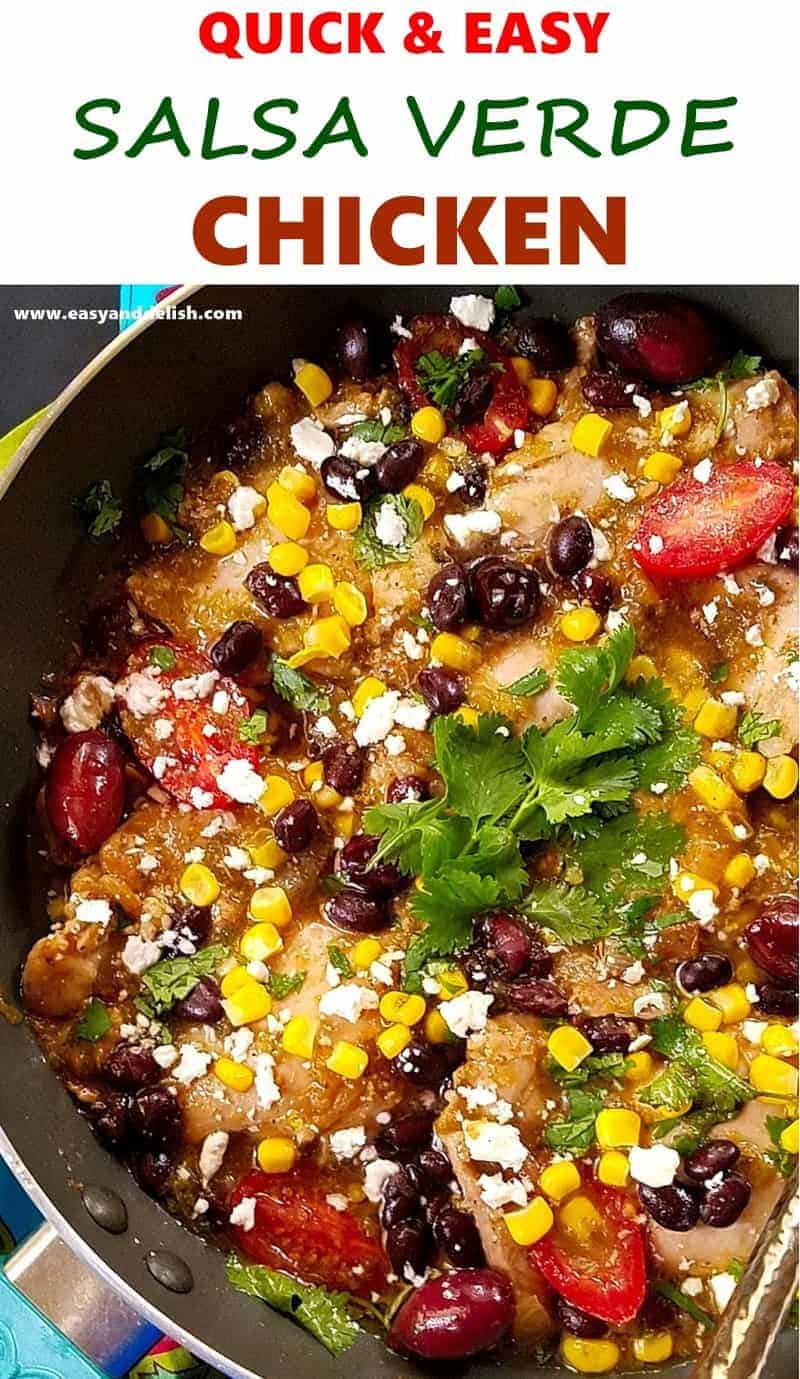 Easy Salsa Verde Chicken with Vegetables
A quick and easy salsa verde chicken with vegetables to dazzle all the senses at your next weeknight meal!
Ingredients
2-3

tablespoons

vegetable oil

2

pounds

skinless boneless chicken thighs

½

tablespoon

salt

½

tablespoon

ground black pepper

½

tablespoon

garlic powder

½

small white onion

small diced

Juice of 1 large lime

1 ½

cups

store-bought medium salsa verde

6

grape tomatoes

halved

6

black olives

¼

cup

canned corn kernels

drained

¼

cup

canned black beans

drained

chopped cilantro

⅓

cup

queso fresco

crumbled
Instructions
In a large no-stick pan or skillet, heat the oil over medium-high heat.

Season the chicken thighs with salt, pepper, and garlic powder.

Add seasoned chicken thighs to the pan and let brown about 5 minutes.

Transfer chicken to a plate. Reduce heat to medium, add onions to the pan and sweat for about 3 minutes, stirring occasionally. Do not let brown!

Return chicken to the pan, add lemon juice and wait about 30 seconds to add the salsa verde to the pan.

Partially cover the pan, and let cook for about 15 minutes.

Remove pan from the heat and add the tomatoes, olives, corn, beans, and cilantro.

Sprinkle on the queso fresco and serve Salsa Verde Chicken with flour tortillas or over white rice. Enjoy!
Recipe Notes
YIELD: 4-6 depending on the amount served.
** Nutrition labels on easyanddelish.com are for educational purposes only. This info is provided as a courtesy and is only an estimate, since the nutrition content of recipes can vary based on ingredient brand or source, portion sizes, recipe changes/variations, and other factors. We suggest making your own calculations using your preferred calculator, based on which ingredients you use, or consulting with a registered dietitian to determine nutritional values more precisely.
Please note that health-focused and diet information provided on easyanddelish.com is for educational purposes and does not constitute medical advice, nor is it intended to diagnose, treat, cure, or prevent disease. Consult with your doctor or other qualified health professional prior to initiating any significant change in your diet or exercise regimen, or for any other issue necessitating medical advice.
DID YOU MAKE THIS RECIPE?
Comment and rate the recipe. Also follow us on Pinterest at @easyanddelish for more delish recipes.