It is Shrimp Mini Pot Pie (Empadinhas de Camarão) Day... Huh?! I mean, I am celebrating my B-day with these small bites instead of birthday cake! 🙂 They are made from a homemade flaky dough (pâte brisée or massa podre) and filled with a tasty, creamy, and chunky shrimp filling... A true party in your mouth... and yet guilt-free!
I just turned 42 recently. Yay!!! Instead of enlarging my hips and making my cheeks chubbier with a sugary cake, I am instead delighting myself with these MINI pot pies. It has been quite a while since I last had the chance to chow down on a plate of these. It is my way to have something super delish without breaking the scale!!!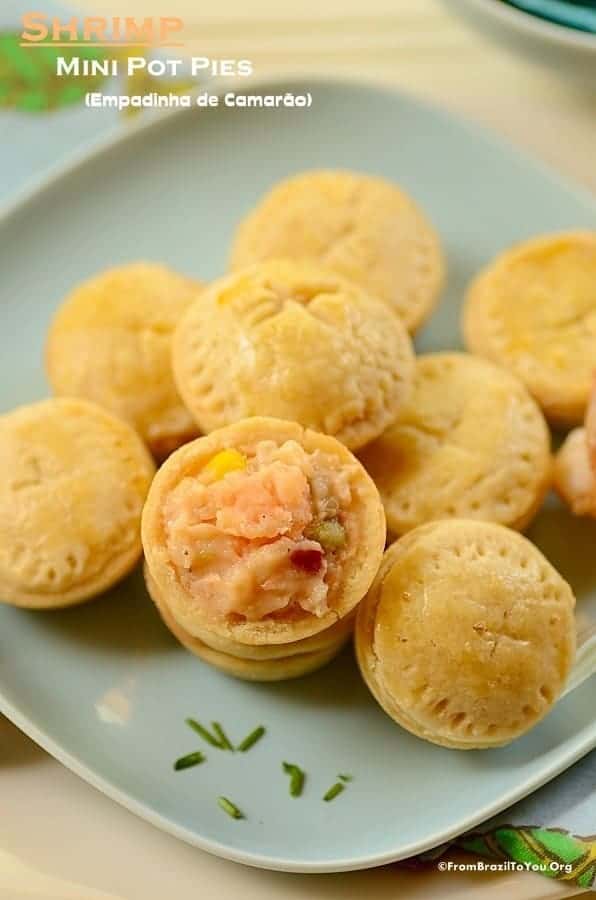 They are a type of salgado (small savory bite) very popular in both Brazil and Portugal. In my home country, pot pies are basically available in 3 sizes: mini (about a size of a mini muffin), small (a bit smaller than a standard-size muffin or cupcake), and large (family-size pot pie). The mini pot pies are served as small bites at birthdays or holiday events, or as hors d'oeuvres at cocktail parties. The small size pot pies are usually available at cafés and bakeries, or from street vendors. The large size pies are served either for lunch or dinner, and are called empadão in Portuguese. A recipe for empadão de frango will be featured soon here.
The filling varies, of course! The most popular filling is chicken -- although shrimp (with or without catupiry cheese), hearts of palm, ground beef, and several others are also available.
Well, if you'll excuse me, I still have a few more to gobble down. 🙂 Enjoy these shrimp mini pot pies and have a happy event!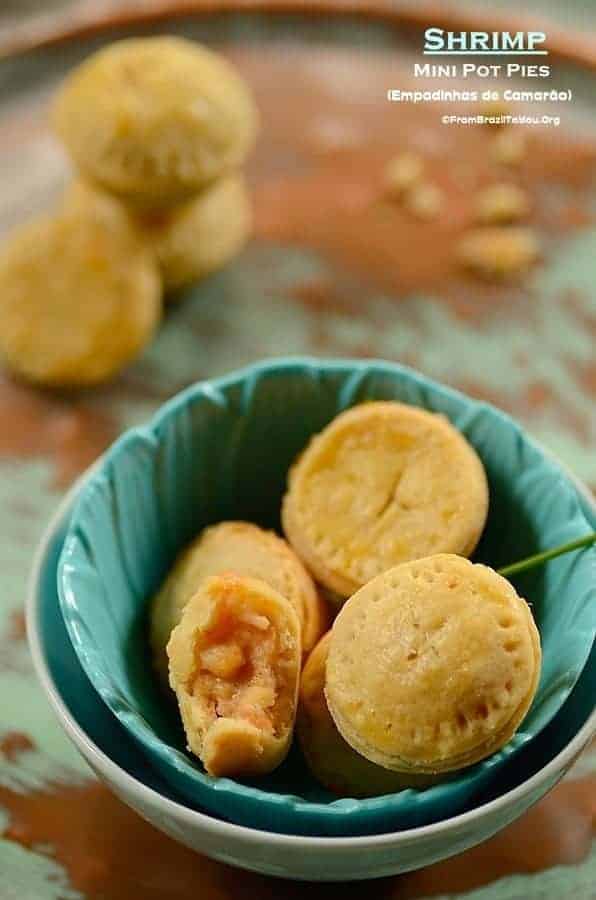 Shrimp Mini Pot Pies (Empadinhas de Camarão)
Shrimp mini pot pies (empadinhas de camarão) are made from a flaky dough, and filled with a creamy and chunky shrimp filling. They can be served as appetizers/small bites at birthday or holiday events, or as hors d'oeuvres at cocktail parties.
Ingredients
For the pot pies dough:

1

cup

and 2 tablespoons all-purpose flour

sifted

1

teaspoon

salt

½

teaspoon

granulated sugar

1

stick

unsalted butter

chilled and cut into small cubes, or 8 tablespoons

1

medium egg

1-½

tablespoons

ice water

or a little more if necessary to help dough form into a ball

For the pot pies filling:

1-½

cups

low-sodium chicken stock or broth

1

teaspoon

tomato paste

4

tablespoons

unsalted butter

or ½ stick

½

cup

all-purpose flour

Salt and freshly ground black pepper to taste

2

tablespoons

olive oil

¼

large yellow onion

small diced

2

garlic cloves

minced

2

tablespoons

canned crushed tomatoes

12

oz

cooked shrimp

(tail-off, peeled,and deveined), 340 g

½

cup

chopped hearts of palm

optional

¼

cup

canned corn kernels

Add ½ cup more if not using hearts of palm

3

tablespoons

chopped green olives

2

tablespoons

chopped fresh chives or green onions

1

lightly beaten egg for the egg wash
Instructions
Prepare the pot pies dough: Place the flour, salt, and sugar in a bowl in the bowl of an electric mixer fitted with the paddle attachment. Beat in the butter at low speed until mixture is well combined yet lumpy. Add the egg and beat until just incorporated. Add the iced water and beat until obtaining an homogeneous mixture. You might need to stop the electric mixer a few times to scrape together dough from both bottom and sides of the bowl.

Place the dough onto a floured surface, form a ball, and then press into a flat disk. Wrap in plastic wrap and refrigerate for about 1 hour.

Meanwhile, prepare the pot pies filling. In a medium stainless steel saucepan, bring the chicken stock or broth to a boil over high heat. Reduce the heat to low and stir in tomato paste, whisking to dissolve.

In a different saucepan, melt the butter over low heat, add the flour, and stir well to make a roux. Add a little bit of the warm stock, whisking well until combined. Add the remaining stock and continue to whisk well constantly, over medium heat, until it thickens. Season with salt and pepper to taste and set aside.

Heat the olive oil in a medium saucepan over medium heat. Add the onion and cook, stirring occasionally, until soft and translucent. Reduce heat to low, add the garlic, and cook for about 1 minute, stirring occasionally. Add the crushed tomatoes and let cook for about 1 minute. While tomatoes are cooking over low heat, process shrimp in a food processor until obtaining a lumpy mixture (with small pieces, not minced). Add shrimp, hearts of palm (optional), corn, and olives. Stir in and let cook for about 1-2 minutes. Season with salt and pepper. Remove from the heat.

Stir in the shrimp mixture into the creamy chicken stock/broth. Add the chives or green onions, taste, and adjust the seasoning (salt and pepper) if necessary. Let filling cool before using. Meanwhile, remove the dough from the refrigerator for 15-20 minutes before rolling.

On a lightly floured surface (or a surface covered with a plastic sheet), roll the dough (using a floured rolling pin) into a very large circle about 1/16 inch thick (thin dough), working from center to edges. If easier, you can also cut the dough in half and roll into 2 large circles. Using a 6 cm (2-⅓ inch) and a 4-½ cm (1-¾ inch) round cutter, cut about 48-50 discs of the larger size and a matching number of the smaller size. You might need to gather the leftover pieces of dough to obtain the full number of discs. To do this, form all the leftover dough into a ball, roll the dough again into a circle, and cut out additional discs.

Use a metal spatula to help lift the discs, and place the larger discs into the wells of 2 (24-count) mini muffin baking pans, forming a mini cup (about 48-50 discs). Using a ½ tablespoon, scoop filling into each dough cup. Cover each dough cup with the smaller disc, pinching the edges together gently to seal. If desired, use a fork to make a patternaround the edges. Using a paring knife, cut a tiny slit in the center so that steam can escape. Brush top with beaten egg and refrigerate mini pot pies for about 15 minutes.

Preheat the oven to 350 degrees F (about 180 degrees C). Bake mini pot pies for 13 -15 minutes, or until lightly brown.

Place muffin pans on a rack and let cool just enough to handle shrimp mini pot pies. Serve pot pies warm by themselves or accompanied by a rosé sauce.
Recipe Notes
You can make the pot pies dough ahead time and either refrigerate for up to 4 days or freeze for up to 3 months. Let pot pies dough come to almost room temperature before rolling.
The filling can also be prepared one or two days ahead and refrigerated. Assemble and bake shrimp mini pot pies on the day they will be served.
** Nutrition labels on easyanddelish.com are for educational purposes only. This info is provided as a courtesy and is only an estimate, since the nutrition content of recipes can vary based on ingredient brand or source, portion sizes, recipe changes/variations, and other factors. We suggest making your own calculations using your preferred calculator, based on which ingredients you use, or consulting with a registered dietitian to determine nutritional values more precisely.
Please note that health-focused and diet information provided on easyanddelish.com is for educational purposes and does not constitute medical advice, nor is it intended to diagnose, treat, cure, or prevent disease. Consult with your doctor or other qualified health professional prior to initiating any significant change in your diet or exercise regimen, or for any other issue necessitating medical advice.
DID YOU MAKE THIS RECIPE?
Comment and rate the recipe. Also follow us on Pinterest at @easyanddelish for more delish recipes.