Can you believe that summer is almost over?!!! One can't help but notice stores already starting to put out fall decor and accents on their shelves, so I was curious to find out exactly when fall starts officially. Turns out that will start precisely on September 22nd, which means less than one month from now. I got excited because fall is my favorite season. But at the same time, I know that I will miss many summer treats such as our tropical Coconut-Banana Pudding, and the refreshing Chai Vanilla Milkshake, Quinoa Pilaf Salad Cups, and most of all our Frozen S'mores Cups. I am just crazy for S'mores, so I got the idea of making this ridiculously easy, three-ingredient Indoors Skillet S'mores... Just the sound of those words gets me all ecstatic, how about you?!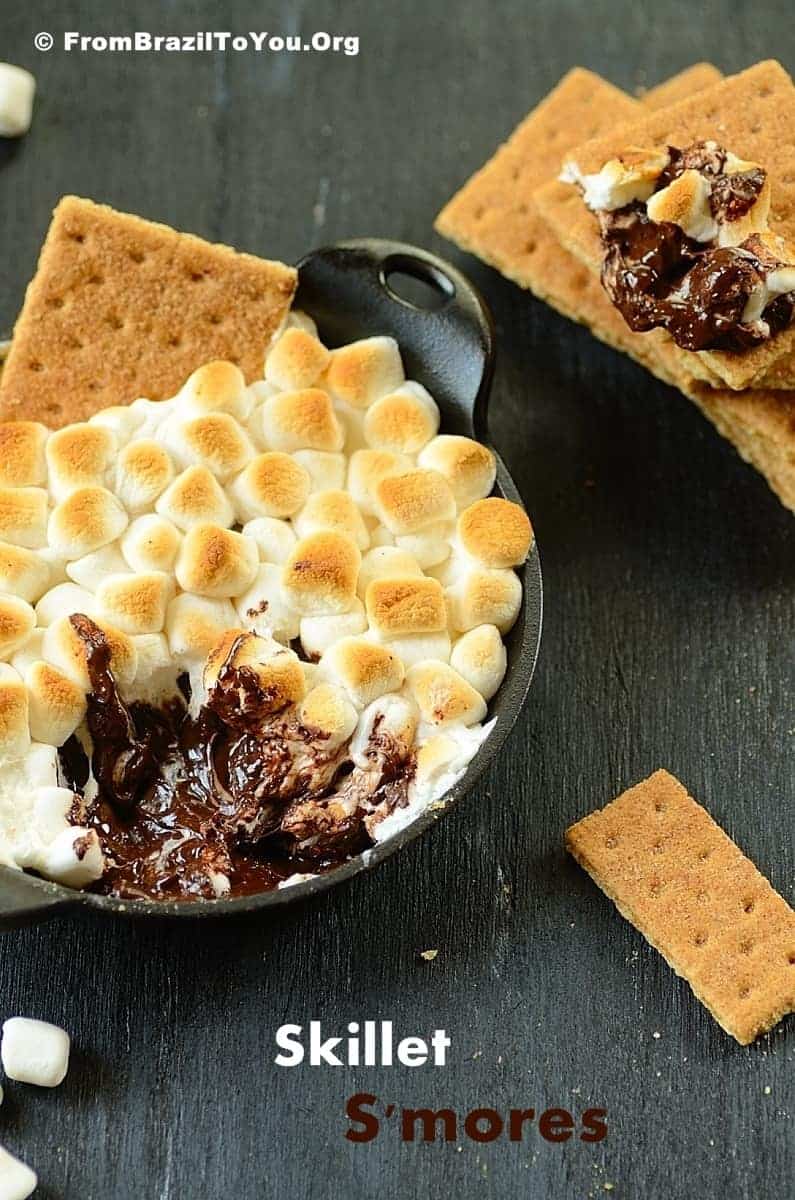 I've always associated S'mores with campfires, and so with summertime... But making this comforting, warm S'mores treat made me realize that it also goes well with both fall and winter, too... Such a versatile, scrumptious treat, don't you think?
Skillet S'mores is the perfect excuse to get friends together at the end of this summer, or just two, cozy under a blanket on a Fall/Winter night, while scooping all the chocolate-marshmallow gooey filling up with a Graham cracker. This Skillet S'mores makes an effortless dessert to celebrate the upcoming Labor's Day... Definitely a day when one doesn't want to work. 🙂
If you'll please excuse me! I am getting super anxious to dive into that scrumptious S'mores skillet... Have a great holiday weekend!
xx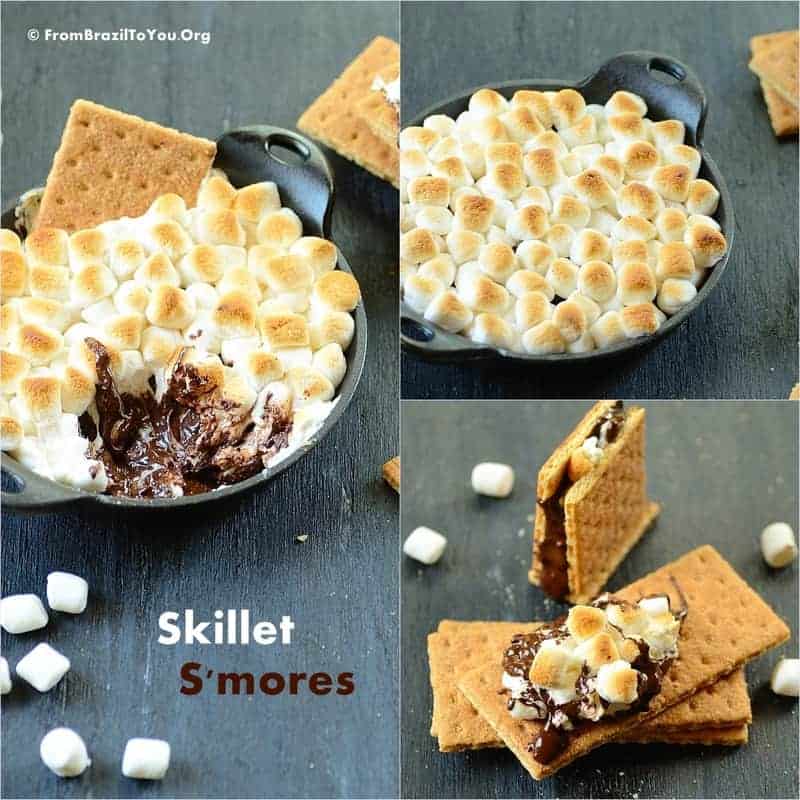 Indoors Skillet S'mores...Scooping Graham crackers in warm scrumptiousness!
Ooey gooey, warm Indoors S'mores to be enjoyed all year round!!!
Ingredients
12

(1-ouce) squares of semisweet or dark baking chocolate

chopped (I used semisweet)

4

cups

of miniature marshmallows

Graham crackers to scoop the S'mores filling with
Instructions
Preheat oven to 450º F (232º C).

In a 10-inch cast iron skillet, add the chocolate (semisweet or dark according to your preference) in an even layer. Sprinkle marshmallows on top of the chopped chocolate.

Bake until marshmallows are browned and chocolate is melted, about 4-5 minutes, as follows: The first 2-3 minutes, loosely cover skillet with a sheet of aluminum foil (tented so that it will not stick to the marshmallows)... Then, remove aluminum foil for the last 2 minutes so that marshmallows can brown. Let stand for approximately 4 minutes before serving with the crackers on the side. Enjoy! If you are serving this Skillet S'mores for one to a couple of people, you can decrease the ingredient amounts by half like I did, and use a smaller skillet.
Recipe Notes
Recipe adapted from Taste of the South Magazine -- Sept./Oct. 2013 edition.
** Nutrition labels on easyanddelish.com are for educational purposes only. This info is provided as a courtesy and is only an estimate, since the nutrition content of recipes can vary based on ingredient brand or source, portion sizes, recipe changes/variations, and other factors. We suggest making your own calculations using your preferred calculator, based on which ingredients you use, or consulting with a registered dietitian to determine nutritional values more precisely.
Please note that health-focused and diet information provided on easyanddelish.com is for educational purposes and does not constitute medical advice, nor is it intended to diagnose, treat, cure, or prevent disease. Consult with your doctor or other qualified health professional prior to initiating any significant change in your diet or exercise regimen, or for any other issue necessitating medical advice.
DID YOU MAKE THIS RECIPE?
Comment and rate the recipe. Also follow us on Pinterest at @easyanddelish for more delish recipes.
Bring your favorite chocolate dessert to Roxana's home baking #chocolateparty and win amazing prizes from OXO, Calphalon, Keurig, Imperial Sugar, Honey Ridge Farmsand Land O Lakes® Butter.