An easy, quick, and delicious strawberry-white chocolate flan made with gelatin. It is a no bake treat!
My, my, my...Our recipe for today is none other than the wonderful Strawberry-White Chocolate Flan, a modern Brazilian gluten-free dessert that is elegant, easy and quick to make, yet full of flavor. Our Strawberry-White Chocolate Flan is a dessert that pleases both children and adults.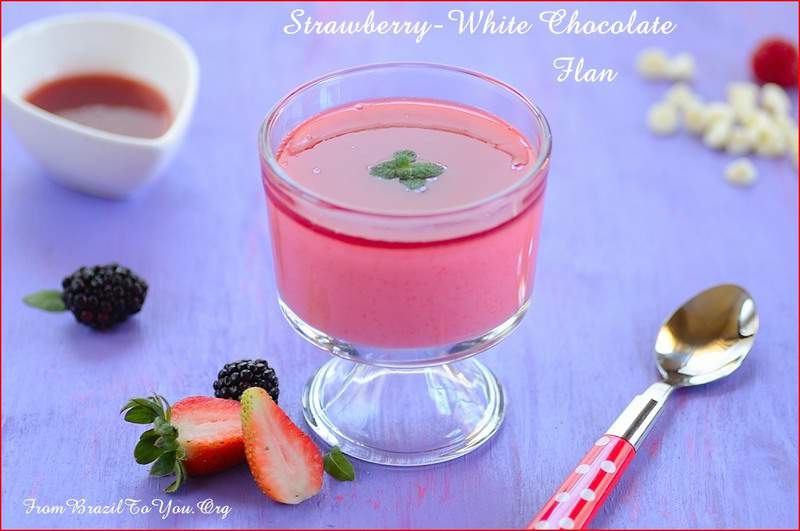 Strawberry is certainly not a native Brazilian fruit, as it was first bred in Brittany, France. Neither is Brazil the world's largest producer of strawberries -- the USA is. Yet it is a fruit that is very well esteemed in Brazil, which produces about 100 thousand tons of this fruit per year (yes, you read that correctly: 100,000 tons) -- with Minas Gerais State being its largest producer. Most of it is consumed domestically within Brazil. Wow! That is a lot of strawberries to eat -- and to cook with... 🙂
Brazilians love all sorts of fruit, and make great use of them in a wide variety of dishes and drinks, as you can see. The exclusive use of tropical fruits in modern Brazilian cuisine is a myth!
Well, let's go to the kitchen and prepare this gorgeous strawberry-white chocolate flan...
xx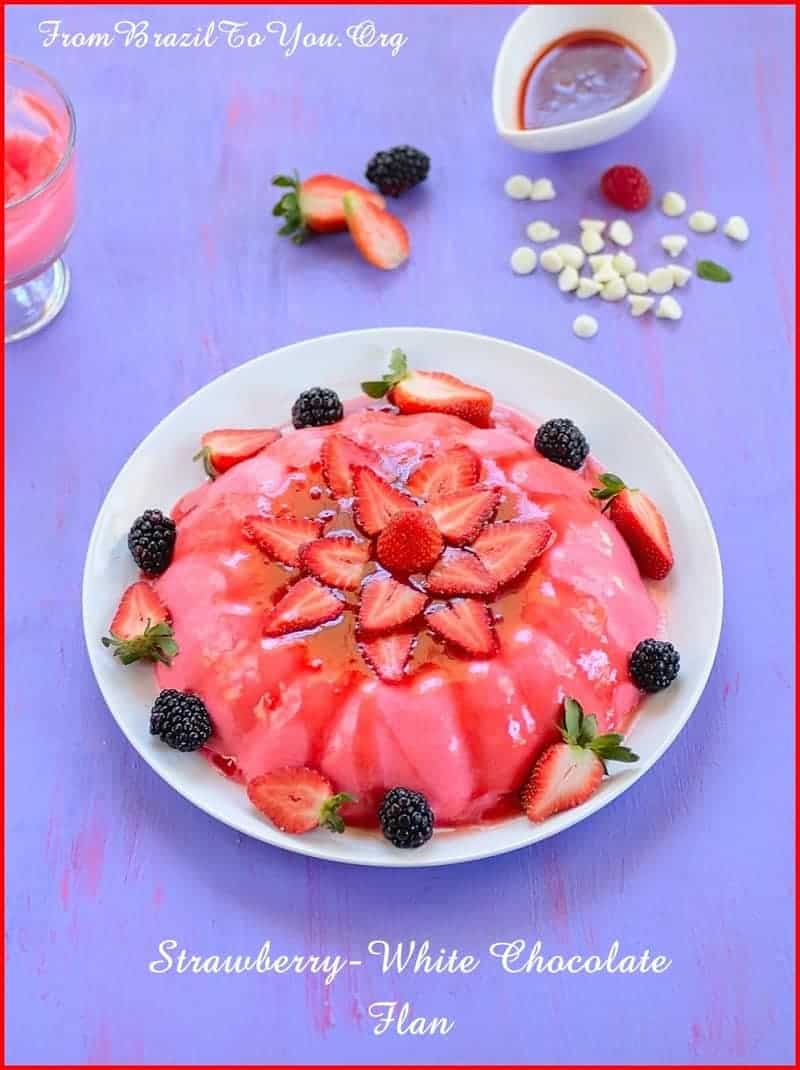 Strawberry-White Chocolate Flan (Flan de Morango e Chocolate Branco)
An easy, quick, and delicious strawberry-white chocolate flan made with gelatin. It is a no bake treat!
Ingredients
For the Flan:

1

box

strawberry flavored gelatin powder

6 oz/170 g

½

cup

hot water

250

g

white chocolate

chopped

1

can

sweetened condensed milk

14oz or 396 g

1-⅓

cup

heavy cream

1

can

milk

use the empty can of condensed milk as a measure

For the Strawberry Sauce:

1

cup

strawberry jam

use a sugar-free one for a less sweet dessert plus 1-2 tablespoons of fresh lemon juice

¼

cup

water

Or berry coulis (top yours with the coulis if you prefer a less sweet, tangy dessert)
Instructions
Blend the gelatin in a blender with the hot water until dissolved. Melt the white chocolate in a double boiler and whisk until smooth. Blend with the dissolved gelatin mixture. Add the condensed milk, cream and milk, and blend again until the mixture is homogeneous.

Pour this mixture into a round baking pan with a hole (9.5 in or 24 cm in diameter) moistened with water, and refrigerate for about 2 hours or until firm enough to be unmolded. Unmold strawberry flan and top with the strawberry sauce (recipe below) and garnish as desired.

To prepare the strawberry sauce: In a small saucepan, over low heat, mix the jam and the water and cook for about 2 minutes. Let cool and pour over the unmolded strawberry flan.

Note: Recipe adapted from the Guia de Receitas Pavês e Pudins, page 58.
** Nutrition labels on easyanddelish.com are for educational purposes only. This info is provided as a courtesy and is only an estimate, since the nutrition content of recipes can vary based on ingredient brand or source, portion sizes, recipe changes/variations, and other factors. We suggest making your own calculations using your preferred calculator, based on which ingredients you use, or consulting with a registered dietitian to determine nutritional values more precisely.
Please note that health-focused and diet information provided on easyanddelish.com is for educational purposes and does not constitute medical advice, nor is it intended to diagnose, treat, cure, or prevent disease. Consult with your doctor or other qualified health professional prior to initiating any significant change in your diet or exercise regimen, or for any other issue necessitating medical advice.
DID YOU MAKE THIS RECIPE?
Comment and rate the recipe. Also follow us on Pinterest at @easyanddelish for more delish recipes.