What we are up to today is an out-of-the-ordinary breakfast… something to make you jump out of bed and head straight to the kitchen. We are talking about COOKIES. Yes, cookies for breakfast — or did you think they were only for snacking?  These No Bake Pumpkin Spice Latte Breakfast Cookies are moist and fudgy… an indulgence although healthy — and they make a fantastic welcome for autumn  😉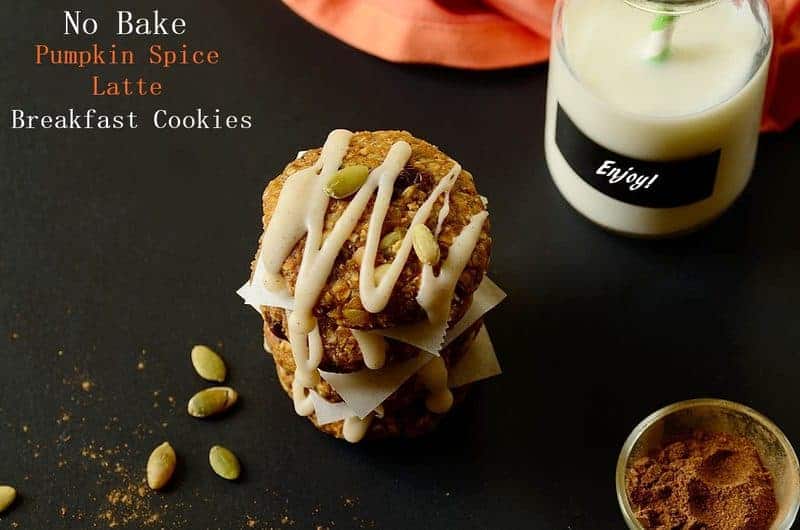 They are full of lots of good stuff: fiber, protein, monounsaturated fats, and can be sugar-free. They are basically made from canned pumpkin, oats, pumpkin spice, instant coffee, milk, raisins, sugar-free syrup or honey, pepitas, chia seeds, and peanut butter.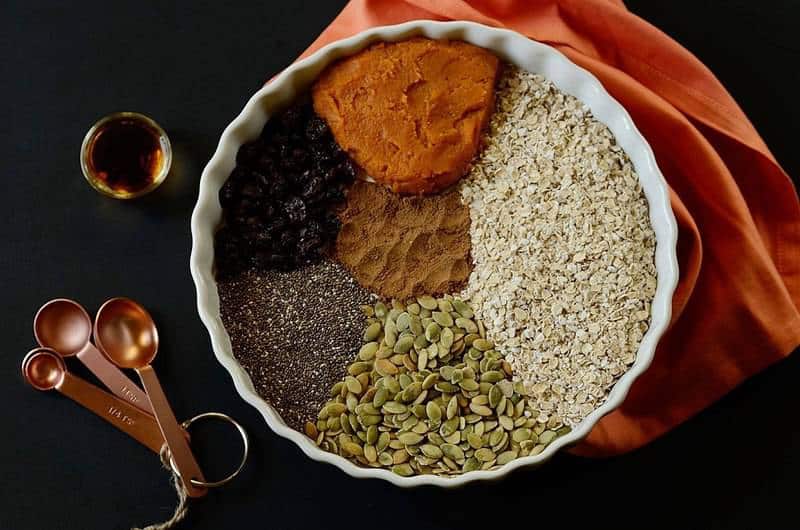 They are egg-free and can be gluten-free if you use GF oats as well as dairy-free if milk without lactose is used. Another advantage is that they require NO BAKING! All that is needed is to mix all the ingredients together, shape into cookies, and refrigerate on a large baking sheet for about 20-30 minutes. If desired, you can also drizzle on a bit of melted white chocolate chips mixed with a dash of pumpkin spice. Yumm!!!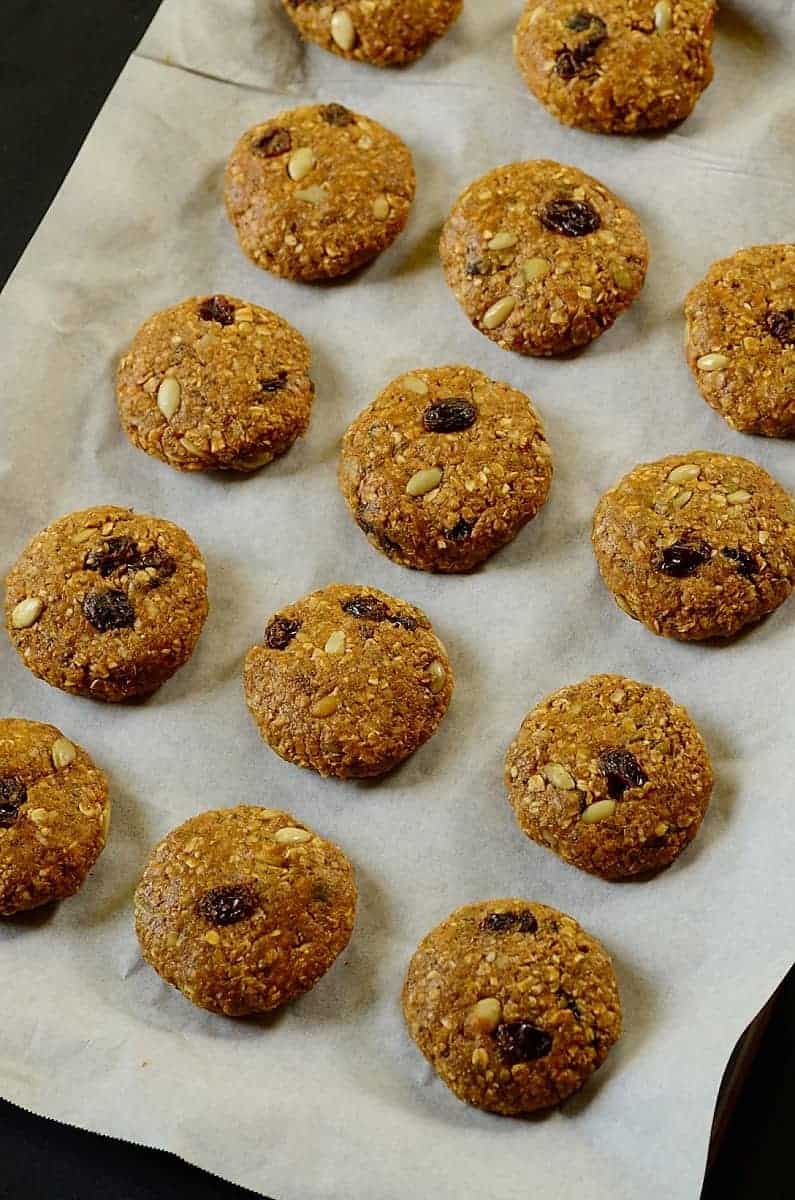 Our pumpkin spice latte breakfast cookies can be transported anywhere. So if you are in a rush, take them with you and happily devour them while sitting in traffic on the way to work or school. You can accompany them with milk, tea, or coffee. 😉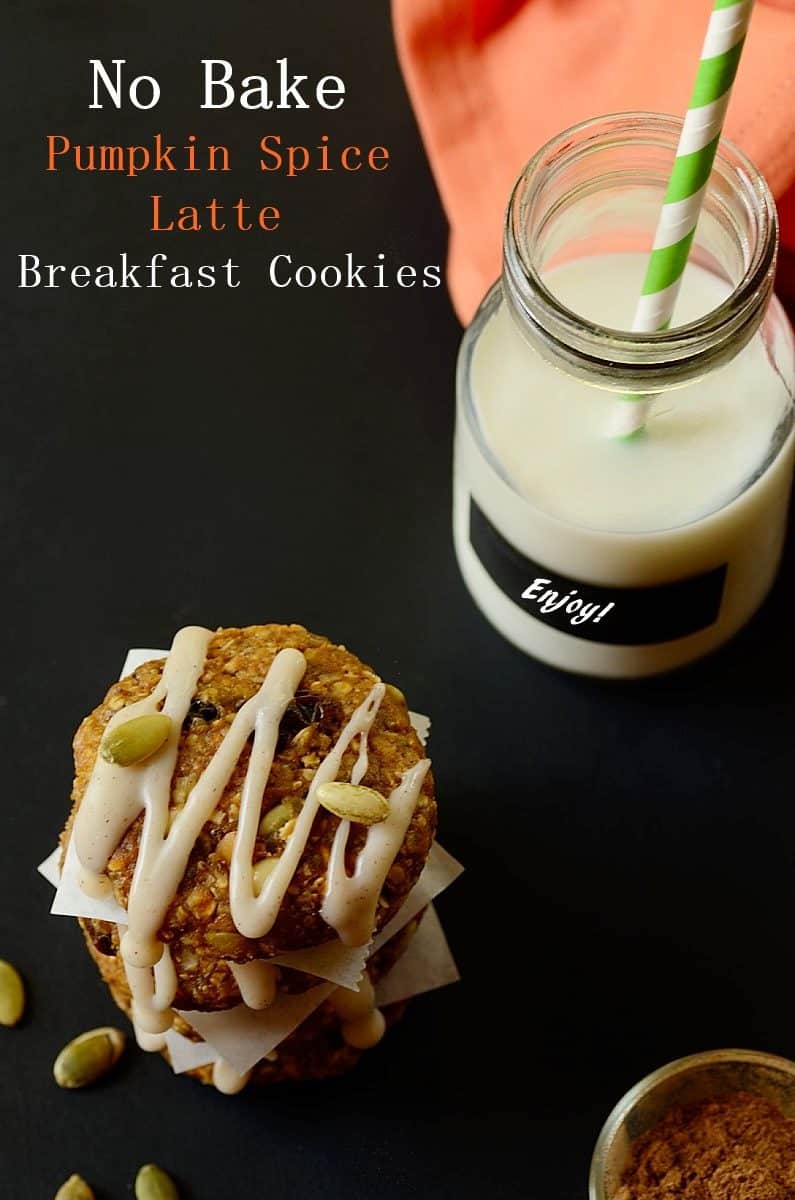 They will fill you up, giving you the energy to start your day right… all while putting a smile on your face! They sure did that for me! 😉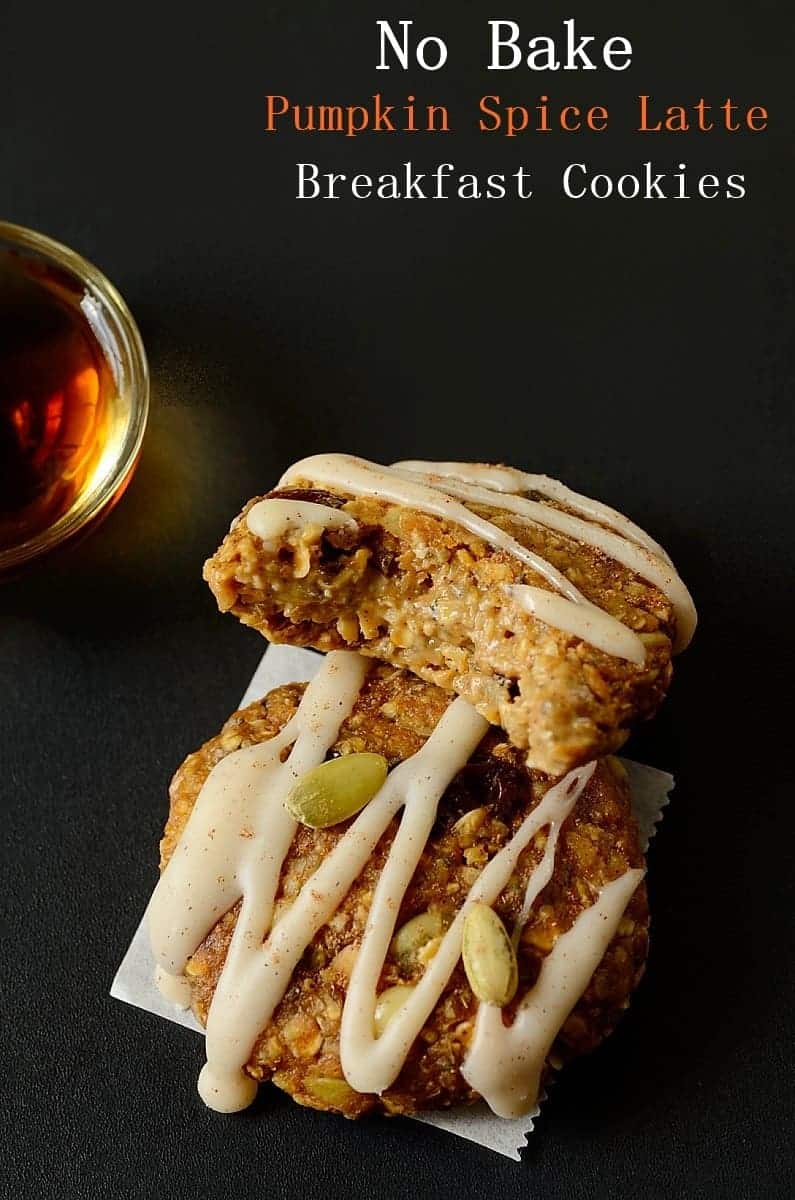 Let's keep ourselves healthy and satisfied the whole fall long!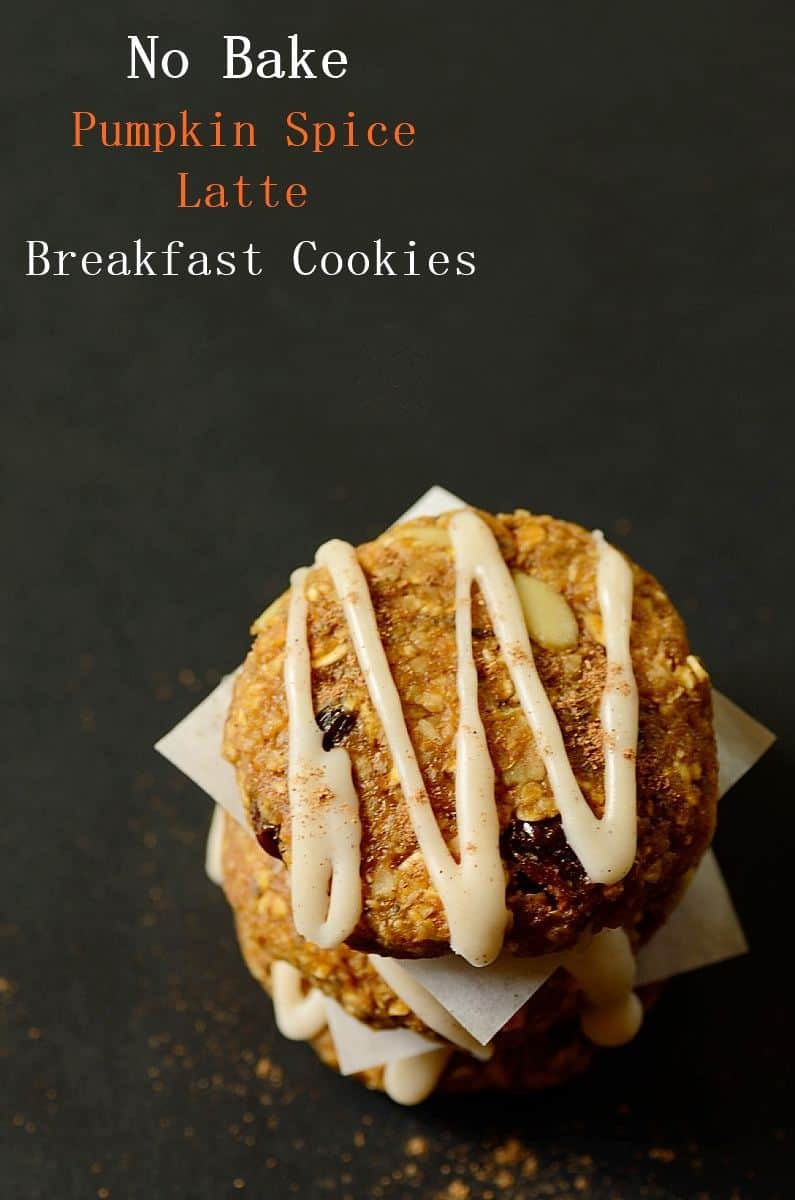 Enjoy!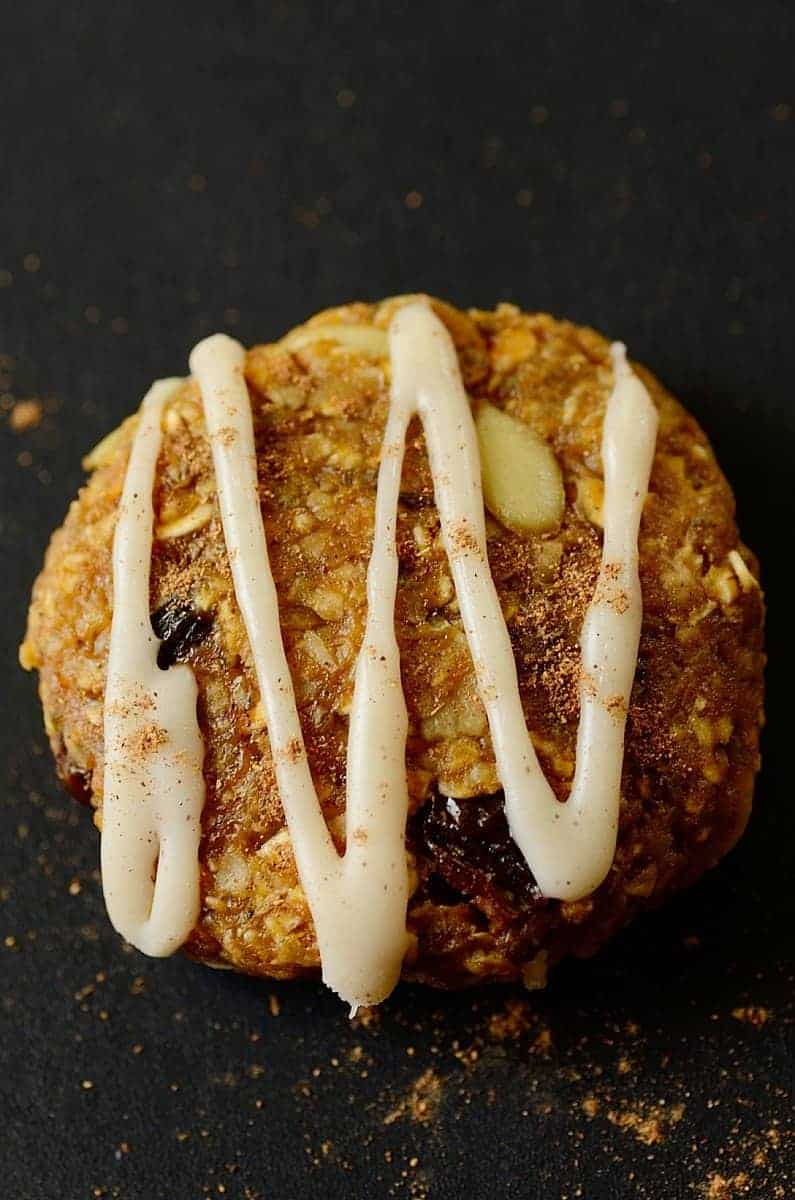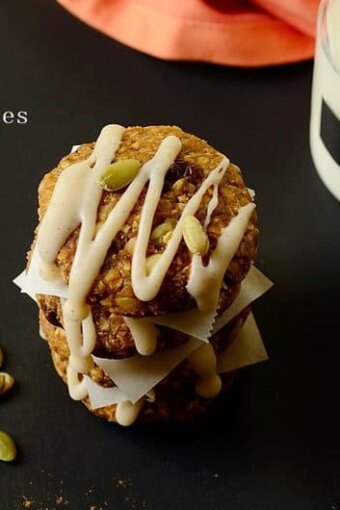 No Bake Pumpkin Spice Latte Breakfast Cookies
These no bake pumpkin spice latte breakfast cookies are healthy and require no baking! They are quick, easy, and delicious, taking less than 15 minutes to whip up.
Ingredients
3/4

cup

canned 100% pure pumpkin

4

cups

quick oats

1

pinch

salt

1/2

cup

dry roasted pepitas

pumpkin seeds

1/2

cup

raisins

2

tablespoons

chia seeds

1

cup

creamy peanut butter

reduced fat, or other nut butter of your choice

1

cup

sugar-free syrup

(or use honey, agave or maple syrup)

1

tablespoon

pumpkin spice

1

tablespoon

fat-free milk

1

teaspoon

espresso or instant coffee
Instructions
Line a large baking sheet with parchment paper and set aside.

In a large mixing bowl, combine the canned pumpkin, oats, salt, pepitas, raisins, and chia seeds. Set mixture aside.

In a microwave safe bowl, combine the peanut butter, syrup, pumpkin spice, milk, and coffee together; then heat mixture in the microwave for about 90 seconds or until peanut has melted. Stir well until obtaining a homogeneous mixture. Pour into the pumpkin-oat mixture and mix until fully combined.

Scoop about 2 Tablespoons of the cookie mixture, form into a golf sized ball, and place on lined baking sheet. Press firmly into a cookie shape. Repeat process to form other cookies. Refrigerate for 20-30 minutes or until firm. If desired, drizzle cookies with a mixture of melted white chocolate chips and a dash of pumpkin spice.
Recipe Notes
Cookies can be frozen -- as well kept at room temperature in airtight container or Ziploc bag.