I think I have told you that I caught a terrible cold… Unfortunately I've been quite sick for almost 2 weeks so far.  When I don't feel well, the only thing that I want to have is something light and nutritious– for example, a piping hot bowl of my Grandma's Chicken Soup and warm beverages.  That is why today I am making this comforting Quick Salted Caramel Apple Cider.  As always, I want to share my Salted Caramel Apple Cider with you.
Our Quick Salted Caramel Apple Cider has warm spice and apple notes combined with the creaminess of the whipped cream, as well as the contrasting flavors of rich sweet caramel and sea salt.  It is a drink to please any palate, while at the same time warming up the body, wouldn't you agree?
Even if you are not a fan of combining salty and sweet profile flavors together, you can still enjoy this drink — just skip the sea salt.  Yes, it's as easy as that!  🙂
Try it and you'll get hooked on this fantastic salted caramel apple cider.  Enjoy, and stay warm!
xx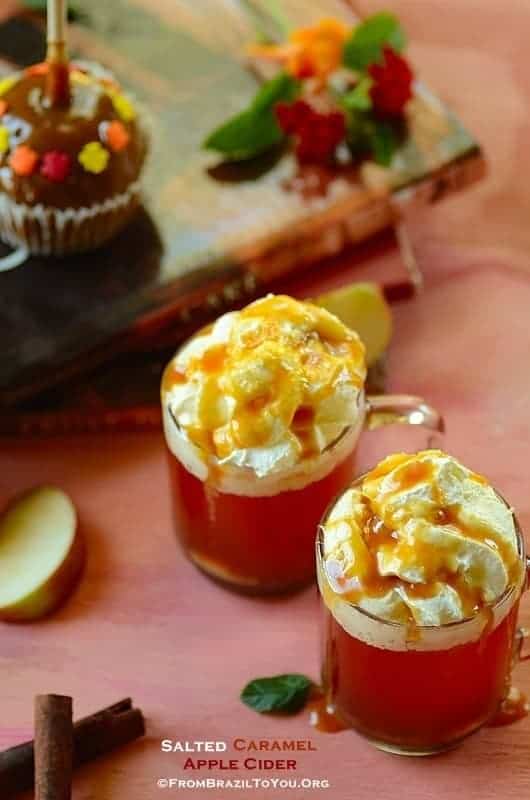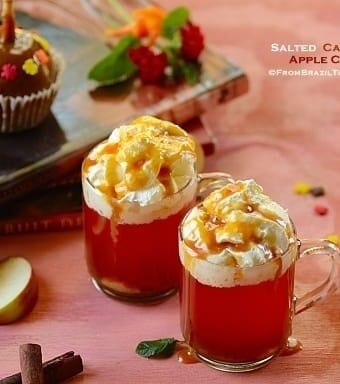 Quick Salted Caramel Apple Cider -- The Ultimate Fall Drink!
A quick, warm drink ideal for cold days...
Ingredients
3

cups

bottled apple juice

1

teaspoon

apple pie spice**

2

cinnamon sticks

2-4

tablespoons

sugar or sugar substitute

Whipped cream

2

tablespoons

jarred caramel sauce for drizzling

Sea salt to sprinkle on top
Instructions
In a medium saucepan, combine apple juice, apple pie spice, and cinnamon sticks together and let cook over medium heat for about 20 minutes. Remove cinnamon stick and stir in sugar. Pour apple cider in 2 cups, top with whipped cream, drizzle with 1 tablespoon caramel sauce per cup, and sprinkle sea salt on top. Serve salted caramel apple cider immediately and enjoy!