Hello, everyone!  I am so happy to be sharing with you today this Chicken Stew in a Pumpkin Shell — a dish from my beloved Brazil.  I hope that y'all are doing well, and that you enjoyed our last creation: Pumpkin Pie with Pecan-Chocolate Topping — a treat inspired by my second home, my dear USA.
Both dishes are featured in our Thanksgiving celebration this year.  I hope that they will become a part of your table as well. If you would like to make your chicken stew in a pumpkin shell using turkey, you certainly can. It is also a great way to get rid of Thanksgiving leftovers too.
In Brazil, shrimp stew in a pumpkin shell (camarão na moranga) or jerked beef in a pumpkin shell (carne seca na moranga) are the most popular.  But as you see, using other meats such as poultry or fish is not unusual.  They are typical dishes from my region, Northeast Brazil, although they are often enjoyed in other regions as well.
Our chicken stew in a pumpkin shell or frango na moranga is naturally gluten-free, as are many dishes from Northeast Brazil, and perfect for a Thanksgiving celebration or the Fall season.  In Brazil we do not have a national Thanksgiving holiday set aside, although we are thankful for all that we have on an everyday basis. However, several Brazilian dishes would be lovely to serve during Thanksgiving Day celebrations here because of ingredients shared in common, such as pumpkin.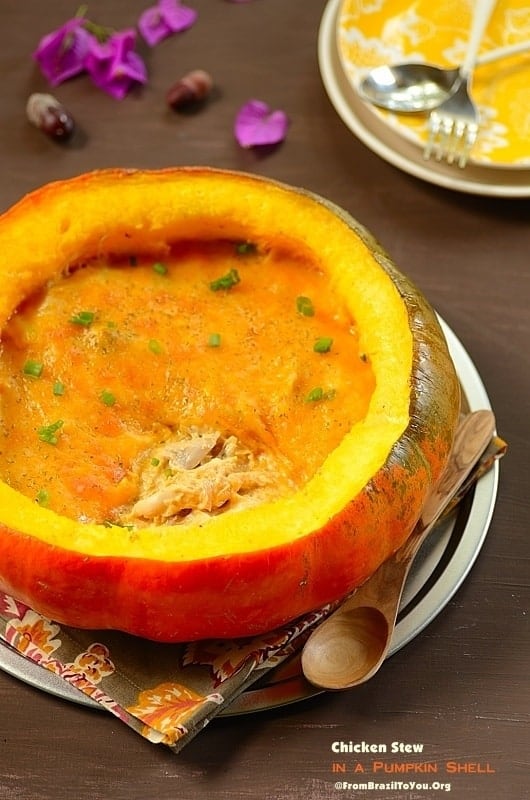 Now, I do have to say in my home country the pumpkin shell is usually prepared by boiling.  However, as a chef I prefer to roast the pumpkin shell instead, in order to preserve both its flavor and texture.  If you don't have access to requeijão (Brazilian cream cheese spread), no worries!!!!  You can use American cream cheese like I did.
Brazilians usually make this chicken stew in a medium to large pumpkin shell (family-size) which is later ladled out and served on individual plates.   However, you can easily use small pumpkins for making this chicken stew in a pumpkin shell, and then present them as servings for each individual. Can you picture everyone seated at the table, each enjoying their own stew in a pumpkin shell?  How cool would that be!  That would be a marvelous idea for entertaining.
Well,  whether served as a family-sized or as an individual dish, our chicken stew in a pumpkin shell is easy to make, creamy, and delicious.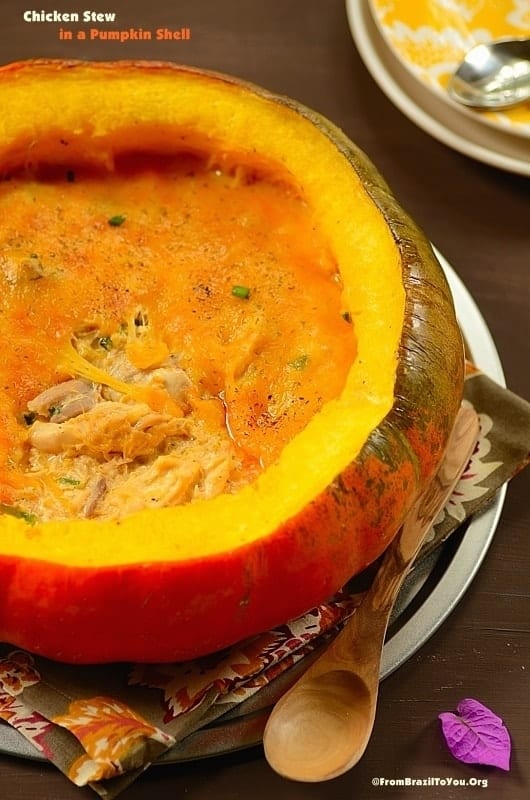 Now which way will you prefer to serve it???
xx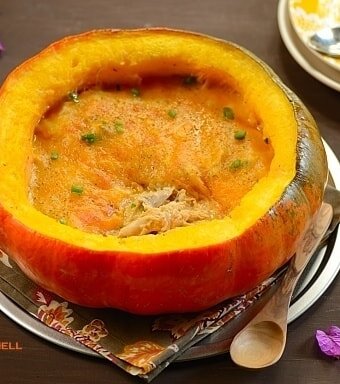 Chicken Stew in a Pumpkin Shell (Frango na Moranga)
A hearty and creamy chicken stew served in a pumpkin shell to brighten your Fall or Thanksgiving table. You can substitute turkey instead of chicken.
Cook Time
1
hour
20
minutes
Total Time
1
hour
40
minutes
Ingredients
For the Pumpkin:

1

medium pumpkin

1

tablespoon

salt

1

pinch

ground black pepper

2

tablespoons

unsalted butter

melted

For the Chicken Stew:

2

tablespoons

vegetable oil

1

medium yellow or white onion

small diced

2

cloves

garlic

minced

1-1/2

pounds

roasted chicken

skinned and shredded, 700 g

1/2

cup

dry white wine

2

teaspoons

tomato paste

1

cup

chicken stock

Salt and pepper to taste

3/4

cup

pumpkin puree scooped out from the roasted pumpkin lid

1

cup

coconut milk

4

oz

cream cheese

softened, about 1/2 cup

2

tablespoons

chopped parsley or cilantro

1-2

cups

shredded cheese for the topping

Mozzarella or other semi-soft of your choice. I used Fiesta Blend in mine
Instructions
For the pumpkin:

Preheat oven to 375 degrees F (191 degrees C). Line 2 baking sheets with parchment paper and set aside.

Trace a guide line around the top of the pumpkin using a pumpkin carving tool or a paring knife. Then, following your guide line, use a sharp knife to cut off the top or lid.

Scoop out all the seeds from both the pumpkin and the lid.

Season the inside of both the pumpkin shell and the lid with salt and pepper, and brush the rim of the pumpkin shell and the inner part of the lid with melted butter. Use the remaining melted butter to drizzle the inside of the pumpkin shell. Place the pumpkin shell on one baking sheet, and on the other sheet place the upside-down pumpkin lid. Top each with a sheet of parchment paper.

Bake each individually. First bake the pumpkin shell for about 30 minutes or until it is soft when poked with a knife. Then, bake the pumpkin lid for about 20 minutes. Remove the covering of parchment paper from the top of each, and let cool on a rack. Once warm, scoop out the roasted pumpkin pulp from the lid and, if necessary, from the pumpkin shell-- just enough to obtain 3/4 cup of pulp. Be careful to not slit open the pumpkin shell: you want to preserve the pumpkin shell where the chicken stew will be served. Reserve the pulp.

For the chicken stew:

In a large dutch pan, heat the oil over medium heat and sweat the chopped onion for about 3 minutes, stirring occasionally. Then, add the garlic and cook for about 30 seconds. Increase the heat to medium-high, add the shredded chicken, and sautée for about 2-3 minutes, stirring occasionally. Add the wine and let evaporate. Stir in the tomato paste and then the stock, salt, and pepper. In a blender, blend the reserved roasted pumpkin puree with the coconut milk and add to the chicken stew. Bring to a boil; then decrease the heat to medium-low, cover

partially

, and let simmer for approximately 15 minutes.

Mix the softened cream cheese into the chicken stew and let cook for 2 minutes over medium-low heat. Remove from heat and stir in the chopped parsley or cilantro. Pour chicken stew into the pumpkin shell that has been resting on the baking sheet, and top stew with the shredded cheese. Broil for about 5 minutes or until cheese has melted and begun to brown a bit.

Serve chicken stew with white rice. Enjoy!