I love bread pudding... It's as comforting as a mother's love -- at least for me!!! This Coimbra-style bread pudding is a smooth, flan-like Portuguese version of my Mom's bread pudding.
Since I have already shared her masterpiece with you a few months ago, I decided to make the Portuguese version of her pudding... Now I can also say that bread pudding is as comforting as my Portuguese-descendent grandmother's love as well! 🙂
This Coimbra-style bread pudding differs slightly from my mother's in that it incorporates raisins, port wine, lemon zest, and cinnamon -- and I am serving it with a Port wine sauce instead of a caramel sauce.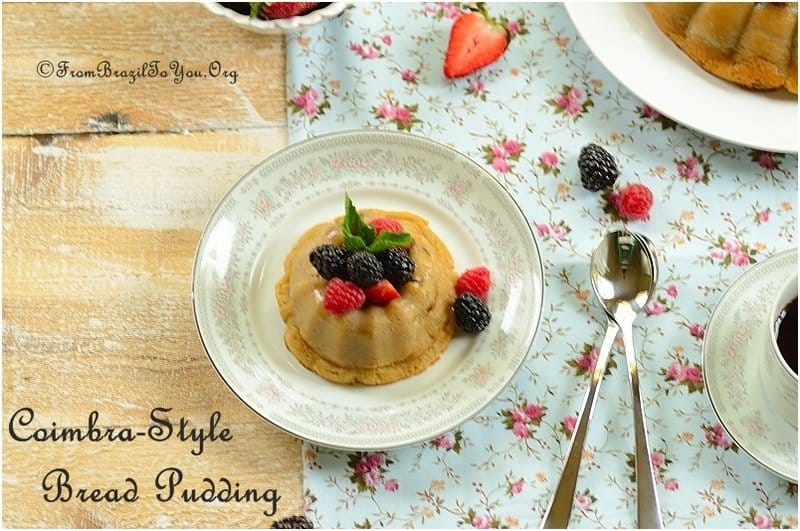 Are you drooling yet? I am!!! 🙂  Moreover, instead of baking in dry heat, this Portuguese version is cooked in a bain-marie. I am telling you, don't miss the opportunity to make either one -- or better yet, both!!
Bread pudding is what I have been craving lately...Why? Well, I don't know if I have already mentioned to you... The pressure is on! My head is spinning, the nights are getting shorter, my to-do list has grown... I feel like a juggler with several different balls in my hands: my upcoming Brazilian cooking class, many things that I want to share with you here on this blog, a possible work-trip to Brazil, my domestic and family duties, a cooking manuscript, etc. I have to accomplish them all... and I will, or I won't be able to forgive myself.
So when I am in this kind of situation, talking with God and also eating certain foods bring me comfort and help me to cope much better with the whole situation. Lately it has been this Coimbra-style bread pudding...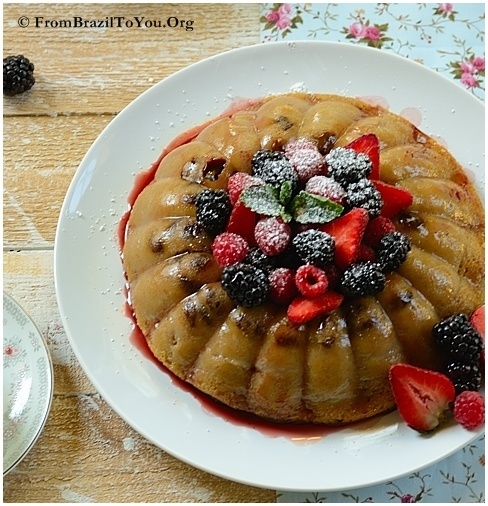 How about yourself? What do you do/eat when you feel that the weight of the world is on your shoulders? If you're looking for something new, grab a ring mold baking pan, collect all the ingredients, and make bread pudding. Mmmm! It will be as comforting and unforgettable as both a mother and a grandmother's love  put together... Trust me!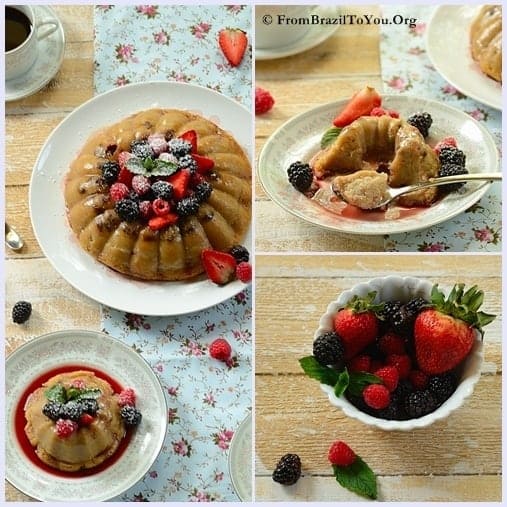 Coimbra-Style Bread Pudding (Pudim de Pão à Moda de Coimbra)
A smooth, flan-like Portuguese bread pudding topped with Port wine sauce. A must have!
Ingredients
For the bread pudding:

9

oz

stale french bread

chopped, or baguette (or 250g)

3

cups

warm milk

for a dairy-free version use either rice or coconut milk

4

large eggs

at room temperature

2

cups

sugar

1

teaspoon

ground cinnamon

1

teaspoon

pure vanilla extract

1

tablespoon

tawny port wine

or any sweet red wine

Zest of 1 lemon

¼

cup

raisins

Unsalted butter or no stick cooking spray to grease the baking pan

Port Sauce

For the Port wine sauce:

1

cup

tawny Port

Juice of ½ lemon

½

cup

sugar

½

tablespoon

water

1

teaspoon

cornstarch
Instructions
Preheat the oven to 350º F (180º C). Grease bottom and sides of the ring mold baking pan.

In a large bowl, soak the stale bread in the warm milk until bread is softened and the milk is almost cool. In a blender, blend the mixture of bread and milk, the eggs, sugar, cinnamon, vanilla, and wine. Then, stir in the lemon zest and raisins.

Pour the blended bread mixture into the pan. Place ring mold pan in a larger, rectangular baking pan, and fill with boiling water to come halfway up the side of the ring mold pan (Bain-Marie). Bake for about 45-55 minutes, or until a toothpick inserted in the pudding comes out clean.

Let pudding cool down on a rack. When it is slightly warm, run a small metallic icing spatula or knife around the edges of the pan to loosen the pudding. Invert onto a serving plate. Cover and refrigerate for at least 4 hours. Serve with the port sauce on top.

To prepare the Port wine sauce: In a heavy small saucepan, stir Port, lemon juice, and sugar over low heat until sugar dissolves. Increase heat to medium-high and boil until mixture is reduced to ½ cup, about 10-15 minutes. Combine water and cornstarch well in a small bowl. Whisk into Port mixture and boil until slightly thickened, stirring constantly for approximately 2 minutes. Let cool and pour over the Coimbra-style bread pudding.
Recipe Notes
This sauce can be made 2 days ahead, and stored covered in the refrigerator. Bring to room temperature before serving.
** Nutrition labels on easyanddelish.com are for educational purposes only. This info is provided as a courtesy and is only an estimate, since the nutrition content of recipes can vary based on ingredient brand or source, portion sizes, recipe changes/variations, and other factors. We suggest making your own calculations using your preferred calculator, based on which ingredients you use, or consulting with a registered dietitian to determine nutritional values more precisely.
Please note that health-focused and diet information provided on easyanddelish.com is for educational purposes and does not constitute medical advice, nor is it intended to diagnose, treat, cure, or prevent disease. Consult with your doctor or other qualified health professional prior to initiating any significant change in your diet or exercise regimen, or for any other issue necessitating medical advice.
DID YOU MAKE THIS RECIPE?
Comment and rate the recipe. Also follow us on Pinterest at @easyanddelish for more delish recipes.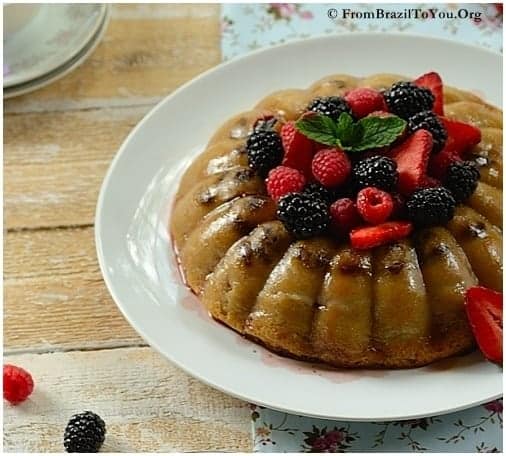 You might also enjoy: