A super creamy rice pudding made with sweetened condensed milk and spices. It is rich and custardy!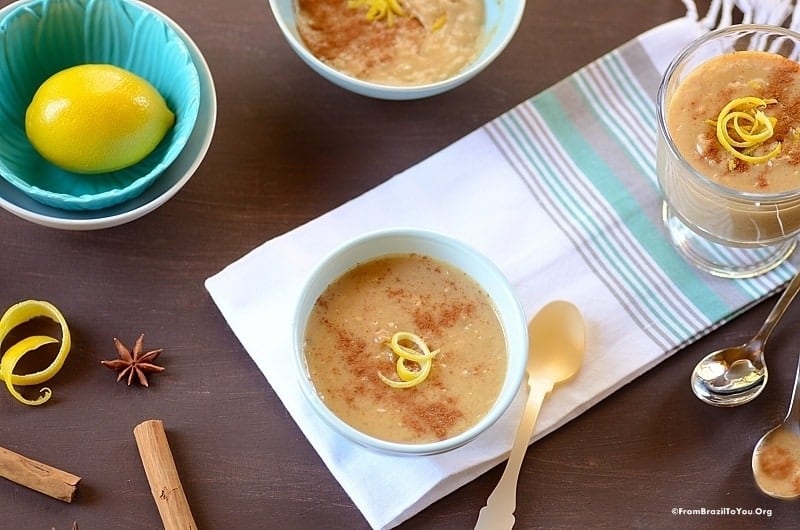 Rice pudding... Priceless memories of a childhood long gone!
I still remember sitting as a child at the table of my favorite Grandma, eating spoonful after spoonful of her simple yet comforting arroz doce... as well as her Grandma's Chicken Soup (canja de galinha).
I always intended to post a recipe for rice pudding here, but it has only been after much hesitation...
I knew that I would have to alter my Grandma's recipe! 🙁
So I kept putting it off-- all the way up until last week, when a regular reader asked me for a rice pudding recipe.
OK, fine, so now I couldn't give myself any more excuses...
My Grandma was one of the best cooks that I have ever known, yet she had no formal culinary education -- she cooked from the heart...
She learned by practicing and using what her Portuguese ancestors passed on to her.
Her arroz doce (rice pudding) basically consisted of long-grain rice (a staple in Brazil, but not the best type for making the dessert both thick and creamy), whole milk, a small amount of sugar, and cinnamon. I
It was mildly sweet and a bit creamy. She served it often for dinner -- a true treat for a child!
Well, as I grew up and pursued a culinary education, my Grandma's rice pudding was one of the first recipes that I had to modify... reluctantly.
If you read this blog often, you know that I don't hesitate for one second to modify others' recipes.
But this was not just any recipe, it was the recipe of my favorite Grandma, Vovó Socorro!
Here is the dilemma... My head said to make the changes to the recipe that I knew were needed as a trained chef...
But my feelings said that fiddling with her family recipe would break my heart into a zillion pieces.
But her voice echoed in my ears: "I raised you to be better than I.
I taught you not to fear surpassing my deeds... Whatever you do in life, put all that you are into it, and shine.
That's how I know that I have done my job well."
In addition, "your happiness is my happiness... Your victory is my victory."
This is what I always tell my children... My Grandma, my Mom, and I all share the same philosophy. The dilemma was over.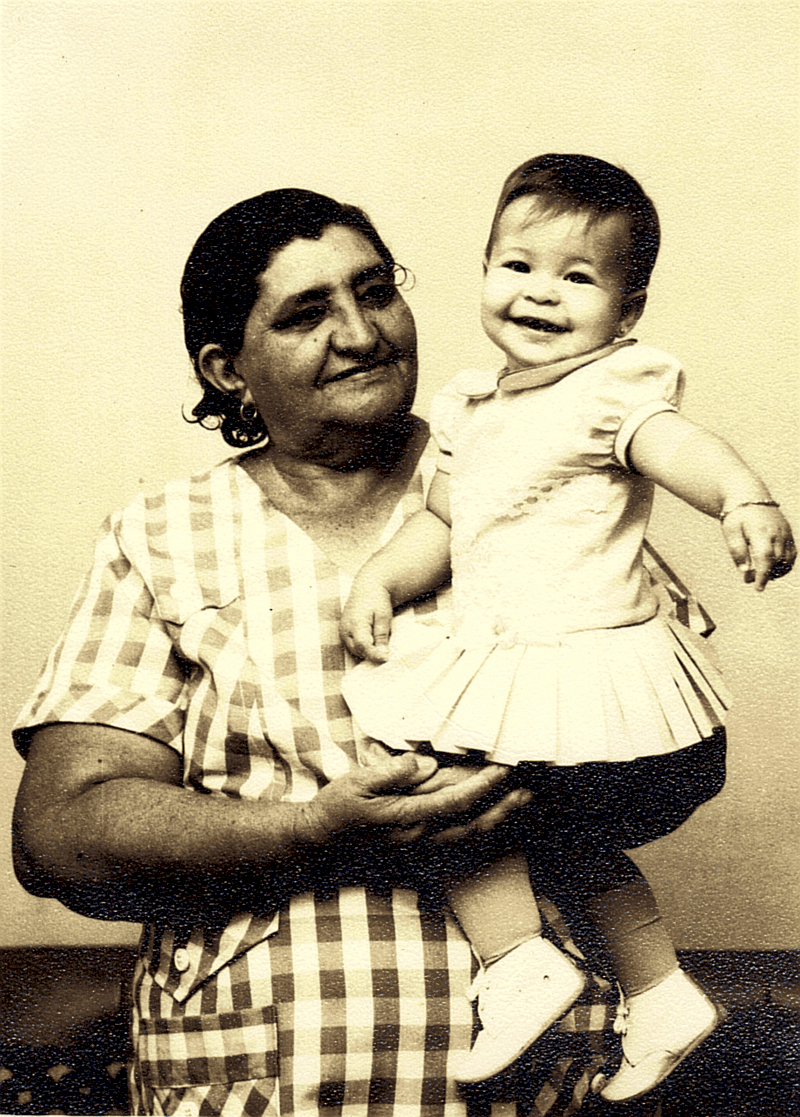 See the problem with my Grandma's rice pudding recipe was not the flavor but the texture.
It made sense for it to be only mildly sweet (almost bland) since it was served for dinner, rather than as a dessert like mine.
But for a SUPER CREAMY spiced rice pudding with condensed milk, we would need to make the changes below.
INGREDIENTS FOR A CREAMY AND CUSTARDY RICE PUDDING
1. Medium-grain rice (it contains just the right amount of starch to make the pudding thick, creamy, and tender during the cooking process, yet without breaking apart).
The problem with long-grain rice is that the rice is less starchy, resulting in a pudding that is less creamy.
Short-grain rices (e.g. Arborio and Asian) also present a problem...
... they are starchier than medium-grain rice, making a sticky pudding, as well as maintaining too firm a bite for a smooth, tender result.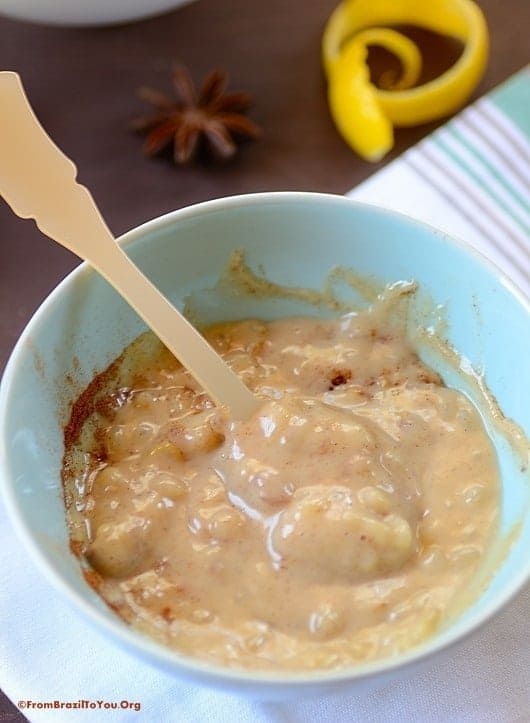 2. Whole milk, plus coconut milk and condensed milk.
Although only whole milk is necessary, I do prefer mine with both coconut and condensed milks, which enrich the rice pudding with subtle notes that contrast with those of the spices.
Coconut milk is an ingredient present in many savory and sweet dishes from my Northeastern region of Brazil, while condensed milk is a staple in Brazilian desserts, serving both as a sweetener and creamer.
Heavy cream should be avoided for this recipe because it reduces and thickens before the rice cooks through.
3. Sugar (serves as a sweetener along with condensed milk). We are making a dessert!
4. Flavorings (spices such as cinnamon and nutmeg, plus vanilla and lemon zest for zing, and to balance sweetness)
5. Egg yolks (although not essential, they enrich the color while adding both custardy flavor and texture to the rice pudding)
6. Salt (to bring out all the flavors)
As you can see, I switched the type of rice, added new flavors, salt, and more sugar, as well as altered the cooking process of my Grandma's rice pudding (ours does not precook the rice)...
... consequently improving texture.
Knowing her, I am sure that she would not hesitate for a moment to sit down at the table with me and devour this Super Creamy Spiced Rice Pudding with condensed milk.
And as I would look upon her face for approval, I know that this would be given as a big smile of contentment... her job was done!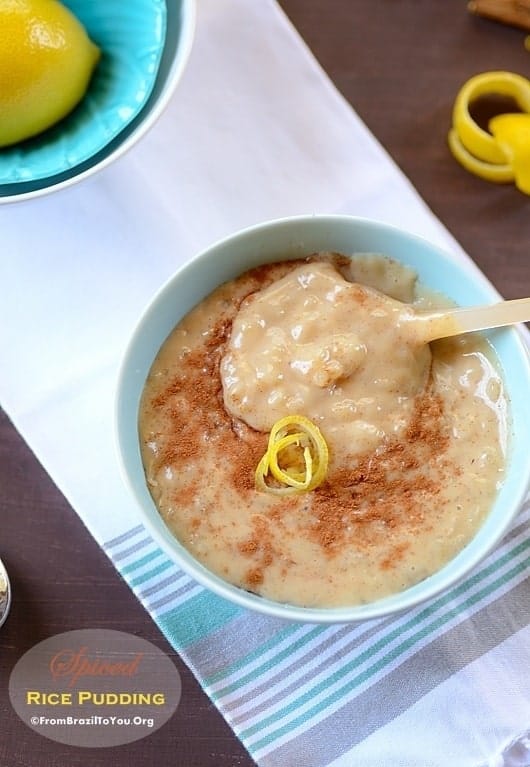 I thank her for her unconditional love, generosity, and all the priceless memories that she created...
Although she is no longer physically among us, because of what she gave me, she has never really gone. She lives in me!
In honor of her giving spirit, I offer this super creamy spiced rice pudding with condensed milk to you...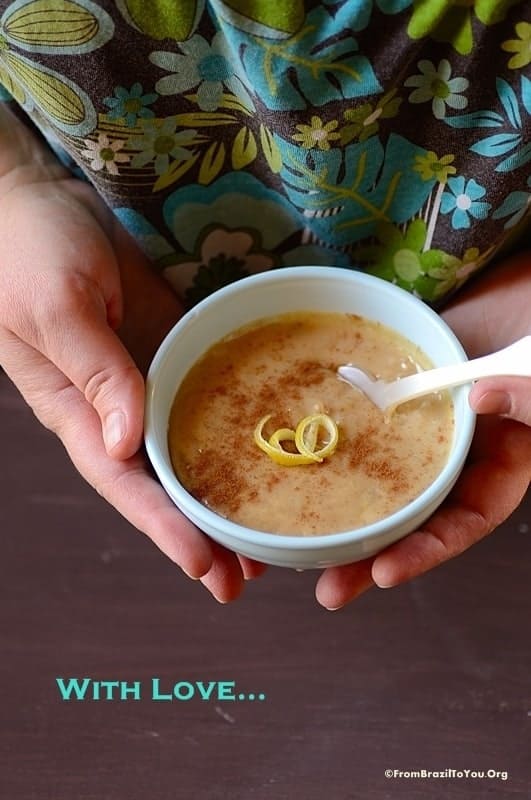 Do you have a favorite recipe of yours? Why is it your favorite?
I would love to hear about it in the comments.
xx
Super Creamy Spiced Rice Pudding with Condensed Milk (Arroz Doce)
Recipe for a super creamy, scrumptious, and custardy rice pudding made with sweetened condensed milk and spices!
Ingredients
½

cup

raw medium-grain white rice

2

cups

whole milk

1

can coconut milk

14-ounce

1

pinch

salt

½

teaspoon

ground cinnamon

¼

teaspoon

ground nutmeg

1

can

sweetened condensed milk

14-ounce

2

large egg yolks

at room temperature

¼

cup

sugar

1

teaspoon

pure vanilla extract

Grated zest of 1 lemon

preferably Meyer lemon
Instructions
In a large, heavy saucepan, stir in rice, whole milk, coconut milk, salt, cinnamon, and nutmeg. Bring to a boil over high heat,

stirring constantly

.

NOTE:

If you would like your rice pudding to be white, reduce the amount of both cinnamon and nutmeg to a pinch and add them at the very end of the cooking process along with the lemon zest.

Reduce the heat to medium-low, cover, and simmer gently,

stirring occasionally

, for approximately 20-25 minutes. Then, uncover, add the condensed milk, and continue cooking (uncovered) over medium-low,

stirring frequently

, for about 8-10 minutes or

until the rice is tender

and the pudding is reduced a bit. Remove pan from the heat.

In a medium bowl, whisk the egg yolks, sugar, and vanilla extract together. Slowly add this mixture to the cooked rice,

whisking constantly

. Set the pan over medium-low heat and cook,

stirring

and scraping the sides and bottom of the pan

constantly

with a wooden spoon, for about 1 minute. Remove the pan from the heat, stir in grated lemon zest, and transfer rice pudding to serving bowls/dishes. Serve warm, at room temperature, or chilled. Right before serving, rice pudding can be garnished with a sprinkle of cinnamon and lemon zest.

NOTE: If ungarnished rice pudding is not served immediately, place a sheet of plastic wrap right on the pudding's surface to prevent a skin from forming.
Recipe Notes
Medium-grain rice is available at local supermarkets. Cheap grains are harder. In this case, you might consider letting the rice soaked with the whole milk at room temperature for about 1 hour before starting the cooking process.
Love rice pudding? Try our Slow Cooker Rice Pudding
Nutrition
Calories:
539
kcal
|
Carbohydrates:
67
g
|
Protein:
11
g
|
Fat:
26
g
|
Saturated Fat:
19
g
|
Cholesterol:
95
mg
|
Sodium:
138
mg
|
Potassium:
549
mg
|
Fiber:
2
g
|
Sugar:
50
g
|
Vitamin A:
395
IU
|
Vitamin C:
3.5
mg
|
Calcium:
298
mg
|
Iron:
2.2
mg
** Nutrition labels on easyanddelish.com are for educational purposes only. This info is provided as a courtesy and is only an estimate, since the nutrition content of recipes can vary based on ingredient brand or source, portion sizes, recipe changes/variations, and other factors. We suggest making your own calculations using your preferred calculator, based on which ingredients you use, or consulting with a registered dietitian to determine nutritional values more precisely.
Please note that health-focused and diet information provided on easyanddelish.com is for educational purposes and does not constitute medical advice, nor is it intended to diagnose, treat, cure, or prevent disease. Consult with your doctor or other qualified health professional prior to initiating any significant change in your diet or exercise regimen, or for any other issue necessitating medical advice.
DID YOU MAKE THIS RECIPE?
Comment and rate the recipe. Also follow us on Pinterest at @easyanddelish for more delish recipes.
For more traditional Brazilian desserts like brigadeiro please see here.