Mmmm!!!!  The intoxicating aroma of something good baking in the oven is getting me all anxious… I am as excited as a kid!!!! 🙂  Oh, didn't I tell you that we are baking Cuca de Maçã or Apfel Streuselkuchen?  Huh? Well, this wonderful German creation can be translated as apple crumb cake. 
Our apple crumb cake or cuca de maçã, as it is known in Portuguese, was brought to Brazil in the 19th century– more specifically, to Southern Brazil.  This is where the bulk of German immigration was concentrated, profoundly influencing Southern Brazil's architecture and cuisine. The German influx also gave us Gisele Bündchen, a Brazilian-German descendant  well known to the rest of the world! 😉  Well, returning to cuca de maçã or apple crumb cake, this traditional coffee cake is made of a either a yeast dough or a shortening-based dough (ours) which is covered or filled with apples and topped with a sweet crumb topping (streusel).  Many variants of apple crumb cake or cuca de maçã can be found in Brazil that differ both in regards to the recipe for the dough, and whether or not apples are incorporated as a filling or as a topping (ours).
Our cuca de maçã is great when served plain for breakfast, or drizzled with caramel sauce or a homemade dulce de leche sauce as an afternoon treat.  Traditionally, no caramel or dulce de leche sauce is applied to cuca de maçã— but since this is a very mild-flavored cake and I have a big sweet tooth, that is the way that I serve mine.
I am making apple crumb cake (cuca de maçã) to celebrate the upcoming season, Fall, my absolutely favorite!  If you would like to try other apple goodies as well, I'd like to recommend to you these two fabulous treats:  Caramel Apple-Brownie Cheesecake and Caramel Apple Streusel Cake.  And no, this last cake is not the same as our cuca de maçã/apple crumb cake!
Now if you will please excuse me, I have some serious eats to get busy on, accompanied by a good cup of coffee.  See ya!
xx
Apple Crumb Cake
(Cuca de Maçã)
Yield: About 9 squares
Segment: Brazilian Cuisine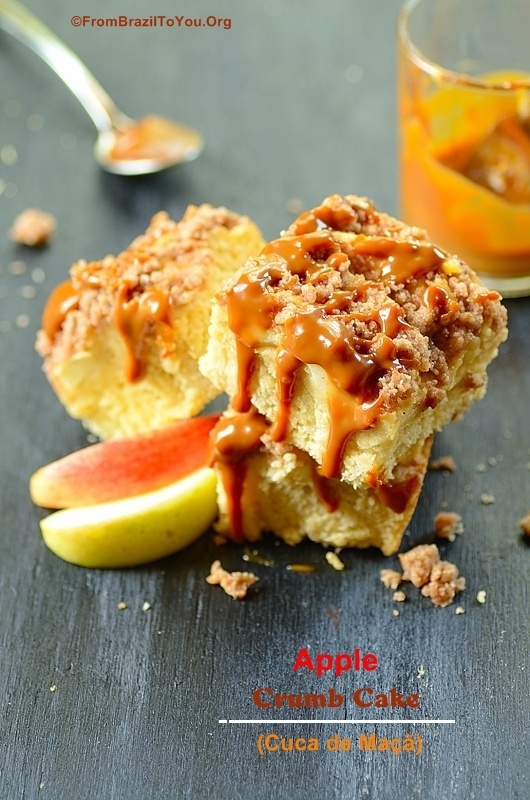 Ingredients:
Cake Batter:
2 cups all-purpose flour, sifted
3/4 cup white sugar
2 teaspoons baking powder
A dash of salt
1 tablespoon shortening, melted
3 tablespoons unsalted butter, melted
1 large egg, at room temperature
1 cup heavy cream
1 tablespoon pure vanilla extract
About 3 medium baking tart apples (e.g. Granny Smith), peeled, cored, and cut into 1/8 slices
Streusel Topping:
1/4 cup all-purpose flour
2 tablespoons sugar
1/2 teaspoon ground cinnamon
1-1/2 tablespoons cold unsalted butter, cut into pieces
1/2 tablespoon heavy whipping cream
1 teaspoon pure vanilla extract
Garnish (optional):
1/4 – 1/3 cup store-bought caramel sauce or homemade dulce de leche sauce
Directions:
1. Preheat oven to 350°F (about 177° C).  Grease bottom and side of a 8 x 8-inch baking pan.  Set aside.
2. First, make the streusel topping. Combine flour, sugar, and cinnamon in a small bowl; cut in butter with a fork until obtaining fine crumbs.  Add heavy cream and vanilla, mixing well with a fork until crumbs form (the cream will add moisture to the streusel). Set aside at room temperature so that the vanilla will infuse the streusel with flavor.
3. In a medium bowl, combine together the sifted flour, sugar, baking powder, and salt.  Pour in and then mix both the melted shortening and butter with a fork until obtaining fine crumbs.
4. In a separate bowl, whisk together egg, cream, and vanilla. Add to crumb mixture, tossing gently with a fork or by hand until mixture forms a ball.  Press dough in an even layer into the prepared baking pan.  Arrange apple slices on top of crust and then sprinkle the reserved streusel evenly over apple slices.
5. Bake for about 35-40 minutes or until a toothpick inserted in the center comes out clean.  Let cool on a rack and slice into squares. Serve apple crumb cake or cuca de maçã plain (the traditional manner), or warm and drizzled with either caramel sauce or dulce de leche sauce and accompanied by a scoop of ice cream if desired (my favorite way).